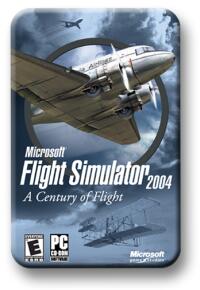 Microsoft announces opening of their FS2004 Website: "Microsoft Game Studios today announced that the official Microsoft Flight Simulator 2004: A Century of Flight site is now live at http://www.microsoft.com/games/fsinsider/. Visitors to the newly launched site will be able to celebrate the past and explore the present as Microsoft unleashes its ninth version of the venerable Flight Simulator franchise.

The rich history of powered aviation as well as the history of the Microsoft Flight Simulator franchise is presented on the site, including an article on the history of flight by Lane Wallace, columnist and west coast editor of Flying magazine. The site also features historical accounts, in-flight screenshots and cockpit images of the 24 aircraft. Visitors will also be able to download videos and keep tabs on events related to the 100th anniversary of the first flight.

Enthusiasts around the world will experience the history of aviation with Microsoft Flight Simulator 2004: A Century of Flight. As the world celebrates the 100th anniversary of powered flight in 2003, A Century of Flight allows virtual pilots to feel what it's like to take the controls of nine historic aircraft -- the record-breakers, the workhorses and the innovators -- such as Charles Lindbergh's Ryan NYP Spirit of St. Louis, the Douglas DC-3 and the world's first successful powered aircraft, the 1903 Wright Flyer.
Engaging, interactive multimedia provides a wealth of historical information on the planes that shaped aviation history and the pilots who flew them. Informed and insightful articles help players discover all that Flight Simulator and its fleet of 24 aircraft has to offer. Microsoft Flight Simulator 2004: A Century of Flight also introduces an updated, dynamic weather system, enhanced automatically generated (auto-gen) scenery and detailed visual effects, as well as 15 modern aircraft, including the Robinson R-22 Beta II helicopter.
Microsoft Game Studios is a leading worldwide publisher and developer of games for the PC, Xbox video game system and online platforms. Comprising a network of top developers, Microsoft Game Studios is committed to creating innovative and diverse game portfolios for the PC (http://www.microsoft.com/games/), including such franchises as Age of Empires, Flight Simulator and Zoo Tycoon; Xbox (http://www.xbox.com/en-US/), including such franchises as Halo, Project Gotham Racing and NFL Fever; and Zone.com, the official games channel for the MSN network and home to such hits as Bejeweled and OutSmart