Sergei Carr has released his Moscow Domodedovo 2003 scenery, featured a detailed version of the airport with satellite photo ground textures, LOD of detail modelling, many ground vehicles, and much more. For full details, click on Read More.
Sergei Carr has released his Moscow Domodedovo 2003 scenery. Some features of the scenery include: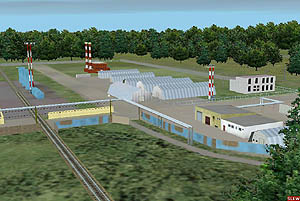 'Levels of Detail' (LOD) modelling in all BGL files. This is also used commonly by AI aircraft designers.
Varying numbers of ground vehicles. Please tune your ADF to frequencies between 400 and 404 to see static vehicles appear.
'Pilot Controlled' lighting.
Extensive use of library objects for lampposts and other frequently repeated objects.
Other features include:
Satellite photo ground textures, summer and winter versions
Full use of reflective textures where appropriate
A large selection of ground vehicles
Sophisticated night lighting effects
Extensive coverage of all buildings in the airport area
A generally high level of accuracy and detail throughout the scenery
A free, extremely detailed and frame rate friendly AI Traffic package of 97%+ accuracy.
Some information about the Domodedovo 2003 AI Traffic Package (optional download)
The package includes ALL scheduled flights of all airlines in and out of Domodedovo. (Based on Summer 2003)
95%+ of all aircraft are represented. Those that are unavailable were replaced with a close substitute
The package contains the (almost) entire timtables of some airlines, eg Domodedovo airlines, Pulkovo, Sibir (Domodedovo section), Transaero, etc
AFCAD files for previously unused airports are included
80%+ of charter flights are included
The latest and most frame-rate friendly aircraft are used.