Even though the actual aircraft won't be available for purchase for a few days, Flight1 Software has released both the manual and the repaint template for their FS2002/FS2004 Cessna C-152 add-on. Both are now available for free download. For details, click on Read More.
Flight1 Software has released the Text-o-Matic re-paint template and user manual for the C-152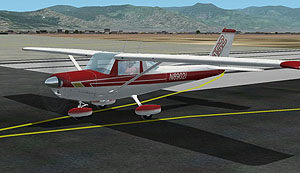 add-on for Microsoft's Flight Simulator 2002 "and" 2004. The template allows users to create custom paint schemes in preparation for the product release. The C-152 will be available in download format from the Flight1.com website this weekend.
152 Template:
http://www.flight1software.com/templates/152/c152_repaint_template.zip