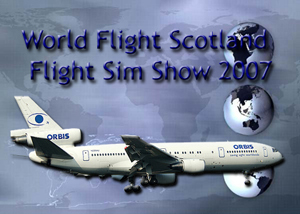 The Scottish Charity Flight Sim Show in support of ORBIS and the Flying Eye Hospital is now just days away. The support for this event from the flightsim community has been incredible.
Gary Summons of UK2000 will have his latest release Edinburgh Extreme available at the show for special show price of £10 with 25% of the sale price going direct to ORBIS. Flight 1 will have all their new releases available at special show prices with 50% of all sale going direct to ORBIS.
Chris Palmer of Angle of Attach will be previewing his soon to be released 747-400 Queen of the Skies training DVD. For the fighter pilots Ian Brookes with have his amazing converted Delfin L29 two seat cockpit nose at the event. With Vatsim, Classic Flight, Flightstore Pilot Supplies, FlightSimX and many more there is something for everyone. There will be a great auction with flight sim hardware, software, and loads of other goodies available to bid on.