Here's a review on Lago's previous scenery project, the great GeoRender5! I have never had the slightest interest in scenery for the flight sim. I believe that scenery available is not really worth the money. After buying one area of scenery, you fly around it, very pretty, but after a few flights, you begin to get bored of it. Eventually you just get sick and tired of it, and place it up on your old dusty shelf. The shelf of no return. Lago's GeoRender5 is completely different, and has earned my seal of approval, which many of you know by now, is not easily obtained. GeoRender5 sits proudly on my top five of recent add-ons. So lets take a look, to see what makes GeoRender5 stand out from the crowd. Click here to read Stuart Johnston's complete review of GeoRender5.
GeoRender5, Lago's recently new competitor on the scenery market, is the next available range of small regional airfields, in the middle of nowhere, in Washington State. Forks as it is referred to, roughly due west from the notorious previous release from Lago (Emma Field), promises simply gorgeous rendered scenery. The small airstrip Forks is not the only thing involved in this brilliant package. The surrounding area is also covered, lakes, cottages, roads and everything Mother Nature has to offer for the Washington State. Forks is already a part of Microsoft Flight Simulator's default scenery, which to say the least, is not very impressive. Lago's version of Forks sits comfortably on top of the default stuff, without the usual scruffy edges and scratchy areas, without any problems what so ever. Even the artificial intelligence aircraft have not been affected, as they have been brilliantly edited to comply with the new airport. After a short download from the Lago site, I quickly ran through the initialisation. All of Lago's software is covered with a custom created installer. It is simple to use, and it looks nice. That is something that other flight sim payware companies should take a note of. After running up the installer, and agreeing to the usual 'blah blah blah', I entered my press copy of the CD code and clicked next. The Lago installer then took the controls and did all the work for me. As always, I was eager to see what Lago had to offer. My first sights of the air strip were breathtaking. Right from the start I was impressed. Like Emma Field, the last scenery released, Forks had a little community. Things on the airport function… smoke billows out of the local pub.. it's great! You can expect the following:
Smoke from houses in winter (not identical each day) as mentioned before.

Smoke trails from the wooded areas (clearing areas) all year round.

Fireworks over town on US holidays – I just happened to see this and was amazed!

Spray effects over river in spring.

A few more hidden surprises here & there!
Forks was turning out to be a meal already!
Keen to see what it was performing like, I had a look at the frame rates. I thought even before installing GeoRender5, that it would be a bag of tough nails on the frame rates. Having not reviewed any scenery products before I was not sure to expect. But I was amazed when I came to see that I was surviving with flying colours.
Forks is a very desirable airport in a stunning surrounding area. It has been excellently rendered, and brilliantly supported. You can think safe when buying a Lago product- all updates to the software are free. All bugs will be fixed, and all of the software is covered with the new release of FS2004. GeoRender5 can sit proudly, on my top rated shelf. Ten out of ten for Lago! Congrats guys, keep up the good work!
Screenshots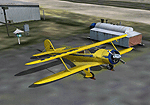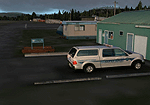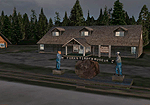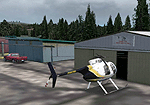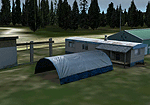 Stuart Johnston
studaman_2003@hotmail.com
http://flyawaysimulation.com