Though Mr. O'Leary was speaking off the cuff and just amounts to thinking out loud.
This seems to be a trend in most airlines around the world, charging for all those extras.
I would not conceder the toilet as an extra, like a bag of peanuts? Many airlines are charging for carry on bags, purses and laptops. I do not understand why not include it in the ticket price?
Mr. O'Leary, later stated that, "...a separate toilet fee would lower ticket costs and make flying, somehow, easier for all."
This article was compiled by resident aviation news editor James Abbey with sections taken from (USA Today, Today in the sky)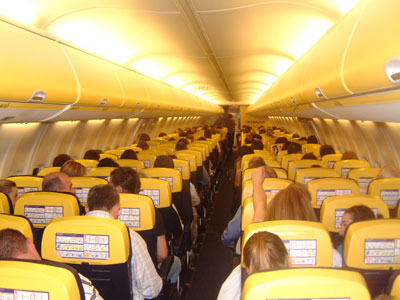 The cabin of a Ryanair aircraft