The orbiter looks a little like a space shuttle only smaller, with a payload bay for cargo and experiments. The Air Force is looking for a better way to fly instruments and experiments cheaper and faster.
Unlike NASA's Space Shuttle, which can only stay in orbit for two weeks, The X37 can stay in orbit for up to nine months.
The vehicle is expected to eventually land at Vandenberg Air Force base in California, but officials are not saying when.
Could it be that this may be President Reagan's "Star Wars" Project , revisited? Time will tell and this vehicle has a big future in The US Air Force and possibly Civilian use.
This article was written by resident aviation news editor James Abbey.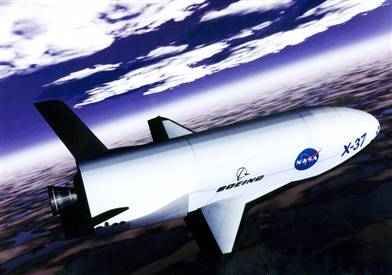 Nasa's X37 Space Plane takes flight