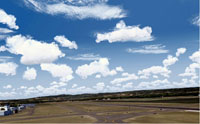 Screenshot from SceneryPRO's HD Environment Redux upgrade for Microsoft Flight Simulator 2004. Image shows cloud textures in HD.
SceneryPRO submitted the press release to us and stated:
This release builds on the realism of the previous versions and adds a level of realism that you must see to believe. The environment (sky, clouds and water) is directly affected by the time of day, season and weather conditions. HDE. Redux is not available as an upgrade, however we have lowered the price to accommodate customers that already own an older version.