The Boeing 737 Classic sound pack for Flight Simulator X provides a precise representation of the CFM 56-3 jet engine, used to power all Boeing 737-300/400/500 series aircraft.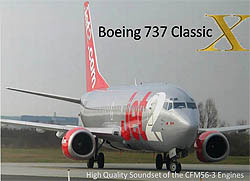 AWG 737 Classic.
The audio quality is top notch and realistic – it was recorded from an actual aircraft. The sound pack offers a very immersive experience, with accurate sounds of the cockpit and the external of the aircraft.
Sound Features
New Real Touchdown and Gear Sounds
FSX Sound Cone Technology
Take-off and Landing roll sounds
Autopilot Disconnect Sound
Custom Flap Sounds
Custom Cockpit Sounds
System Requirements
Single Core CPU (1.8GHz or higher)
2GB RAM
80MB HDD Space Available
128MB Video Memory
Windows Vista/7
Microsoft Flight Simulator X SP2
AWG Simulations produces a wide range of stunning Flight Simulator X add-ons. For more information about this sound pack, visit http://awg-sim.businesscatalyst.com/.
The sound pack is compatible with the Wilco/Feelthere Boeing 737 Pilot in Command for FSX.