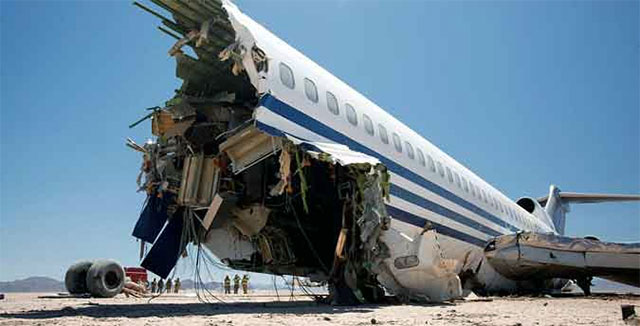 An empty Boeing 727 was deliberately crashed on 27 April 2012 in Sonoran desert of Baja California, Mexico, for a TV documentary on air safety. Cameras, scientific measuring equipment, and crash-test dummies were in the aircraft to take a record of the effects of the crash on the aircraft and passengers.
The aircraft was crashed for a documentary being created by Dragonfly Film and Television Produtions, UK Channel 4, US Discovery Channel and Germany's Pro Sieben.
In the orchestrated crash, the 727 was piloted to the crash site, the pilot ejected, and then the aircraft went down in a level attitude and crashed, with the forward fuselage breaking off before the jet stopped on the ground.
A statement issued by the producers said the crash "went according to plan and there were no injuries or damage to property"
The statement added,
For safety reasons, an exclusion zone at the crash site was manned by security teams, as well as the Mexican military and police. Ahead of the crash, a full safety review of the project was undertaken by the highly-qualified pilots and commanders as well as the Mexican authorities who concluded that it was safe for all concerned.
Sanjay Singhal, Dragonfly executive producer, said,
It's never been safer to fly, but we want to use this as an opportunity to provide scientific data that might help to improve passenger safety in those extremely rare cases when a catastrophic aircraft accident does occur.
Several similar deliberate crashes have been done in the past. In 1984, NASA deliberately crashed a Boeing 720 to assess the effectiveness of fuel additives that suppress fire.
Video of the crash