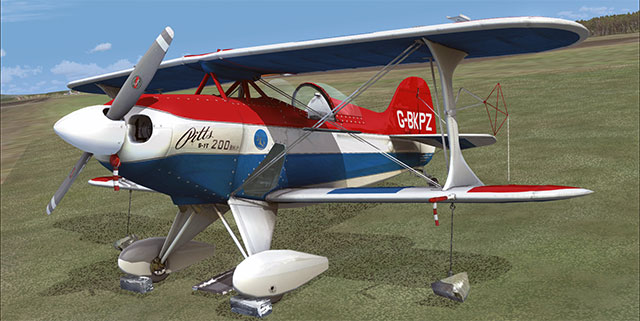 The Pitts Special, also known as S1 and S2, is a series of light aerobatic biplane that started flying in 1944. Designed by Curtis Pitts, a well-known designer of a number of popular aerobatic biplanes, the Pitts Special participated in many aerobatic competitions in the 1960s and 1970s, and won many aerobatic awards.
This aircraft allows you to enjoy the best in high performance aerobatic aircraft.
Features
The model is based on the real life aircraft, and has been checked by Pitts pilots to ensure that it is a very precise representation of the aircraft
Low frame rate modelling techniques – this makes the add-on real
Full bump mapping and spectacular lighting in the FSX version – this brings the aircraft to life in distinct detail
Numerous custom animations
Comes with 6 custom liveries
Comes with 3 animated pilots
An configuration manager - you can easily change animations whenever you want
Custom smoke trails let you paint the sky as you spin, loop and roll
Highly detailed checklists and performance charts
The product comes with a useful and detailed manual – you will be in control of this bird very fast!
What I like about this product:
The aircraft offers excellent, fast maneuverable aerobatic capabilities
The model is top-notch, looks great, and is fun to fly
It has many accurate animations and details
Addictive Simulations consists of two renowned developers, Daniel Dunn and David Chester. The team has released several products over the past few years, and are known for their attention to detail and high quality products.
For more information, visit http://www.addictive.it/Pitts/default.asp.