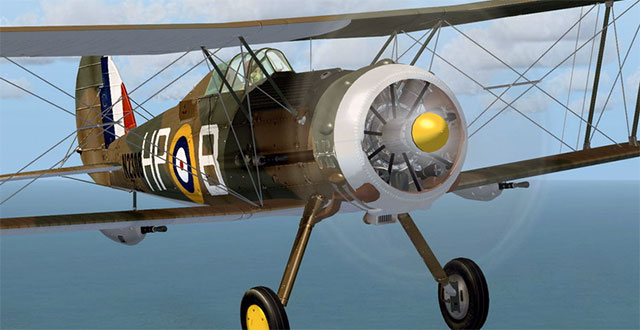 The aircraft flew for the first time in September 1934 and entered service with the Royal Air Force in 1937.  The Gloster Gladiator was exported to several air forces in the 1930s, and was used in many battles around the world.
Simon Smeiman has released a model for the Gloster Gladiator - Gloster Gladiator for FSX.
 A real Gloster Gladiator was used to create this stunning and highly accurate model – Simon Smeiman and his team used many pictures of the aircraft's interior and exterior.
Features
3 different variants
More than 7 liveries
Several animations
A fully functional 2D virtual cockpit
This is a beautiful old war bird you will enjoy having in your hanger. The model is as real as it gets, and it offers a wide range of variations and liveries.
The price tag for the Gloster Gladiator is €16 (US$21). For more information or to order, visit http://silvercloud-store.com/index.php?dispatch=products.view&product_id=29788.