Features
Immersive world. Flight Simulator X offers players a rich and innovative gaming experience with new technological advancements, incredible graphics and added realism including weather, time of day and seasons. Pilots can watch moving cars and detailed buildings in cities below; traffic on highways; indigenous houses, farmland and livestock; and wildlife in its natural habitats.

Mission-based gameplay.
With the addition of new mission-based gameplay, players will have a specific purpose as their world comes alive for the first time with automobile traffic, moving boats and ships, and animal life. With more than 50 new missions to choose from, aviators can build their skill levels and engage in even more stimulating gameplay than before. Players can choose to compete in the Red Bull Air Race or bring relief materiel to the Congo, keeping track of their progress on each mission.

New aircraft.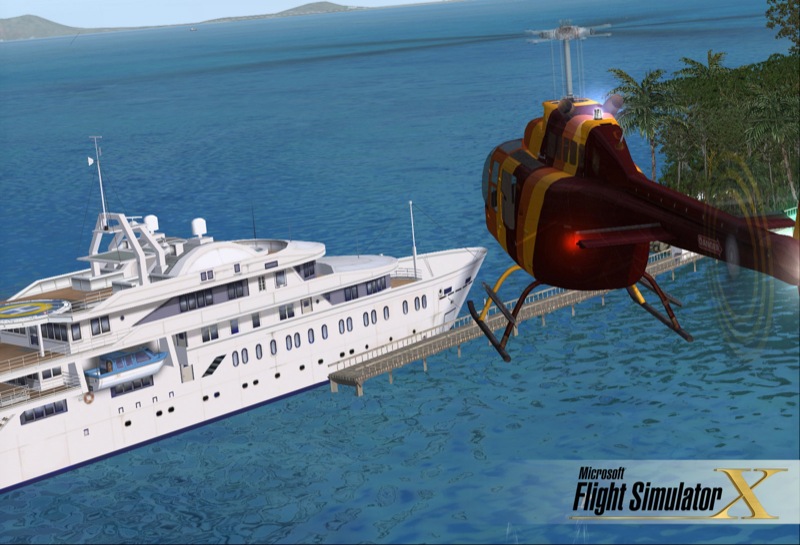 Flight Simulator X will enable pilots to fly the aircraft of their dreams, from the DeHavilland DHC-2 Beaver floatplane and Grumman G-21A Goose to the AirCreation 582SL Ultralight and Maule M7-260C Orion with wheels and skis. Players will be amazed at the details — such as shaded rivets, reflective paint, and glint from glass and chrome — as they view the world from 100 feet to 1 million feet.

Connected world.
Through increased online gameplay capabilities, "Flight Simulator X" offers players a connected world where they can choose whom they want to be, from air-traffic controller to pilot or co-pilot, as they interact with other aviators from around the globe by chatting in real time via headset and keyboard.

Interactive airports.
More than 24,000 airports feature AI-controlled jetways, fuel trucks and moving baggage carts, allowing players to explore their hometown or venture to a favorite far-off city.
Title: Flight Simulator X
Publisher: Microsoft Game Studios
Developer: ACES Studio
Format: DVD for the Microsoft® Windows® XP and Windows Vista™ operating systems
ESRB Rating: "E" for Everyone
Availability: Holiday 2006
FAQ
Q: When will "Microsoft Flight Simulator X" be available?
A: We are working hard to deliver "Flight Simulator X" in the holiday 2006 timeframe.
Q: What's new in "Microsoft Flight Simulator X"?
A: Many of the new features in "Flight Simulator X" are based on requests from our loyal community who have provided creative input into our decision process. Therefore, we are excited to bring our fans the most revolutionary addition to the "Flight Simulator" franchise yet. We take full advantage of Windows Vista and the latest Windows gaming hardware to create a beautifully rich and immersive 3D world for aviation fans, young and old, to explore and experience. The new enhancements extend beyond the look and feel of the planet—the advances in graphics will benefit the aircraft as well, and fans will be amazed at the new level of detail in the models and the realistic effects like sun glint off the glass and chrome, reflective paint, and even shaded rivets on the fuselage. For the more gameplay-minded, we are adding a new mission-based element to give fans a more objective driven experience with a sense of progression and skill development. We are also improving the multiplayer technology to allow the community to connect in new ways. This is just the beginning and, in the coming months, we look forward to sharing more information about "Flight Simulator X" as we lead up to launch at the end of the year.
Q: Will "Flight Simulator X" require Windows Vista?
A: No. While "Flight Simulator X" will not require Windows Vista, it will be optimized for the latest in Windows gaming hardware and fans will get the best experience by running on Windows Vista.
Q: What type of computer hardware will I need to run "Flight Simulator X"?
A: While we are still determining exact hardware requirements, we do know that it will run on a wide range of configurations because we want to make "Flight Simulator X" accessible to a wide range of fans.

Q: Will "Flight Simulator X" ship on DVD only?
A: Yes, for the first time "Flight Simulator" will ship on DVD only in order to provide the highest level of detail and realism for the product and we do not plan to offer a CD-based version.
Q: Will aircraft from FS2004 be compatible with "Flight Simulator X"?
A: Backward compatibly with existing 3rd party content is and has always been a priority for us, and we attempt to test as many add-ons as possible in order to provide the greatest level of compatibility.
Q: What are the types of aircraft featured in "Flight Simulator X"?
A: We will offer a range of aircraft to support a wide variety of flying experiences and many of the aircraft will be tied to specific mission-based experiences. Our basic fleet is merely the starting point because we are going to make it easier to download additional aircraft created by the many accomplished add-on developers in the community.
Q: How many airports are included in "Flight Simulator X?"
A: We have included more than 24,000 airports in "Flight Simulator X" and the coverage extends to every continent. We also focused a select number of high-detail airports and added a new level of "interactivity" that the add-on community will certainly expand upon.
Q: What new partners or endorsements will "Flight Simulator X" carry?
A: We are not quite ready to shine the spotlight on our new partners and endorsements, but they will be taking center stage in the months leading up to our launch.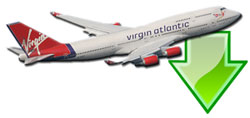 Don't forget... We have a huge selection (over 24,000 files) of free mods and add-ons for FSX, P3D & X-Plane in the file library. Files include aircraft, scenery, and utilities All are free-to-download and use - you don't even need to register. Browse on down to the file library here.