The flight simulation industry will have an eventful year in 2011. X-Plane 10 is expected to release sometime in 3Q11. Microsoft Flight, a new take on the old Microsoft Flight Simulator, is rumored to be ready later this year as well. Despite all the anticipation, a larger question remains for X-Plane fans - what can be expected from X-Plane 10 in terms of new features, airplanes, scenery, and the long awaited improvement in ATC?
Scenery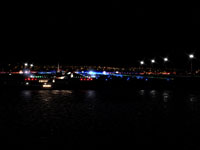 Image shows the advanced night lighting in X-Plane 10. Showing much clearer and realistic runway and environment lights.
X-Plane10 has an enhanced façade engine with better 3-D architectural features, as well as lighting and shadow manipulation. Shadows are especially sensitive and need many adjustments. As Laminar Research's Ben Supnik said on the X-Plane blog, one reason they didn't ship shadows in Version 9 (the way they wanted) was that when shadows look bad, they look terrible. Increased shadow maps in X-Plane 10 will allow better resolution.
Two features will help convert scenery from Microsoft Flight Simulator: Draped geometry and OBJ Elevation Control. Draping helps objects "sit" properly on the ground with real 3-D calculations. OBJ Elevation Control allows elevated objects to sit at the correct level above the ground. In X-Plane 9, there have been user reports of elevated highways, for example, that looked like they were lying on the ground. OBJ Elevation Control allows scenes with specific heights indicated from MSFS to be rendered accurately at that number.
Aircraft
Currently X-Plane ships with 35 aircraft including airplanes, jets, gliders, copters, and Vertical Take Off and Landing jumpers like the AV-8B Harrier. In addition, you can download an additional 1400 models from sites like X-Plane.org. If that is not enough, enthusiasts can design their own airplanes, test fly them, and offer them to others to try.
X-Plane 10 planes include the Endeavor Space Shuttle, United 747- 400, CRJ-200 passenger, KC-10, x-15 Jet, T34c Mentor, B52 Bomber, Lancair Evolution, Seamax seaplane, B2, ATG Javelin, the Beechcraft King Air, Beechcraft Baron, and the Lancair LC-40 Columbia 400.
64-Bit
X-Plane will not be 64-bit for the initial release but a 64-bit patch will potentially be offered in the future. Those with a 64-bit quad core Windows system do not need to worry, as future patches will bring the full power of that system into focus. A good addition in the interim would be to acquire as much RAM as possible.
Software consumers often view the idea of a patch incorrectly, as it seems the software company is fixing things that are broken. "Update" would be a more accurate term. Laminar simply uses a series of patches to update the software between major versions. Because the technology moves rapidly, patches are an efficient way to expand the software capability in a fluid manner.
Multi-core
Multi-core scene mesh creation and loading, as well as texture, are already in X-Plane 9. Multi-core capability will expand in X-Plane 10, but the ability to leverage that will depend heavily on the graphics card. X-Plane needs to run at maximum on the most powerful graphics cards. To run it on a "mainstream" card, the user will have to accept less rendering. A user will benefit from more cores, which are standard on many computers today, or from a better graphics card, but in most cases X-Plane 10 will be customizable to all modern systems. A slower or older system can be set to render less graphic images, but it will still run.
Multi-Platform
One of the best decisions the originator of X-Plane, Austin Meyer, made early on was to use the OpenGL graphics platform. Years ago he had to choose between Open GL and Direct3D, the more popular system at the time. While closed systems like Direct3D (which only works on Windows) have fallen from favor, OpenGL has allowed X-Plane to develop for Windows, Linux, Android, Mac, Palm, and iPhoneOS and iPadOS.
Because of the flexibility of OpenGL, the port to the iPhone only took two weeks. That seems very quick for a major software title to create a mobile version, but they've now sold over 500,000 units and garner around $7 for each sale.
Air Traffic Control
A big feature request from the user community has been improved ATC. One of the historic strengths of Microsoft Flight Simulator was the active and realistic ATC activity. X-Plane looks a little sparse in comparison to MSFS's constant flow of airplanes in and out of airports. A user get in the landing queue and join the parade of planes as the tower brings them in.
Mr. Meyer outlined some of the improvements slated for X-Plane 10 on the X-Plane.com forums. They have hired a full-time programmer just for the purpose of developing ATC. The new system will control all the planes. A user will hear the tower giving instructions to a plane and then watch as they respond. Take-offs, landings, ramp rests, and missed approaches will surround the user as they listen to the chatter and their own ATC instructions at the same time.
Drama has surrounded the actual release date of X-Plane 10. As Chris Serio stated on the X-Plane blog, despite some speculation, v10 is their number one priority. Their staff of around 20 employees is totally focused on the release and have never let up. He cautioned against outside vendors and other parties interpreting (and misinterpreting) comments made in the company blog and forums. He explained that one little improvement in the software leads to the need for a bunch more because everything is interrelated. For these reasons, the actual release date remains unset. A reasonable estimation is a release sometime in the 3rd quarter of this year.
It's an exciting time for Laminar Research. Microsoft disbanded the ACES Studio which produced Microsoft Flight Simulator for decades – the original version came out in 1982. The void creates a lot of opportunity to grab some disaffected MSFS fans.
Austin Meyer made stronger decisions for X-Plane years ago: the aforementioned decision to use OpenGL graphics, which led to the ubiquity of X-Plane on many platforms today. He also declined any investor money in the company to ensure his total control. It is doubtful any corporate parent could walk in and dissolve the company like at MSFS.
Technology advances continue. Only a short time ago, a double core PC was a rare and treasured machine. Now quad-core is the standard and more powerful machines are common with bigger systems are on the horizon. If anything, X-Plane 10 needs some serious horsepower to fully render its rich, beautiful, amazingly life-like 3D imagery of life in the sky. These are graphics that will set new standards in flight simulation for consumers and the commercial airlines.
The technology has arrived just in time.
Don't forget to check out our X-Plane downloads section here.
Preview Video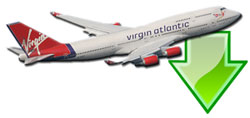 Don't forget... We have a huge selection (over 24,000 files) of free mods and add-ons for FSX, P3D & X-Plane in the file library. Files include aircraft, scenery, and utilities All are free-to-download and use - you don't even need to register. Browse on down to the file library here.