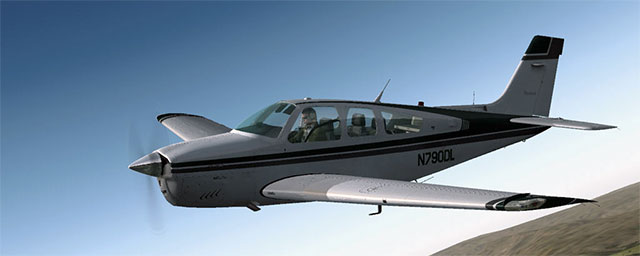 F33A Bonanza X is a single engine plane package that features three models and four paint schemes and a blank texture. The three models included are: one yoke, two yokes, and one interior model without 3D knobs.
The product includes:
Original GNS 430
Optional textures for no tinted windows
Realistic night lights effect
Original high quality sounds recorded from the real aircraft
The main FSX features are:
Internal and external dynamic shadows
Volumetric normal mapping
Stunning mapping and bloom lights
Other general features:
Friendly FPS
Polygon optimized model
A manual with performance charts, procedures and checklists
F33A Bonanza X includes an interactive virtual cockpit with several moving parts, namely Ailerons, rudders, elevators, rolling wheels and flaps.
The add-on features animated sections, including windows, doors, propeller, sun visor, vibrating antenna, co-pilot seat, exhaust pipe, and cowl flaps. F33A Bonanza X features a wide range of lights – landing, taxi and navigation lights.
Other products released by Carenado in recent times include:
Cessna 185 Skywagon Bush X
PA32R 301 Saratoga SP For FS2004
PA32R 301 Saratoga SP
PA-28-181 Archer II For FS2004
Carenado is a software development company that designs add-ons and software packs for PC games such as MFS and X-Plane. For more information about Carenado products, visit: http://www.carenado.com/