Recent news about major problems with the Boeing 787 Dreamliner has made me very concerned about the safety of the world's stock of commercial aircraft. I read on the BBC website a summary of the Dreamliner's problems. They include cracked windshields, computer malfunctions, battery breakdowns, fan shaft failures, fuel spills, oil leakages and more.
Here is what Larry Bell from Forbes had to say:
No one who flies likes to hear about reports of aircraft malfunctions, and yes, Boeing's new advanced technology 787 Dreamliner flagship aircraft has experienced several. The most recent incident, an overheated battery prompting an All Nippon Airways (ANL) airliner to make an emergency landing, has resulted in an order by the Federal Aviation Administration to temporarily ground all domestic 787s. Currently, United Airlines, which owns six of the aircraft, is the only domestic carrier that is affected.

This is the first time in four decades that U.S. regulators have grounded a major airliner, an action taken following the second of two 787 battery malfunctions. Aviation regulatory agencies world-wide have followed suit. -Larry Bell/Forbes (1/20/2013)
Do you realize what is happening here? The brand spankin' new Boeing Dreamliner, the most advanced aircraft in aviation history, has been grounded around the world due to "several malfunctions."
And it has barely been in service!
Listen, this makes me crazy. I'm a professional pilot--I love to fly. But when a technologically advanced aircraft hailed as the future of aviation is breaking down like a 20- year-old car with bald tires and a smoky engine, I think twice when I get on any commercial flight.
It made me wonder, "What are the safest airlines? Who has the best record?"
I did some digging and discovered a study cited at AskMen.com that looked at airlines flying internationally--with a minimum of 1 million flights--that had the lowest number of accidents since 1985. I also consulted data from the Air Transport Rating Agency (ATRA) and Europe's Jet Airliner Crash Data Evaluation Centre (JACDEC) 2013 report. Based on these publications, I give you 10 of the world's safest airlines:
No.10: Cathay Pacific

Cathay Pacific was founded in 1946 by two ex-Air Force American pilots. They had to put up $1 in Hong Kong currency at the time to register the airline. The company had some incidents in the early years including the first hijacking of a commercial airliner in 1948.
However, its most recent fatal accident was in 1972 which is a good record. Since that incident, they have completed more than 1 million flights without major problems. Cathay Pacific flies to over 36 different countries--they accommodated over 27 million passengers in 2010.
My guess is Hong Kong is so crowded these days most of those passengers are leaving town just to get some room to breathe, and possibly find some cheaper rent. In any case, Cathay Pacific is dedicated to servicing clients well. In 2005, they were named Airline of the Year by Skytrax.
No.9: TAP Portugal

Tap Portugal marked 60 years of service in 2005. They have not experienced a major accident since 1977. They complete thousands of flights every week to over 30 countries. The company was taken private in 2012 as part of the bailout of Portugal by the European Union and the International Monetary Fund.
A highlight for Tap Portugal was being selected to fly Pope John Paul II on his first trip to Portugal back in 1982. At first there was some internal discussion because they weren't sure if any of their planes could accommodate the Pope's tall hat. Those concerns were quashed when they found out he doesn't wear it during flight.
People often ask what TAP stands for. Originally, it stood for Transportes Aéreos Portugueses. Now TAP reflects their superior safety record and pleasurable flying experience—it stands for Trouble-Free and Protected.
No.8: Aerolineas Argentinas

Aerolineas Argentinas (Argentine Airlines) has a heritage that reaches all the way back to the 1920s. They have had ups and downs since then. Despite their safety record--they have not had a fatal event since 1970—they were not so good at operating at a profit. By the 1990s they edged toward bankruptcy, losing $240 million in 1999 alone. The Argentine government organized a "renationalization" arrangement in 2008 that expanded their ownership from 5% to 20%.
With headquarters in San Nicolás, they operate two hubs out of Buenos Aires. Why have two hubs in the same city? Think of cities like Los Angeles that have two basketball teams: The Lakers and the Clippers. A city the size of Buenos Aires probably needs two hubs anyway. Just make sure you go to the right terminal.
While the company has a good air safety record, it hasn't been all good news. One lowlight took place in 1992 when Aerolíneas Argentinas Flight 386 landed in Los Angeles from Buenos Aires. Of 336 passengers on board, 76 became ill with cholera from tainted shrimp. The airline blamed the Peruvian caterer which eventually resulted in AA being banned from that country for a while.
Despite that unfortunate blemish, Aerolineas Argentinas consistently ranks as one of the safest airlines around. Even though it has been over 20 years, I'd still avoid the shrimp. Don't cry for me, Argentine Airlines.
No.7: Air New Zealand

Air New Zealand is the national air carrier for New Zealand and Lord of The Rings fan clubs worldwide. They fly to 28 destinations inside the country and 28 destinations spread across 15 countries in Europe, North America, Oceania and Asia.
It is the only airline that can currently claim to circumnavigate the world. Their NZ 1/2 flies from Heathrow to Los Angeles and on to Auckland, and the NZ 35/38 goes from Auckland to Hong Kong to Heathrow. If you are in the mood to circle the world like Magellan, you better do it soon. In March of 2013, these flights will end due to a new agreement with Cathay Pacific.
In business since 1965, early versions of the airline began in 1940. They can point to a sound safety record as there has not been a fatal accident since 1979. That is pretty good when you consider they handle more than 12 million passengers every year.
Air New Zealand consistently wins awards from both consumer groups and industry organizations. For example, they won the Airline of the Year award in both 2010 and 2012, and a Global Airline Award from Air Transport World. In November of 2012, United Kingdom newspaper The Telegraph named Air New Zealand the 3rd best long-haul airline in the world. All they need now is a Golden Globe and an Academy Award.
No.6: Aer Lingus

Aer Lingus ("Air Fleet") is the national airline of Ireland. Flying mostly Airbus aircraft, they fly to North America, Asia, North Africa and Europe. Although rival Ryanair is larger, Aer Lingus is the oldest operating airline in the country. The headquarters is located at Dublin Airport. Seán Ó Huadhaigh was named the first chairman when the company was founded in 1946, even though nobody could spell his name.
Over 4000 employees handle roughly 10 million passengers every year, generating revenues around 1.3 billion. For flights across the Atlantic, they offer two classes, while European and North African flights have mixed fares.
Over two million flights and more than 40 years have passed since the last fatal accident. In 2011, they marked their 75th anniversary. Part of the celebration was a special livery from the 1960s, with the crew wearing historical uniforms as well. Hopefully they didn't wear 1960s love beads and Earth shoes.
No.5: Finnair

The fifth oldest airline in the world, Finnair has been rolling along for 50 years without a fatal accident. One of the oldest airlines still in operation, Finnair's lineage runs back to the 1920s. In the Second World War, the Finnish Air Force utilized their aircraft, half of which never came back.
Company highlights include being the first airline to fly from Western Europe to Japan, and the first carrier from Western Europe to fly from Europe to China non-stop. Finnair's unique location means they can fly faster to Asian locations by going over the Arctic.
The largest airline in Finland, their staff of almost 10,000 handles over 10 million passengers every year. The company headquarters are located at Vantaa while the main hub is at Helsinki-Vantaa airport. They provide service to 15 locations in Finland and more than 55 locations in other countries. Most of those flying to other countries are just looking for some warmth.
In the middle of 2013, Finnair is scheduled to begin operations in a new head office called the House of Travel and Transportation. The facility boasts over 22,000 square meters of space with modern conveniences and design. Mostly, the staff looks forward to better snow removal equipment in the parking lot so they can get home faster.
No.4: Qantas

Qantas, the official airline of Australia, has had an amazing safety record over its 90-year history. Beginning operations in 1920, it provides service to 182 cities in 44 countries around the globe. Originally, the letters stood for Queensland and Northern Territorial Air Services. It is not true the letters now represent the slogan, "Quality and Nice Treatment Air System."
The company nickname is "The Flying Kangaroo." Catchy, but I prefer other snappy nicknames such as "The Kissing Koala," "The Smiling Croc" and "The Merry Marsupial." Qantas is headquartered in a suburb of Sydney with the main hub located at Sydney Airport.
Qantas has a dominant share of Australia's market, capturing 65 percent domestically and 18.7 percent of international travel. The last time there was a fatal accident was in 1951. A number of "close calls" including an engine explosion in 2010 have tarnished their safety image somewhat. Nonetheless, their long term safety performance puts them in at a respectable number 4.
No.3: All Nippon Airways

Japan's official airline, All Nippon Airways, or ANA, operates out of their headquarters in the Minato area of Tokyo. Currently, it flies to 49 locations in Japan and 32 destinations outside the country. Over 14,000 employees worked for ANA in 2009. International hubs are located at Narita International and Kansai International Airports. Domestic hubs are located at Osaka International, Tokyo International, Chubu Centrair International and New Chitose International Airports.
ANA had an unfortunate hijacking in 1999 which ended with the captain being killed. Still, from 1975 to 2011 the airline did not have an accident. In 2011, Flight 140 made several passengers violently ill mid-flight due to a pilot error. And in 2012, a 737 slid off the end of a runway in a blinding snowstorm.
Founded in 1952, it has garnered many awards for on-time service and overall excellence. ANA has several subsidiaries including a regional carrier named ANA Wings. They also operate Air Japan and other carriers such as AirAsia Japan, Air Do and ANA Cargo, a freighter division. In addition, they also are a primary shareholder in a low-cost carrier named Peach.
Recently ANA cancelled over 140 flights as a result of problems with Boeing's 787 Dreamliner. ANA joins several other airlines that have grounded the Dreamliner due to several incidents related to the aircraft's battery charger and the auxiliary power system. Caution such as this is one reason All Nippon Airways is at number three in the safety countdown.
No.2: Air Canada

Air Canada is the largest airline in Canada for both full-service and scheduled passenger services. In addition, they have more flights over the U.S.-Canada border, and more international flights to and from Canada than any other carrier. Combined with Air Canada Express, the company handles over 33 million passengers every year. It flies to 170 locations around the globe and is a founding member of Star Alliance transportation network.
Air Canada uses a comprehensive Safety Management System which incorporates involvement of management and employees, continuing development of safety methods, and ongoing education and training. Their commitment to safety has resulted in an enviable record. The latest fatal incident was a flash fire that killed 23 passengers in 1983. Over 5 million flights have flown since that event. Canada has nice people, great beer and the second safest airline in the survey.
No.1 British Airways

British Airways, or BA, is the official flag carrier airline for the United Kingdom. The company offices are located in Waterside with the main hub situated at London Heathrow Airport. Measured by fleet size and international destinations, British Airways is the largest airline in the country. Considering only passengers carried, competitor easyJet takes the top spot. BA is part of the Oneworld alliance which includes Qantas, Cathay Pacific, and American Airlines. In 2009, they merged with Iberia to create the third largest airline in the world and the largest in Europe.
Notably, BA flew the Olympic flame from Athens to London RNAS Culdrose for the London Olympic 2012 Olympic Games. The flight's passengers included Princess Anne and David Beckham. There is a rumor that the Queen and James Bond were considering jumping out of a BA aircraft for the opening ceremonies, but they settled for a helicopter. The Queen's corgis, Monty and Holly were not asked for their opinion on the matter.
So how did BA grab the top spot? Since 1976, they have not suffered a single fatal accident, representing over six million flights under their banner. Experience is on their side as they have been operating for over 90 years and handle up to 40 million passengers annually. They may be a continuing target for feisty competitors such as Richard Branson's Virgin Airways, but BA can claim with conviction that over the years they are the safest ride in the sky.
So there you have 10 of the world's safest airlines. I don't know about you, but I'm going to schedule these airlines as much as possible. The Boeing 787 Dreamliner's problems make me question all commercial aircraft.
I prefer to pilot my own planes. But when I fly commercial, I'm going to get every advantage I can.
Comments please!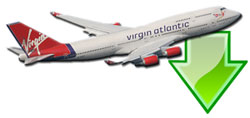 Don't forget... We have a huge selection (over 24,000 files) of free mods and add-ons for FSX, P3D & X-Plane in the file library. Files include aircraft, scenery, and utilities All are free-to-download and use - you don't even need to register. Browse on down to the file library here.