FSFlyingSchool is one of the most renowned products on the web for improving, strengthening and putting together all of the flight skills and combinations needed to be the best pilot that you can be. Thanks to the hard work and dedication of the FSInventions team, you no longer need to struggle through those hard nights as you fail to get the aircraft to operate in the style that you had originally intended!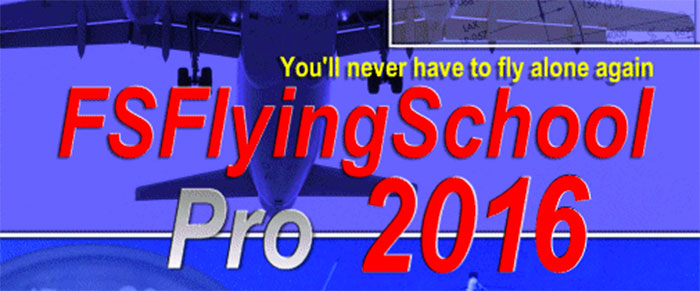 This excellent add-on – Version 9, to be exact – is a massive update on the previous editions, and is now fully compatible with FS2004, FSX and FSX: Steam Edition. For anyone who has hit their peak when flying and wants to become a better pilot quickly, this latest release from FSI might be just what you need.
By covering all of the basics and advanced stuff needed to become a proper flight simulation expert, this modification ensures that you can hit your targets and become the level of pilot you always intended. Now, you'll never have to fly alone again!
What's New in FSFlyingSchool Pro 2016?
In this latest edition, you will see a huge range of professional changes brought to the table. Each of these new improvements to the 2016 edition of FSFlyingSchool will give you all the help that you need in becoming far more comfortable with the tutorials and the skills you're taught, including;
This latest package introduces a fresh series of changes by including the FSFlyingSchool Pro 2015 Detail Pack for various aircraft. This includes the detail pack for the Aerosoft Beaker X, FSX Beaver, A2A Cherokee and Carenado Cherokee aircraft. Some of these are commonly used, and this new detail package makes it look better than ever within the simulation experience.

These are some nice 2016 bonuses that will not only improve the look of your simulation but also improve the depth at which it provides you with the information that you need, ensuring you fully understand what this flying school provides.

An enhanced version of the popular Instructor Awareness tool, Version 2. This can be a comprehensive learning tool that will greatly expand your influence within the simulator, ensuring that you can become a far more constructive and alert flight expert as you grow to understand and read any potential dangers.

This modification also includes a new Extensive Help program which gives you plenty of tips to get used to some of the more advanced simulation features. Not only does this come in handy for helping you learn the cockpit, but it ensures you can always be in full control when flying.

A new 'Approach Builder' package has been included which was previously included with FSFlyingSchool 2015. This 2016 edition includes this as it can be a vital part of your flight education as you get used to the various features that it opens the door to, improving flight comprehension massively.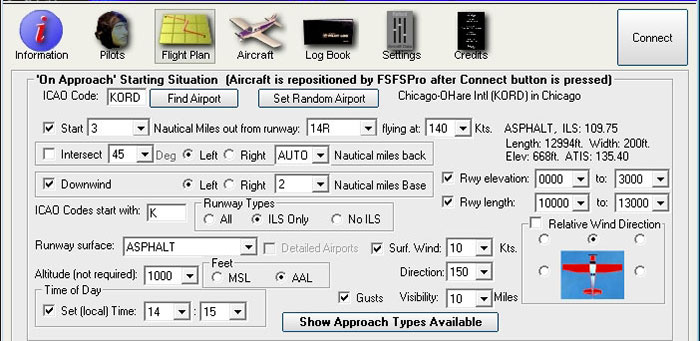 Benefits
You'll get plenty of benefits from taking the time to learn with this course – thanks to the massive changes and the hard work put into the project by the team, you can benefit massively. Just some of the most obvious benefits that arises from learning in this way includes;
Throughout this guide, you will be spoken to directly by a team of expert pilots who know exactly what they are doing. These flight instructors all come with years of experience, and they will talk you through your flying skills and your overall techniques – or lack of – to ensure that you can improve as quickly as possible. This information is immediate and calculated, looking at the way that you fly individually as much as anything else to ensure that improvements are characteristics to the problems you face, not generic or built around any "typical" problems that simulation users may experience.

Whether it's just a normal flight that you take on or a practice to really look at how you handle certain events and scenarios, this provides you with an accurate and fair score resulting in what you need to work on. Instead of having generic results coming back, you can start to correct those miniscule errors in your flight technique that are hampering your level of performance. To get around this issue, you simply need to follow the details given back to you in your score and to start working on the issues which are highlighted by the tutorials themselves.

Make use of a unique scoring system which is used to take into account every last aspect of your flight style. With the help of this system, you can easily start managing and controlling everything from your taxi process right through to how you are landing your aircraft after a flight. By following this you are far more likely to improve upon your skillset as you will have issues pointed out that may previously have never seemed an issue for you. In total, this improves your performance as well as your overall control of your aircraft across the various points of flight.

Want to keep a track of all of your fixtures and changes as you become a better pilot? Then you simply need to follow the FSFlyingSchool logbook which is included. This comes in two easy to read and follow formats that ensure you are getting up to date information and advice on how you can best improve your flight technique. All of your flights and scores are then marked in here so that you can easily see how much you are beginning to improve, making it much easier to create long-term change within the way that you fly.

Submit the best scores to the official FSFlyingSchool website – with this, you can showcase to the rest of the world just how quick you are improving. This is a great way to make the changes needed right away, ensuring you can fly in the right direction and continuously improve over time.

By recording your every improvement and achievement, this system is the perfect way for you to focus on becoming a far better pilot via working on your airmanship. You will improve as time goes on and you can track all of your progress, taking satisfaction in your gradual improvement.

This is not just for specific aircraft or anything of the sort, either! This works in full tandem with the original FSX aircraft as well as most aircraft from the FSX community. If you have any add-on aircraft you wish to use then the 2016 edition will likely work perfectly!​
Preview Video
What's Changed?
As a comprehensive learning tool that makes it easier than ever to learn and grow into being the best pilot that you can be, this product offers the best tutorial into flight simulation possible. Here are just some of the key features that you get from purchasing FSFlyingSchool Pro 2016;
Fully operational with both FS2004 and FSX, meaning that you can easily control the aircraft and make the most of your potential as a pilot.

Become far more accustomed to the talking instructors as you work together and gain insight from four talking instructors as you go, making it much easier for you to become far more comfortable when flying.

Take your flights to the next level by making use of the excellent Google Flight Mapping features which are included.

No limitations as to where you can fly or where you wish to practice; with the detail offered in this modification, it will become so much easier to improve consistently.

You can even work on your ability to manage features such as your lighting, meaning that you'll become more aware quickly.

No need to use flight plans to let the instructors know where you are, just get yourself lined up!

Instructors know what runway you are landing at, what flight plan you are using and what ILS you are planning on utilizing for performance appraisal.

No more issues with landing on fixed runway points as you become far more accustomed to the specifics of your own flight, without any parameters.

Improve your flight skills and confidence markedly by making the use of the auto-read system which looks directly at the flight plan you are using.

This is here to improve your flight skills in general, not following rigid structures. When you land/take-off, you need only concentrate on doing it professionally!

The spoken teaching tips can be the perfect way to make sure that you get tips without having to take your eyes off the sky.

Tips are always provided in the same voice so that you can get consistency when flying, giving you tips that help you get over basic errors.

If you don't like the tips or don't feel like you need help with the basics they can be turned off with one click.

The scoring system has been refined and changed in the 2016 edition, as it provides you with flight rewards for flying safely and equally professionally.

Look to the analytics of your flight performance with the help of a friendlier, more consistent scoring system all logged numerically within your printable logbook.

This shows you key details of your flight performance and features like approach accuracy, safety, distance from your threshold and even landing speed for precision.

You get more than the ICAO code when you take in a session, making it easier to pinpoint what airfields you took off from and what times it occurred at.

Make use of the excellent Career Analyzer which gives you detailed graphs showing you more than 70 factors of excellence.

Evaluate your landing capabilities at any runway on the planet.

Become a more competent flight manager by using the Pilot Briefing Tool for precision and analysis.

The instructor keeps you up to date on everything from your usage of lights to ground and air traffic presence to avoid a disaster.

Likewise, the instructor is aware of the next waypoint in a flight plan, the best way to manage your NAVAID and also upcoming waypoint IDs for precision in his messages.

This helps you improve as a pilot over time, ensuring you get used to improvement by following the exciting phrases.

Aircraft failures are now integrated into your scoring – if you cannot stay in condition, you will be marked down for failing to manage your aircraft!

Problems such as engine fires, emergency communications and much more will come into play as you use this mod, helping you improve as a pilot.

Get used to the utilization of multiple instructors all of which have unique personalities, different nationalities and separate genders to help you find an instructor that you can fly with.

You can optionally have tuning dealt with for both NAV1-ILS and COM2-ATIS features at your airport destination of choice in training.

This automatically reads the flight plan that FSX is using for accuracy in the destination.

Optional voice command packages are included to allow increased dialogue between yourself and the instructor.

Real world airport data can be grabbed from the web and used to ensure you remain on track at all times.

Failure to manage the system and the solution required will make it easier for you to run into problems – this means you always need to be alert and aware!

The FSFlyingSchool website lists all of your best scores so everyone can see how you are improving.

And much more!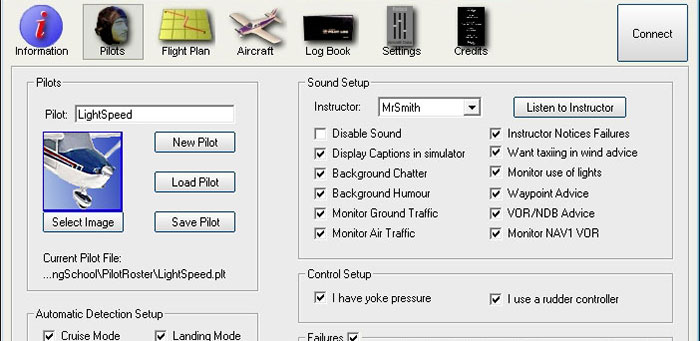 About FSFlyingSchool
As the go-to place for even the most experienced of pilots, this new feature ensures that you will have no problems getting to grips with the ideas of flight simulation and how it all operates.
By finally taking you into the realms of learning about simulation in particular, it soon becomes much easier to understand and control the position of your growth as a pilot instead of learning about real-life aviation theory and then trying to convert that into how you would fly in the different rules of simulation.
View all of the FSFlyingSchool products over at SimShack.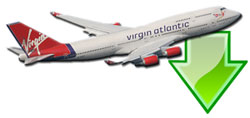 Don't forget... We have a huge selection (over 24,000 files) of free mods and add-ons for FSX, P3D & X-Plane in the file library. Files include aircraft, scenery, and utilities All are free-to-download and use - you don't even need to register. Browse on down to the file library here.