Submit Your Flight Sim File to our Downloads Library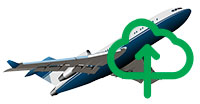 Thank you for taking the time to submit your file to our downloads library. Your file or add-on will go to expanding your Fly Away Simulation.
Why Submit Your File to Fly Away Simulation?
Fly Away Simulation is one of the largest flight simulation websites on the Internet. Active for over 15 years, Fly Away Simulation has become a home for thousands of flight simulation fans and enthusiasts worldwide. Your file will gain excellent coverage and interest.
Users browsing the site and file library may download any of the files listed completely free of charge and they don't even need to register for an account to do so - unlike most of the other popular flight sim sites. They may simply click "Download" from the file listing without even signing up. We do offer a paid membership option called "PRO" that allows users to download at a higher speed - the same way almost all of the other popular flight sim sites you may have heard of do it too.
Please Read Before Submitting
Ideally, your file should be in ZIP format. However, other archive methods such as RAR are also accepted and will be converted. There are no file size limits.

Your file should also include a minimum of 2 screenshots inside this archive, in JPG format. Ideally, the resolution for these should not be small or resized - they should be native screen size.

Your file should also include a detailed README file that users are able to reference when installing the add-on.