Microsoft Flight Simulator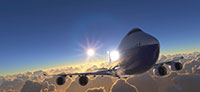 Microsoft Flight Simulator (MSFS) is Microsoft's next-gen flight simulator package for Windows PC and (possibly and eventually Xbox). MSFS was officially announced on Jun 9, 2019, and the announcement surprised and shocked existing simmers more accustomed to Microsoft Flight Simulator X (which they have been using since 2006).
The MSFS announcement made history with Microsoft taking back control of the flight simulator franchise and developing a new platform capable of using the latest computer hardware, software, and systems. We see MSFS as an "evergreen" simulator which means that Microsoft can continue to develop, enhance, and upgrade the platform without changing the name. Microsoft Flight Simulator (MSFS) will remain the name no matter what new version is released. To be honest this saves us admin time too!
MSFS was officially released to the public on August 18th, 2020 on various platforms including the official Microsoft Store, Steam, and in Europe was made available in a boxed edition. Why they chose Europe for the boxed edition nobody knows - perhaps the Microsoft CDN was a bit slow for European customers or perhaps Aerosoft just wanted to strike a deal with the MSFS team and they went with it.
This latest version of Microsoft Flight Simulator is truly groundbreaking and stunning in detail. We will cover as much as we can in this news section including product reviews, features, guides, and videos.
Before you read our articles below, here are some useful links that we know you will find helpful covering MSFS in all its glory;
Enjoy the articles below - we will update them regularly so please be sure to bookmark this page (and share it with your friends).