Microsoft Flight Simulator X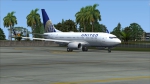 Microsoft's Flight Simulator X is one of the most popular flight simulator products in the industry. It continues to sell very well and is played regularly by many fans globally. In fact, if I were a betting man, I would venture to say that the majority of hobbyists own a copy of Flight Simulator X.
There are lots of add-ons to announce as software companies and developers regularly release new items compatible with FSX.
Recently released was the Steam Edition, which we reviewed here. The Steam Edition re-released by Dovetail Games has given a new lease of life to FSX.
A lot of users come to Fly Away Simulation for its large library of downloads for Microsoft Flight Simulator X. In our downloads library, you can find many add-ons ranging from aircraft to scenery expansion packages. For more information, view the FSX downloads section.
Below is a selection of four articles chosen by our editors that we have decided you may find interesting. These are updated every two days so keep an eye on this section. Below the editor's selection, there is the latest news and articles related to FSX.
For more news and developments regarding FSX, bookmark this page. We'll be posting additional information here, as it is made available.