Microsoft Flight Simulator X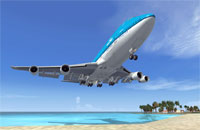 A Boeing 747 landing at the famous St Maarten airport. Screenshot from Microsoft Flight Simulator X.
Microsoft Flight Simulator X, or as it's known within the community as FSX, is the latest released version of their flight simulator package for Windows computers. This has become the standard in PC simulation, with an estimated 75% of the market using this package. The package is designed for a whole range of PC simulation uses, including fun flights for complete novices to IFR and navigation practice for trainee real-life pilots.
The add-ons we cover for FSX include aircraft, scenery and many utility files that enhance your simulation experience and enable you to play for longer with a wider range of scenarios. FSX downloads are our main attraction here at Fly Away Simulation.
Categories
X-Plane 11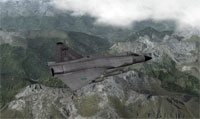 Image shows a Saab 37 military aircraft flying over the French Alps. The screenshot was captured from X-Plane.
X-Plane Flight Simulator, developed by Laminar Research, has always been the simulator of choice for aviation professionals and professional simulator developers. This was usually the simulator used in commercial simulators and to train pilots for real-world scenarios because it was more customizable in these situations. When Microsoft announced the closure of the ACES studio (the team that developed Microsoft's Flight Simulator), the community were more open to change and adopted the use of other simulation packages on the market. X-Plane has always been there, but only at the back of the minds of MSFS users.
When Microsoft announced the closure, users of MSFS started looking elsewhere for a more advanced or "next-generation" simulator package. X-Plane 9 was the first choice and many users gave it a try. Fortunately for Microsoft users, Microsoft announced the development of "Microsoft Flight", the flight simulator package they would be releasing after Microsoft Flight Simulator X.
With the recent release of X-Plane 11, we have begun focusing our efforts on providing add-ons for this platform. X-Plane 11 is the future of flight simulators and many ex FSX users are adopting this platform as their next-generation flight simulator. This category is growing daily so stay tuned.
Categories
Microsoft Flight Simulator 2004
Microsoft Flight Simulator 2004 or as it's know, FS2004 was released in 2003 and was the next generation of PC flight sim packages after the release of FS2002. Flight Simulator 2004 set the benchmark for PC flight simulators, and the environment engine was overhauled after the previous release. Many aspects of the simulator were changed; from weather settings and generation to the new included auto-gen scenery features (computer generated trees and other objects).
The world environment was a serious upgrade from FS2002 and FS2004 shortly became the most popular flight simulator of all time. Even after the release of FSX, many avid flight simmers and users still think of FS2004 as the "ultimate" simulator and prefer it over later versions, claiming that the package is more stable and tried and tested.
Categories
Microsoft Train Simulator
Categories
Prepar3D v4
By popular user demand, we have launched our Prepar3D v4 page which only displays add-ons and mods that are compatible with v4.
There are 24075 Downloads and 56 Categories in our database