A very big thank you to anyone having flown my project in FS9. You will find this aircraft totally different and more user friendly.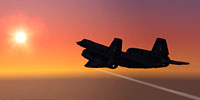 Screenshot of Lockheed SR-71 Blackbird in flight.
The zip file you downloaded should be extracted to a clean temp folder. It will have the following folders:
0_Images (ref): Four larger images for reference.
Effects: copy and past the CONTENTS to the FSX effects folder. DO NOT OVERWRITE any files.
Flight Simulator X Files: copy and past the CONTENTS to your Documents folder of the same name.
SimObjectsAirplanes: copy the aircraft file within, to your FSX airplanes folder.
NOTE: The gauges in this project are in both panel folders. DO NOT TRANSFER them to the FSX Gauges folder. When activating say yes to the run question.
There maybe some misalignment with runways in flights that start from an airfield as alignment will depend on what scenery you are using.
Be very sure to follow the taxi and takeoff instructions.
Whilst this project is based on saved flight plans to replicate the performance given in the email on page 6 of the Manual you can of course follow the flying instructions: takeoff from your favorite airfield, climb to a subsonic 40000ft as instructed, go supersonic and climb to say 84000ft, achieve at least mach 3.2, take a screen grab of the territory below, then turn 180 degrees and find your way back to your airfield and land. You will find that will not be easy without GPS guidance back to your home base as you will probably be 800Nm away when you start your return.
By Ross McLennan.