Let's be honest. Flight simulation can be an expensive hobby. Once you acquired a quality program, it's not long before you purchased several others. Not to mention the tens, maybe hundreds of aircraft that are beginning to fill up your hard drive. Over time, all those acquisitions add up to a serious investment.

Wouldn't it be nice to find a high-quality, free flight simulator? Your prayers are answered, my friend. If you haven't already heard of it, let me introduce you to FlightGear, an open-source flight simulator produced by the FlightGear project.
A flight simulation enthusiast named David Murr first kicked off the project in April of 1996. The first official release was the following year, and the latest release was made available in August of 2012.
In July of this year, FlightGear celebrated its 15th anniversary. Begun by volunteers, it is continued by enthusiasts whose primary goal is to develop the world's best and most realistic free flight simulator. The program is used by university researchers, aerospace engineering firms, interactive exhibits and, of course, thousands of flight simulation enthusiasts around the globe.
Because FlightGear is open source, developers can create commercial projects from the code. Although not endorsed by the FlightGear project, several commercial products including "Flight Pro Sim", "Pro Flight Simulator", "Virtual Pilot 3D" have hit the market.
Beginnings
Like many open source projects, FlightGear was started by enthusiast programmers who believed they could build a quality open source version of commercial software. FlightGear utilized custom graphics 3-D code, as well as other open source data, including flight models from NASA, and elevation data that is free for public use.

Once the original binary code was released, development continued as more stable and sophisticated releases were produced. By 2005, the code was relatively mature and the program garnered more recognition and reviews. By 2007, the developers ended beta development with the official release of version 1.0.0.
The next year, in 2008, the FlightGear project conducted a major shift to OpenSceneGraph, a 3-D open source graphics program environment. The change allowed them to produce new features and enhancements which contributed to increased realism of the graphic imagery.
Various weather animations include distinct lighting changes and three-dimensional clouds. The terrain is driven by a terrain engine known as TerraGear. FlightGear is known for the wide range of aircraft: Airliners, jet fighters, helicopters and gliders are all available.
New Features
The latest release incorporated many new features and improvements:
Random buildings and vegetation match the surrounding terrain.
Textures can be designated to be specific to a certain region, and pilots can change between, for example, summer and winter textures in-flight.
Better atmosphere scattering and terrain haze modeling creates better ground lighting.
Scenery submissions are now automated and are wrapped into the overall distribution model.
Project Rembrandt-although not enabled upon activation, this addition creates real-time shadows, and extensive support for multiple sources of light. Effects like rotating beacons can be implemented with extremely accurate illumination.
Flight Dynamics Models
Every flight simulation program uses a Flight Dynamics Model (FDM). FlightGear is unique in that it combines several different models: JSBSim, YAsim, and UIUC. Earlier iterations of FlightGear used flight dynamics models from NASA. That system was exchanged for the "flexible FDM" approach.
Networking
FlightGear has a multi-player option that allows it to communicate with other players over the Internet, or in a local network. Players can locate other pilots on a moving map, which keeps track of all participants.

Several additional software packages allow FlightGear to launch as an executable file, rather than from the command line. FlightGear Launch Control, KFreeFlight, FGTools, FGKicker, Kelpie Flight Planner, FlightGear Scenery Designer, The World Custom Scenery Project, Taxidraw, and FGCom are some of the software programs and utilities that allow FlightGear to run all the different features in the program.
Worldwide Coverage
FlightGear's database for scenery covers the entire globe. Users can download blocks of scenery, or purchase sets of DVDs that include the entire world. There is also a Terrasync feature available. It downloads the required scenery while the flight is in progress.
Users can enable Terrasync by accessing "Environment" and clicking "Scenery Download." Pilots should also check out the "Places to Fly" section of the FlightGear.org website for tips to discover unique locations.
The majority of FlightGear aircraft have 3-D panels and moving parts. You can even download aircraft that are not finished yet, and enjoy the process of seeing the developer finish the project. Cockpit interiors include environmental lighting which changes the interior lighting as the aircraft changes direction, and the sun changes position in the sky.
Improved Scenery
FlightGear's scenery is much improved from original versions. However, it is still not on par with commercial competitors. It excels in certain areas like night lighting. Water reflections and atmosphere shading are fantastic. There is a landmass shader which designates a set layer of snow at a preset altitude above the ground.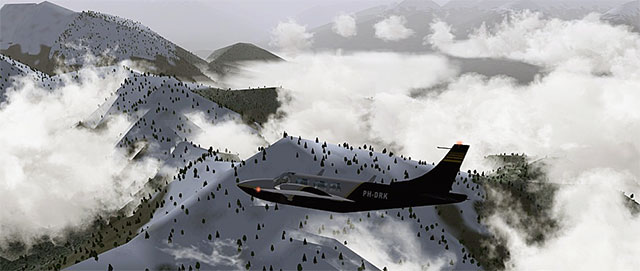 Weather effects work well, and FlightGear's 3-D clouds are impressive-- the programmers have improved shading and blending. However, heavy weather conditions put a strain on average computers – severe thunderstorms really require a more powerful system. Users can choose real-world weather, which will use the local weather and apply it to their current flight.
FlightGear has a working ATC. Included audio includes engine, system, environmental and background Air Traffic Control sounds.
Installation
FlightGear can be downloaded directly from our own file library. Binaries can be found for Windows and SGI IRIX. Users can also find downloads for Linux by SuSE, Mandrake and Debian. Ubuntu users can install FlightGear with the Synaptic Package Manager.
The FlightGear project can be downloaded from the FlightGear website and many other locations. It can be purchased on CD, and users are encouraged to distribute it to their friends and other flight simulation enthusiasts. The best scenario is to distribute it with an operating system, which will make it simpler for new users to get up and running quickly.
Users interested in compiling FlightGear source code should log onto SimGear (https://simgear.sourceforge.net/). It is critical to have the correct matching edition of SimGear when compiling FlightGear.
Wide Range of Aircraft
While FlightGear only includes a few aircraft in the core program, users and developers have created hundreds of models. Here are a few of the FlightGear aircraft available:
Passenger
Douglas DC-6
Douglas DC-3
Douglas DC-2
Couzinet 70
Aérospatiale-BAC Concorde
Cessna Citation X
Cessna Citation Bravo
Cessna Citation II
Carreidas C-160
Sud Aviation SE 210 Caravelle
Cessna C-310 U-3A
Cessna C-310
Boeing 314
Beechcraft Model 99
Beechcraft B-1900D
Airbus A380
Airbus A340-600
Airbus A320 Family
Airbus A320-300
Airbus A300
Boeing 787-8
Boeing 777-200ER
Boeing 747-100 and 747-400
Boeing 747-400
Boeing 747-200
Boeing 737-300
Boeing 737-100
Boeing 727
Boeing 707
Light and Recreational
Columban MC-15 Cri-Cri
Comper C.L.A.7 Swift
Cessna C-182RG Skylane (Retractable Gear)
Cessna C-182 Skylane
Cessna C-172R Skyhawk
Cessna C-172P Skyhawk (1981 Model)
Cessna C-150
SZD-9 Bocian
Schleicher ASW-20
Schleicher ASK-21 MI
Schleicher ASK-21
Antonov An-2
Fantasy Air Allegro 2000
Piper Aerostar 700 Superstar
A-24 Viking
Early or Experimental
Colditz "Cock" Glider
Caudron C.684
Bugatti Model 100
Bernard HV 220
Bleriot XI
Arup S2
Arado Ar 234
Airwave Extreme
No. 21 Demoiselle
14 Bis Santos Dumont
Military
Convair XFY Pogo
English Electric Canberra B-8
Blohm and Voss BV-141
Blackburn Buccaneer
Messerschmitt Bf-109G
Bristol Beaufighter
Boeing B-52 Stratofortress
Boeing B-29 Superfortress
de Havilland Mosquito
Martin B-26 Marauder
North American B-25 Mitchell
Consolidated B-24 Liberator
Northrop Grumman B-2 Spirit
Rockwell B1-B Lancer
Boeing B-17 Flying Fortress
Avro Lancaster
Arsenal VG-33
Dassault/Dornier Alpha Jet
Mitsubishi A6M2 Zero
Grumman A-6 Intruder
Douglas A-4 Skyhawk
Douglas A-26 Invader
Fairchild-Republic A-10 Thunderbird II
BAC TSR-2
Grumman C-2A Greyhound
Lockheed C-130 Hercules
Grumman HU-16 Albatross
Helicopters
Eurocopter AS365 Dauphin
Sikorsky CH-53 Super Stallion
Boeing-Vertol CH-47 Chinook
MBB Bo-105
Hughes AH-64D Apache Longbow
Aérospatiale Alouette III
Aérospatiale Alouette II
Sikorsky S-64 Aircrane
Restricted Aircraft Updates
Keep in mind that the aircraft available for download at the official aircraft download site are only updated when FlightGear issues a new release. This is done because many of the aircraft and development are created using unreleased FlightGear products. If the aircraft downloads were updated on regular basis, most of them would not work with the current stable version of FlightGear. FlightGear aircraft can also be found at the Git version control system (wiki.FlightGear.org/Git) and various third-party FlightGear sites.

Aircraft can be imported from Microsoft Flight Simulator by utilizing the 3-D Convert program which converts the MSFS 3-D model to the FlightGear system. Although the models can be imported, the flight dynamics cannot-- they must be created from scratch for FlightGear.
Users that want to place buildings and other objects into FlightGear must have the correct scenery files where they want to position the buildings, the model, and the accurate latitude and longitude where the object will be positioned. Complete instructions are available at wiki.FlightGear.org.
Mapping
FlightGear has a popular moving map feature provided by the Atlas project. Multiplayers can use an online map called MPmap. An alternative to the Atlas project is OpenStreetMap-- more information can be found at FlightGear mapping at JMapView (https://wiki.flightgear.org/JMapView).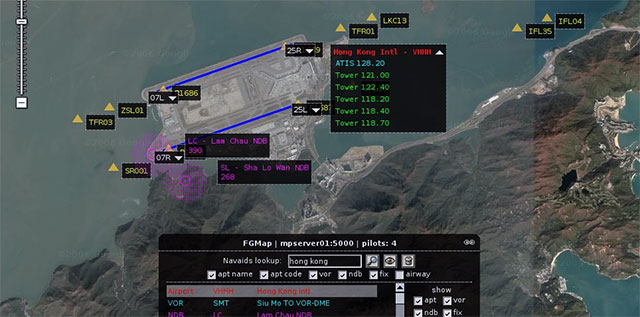 FlightGear utilizes the same navigational and airport databases used by the X-Plane flight simulator. Anyone with updates or corrections to any database should contact the maintainer. Instructions for doing so can be found at the FlightGear site.
Thanks to the contributions of the wide-ranging FlightGear community, there are a number of highly detailed airports and cities. Some are more advanced than others. Some of the higher quality scenery is available in these areas:
Paris, France
EGKK London Gatwick, LFPG Paris Charles de Gaulle and EHAM Amersterdam Schipol airports.
TCNM St. Maarten, Saba, St. Kitts, Nevis and other nearby islands.
Pilots should also consult a wiki page entitled "Places to Fly" at wiki.FlightGear.org. There is a database of airports and navigational aids at World Aero Data. U.S. Data can also be found at AirNav.com (http://www.airnav.com/airports/) and SkyVector.com (https://skyvector.com/).
Common Problems- Slow Program Speed
Occasionally FlightGear does not respond as expected. Users should check that hardware acceleration is activated. They should also make sure that all OpenGL libraries are present and set properly. Also, check that the latest drivers for the computer's video card are installed.
Common Problems- Upside Down
At times a pilot may find that their aircraft is stuck in an upside down position after a full-on crash. Unfortunately, FlightGear does not have a quick recovery for this situation. There are a couple options. Pilots can reset the program back to its starting location from the File --> Reset menu.
Alternatively, experienced pilots can try to roll back to normal by raising the elevator to around 500 feet and then attempting a 180° snap roll. Either the aircraft will be right side up at this point, or it will break in two!
Common Problems- Time Zone
If FlightGear displays an error saying "time zone reading failed" and quits on startup, it is a problem in the time zone files. Windows 32-bit users can fix the situation by acquiring a DOS to UNIX conversion program. The link is available at FlightGear.org.
Common Problems- Aircraft Incompatibility
New aircraft are often developed in tandem with the latest updates to the FlightGear code. Because new aircraft utilize newer features and code, they may not work on older versions of the FlightGear program. Earlier versions of aircraft (and program) are available at several archives which are detailed at the FlightGear.org/download section.
Common Problems-Controls Acting on Their Own
If controls are returning to certain positions, and otherwise acting as if they had a mind of their own, check to see if the autopilot is engaged. If it is, it can take over some of the controls. Also, certain laptop products have a built-in sensor that FlightGear may think is a joystick. You have to configure FlightGear to ignore this nonexistent joystick. Instructions to do this are available at wiki.FlightGear.org.
Common Problems- Disappearing Panel
Most FlightGear aircraft have 3-D cockpits. However, some have 2-D panels that may be only visible when viewing in a fixed position. For example, the Cessna C172P has both a 2-D panel model, and a 3-D panel model. Pilots should make sure they choose the correct one.
Military Scenarios
Pilots interested in military flying like dog-fighting have limited options. FlightGear is mainly concentrated on civilian aviation. Recently, however, third party producers have created bombing scenarios for the A-10, and other aircraft outfitted with armament. Examples of these aircraft are the General Dynamics F-16, the North American OV-10A Bronco and the F-117 Nighthawk. Other new add-ons provide single and multiplayer dog-fighting and bombing capabilities.
Coding FlightGear
FlightGear is written in C++ with a little bit of supporting code written in C. Ohloh (https://www.openhub.net/p/flightgear) has code analyses that can provide programmers with more information on the languages used in the program.
Developers interested in creating new aircraft can use several flight dynamics models, although two are used the most: JSBSim and YASim. YASim is simpler to use and guides are available in the FlightGear base package.
Major Strides
Flightgear has made major strides in its recent release. Improved aircraft and textures, region-specific terrain for different parts of the world, better urban graphics, improved night lighting, better placement of random objects and the ability to change between seasonal scenery in flight are just a few of the improvements.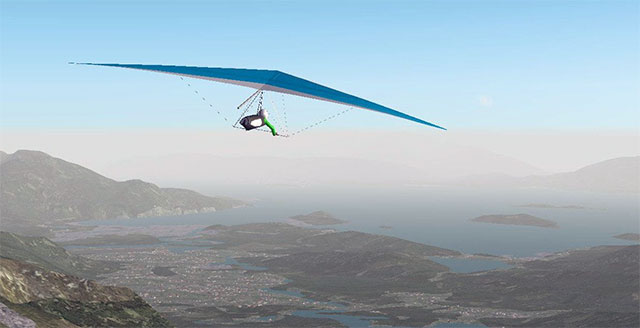 Other changes include a better rendering system created for complex Heads-Up-Displays and other glass cockpit configurations, better language translations capability of the main menu, improved API options, and new and improved planes like the Airwave Extreme 150, and the Cessna 337G Skymaster.
Additional improvements include
The scenery database now allows easier additions and deletions.
The aircraft download page lets pilots find quality aircraft quickly with fine-grained status-indication filtering.
There is better atmospheric light scattering.
An experimental renderer has been added.
Users can look forward to an expanded list of supported joysticks and rubber paddles.
Conclusion
FlightGear is an impressive program featuring over 400 aircraft, multiplayer capability, flexible aircraft modeling, multiple networking options, display support, an adaptable scripting language and open architecture. It is not owned by a single corporation or organization. It is owned by the users, the developers and the entire FlightGear community.
As a flight simulation "game", it offers a tremendous amount of fun and excitement. As an open-source project, it is a wonderful opportunity for anyone to get involved and contribute.
You can grab a copy of FlightGear either from the official website (most recent) or our free flight sim downloads section (along with many others).
Let's see your comments - post below!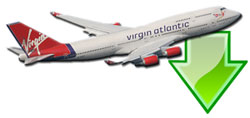 Don't forget... We have a huge selection (over 24,000 files) of free mods and add-ons for MSFS, FSX, P3D & X-Plane in the file library. Files include aircraft, scenery, and utilities All are free-to-download and use - you don't even need to register. Browse on down to the file library here.