Adding aircraft to Microsoft Flight Simulator has been a popular way of enhancing the simulation experience for many years. With the introduction of FSX: Steam Edition, a new generation of flight simmers has this wonderful opportunity.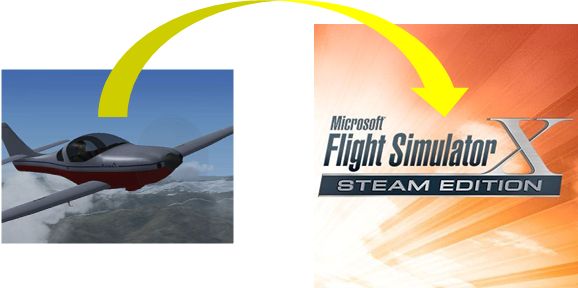 ​
This tutorial explains three basic methods for enhancing your FSX: Steam Edition with third-party add-on aircraft:
We have also created a video that shows the same procedures in video format for ease of use. It saves you reading pages of text and you can pause/play the video when needed: Jump straight to the video here.
Before you try installing add-ons you need packages that you can download - you can download over 22,000 add-ons for FSX:SE over in the library here.
Finding FSX Steam's Aircraft on Your Computer
For each installation method, you need to know where to put your new aircraft files. FSX Steam's aircraft files are kept in a dedicated folder within the FSX Steam program files. FSX Steam usually installs to the same place on most computers because of how Windows works. That is the Program Files (x86) folder. FSX: Steam Edition will be there unless you chose a different location when you installed it.
Open your Windows Explorer file manager.
Double click on the following folders, one after another, in this order:

C:
Program Files (x86)
Steam
steamapps
common
FSX
SimObjects
Airplanes (or Rotorcraft)
The path shown in the top line of your Windows Explorer is your destination to FSX Steam. It results from the folders you double clicked. Use the Airplanes folder to add airplanes and the Rotorcraft folder to add helicopters.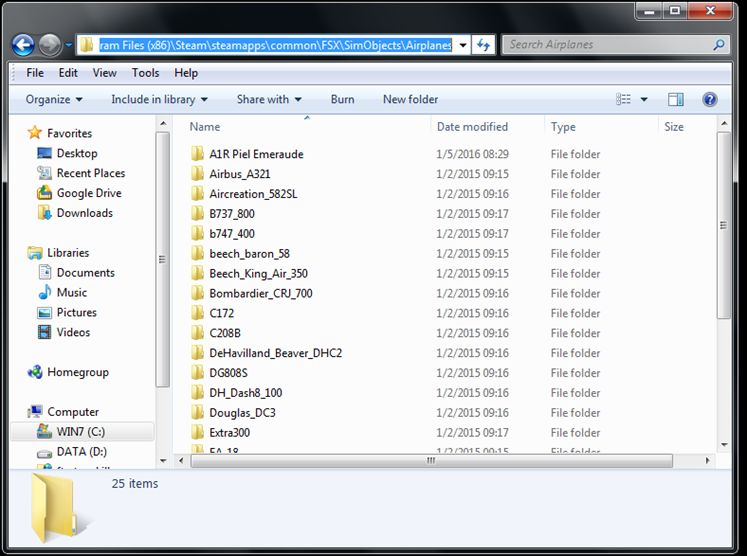 C:/Program Files (x86)/Steam/steamapps/common/FSX/SimObjects/Airplanes (or Rotorcraft)
Installing Freeware Aircraft With Base Model Included
Adding freeware aircraft from a downloaded file with base model included is a multistep process.
Choose and download an addon aircraft from Fly Away Simulation.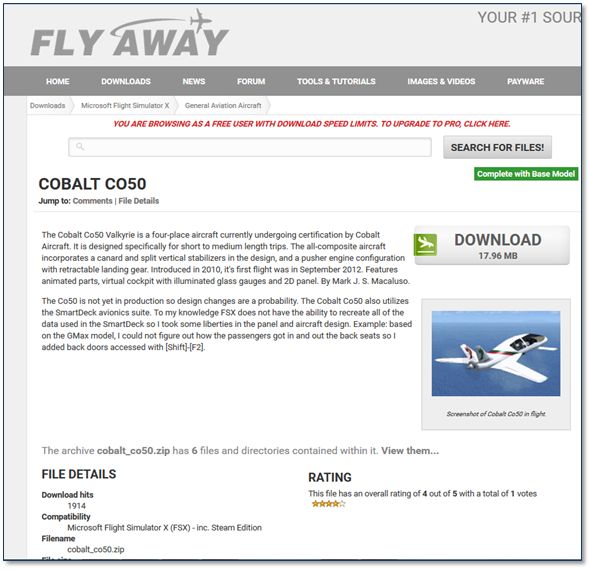 Open your newly downloaded file. If you don't see it on your Windows desktop, use Windows Explorer to look for your file in your Downloads folder.
You will see all the folders and files the developer included for using his add-on aircraft. Most developers provide a text file with instructions. Open that text file and do what it tells you to do. If no instruction file is included, extract the entire aircraft set with all its folders and files to the FSX Steam file path that was identified previously.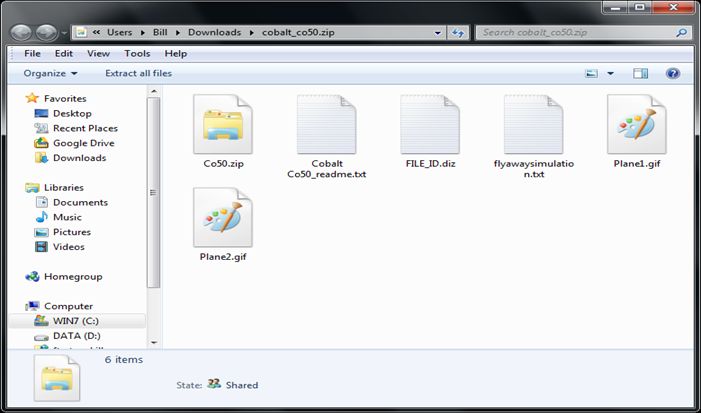 Look inside the FSX Steam Airplanes or Rotorcraft folder for the aircraft you added. If your new aircraft is not in that folder, redo the extraction procedure, making sure you used the correct FSX Steam destination path.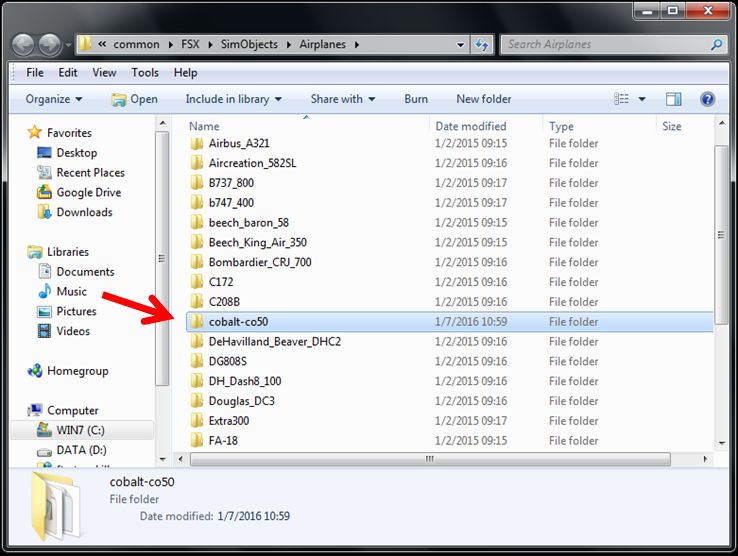 Then look inside your new aircraft's folder for its folders and files. They should be the same folders and files that are inside the archive file you downloaded from Fly Away Simulation. If they are not all there, redo the extraction procedure, making sure you extract all the needed files.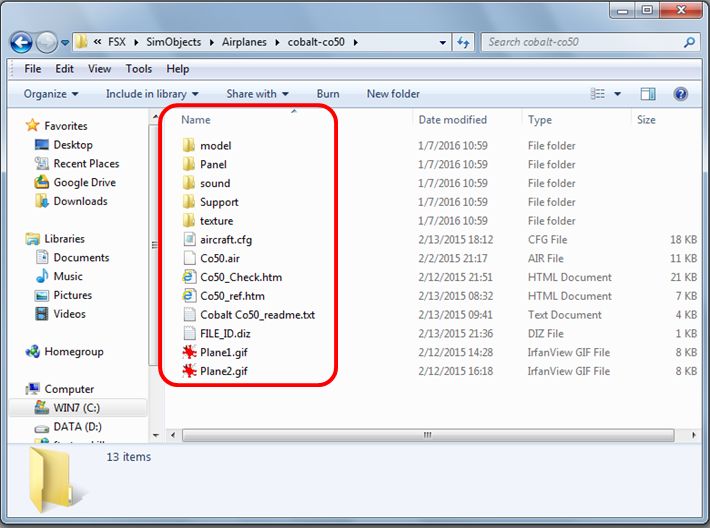 Open your FSX Steam. Look through the list of available aircraft. Your newly added aircraft should be among those aircraft. Click on your new aircraft to select it, then click on the OK button in the lower right.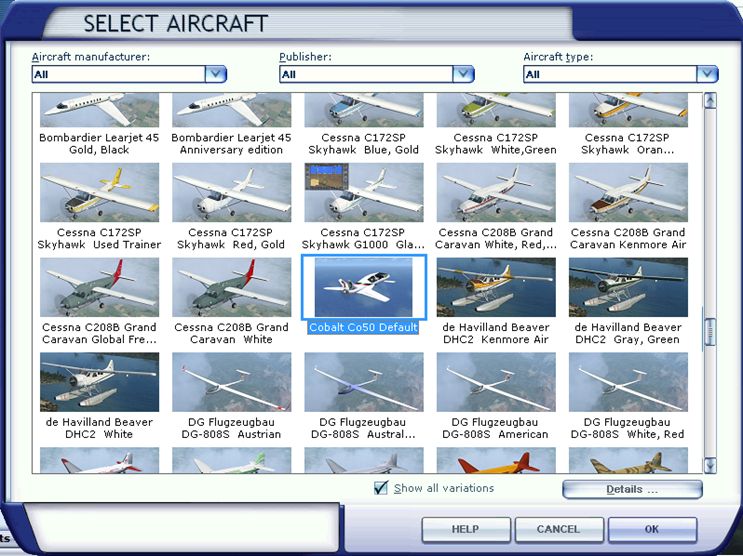 If you saw your add-on aircraft in the Airplanes or Rotorcraft folders but you don't see your aircraft among the FSX Steam collection, look under the manufacturer, publisher and aircraft-type categories. Some third-party developers don't categorize their aircraft accurately.
If you are sure your new aircraft is in the Airplanes folder, and you have looked throughout the aircraft collection and still don't see your new aircraft, then go to your new aircraft's Panel folder.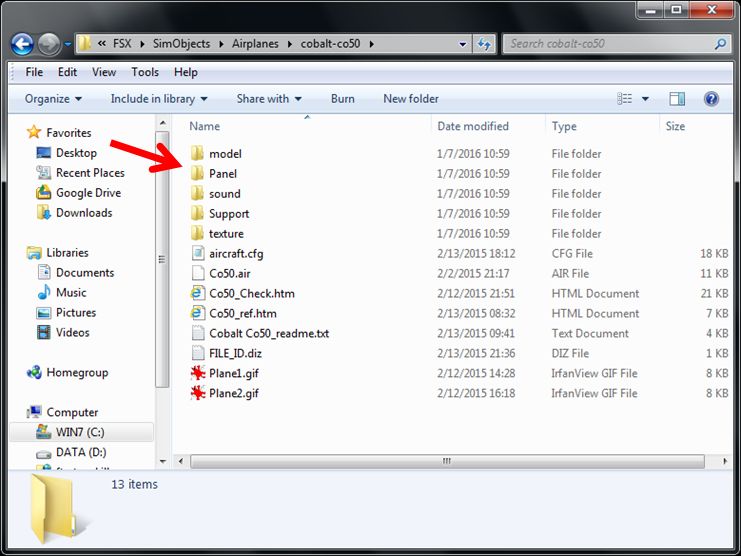 Open the panel configuration file. It's a standard text file that opens with ordinary text programs such as Windows Notepad.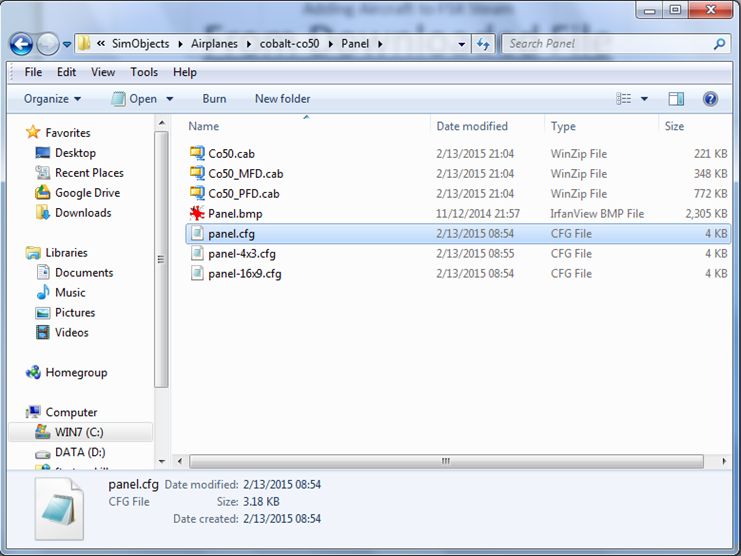 The panel configuration file should show lines of code for FSX Steam to follow.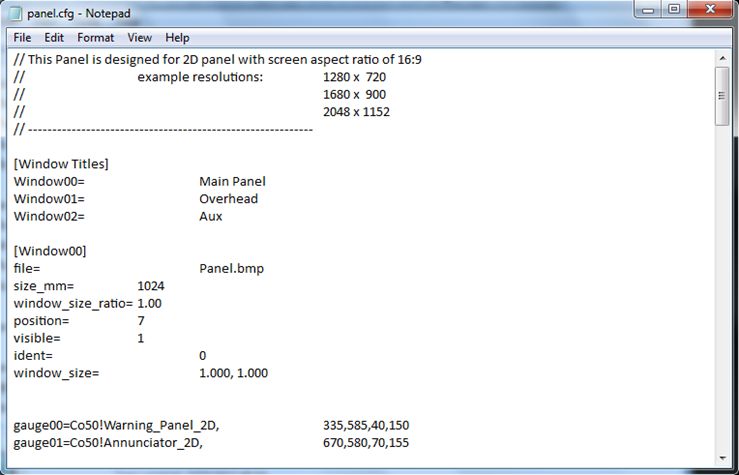 Or it should direct FSX Steam to use a different panel from a different aircraft.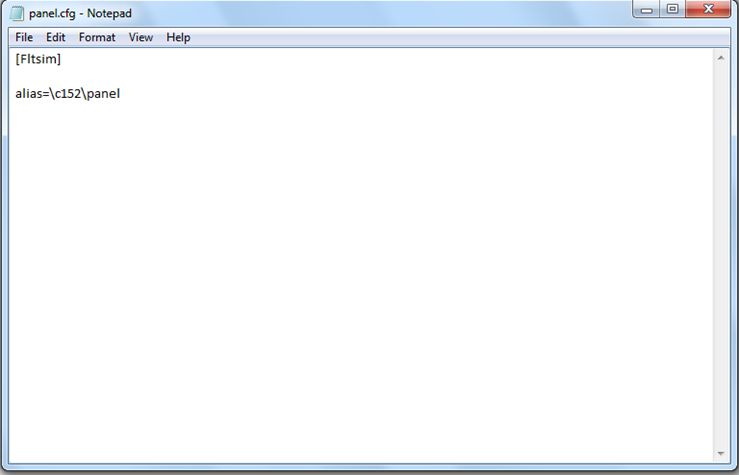 If the panel configuration file references a panel that Steam cannot find, the aircraft will not be displayed. Revise the code to reference an aircraft you have, or ask the developer of your add-on aircraft for the needed panel code.
Installing Repaints for Already Installed Aircraft
Installing repaints for FSX Steam stock aircraft and for third-party aircraft already added to your FSX Steam require the same file-extraction procedures described previously, plus revisions of aircraft configuration files.
Select and download a repaint package from Fly Away Simulation.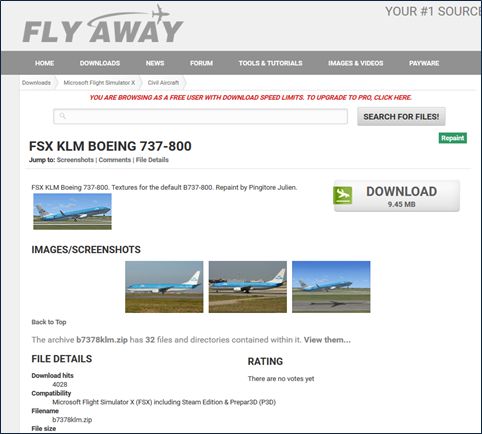 Extract all the new texture folders to the specific FSX Steam aircraft for your repaints. This example is a repaint for the stock Boeing 747. Some developers add one texture, and some add several textures. This developer made four texture sets.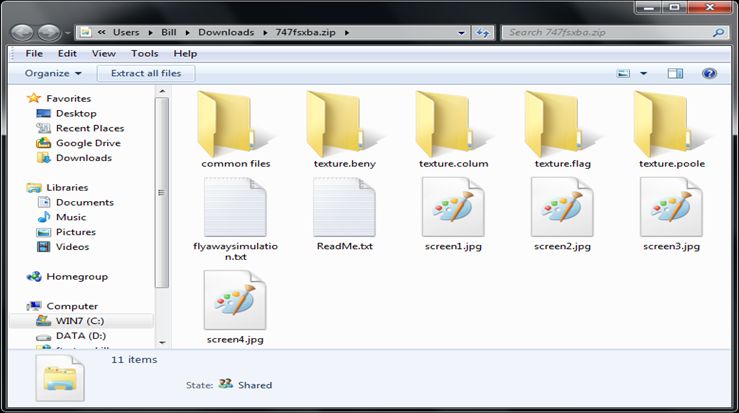 Go to the respective aircraft folder in your FSX Steam (Airplanes or Rotorcraft) and verify that the new texture folders have been added.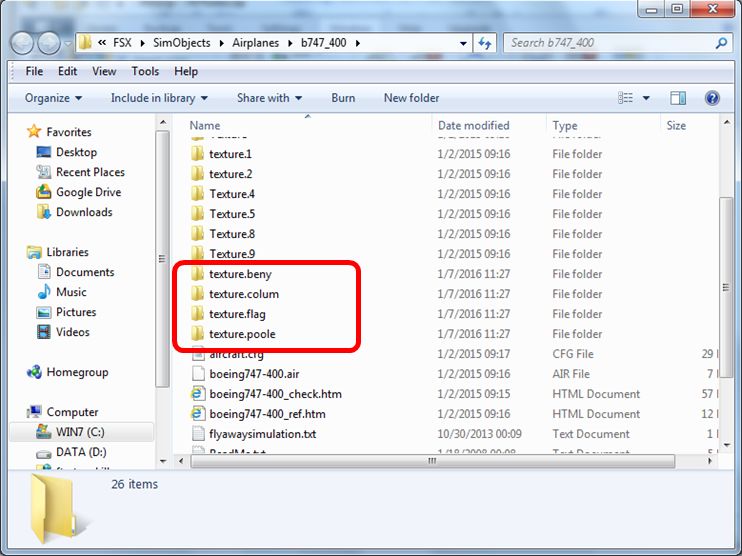 The file-revision procedure should be explained in a text file provided by the aircraft developer. Follow his instructions precisely. If a text file with that information is not included, contact the developer for his instructions. The textures cannot appear without the file revisions.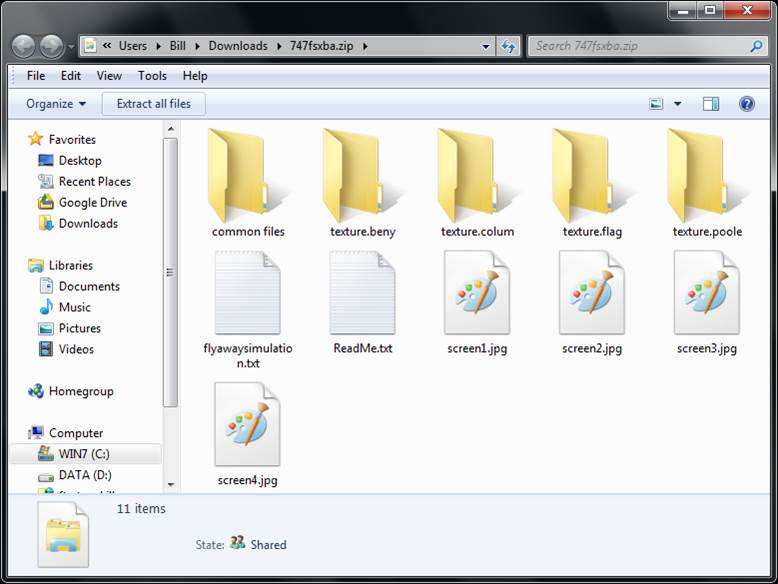 Copy configuration data from the developer's file. If the developer made more than one texture, there will be more data to copy than seen in this window.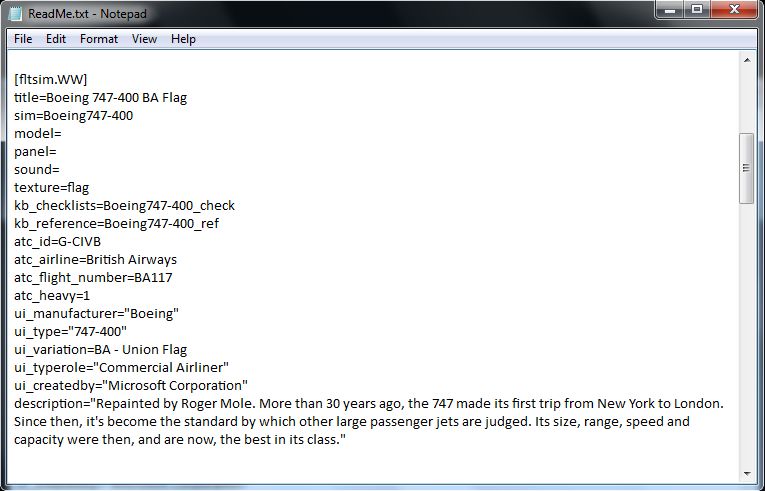 Open the configuration file for the FSX Steam aircraft to be repainted. It's always named "aircraft.cfg" for each aircraft, and it's a standard text file.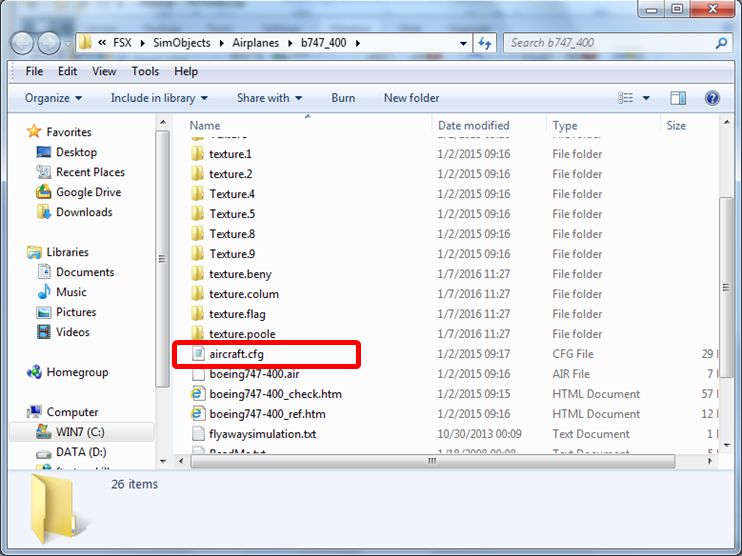 Notice that each texture group for this aircraft is numbered sequentially starting with zero.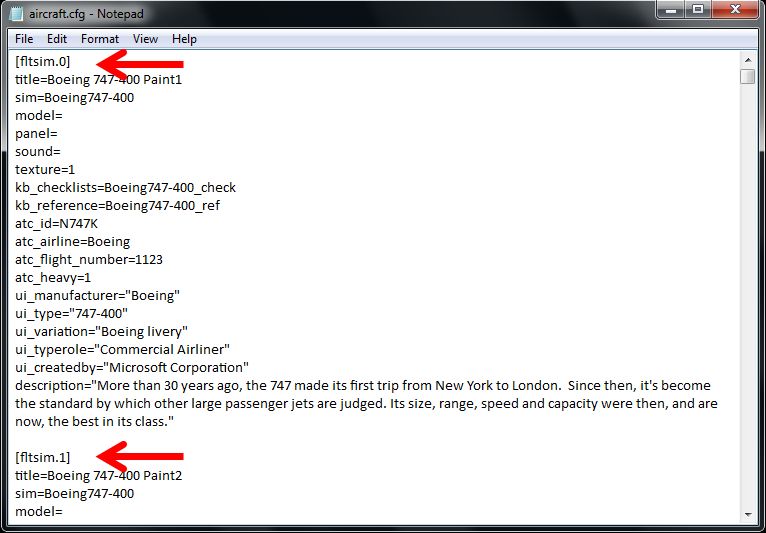 Scroll down to the end of the aircraft texture section. Paste the developer's repaint data into the aircraft.cfg file.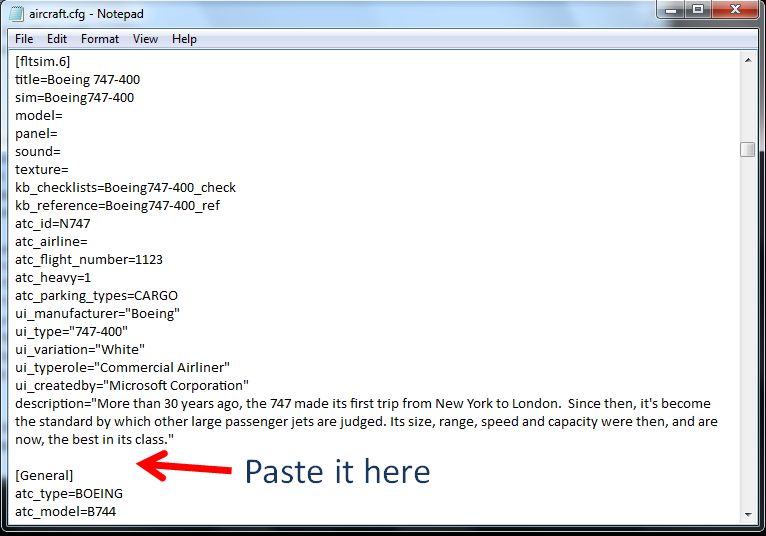 Then renumber his new data groups to make them next in the sequence.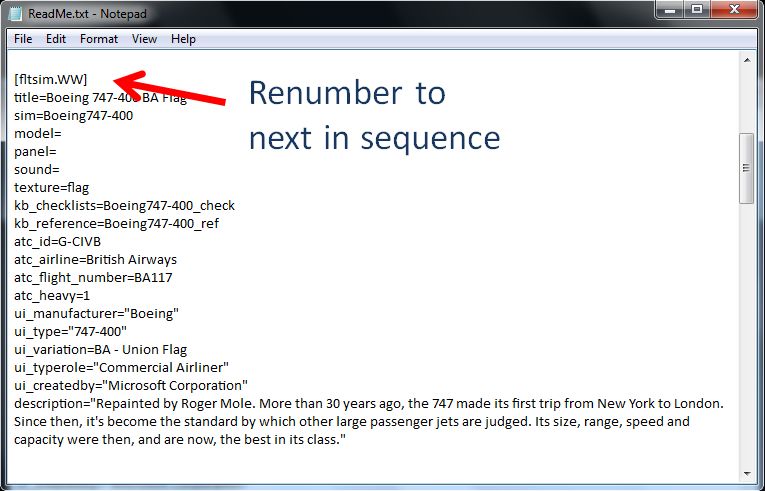 Make sure the texture names in the aircraft.cfg file match the names of the texture folders. If they don't match, the repaint cannot be displayed.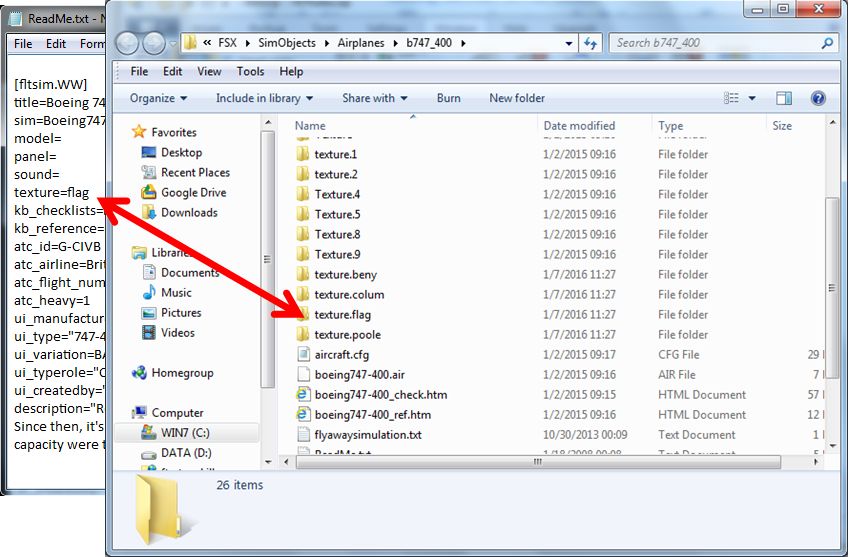 If your repaints don't appear properly in FSX Steam, check the sequence numbers and the texture names. Also check the developer's instructions to be sure you followed them correctly. If you are sure everything is correct but your repaints still don't appear, contact the repaint developer for assistance.
Using Direct X 10 Preview
Direct X is an internal program that facilitates graphics displays in Microsoft computer games, including Flight Simulator. DX10 wasn't ready when FSX was released in 2006, so Microsoft included a preview option. DX10 Preview enhances the graphics display in FSX, but it also increases demands on the simulator and the computer that operates it.
If your add-on aircraft is black or invisible, uncheck your DX10 setting.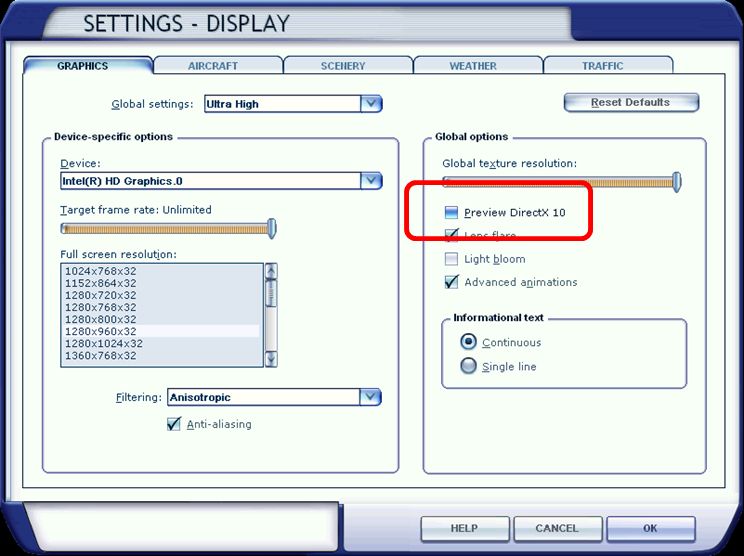 A third-party program called Steve's DX10 Scenery Fixer might be helpful. It has been independently tested and reviewed by Fly Away Simulation. For more information, go to his web page: https://stevesfsxanalysis.wordpress.com/, or search for "Steve's DX10 Fixer."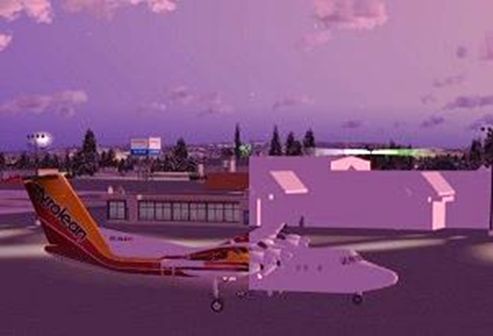 Getting Assistance
The first place to seek assistance is yourself. Reread all the instructions, double check all your work, look for possible mistakes, and correct them. We can usually find and fix our own errors in a tiny fraction of the time required for contacting developers and posting questions on internet forums. If you are absolutely sure you followed all the instructions correctly and made no mistakes, then contact the developer. He's in the best position to help you. The last resort is internet forums if you don't get assistance from the developer.
Video Demonstration
Below is a video outlining and demonstrating all of the methods uses above. Some users find it easier to follow a tutorial video.
Credits
This tutorial and video were written, produced and narrated by Bill Stack exclusively for Fly Away Simulation. Tell us about how helpful this tutorial was for you. Share it with other flight simmers who might benefit from this information.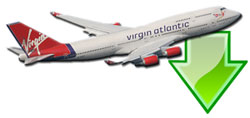 Don't forget... We have a huge selection (over 24,000 files) of free mods and add-ons for MSFS, FSX, P3D & X-Plane in the file library. Files include aircraft, scenery, and utilities All are free-to-download and use - you don't even need to register. Browse on down to the file library here.