We're already partway through 2020 and many new add-ons have been released for Microsoft Flight Simulator X and Prepar3D by freeware developers and enthusiasts in the industry including lots of updates to make things compatible with the latest Prepar3D v4.
My article here is my own selection of what I feel are the best aircraft for FSX/P3D currently in 2020.
The files may have been released before 2020, however, I'll release an article similar to this each year with further updates for the current year. Please note that all of the files featured here are completely free to download and use - we have a separate page for "the best of payware" add-ons.
As this is quite a long article, I've included some jumping points below for easy navigation - you can just click on them:
Please note: we are still updating this article to include only P3Dv4 compatible aircraft.
We are slowly removing older, less detailed aircraft which are only compatible with FSX.
To view only the aircraft guaranteed to be compatible with Prepar3D v5 and v4, please see our 2020 additions here:
Large Civil/Passenger (Jet) Aircraft
The most popular aircraft people download are almost always civil/passenger jet. These are the type of aircraft most people fly on when going on vacation or plane spotting at airports. As there is much demand for this category, this is the largest group on our downloads section with the most downloadable files. There is also a bigger developer base for these types of aircraft.
Airbus A380 Mega Pack
New for 2020
Added back at the end of 2019 to our file library is our Airbus A380 Mega Pack which is compatible with both FSX and Prepar3D (including P3Dv4). It's a stunner of a package and includes over 12 repaints based on real-world airlines using the behemoth of an aircraft.
We believe it's quite possibly the best freeware A380 pack available (at the time of writing) and you really won't be disappointed.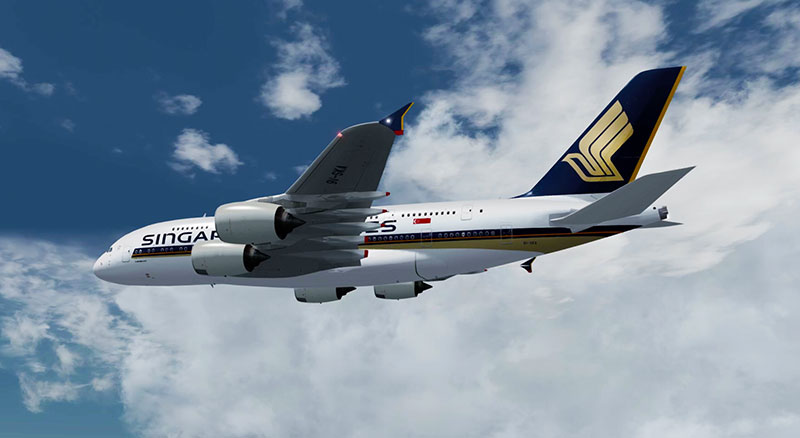 Featuring a fully working VC (virtual cockpit) and an advanced base model developed by Project Airbus along with custom sounds (RR engine sounds) and 12 repaints - this is a complete package.
Repaints and liveries included; Lufthansa, China Southern, ANA 'Fly A380 to Honolulu', Emirates Expo 2020, HiFly 'Coral Reefs Protection', Korean Air, Emirates 'United for Wildlife', British Airways, Emirates, Qatar Airways, Singapore Airlines, Asiana Airlines, Etihad. All of the airlines are true-to-life and actually run the A380 in their fleet.
​
Finally, also included (and worth mentioning) is a fully working FMC which we know users will be pleased about. Final note: the virtual cockpit is based on a modified version of an A320 as no freeware A380 VC currently exists. But it serves its purpose.
File size: 2.18 GB
View/download the file over here.
Boeing 787 Dreamliner Mega Pack
New for 2020
The Boeing 787 Dreamliner won the hearts of thousands of aviation enthusiasts during its development and release. Originally dubbed the 7E7, it has become famous within the aviation industry and even with holidaymakers knowing it as the "Dreamliner" as it has been promoted in advertising campaigns.
This package for FSX (all versions) and Prepar3D (all versions including Prepar3D v4) brings the Boeing 787 to life in your simulator in stunning detail.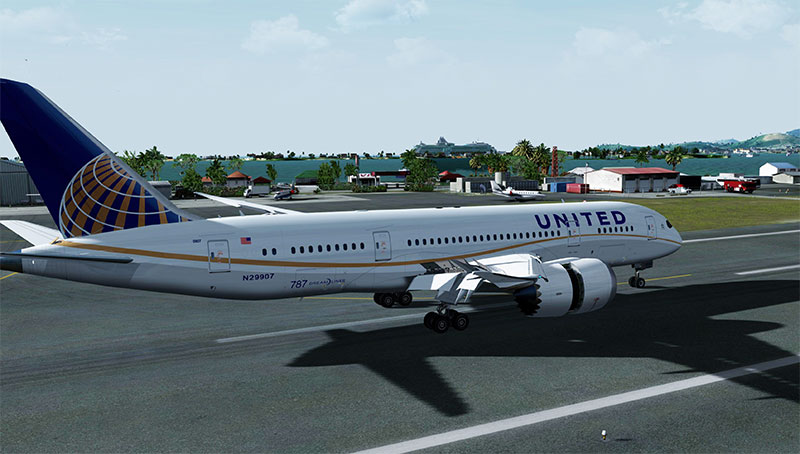 Based on the model by TDS, this pack also includes 56 repaints and liveries. All three models of the 787 including the 787-8, 787-9 and the 787-10 along with liveries for each of the models.
Also included is a fully working virtual cockpit (VC) which we notice that most of our users are requesting (it is 2020 after all!).
​
Along with a VC and many models, all liveries included (56 of them) are based on real-world airlines. Finally, also included with the pack are full documentation, GPWS systems, and an FMC.
View/download the file over here.
Vista Liners/Erick Cantu's Boeing 727-200
This add-on was originally created for Microsoft Flight Simulator 2004 but has recently been ported to FSX. It was well known in the FS2004 days as quite possibly the best free 727 package available and many of the reviews, comments, and ratings reflect that. The port to FSX was made possible by David Grindele who converted certain aspects of the package such as the aircraft.cfg file, the engine smoke, and navigation lights to work correctly (and more realistically) in Flight Simulator X.

The 727-200 was a reshaped and reformed version of the 100, with more than 20 feet of length added on for good measure. Also, an extra ten-foot fuselage section was brought in to go in front of the wings, as well as the same again behind them. Although it weighed more than the 100, it was able to hit more powerful speeds. The aircraft itself had a five-year lifespan before the 727-200 Advanced came along in 1972. However, more than 300 of these aircraft were created and have since become hugely popular among flight collectors and simulation fans all over.
This file includes some great features including wing views, engine smoke and full compatibility with Shockwave's 3D landing lights enhancement. The file is a whopper at over 600 MB as it includes 153 full liveries with hundreds of airline paint schemes all in one package.
View/download the file over here.
iFly Boeing 747-400 Package
Quite possibly the most realistic and fully functional free 747-400 packages is this one from the developers at iFly. If you're a more serious simmer with attention to detail then you won't be disappointed by this one. Featuring a fully functional FMC (Flight Management Computer), TCAS System and Audio/visual TA/RA system - it's the best you're going to get without paying a premium. Sometimes it's hard to believe this one isn't payware and with many strong reviews and ratings, the community seems to love this aircraft.

As one of the best-sellers of all time within the Boeing brand, you can probably already guess that this aircraft brings plenty to the table. The 400 editions have moved forward with the times more and include a far more efficient to fly and equally safe to use aircraft. The wingtip extensions were also included to give this model something a bit more unique aesthetically – however, it also comes with a glass cockpit that can easily fit two crews. Fuel efficiency is a huge part of the service offered here, too, and can be the ideal pick for some.
The picture above does not do this file justice, you have to check out the download page for all the screenshots and details. This package from iFly includes seven paint schemes: iFly livery, Air France, Northwest, Lufthansa, Air China, China Airlines (Boeing) and Cathay Pacific. Also included are 3D cabin models so you can explore the plane while in flight as if you were a passenger on the aircraft. Clocking in at almost 49MB, it's a large file packing a punch. A virtual 3D cockpit is also included and it fully functions with features such as working switches and displays (yes, in virtual cockpit mode!). Before you buy the PMDG 747, check this one from iFly first.
View/download the file over here.
Eric Buchmann's Concorde
We couldn't complete the passenger/jet aircraft section without mentioning one of the most iconic aircraft of all time - the Concorde! We may all remember when Microsoft included a default Concorde in Flight Simulator 2002 and wondered why they removed it from all future versions. Well, it's back here for FSX in stunning detail. There are a few freeware Concorde packs for FSX, but this is probably the most versatile without buying payware (Flight Sim Labs to a brilliant payware Concorde). Created and adapted from the famous FS France model of FS2004, this model by Eric Buchmann has many features packed inside.

As one of the most iconic aircraft of all- time it's no surprise that this has been remade so many times; being capable of flight almost double the speed of sound, this behemoth could handle more up to 128 passengers at any one time. It continued massive amounts of service for more than 27 years, before the violent end to the Concorde reign occurred. With more than 20 of the aircraft built in total across the UK and France, it was a genuine piece of innovation within the world of aircraft and changed things for the better.
This is one of the most popular add-ons we have in our file library and there are many reasons why. The package comes with 5 paint schemes including Air France, British Airways, American Airlines, United and the famous Pepsi paint scheme. The aircraft model also features engine smoke and afterburner effects for maximum realism. Inside the aircraft, there are many perks including a full 3D virtual cockpit and animated nose/visor sections. The exterior has been replicated with great attention to detail featuring many 3D animated parts. While the textures are not breathtaking, they surely won't disappoint. At 41MB, you know you're getting a high-quality package.
View/download the file over here.
Business Jets
Some of us prefer to fly something a bit smaller with the same power as the big jumbos of above. Some of us also like to see ourselves as private jet pilots simulating flights carrying famous celebrities or perhaps envisioning yourself jet-setting around the globe in your own private jet. Check out my 5 favorite bizjets below.
Alejandro Lucena's Cessna Citation 500
This Citation 500 created purely for FSX (not backward compatible) by Alejandro Lucena is one of the best free native models available. In fact, it's one of the most popular private jet aircraft we have in our library. With support for DirectX 10, you can really get some eye candy going on with this add-on. The model was created in Gmax - which enables the developer to give much attention to detail - and that shows for sure.

As a truly epic aircraft that received a huge amount of acclaim when it first hit the markets in the late 1960s, the Cessna Citation has long been a really important member of the business jet lineage. By bringing together so many distinct families of the Cessna brand and almost unifying them under the one banner was a hugely impressive move by the company, and made sure that the future would be a much easier one to manage; the innovations brought in by the Citation really did help to set a tone for the future development and change within Cessna.
The flight dynamics of this model (how it flies in the sky) were created by Brett Henderson who actually pilots a real-life Citation 500. He was very particular and you can expect very realistic flight dynamics for ultimate realism when flying. Like many of the other "best of" aircraft featured above, this one features a fully functional and interactive virtual cockpit (for those who prefer that to a 2D panel system). The aircraft also has many dynamic moving parts and special animations including a front cargo and passenger door. There are a few livery styles chucked in with this file, however, none of them are commercial names you may have heard of - in fact they are all default private livery styles - but hey, you're flying a private jet... right?
View/download the file over here.
CamSim's Embraer Phenom 300
CamSim creates some great freeware aircraft for FSX, FS2004 and I think as far back as FS2002 - but this model of their Embraer Phenom 300 is definitely one to download. While the file size only clocks in at around 8MB, some great features have been packed into this space. The livery design is based around a real-world Phenom 300, "PP-XVJ". PP-XVJ is owned by a private individual and while I've looked online, I can't seem to find the owner. The paint scheme is eye-catching and very pleasing.

Like any good light aircraft, the Embraer Phenom was hugely well received in Brazil as it helped to bring small parties of up to 9 across the country. It could fly up to 3,650km in length and capable of being used for many domestic flights across Brazil. In fact, it was the top jet delivered in the whole of 2013 with more than 60 units sold across the world; this keen interest in the ever-growing Embraer engine and style has made sure that this mod is worth trying. It's a unique flight experience, and well worth giving a shot.
The model and livery have all be developed by Camil Valiquette aka CamSim. The real-life aircraft seats six passengers and the virtual version has been created to replicate this. The model features a fully animated cabin compartment with moving passengers. It's great fun to have a play with this cabin while you're cruising with the autopilot on. As well as an animated cabin, the aircraft has been developers to high standards externally too. All of the decals are sharp and modeled well and you even have ground handling services (such as animated passenger steps) at the click of a few buttons.
View/download the file over here.
Mitsuya Hamaguchi 's HondaJet
I couldn't finish the business jet section without mentioning something more exotic. The HondaJet by Mitsuya Hamaguchi is a Honda HA-420 HondaJet aircraft model just for FSX. The HondaJet is produced in Japan by Honda, which I'm sure you may have heard of because of their cars. They actually manufacture aircraft too (among other things). Its first flight was in 2003 and commercial production began in 2006, making it one of the newest and most modern private jets available. The modeling by Mitsuya has been done to very high detail and you can really notice it when looking at the aircraft externally.

As you might imagine with an aircraft of this sheer caliber and class, the attention to detail is almost second to one; as the first-ever released by the Honda Aircraft Company, this device found it easy to break into the market and capture the attention of people due to it' sleek design. It's expected to receive full FAA certification in 2015 but until then you'll be able to make use of the innovative changes and features that have been brought in by Honda since the project was first announced back in the late 1980s when they studied aviation deeply.
While the file size is not that large, you really wouldn't notice it from looking at the aircraft. In fact, when choosing what to download I'm the type that usually goes on file size - expecting larger to be better... this isn't always the case and this aircraft is a demonstration as to why. While not much documentation comes with the file, it has many features including animated steps up to the aircraft, a female co-pilot in the cockpit and a fully animated virtual cockpit. The paint scheme is Honda's original factory colors which are white and blue with "Honda" in red painted on the engines. Honda actually manufactures their own engines too for this aircraft, which is very rare as you usually see external manufacturers create the engines for aircraft. You'll enjoy this one...
View/download the file over here.
General Aviation
This is probably one of my favorite sections because I just love general aviation aircraft. I fly in real life too, so I'll select some of my favorites. This category has many developers who enjoy creating these models, however, if you're looking for the best payware general aviation aircraft then I highly recommend Carenado - they create stunning payware prop models.
Piaggio P.180 Avanti Mega Pack
New for 2020
Originally developed quite a few years ago by Mario Noriega for FSX, with some tweaks this is now also compatible with Prepar3D v4 (and what a beauty it is).
The Piaggio P.180 (real-life version) is manufactured by the Italian company Piaggio. It's a one-of-a-kind aircraft and has a strange configuration with a stabilizer at the front of the aircraft by the nose. It's also has a very strange humming sound if you've ever heard one fly in real life.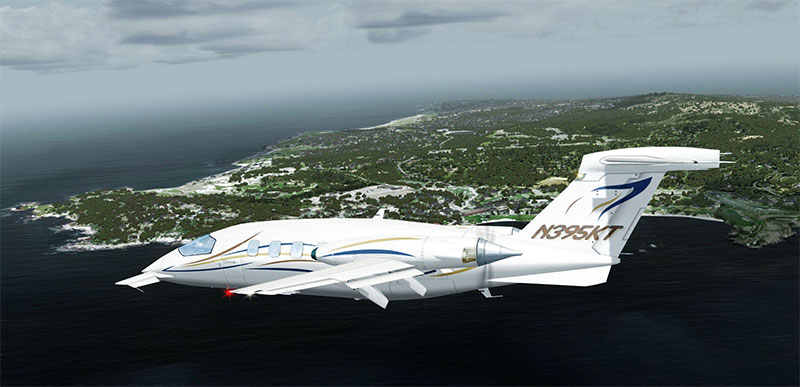 This model features a full passenger cabin area, custom sound pack and a fully animated and working virtual cockpit (VC).
Also included with this "mega pack" are over 30 stunning HD repaints based on real-world versions of the P.180. Even the aircraft that regularly flies into my local planespotting airport (London City) is included!
View/download the file over here.
Craig Richardson's Edgley Optica
A strange one to begin with, as it's a very unusual aircraft. Originally designed and created to provide a low-cost alternative to buying a helicopter, the Edgley Optica is British built. Its first flight was in 1979. The design of the aircraft is very strange with a cockpit area that almost looks like a helicopter cabin strapped to a pair of wings. It provided great views while in flight with almost 360-degree visibility. You could also look directly down from the cockpit - just as you can in most helicopters.

The Edgley Optica is a fantastically well-received light aircraft designed for observation style work as well as more low-cost helicopter jobs that most might never have taken on otherwise. Although fairly slow in comparison to other aircraft, this nifty little thing was easy to fly and looked truly unique in comparison to anything else out there at the time. The prospect of a hybrid between both had never really been looked into until now, and it posted a very interesting question with regards to the design and quality of the aircraft itself – with just 21 built, this still managed to beat expectations and helped to pave the way for more aircraft.
The virtual model created by Craig Richardson has been recreated to a very high standard. The 3D modeling is superb and there are no jagged or sharp edges to the model or any of the textures for that matter, and if you have high anti-aliasing settings turned on, you can be prepared for a very smooth aircraft. Included are about 5 different paint schemes to choose from, with one being a "Police" livery for a UK police department, "G-BOPO" as pictured above. The cockpit is fully animated with 3D gauges and "baked" textures. Also included are 3D pilots. The seating is three-across. You'll enjoy playing around with this one - it's immensely fun to fly.
View/download the file over here.
Colin Sefton's Scaled Composites Pond Racer
Another strange aircraft is the Scaled Composites Pond Racer modeled virtually by Colin Sefton. I just love these strange aircraft, and this one is no exception. The Scaled Composites Pond Racer is a racing aircraft originally designed by Burt Rutan (yes you can expect something strange from him!) Only one was ever made and they never entered a production stage - nor was this ever planned. Built entirely from carbon fiber and Kevlar, it was extremely light and powerful with two 600 HP prop engines strapped to the wings. The aircraft only lasted two years because in 1993 it was destroyed in a crash during race qualifying and also killed the pilot, Rick Brickert.

Colin Sefton didn't actually create the original model of this add-on, it was originally designed by Blake Melancon for FS2004 - but Colin did the port to FSX as well as upgrading a few features and improving the design. This aircraft is great fun to fly and race around it - but you can't take it seriously for real simulator flight. It's a bit of fun, that's all it is. If you fancy a 10-minute play around in FSX, then play around with the Pond Racer - it's worth a look at least...
View/download the file over here.
Craig Richardson's Corby CJ-1 Starlet
Another one from Craig Richardson (he seems to enjoy creating these exotic home-builds) is the Corby CJ-1 Starlet. Only one original ever built, as a home project for John C. Corby, a famous amateur aircraft designer. Many build this model as a home project though. A very small aircraft she is, with only one seat and measuring 4.5m long and 5.72m wide (wingspan). The aircraft is mainly built from wood, with a fabric covering.

The Starlet, as the name implies, has a little bit about itself. The CJ-1 is used in amateur circumstances and was a hugely impressive home-built aircraft. Created by John Corby, this home-made aircraft is a must-try for unique ideas and innovations you simply won't see any other typical way. Created with a fine blend of wood and fabric, this is a charming aircraft that might not carry the health and safety standards that you are used to in a modern aircraft but it can be incredibly fun to take for a spin thanks to its far less forgiving people.
Craig Richardson did a good job recreating this one as it's hard because there are not that many references to work from - only images. It's also hard to get a feel of what the real aircraft handles and flies like because so few have ever flown it. The file size of this download is around 22MB and included are six very nice paint schemes to choose from. The model also has many animations and 3D effects. It's not a bad little aircraft to whiz about in. If you fancy a quick flight around town, give this one a shot!
View/download the file over here.
Canadair CL-215
While the Canadair CL-215 is a much larger aircraft, I thought I'd add it to this section as I wanted to share it with you. You may already have seen it before on TV or in real life delivering water to forest fires or any other types of fire. It's known as the "waterbomber". Its first flight was in the '60s and is still in service to this very day, putting out fires worldwide. Production went all the way up to the '90s and over 125 were built. The Canadair CL-215 is also well known for "scooping" up oil spills at sea and has been given the nickname, "super-scooper".

With the ambitious color scheme that makes the plane stand out so much, the CL-215 is for far more than brightening up the flights around the area! This twin-engine aircraft is used to deal with smaller speeds and also can handle forest fires and more without having to make a massive fuss. This is a solid addition to a hanger in the world as it's easy to land and take off with, making it a very useful aircraft for years to come and learn from. This will help massively with your long-term goals and aspirations of becoming a rounded pilot.
Flying this aircraft is a great blast (excuse the pun) - you can simulate forest fires or oil spills and respond with your very own model of the Canadair CL-215. In fact, there are complimenting missions to add alongside this aircraft to make it more realistic and meaningful.
The 3D modeling is very high standard and many developers have got together to create this beauty, which is why I haven't assigned it to one individual. The aircraft includes a 3D virtual cockpit and standard 2D panel too - so you can have the best of both. The aircraft is amphibious so you can land it on a runway when needed and also make a sea landing too (to pick up water supplies).
View/download the file over here.
Mark Rooks' Cirrus SR22
Mark Rooks has recreated many of the popular general aviation aircraft for FSX use and one of my favorites is his rendition of the Cirrus SR22. The real-life aircraft is a single-engine, prop-driven design with passenger capacity for up to 4/5 including the pilot. It's quite a popular aircraft and released in 2001 has all of the modern cons including a glass panel and newer navigation technologies as standard.

The Cirrus SR22 is massively popular for a variety of reasons, usually mainly because it offers such a uniquely exciting service. The aircraft might run on just one engine but this fantastic little composite aircraft gives you a bit of class and comfort all in the one location. Massively popular amongst its owners in real-life, this is an aircraft that comes with non-retractable landing gear as well as an airframe parachute system. This means that the entire aircraft can be brought down to the planet safely to make sure that any clashes or problems can be resolved without death.
Only one paint scheme is included with the file, which is the "Patty Wagstaff Airshows Inc." livery. It's quite a simple design and if you're any good at creating repaints, I'm sure you could create your own as the bulk of the repaint included is white. The overall design of the 3D model is of reasonable quality and as good as you can expect from a freeware developer.
View/download the file over here.
Military
I wasn't sure what category to choose for the final section. I was tempted to cover helicopters and rotorcraft, however apparently there is more demand for military aircraft - so that's what's below! Military aircraft in Flight Simulator X should only be really used for simulating flight. FSX doesn't have the functionality to blow stuff up or have virtual combat with other players or bots so flying is all you can really do. There are some add-ons that enable the dropping of bombs and missiles, but none are really that realistic or worth using. Having said that, here are my 5 top military aircraft downloads...
View/download the file over here.
Dino Cattaneo's Boeing/BAe T-45C Goshawk
New for 2020
Another from Dino Cattaneo - he creates such great military aircraft that we have featured two of his models! The Goshawk is a modified version of the original BAE Hawk that you may have already heard of. Its first flight was in 1988 so this aircraft is a little gray around the whiskers, although they were retrofitted with some modern cons and features.
This model works with all versions of FSX and all versions of Prepar3D including v4.
Dino has created this aircraft to great detail and includes some really nice bump-mapped textures with the package. She flies quite nicely, is easy to control but at the same time very realistic. The version I'm linking to here is the second draft (v2.10) and is a complete remake of the original version one.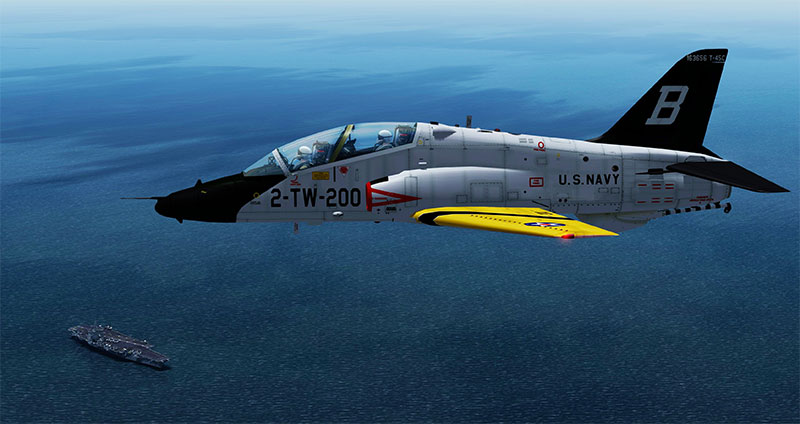 At one stage owned by McDonnell Douglas, the Boeing T-45 Goshawk received a huge amount of praise when it first came on the market; and the reasons why are fairly obvious once you get to see it in action. A massively modified of the BAE Hawk land-based aircraft; this added a whole new army of features to help improve the firepower and flight capacity of the aircraft. First released in 1988, the aircraft is still in service as of today; it's used as a trainer that allows people.
This new version includes a brand new visual model, fully functional virtual cockpit and new high definition textures for FSX. Also included is a HUD (Heads-up-display) system created by Jivko Rusev and Scott Printz. He didn't mention how many livery designs came with the download, however, I can see there are about three (although there could be more). At over 128MB in size, it's quite a large download but the bulk of that size goes to the higher definition textures.
This aircraft is fun to fly with aircraft carriers (which you can download here) and is very good at STOL (short take-off/landing). It's one of the better Goshawk packages out there - and certainly the best freeware available.
View/download the file over here.
Grumman F-14D Tomcat Mega Pack
New for 2020
Another from Dino Cattaneo is his fully-featured F-14D Tomcat package for both FSX (all versions) and Prepar3D (all versions including v4).
Quite possibly the best Tomcat package available (for freeware) and the most highly detailed.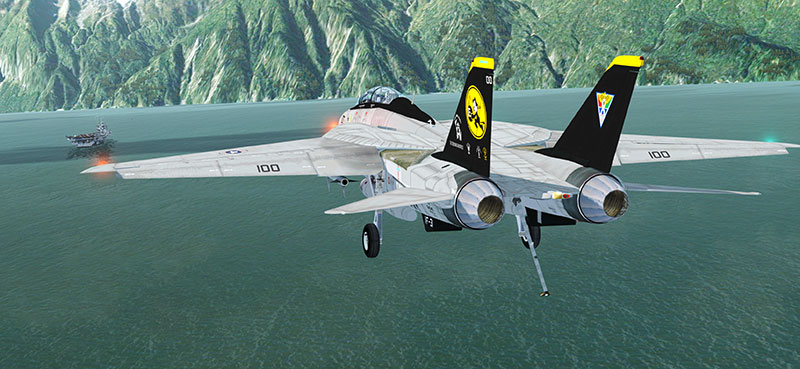 This package brings the entire F-14 model along with over 10 real repaints/liveries to your flight simulator. Included is a full flight manual of over 150 pages (PDF).
The model features a new visual model, with self-shadowing, bump mapping and photoreal hi-res textures, working virtual dynamic cockpit, 3D gauges, and a completely new flight model.
Brian Frankin's RAF Hawker Siddeley Nimrod Package
Most of the aircraft featured above come with many textures and repaints for various different airlines or military divisions, however, this RAF Nimrod by Brian Franklin only comes with one - Royal Air Force. The reason for this is that the RAF were the only air force to actually fly these beautiful British aircraft and only very recently took them out of service (June 2011). The Nimrod was a stem off of the De Havilland Comet (a popular passenger jetliner of the era) and adapted for military use. They were primarily used for missions over the sea such as anti-submarine ops. Brian has recreated this iconic British aircraft in spectacular detail for all users of FSX, and best of all - it's free.

Take away the comedy name and the Siddeley Nimrod was a well-respected aircraft that was still within the skies as of 2011. It was a hugely powerful maritime patrol aircraft that was made within the UK and has gone on to receive a huge amount of praise throughout a lifespan that ran since 1967. A specific re-design and modification of the de Havilland Comet, the first-ever commercial airliner, was designed to take the throne of the jetliner industry as well as to help the RAF who felt their Avro Shackleton's were beginning to become a bit too aged.
The package includes all or most of the variants of Nimrod such as MR1, MR2, and R1. They all served a different purpose, but the MR1 was the original military Nimrod. The aircraft package only includes a virtual cockpit, so there is no 2D panel option - which is a shame, but the VC is fully functional so if you've never tried to fly with a virtual cockpit alone, you can give it a go with this beauty. All of the control surfaces are animated, which you should expect with any FSX aircraft. The textures are of high detail and very accurate for each of the regiments they represent (to their real-life counterparts). Download this piece of British history today.
View/download the file over here.
Kirk Olsson's Lockheed Martin F-16
This is by far the most popular military jet we have on the site (although it has been around the longest). You may have already heard of this package or even downloaded it previously. Kirk has added all the bells and whistles with this aircraft including things such as chute for slowing down when landing, realistic F-16 sound recorded from actual aircraft and virtual cockpit - all features you would expect to find in a payware model. The F-16 has been around since '78 and is still being manufactured to this day. It's a popular aircraft with military enthusiasts and aircraft buffs alike.

If you have been playing flight simulation games since the days of the SEGA Genesis, you will no doubt remember the world of the F-16. This is a real staple for most people, giving everyone the chance to experience something truly incredible. Although originally made up to be a useful air superiority fighter, the design style of the F-16 turned it into a fantastically versatile piece of kit that was used for many different purposes. Still in service today, the F-16 has provided the skies with more than 40 years of high-end flight simulation quality.
The F-16 has been named the "Fighting Falcon" and many of us know it only by that name. It's a true military fighter that has stood the test of time. Although the new models have had many upgrades and new functionality, the older models have been retrofitted with these upgrades too. Still in service and still being manufactured, we can expect the F-16 to be in the skies for the next 10-15 years. The package Kirk has created includes a repaint for the Royal Danish Airforce, however, there are many third-party repaints available to download - this is just the base package. Get your hands on it now...
View/download the file over here.
Ross McLennan's Lockheed SR-71 Blackbird
One of the most famous military aircraft in the world and one you have most definitely heard of is the Lockheed SR-71 Blackbird. Having said that, the SR-71 was flown for many years in secret out of the public eye and only known to the USAF and NASA. It is a high-speed reconnaissance aircraft and most well knows for its speed. Flying at speeds greater than Mach 3 (around 2,200 MPH), the SR-71 used to leak fuel before it was at high speed because it would stretch so much whilst traveling at high speed. The fuel seals couldn't compensate for the stretching of the body and the SR-71 had to refuel before heading to its destination - the technology couldn't keep up with the speed of the aircraft; quite literally.

As the progenitor of all scary looking aircraft that look like they could take an entire country with the press of a button, the SR-71 Blackbird is hugely well respected because of its massive prowess out there on the battlefield. In fact, the aircraft has never once been bested in combat with an enemy fighter; out of the 32 that were actually built in the end, other has never been a single loss due to their incredible speed, precision, and strength. Although this aircraft was extremely quick and nimble, it packs an absolutely mind-blowing punch and can be the perfect solution for anyone with aspirations of trying out military equipment.
Ross McLennan has done a great job in keeping this aircraft model true to its real-life counterpart and included some great perks such as a deploying landing chute and brilliant cockpit area. This file has received some great reviews, and it's actually the second version as Ross created it originally for FS2004 (FS9). Known as the fastest plane on the planet, the SR-71 has never been beaten on speed by any other jet-driven aircraft. It makes for some interesting flying once loaded up as you'll find yourself very quickly miles away from your departure location in a matter of seconds as soon as you open those engines up. The afterburner effects are also great. Have fun with this beauty...
View/download the file over here.
So there you have it, my top 20 free FSX aircraft downloads for 2019. It's hard to shorten such a vast selection of aircraft, so I'll be posting one of these summarized lists each year to keep all you readers updated on past and present freeware. Thanks to all of the developers out there who had put together these great packages; our community wouldn't be the same without them.
I'd love to hear your comments on any of the files above or any comments you may have with regards to anything flight sim related in the comments below - don't be shy! Also, if you spot any typos or wrong information, shout at me below in the comments too!
Many More Aircraft
We have many more high-quality freeware aircraft over in our file library (almost 23,000 downloads and counting) - view the FSX library here and the Prepar3D v4 library here. Also, don't forget to check out the most popular category of all - the civil aircraft category - this covers everything from a Boeing 747 to an Airbus A320.
Most of the files come with high-quality screenshots and we are also introducing preview videos so users can see what they are getting before downloading. Also included is a comment and review system so other users can share their thoughts with the community about the files they are downloading.
Installing these wonderful aircraft
Most of the files I've mentioned above come with easy installation instructions and if you've installed aircraft before, I'm sure you know what you're doing. However, if this is your first time and you need some guidance, please visit this page to help you get started. If all else fails, post a comment on the download page itself and either myself or a fellow member of the community will get back to you. If all else fails, visit our forum.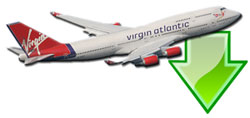 Don't forget... We have a huge selection (over 24,000 files) of free mods and add-ons for FSX, P3D & X-Plane in the file library. Files include aircraft, scenery, and utilities All are free-to-download and use - you don't even need to register. Browse on down to the file library here.