Now available from AlphaSim is their F-111 Aardvark package. The highly detailed model comes with three variants and several liveries. For full details, click on Read More.
Announcing the long-awaited arrival of the AlphaSim F-111 Aardvark package! This highly-detailed and feature-rich model set comprises of three variants - the FB-111A (four texture sets), the F-111F (one texture set) and the RAAF F-111G (two texture sets).
The many features are listed and illustrated with screenshots on our News page.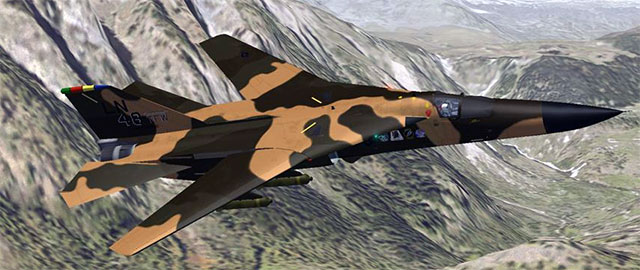 The F-111 Aardvark is a medium range tactical strike aircraft which was used for bombing missions as well as reconnaissance and interdiction missions. The aircraft was manufactured by General Dynamics and was became active the US Air Force in 1967.
The Aardvark's introduction came with several technological advancements such as variable-sweep wings and afterburner engines. The aircraft remained popular up to the late 1990s when it was slowly phased out for more modern fighters.
The primary mission for the Aardvark's planners and developers was to come up with a low-flying aircraft capable of avoiding enemy detection. The aircraft also had to be capable of long-range missions, especially across large bodies of water. These requirements were forwarded by both the US Navy and Air Force, and both branches agreed on a two seater, twin engine and swing wing design.
General Dynamics' proposed design was the closest to these requirements, and in the early 1960s, the contract was awarded to them. The manufacturer's design laid out an aircraft that was capable of entering enemy lines at low altitudes in any weather to deliver bombing loads. Its variable wings made it especially successful in altering its speed based on its flight course and payload.
The aircraft was designed for large bombs which explains it large weapons bay, but room was also allocated for a front-facing cannon. The first group of Aardvarks saw their use in the late 1960s as training aircrafts. The Aardvark's first field test was done within a year of its introduction, but several losses due to technical glitches prompted the Air Force to halt its production. It was only in the early 1970s that the aircraft became part of the Air Force's regular squadrons. It was particularly useful in the early stages of the Vietnam War when it was sent to deliver bombing ordinances against the North Vietnamese forces.
The Aardvark continued to be in use by the US Air Force up to the 1991 Gulf War. The last of the F-111 variants was retired in 1998, marking the end of the Aardvark's role with the Air Force.