Once you have installed your basic version of X-Plane you will now probably be looking to customize your experience and add to it by way of the best available, and free, add-ons.
The fact is all of these are available. And most of the time they are free to download and utilize the easy-to-use drag-and-drop system of installation. What's more, it isn't just planes and aircraft that are available and waiting to make your simulated flying experience that bit better.
Even basic add-ons such as the full keyboard control commands for ease of use around whichever virtual cockpit you find yourself in are available. As are the many different landscapes and outside terrains, which aside from the cockpit controls themselves, are largely the most important aspect of providing realism to the user, you.
Whether it is the particular aspects of individual cities, the coastline of a specific island, or the rough terrain offered by some of the world's most majestic mountain ranges from the United States to the Himalayas, all are waiting to expand your experience of virtual flying. And that is where we will start our look at ten of the best free add-ons for X-Plane.
Note: All of the mods and files listed here work with all versions of X-Plane 11 including the Steam version and DVD/boxed versions.
UPDATE: We are currently updating this article to include full coverage of the latest X-Plane 12 released in September 2022.  Add-ons will be marked as compatible after testing.
You can jump to the separate sections using the links below as this article is quite lengthy:
Scenery
HD Mesh Scenery V4
Compatible with X-Plane 12
Recently released are HD and UHD options of X-Plane Mesh scenery V4 – an add-on that is drastically improved over its predecessor, V3. And both options are completely free, both to download and to use. So, what will you be getting?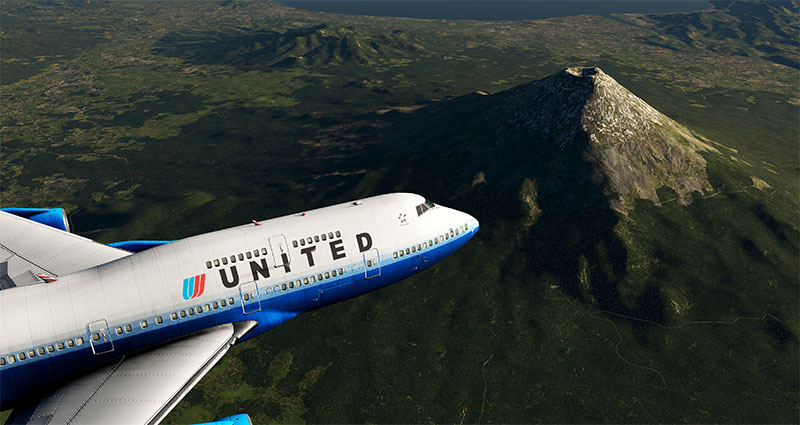 The HD version covers scenery in much of Europe, also including Iceland and the Canary Islands on the continent's western side, and as far as Moscow, Russia, and even parts of Israel on its eastern front. It also covers the United States (including Alaska), Canada, as well as the entirety of Central and South America. If you are looking to venture out over the Pacific, you will find Hawaii and many more of the multiple islands that reside in the world's largest ocean. And should you fly far enough you can explore Australia, Japan, and the Himalayas.
The HD option is also compatible with X-Plane 11 and 12 and is easy to install and use, even using the same files and specifications as the default scenery that comes with the X-Plane program. It really is a case of "drag-drop-use".
View/download the files over here.
UHD Mesh Scenery V4
If you choose to add the UHD version of Mesh Scenery, you can expect to enjoy bird's eye views of some of the most well-known mountain ranges, all of which are extremely realistic and will serve to add another layer of authenticity to your virtual flying experience.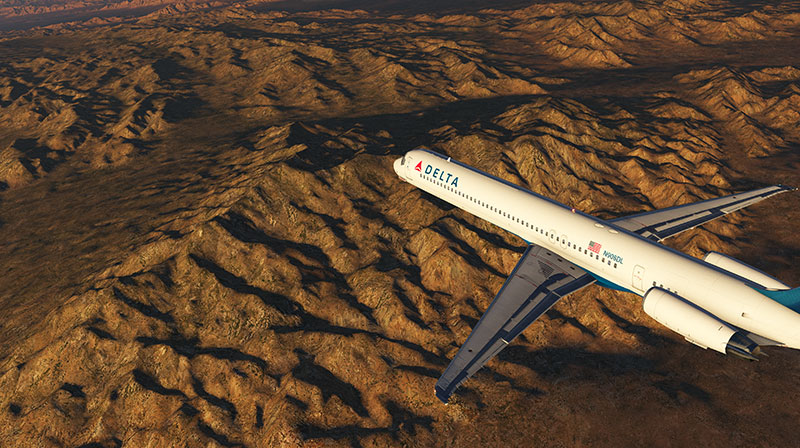 You can enjoy the Pyrenees, the Alps, and the Scandinavian mountain ranges of Europe or head west to explore three different mountain ranges in both Canada or the United States.
Or perhaps you wish to head east where you can venture into some of the magnificent mountains of Japan or New Zealand. And like the HD package, is just as easy to use.
View/download the files over here.
The Alps Photoreal Scenery
New for 2019
Just released into our file library is an amazing photoreal scenery package for the Alps developed by the amazing team at A Sky Story.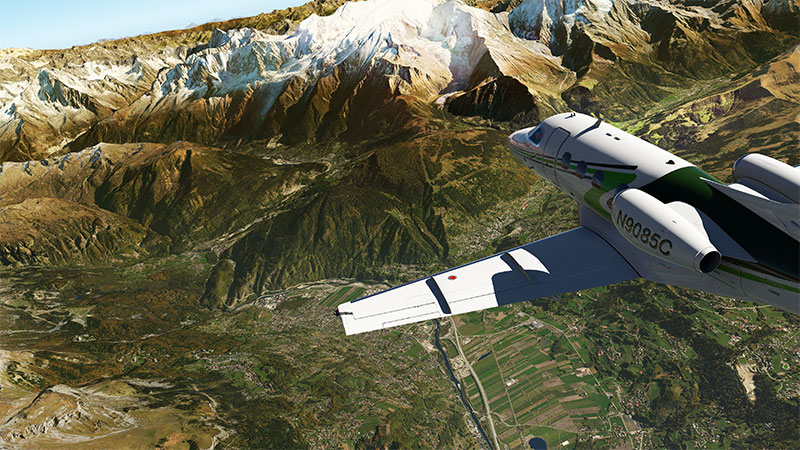 The scenery covers the entire Western part of the Alps including many regions of the French Alps along with Switzerland and other regions. The size of the package is around 40 GB and includes everything you need to get started along with installation instructions.
This is a very large file and may take a while to download especially on a slow Internet connection. You may benefit from signing up to our PRO subscription in order to download faster.
All of the scenery has been created using real-world satellite images and then tweaked by the team at A Sky Story to make them accurate with less color and contrast issues (as satellite imagery is not perfect).
A lot of time and work has gone into creating this package. The whole package is compatible with X-Plane 11 and the older X-Plane 10.
View/download the file over here.
Spain Complete UHD Photoreal Scenery
New for 2019
Just added to our file library is this stunning photoreal scenery package from SpainUHD. This package brings ultra-high definition photoreal scenery for the whole of Spain and all of the overseas territories such as the Canary Islands. Not a single area of Spain has been missed - it is 100% coverage - from San Sebastián all the way to Cádiz - no area has not been covered. The original release by SpainUHD included 90 tiles which had to be downloaded individually - this repackage includes all tiles in one ZIP archive.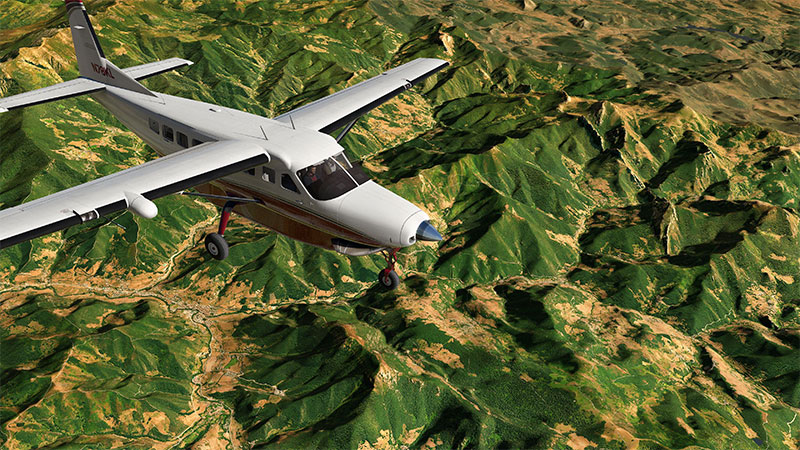 The scenery package adds orthophoto scenery as well as mesh data and elevation data - it's a complete package. Please be aware, this is a very large file (316 GB) and will take a very long time to download on most Internet connections. We have even increased the standard speed limit for our free users to this file as it is so large. Of course, you may still benefit from registering for our PRO membership in order to download faster but you can of course (and always will be able to) download it without registering.
The package works with both X-Plane 10 and X-Plane 11.
View/download the package over in the file library here.
View The Rest of the orthophoto scenery...
We have a whole article dedicated to covering orthophoto/photoreal scenery for X-Plane 11. The article features scenery for the USA, Europe, Australia, New Zealand and more.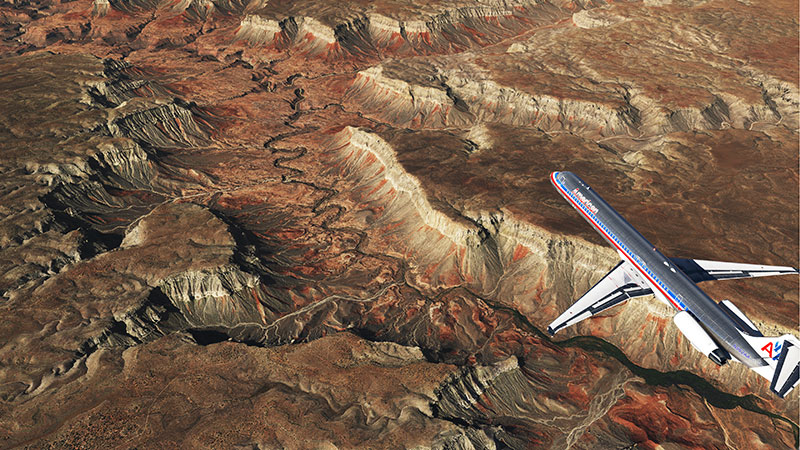 Also included for some of the scenery add-ons are videos demonstrating the scenery package once installed in XP11.
View all of the orthophoto add-ons in our article here.
Don't forget, this is just a selection of what's available - we have many more scenery add-ons for XP11 over in the file library here.
Aircraft
Boeing 737-800/BBJ2
Many virtual flyers will list commercial jet airliners among their favorite planes to fly. And the newly released Boeing 737-800 will likely be popular with many of them, with some of the specifics such as the hydraulic and electrical systems, as well as the auto-flight system bringing a "new level of realism". This realism continues with the intricately detailed and authentic cockpit and cabin area. And for all X-Plane 10 and 11 users, the X737project team have made this add-on completely free.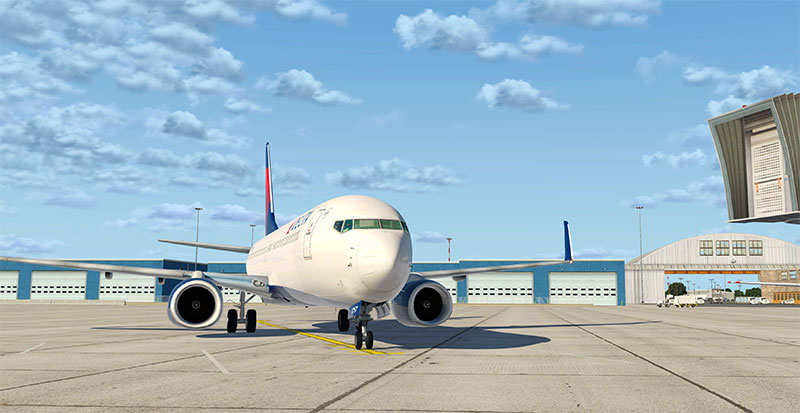 Perhaps what is the real beauty of this latest add-on from the x737project team is the absolute ease with which it will run, and update/override, the previous version as it runs via plugins that are shipped with the product itself. Just simply install the latest version, and it will "override and extend" it for you, leaving you free to take to the skies almost as soon as you begin the installation.
As with many of the x737projects, the list of collaborators is extensive and widespread, and this latest release certainly lives up to the already superb name.
View/download the file over here.
Aeroworx Douglas C-47 Dakota (DC-3)
If you are looking for something a little bit "beefier" and classic then you might want to take a look at the X-Plane 11 Aeroworx Douglas C-47 Dakota. First flown in the early-1940s, the C-47 Dakota is a low-wing, twin-engine military transport plane. And this X-Plane 11 compatible version is complete with extremely well-detailed specifics that make flying in the virtual world as real as can possibly be.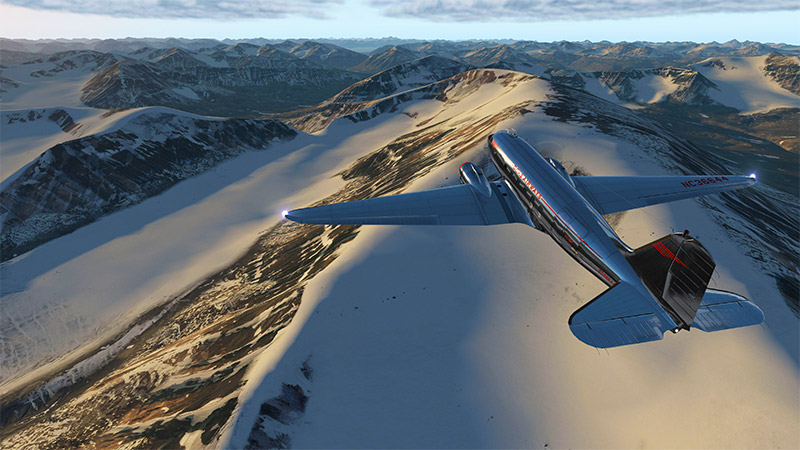 Perhaps what makes the C-47 so authentic in every respect is due to Aeroworx's access to the C-47 planes through the South African Airways Museum Society, of which they are members. This even extends to some of the veteran pilots of these planes, who offered ample notes, advice, and even documentation in the name of truly capturing the feel of the plane for the virtual pilot. This is quite possibly best demonstrated in the fully animated 3D vintage virtual cockpit. This cockpit features literally dozens of animations that are but a mouse-click away and goes a long way towards offering the overall feel of realistic flight in the virtual skies.
Although this particular aircraft perhaps saw its best and most utilized days in the 1940s, with over 10,000 built, it is still a relatively popular transportation plane today in the early decades of the twenty-first century. There are thought to be over 1,000 such planes still in active service throughout the aviation world.
This model, which was originally developed by Manfred Jahn, Jan Visser, and Team for P3D and FSX has been faithfully remastered for X-Plane.
View/download the file over here.
Ryan Navion 205 Vintage
New for 2021
A remarkable model developer by Walker Guthrie and the team at vFlyteAir originally released in 2018 - this add-on brings the iconic (although less well known) Ryan Navion to your copy of X-Plane.
Including many advanced features compatible with the most recent releases of X-Plane, this model is light in size but full-on in features.  This particular model is very well known in the XP community and chances are, you've heard of it already (or already have it in your virtual hangar) - but we still list it here for new (rookie) virtual aviators.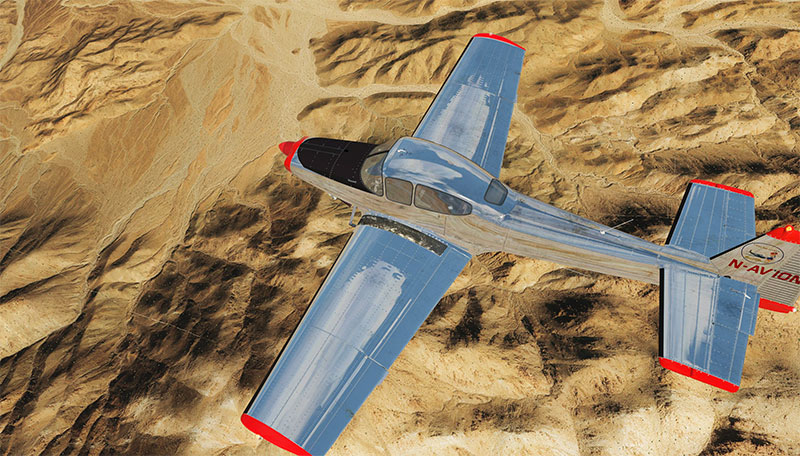 The model features PBR (physically based rendering) texture modeling to make the look, shine, and depiction of the aircraft even more realistic in the latest X-Plane engines such as the Vulkan rework.
Also featured is a fully animated and functional 3D VC (virtual cockpit) that has a perk of a tablet option being made available on the left pilot's seat.  This can be seen in the video below.
The Ryan Navion was originally released in the late 1940s as a 4 seater trainer/civilian aircraft after the post-war boom in civil aviation.  This would make a great addition to your virtual X-Plane hangar.
View/download the file over here.
ANA Boeing 737-800
There is also the option to repaint the default Boeing 737-800 model in the All Nippon Airways colors by downloading a repaint created by Mohammed Al-Khalifa. Again, it is a simple "copy-and-paste" exercise once the file has been downloaded and unzipped.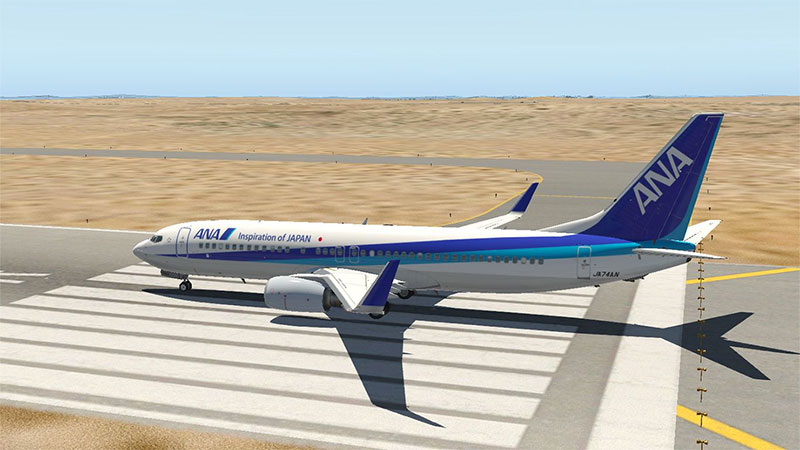 While there appears to be a small bug on the system at the moment which leaves the part of the original paintwork visible, this looks to be ironed out very soon.
View/download the file over here.
Learjet 23 3.0
Utilized by private individuals, in particular businesspeople, the Learjet 23 seats up to eight people comprising of two crew and up to six passengers. Built in the early 1960s, although the model was decommissioned in 1966, it is thought that 39 still exist, and are in use, in the world today. This add-on available for X-Plane 10 and 11 users helps to bring that private small jet flight right into your living room with even more authenticity than previous versions.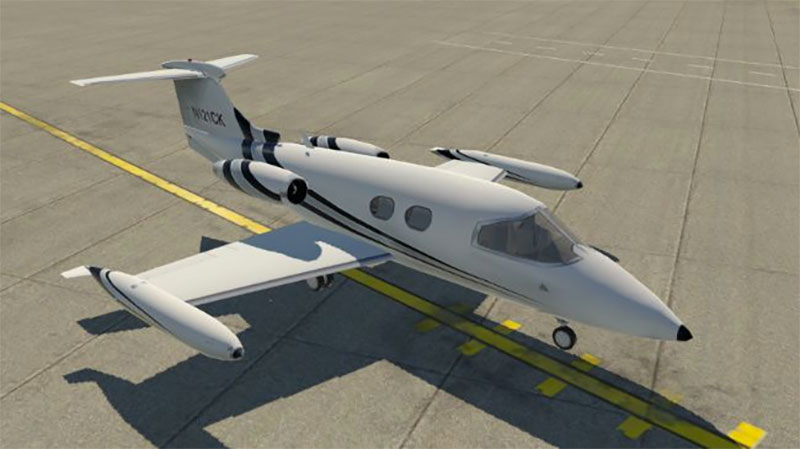 Whether viewing from the cockpit or the body of the plane the realism is rife. There are a few areas to be ironed out, however. Issues with certain aspects such as braking and taxi lights are likely to be fixed in time. The add-on is free to download and use, though, and for anyone who might have had the pleasure of flying one of these in the real world, this virtual flight will surely bring back many memories of their time in the air. It is certainly an add-on very much worth checking out, even if it appears to have gone under the radar, virtual or otherwise, since it was made available.
View/download the file over here.
Gulfstream G280 1.0
Also worth checking out is the now available Gulfstream G280. Originally created with Plane-maker v9, the Gulfstream G280 is now available for X-Plane and features an extremely detailed 2D cockpit. Although several bugs required fixing upon its introduction, most of these appear to have been ironed out now. An authentic add-on that is worth adding to your virtual hangar.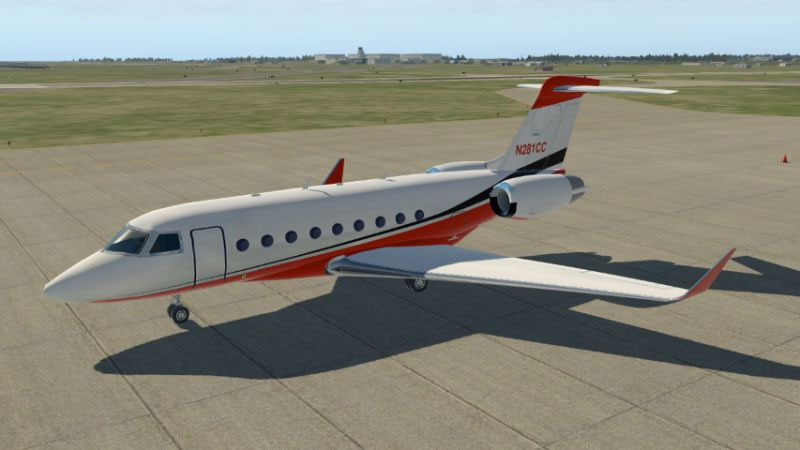 As for the plane itself, it is a relative newcomer to the aviation world, having been commissioned in the 2000s by Gulfstream Aerospace, eventually going into use in 2012. It is a twin-engine, two-crew plane with multiple business and relaxation space in the main body. Given the relative newness of this particular plane, it is likely that a few tweaks and further add-ons will be made available in the future.
View/download the file over here.
Stearman Spirit-Of-Artemis V1.0
If you are looking to take a peek further back into aviation history, then there is perhaps a no better way to get a feel for flying during that time than looking at the X-Plane add-on of the Stearman Spirit-Of-Artemis. What is maybe most interesting about this particular program is it largely came about by accident.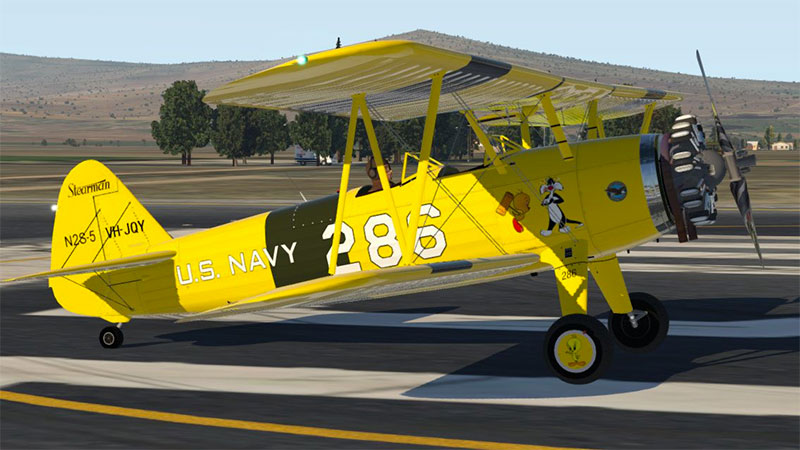 It would begin life as a repaint project for the Stearman Kaydet model. However, more and more improvements were carried out – so much so that it was ultimately presented to the virtual flying community as a new plane entirely. And it is dripping in authentic and detailed features, from the reflective mirror to the bare-metal bodywork under the wings, themselves equally detailed and precise. The 3D layers and textures on display also mean this plane more than holds its own in terms of graphics. It is, of course, free and compatible with X-Plane 11.
Incidentally, it was a Stearman model that was recently flown by Tracey Curtis-Taylor in her flight around the world from October 2015 to January 2016 in which she flew across twenty-three countries and for over 14,500 miles. The model was extremely popular in the 1930s, with the United States military utilizing it for a time.
View/download the file over here.
Lockheed F-22 Raptor 1.0
If you prefer your virtual flying with a little more "kick" then you might want to check out the add-on for X-Plane 11 of the Lockheed F-22 Raptor jet plane. In the real world of aviation, this all-weather stealth jet fighter is a single-seat, twin-engine fifth-generation aircraft from the Lockheed Corporation. This was originally available with the software release version of X-Plane 8,9, and 10. However, very recently, Laminar Research, who owns the rights to the aircraft model, gave their permission for it to be made available as a completely free add-on with X-Plane 11.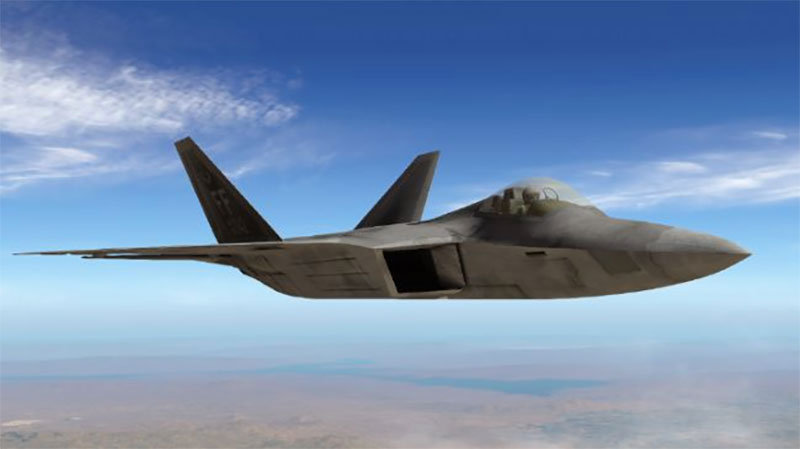 You get everything you would expect to get in such a highly-militarized piece of aerial machinery, including an authentic cockpit with detailed navigation and target mechanisms. The exterior shots are equally realistic, and for those looking to emulate such secretive mission-objective-type of flights, it is certainly an add-on for you.
Incidentally, although the first flight of this particular plane was in 1995, it was a further decade before it was finally introduced, in December 2005. There are 195 built and in service at the moment, with eight of these exclusively for test flights.
View/download the file over here.
Also Very Useful
Keyboard Control Commands
No matter what aircraft you choose to take to the digital skies with, an add-on for the complete keyboard commands is arguably essential, particularly for those who might be looking at virtual aviation for the first time.
This is a PDF file that you can choose to download, or you can view here. The commands themselves were originally made for X-Plane 10, however, due to the vast majority of the commands being unchanged in X-Plane 11, they will work almost sympathetically with the newest version too.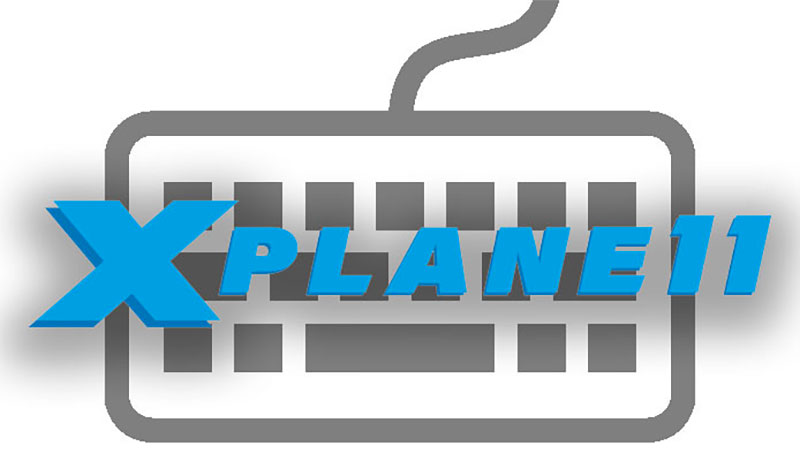 One thing to note before attempting any of the keyboard control commands is to ensure that your Numbers Lock is OFF as having it on will not allow the use of the arrow keys, which as you might imagine are repeatedly used in the GENERAL actions. Incidentally, many of the commands are universal in that they incorporate the use of the SHIFT and CTRL keys, for example.
Once you have familiarized yourself with the specific keys for specific actions they will surely become second nature. Or you can simply take an old-school approach and print each table out and have them in eye's view for quick and easy visual access. Regardless of how you use this particular add-on, it is one that appeals to all levels of users.
You can view the commands and download the PDF file here.
So, what will you try?
We have selected 15+ of the best add-ons for 2021 above. With new freeware releases coming out all of the time (created by dedicated developers) we are sure the 2022 update of this article will yield some even more detailed and high-quality add-ons.
Developers are moving over to X-Plane as their platform of choice due to the age of the FSX (and Steam Edition) engine as X-Plane is "current" and modern. We are also noticing a shift in our users moving over to X-Plane as their main simulator.
Historically, users tried X-Plane for a bit of variety but we are finding more and more of our users are now using XP as their main simulator platform. If you're still interested in FSX, don't forget to check out our article here which features 20 of the best freeware FSX: SE add-ons for 2021.
There are lots more...
Don't forget, these are only a selection of 10 of the add-ons we have in the file library. Our X-Plane sections are growing daily and we hope to increase the availability of files over the coming months.
From aircraft to scenery - files are released all of the time thanks to the dedicated freeware development teams and individuals. We currently see X-Plane as the future as do many others in the industry. Please do check out our dedicated XP11 add-on library here (currently with hundreds of freeware files). And check it often; files are added daily.
Let us know your thoughts
Remember, the files we have featured here are guaranteed to work in X-Plane 11, however, they may also be backward compatible and will work in XP10 too - it's just a matter of trying them.
Please post your comments below. Let us know your favorite files, let us know your reviews of the files above, and let us know what you feel we have missed from the list so we could update it or even include it in the 2022 edition.
Comments below, please!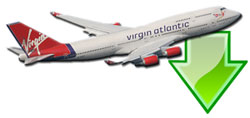 Don't forget... We have a huge selection (over 24,000 files) of free mods and add-ons for MSFS, FSX, P3D & X-Plane in the file library. Files include aircraft, scenery, and utilities All are free-to-download and use - you don't even need to register. Browse on down to the file library here.