If you have been a fan of flight simulation for some time, then you'll no doubt be aware of just how effective the Microsoft Flight Simulator series has been over the years. It's become the absolute staple of flight simulation quality and realism for many years and is one of the flagship Microsoft gaming products. The most recent release, Flight Simulator X, was hugely received at the time and quickly established itself as the key player within the flight simulation industry.
Therefore, it's interesting to see that Microsoft Flight Simulator X has finally been ported to Steam. As the premium online service that most people use for their gaming today, it makes sense for Flight Simulator X to finally make its way over to the platform. Re-released by Dovetail Games, the people behind the popular RailWorks series of train simulators, this has a lot of nice new features included that can make this a very worthwhile purchase.
As this is a lengthy review, you can jump to individual elements using the links below;

If you've never played a flight simulator then before then FSX: Steam Edition is just what you are looking for. However, if you've previously spent time using these simulators then you'll be probably wondering just what the reason for buying this again would be. After all, if you've been building up a huge collection of add-ons and DLC for the original FSX, do you really need to install the new one?
We want to take a look at the new features and help users decide if the latest re-release of FSX is really worth your time and money. If you've already got the original edition then it might be worth reading on as you'll be able to find out just what has actually changed from FSX and FSX: Steam Edition.
For anyone who has never taken on the joy of flight simulation before, though, you'll find all the help that you need in deciding if this seems like the kind of experience that you would enjoy. Flight simulation is quite a niche entertainment subject so it's not uncommon for people to find it a little bit too realistic or overly challenging – this review will let you see just how in-depth the process goes, and whether or not it's going to be suitable for you.
Whatever you decide, though, there is no doubt that FSX is the main name out there in the flight simulation world – but is it enough?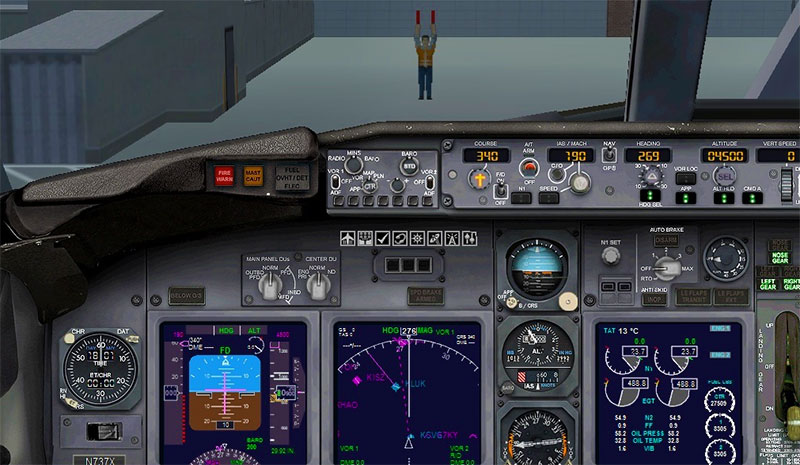 What's Changed?
Whilst many users might not be quite sure what to expect when they first fire up FSX, this should help you understand what has changed from the normal edition of the game to the Steam Edition;
Built using the VS2013 compiler instead of the old VS2005 library that was used when FSX was first released. This improves performance and overall quality of enjoyment, without removing the capacity to load up all of your old FSX add-ons and DLC that you owned for the original edition

The old GameSpy online mode that was frustrating at best has been removed entirely – it's now replaced with a modern, easy-to-use Steam online mode. This makes matchmaking and finding other players to fly with easier than ever – this is one of the main new features and can really up your playability of the series, allowing you to take to the skies with your friends and fellow pilots with ease

Various changes to hotkeys to make the simulator easier to control with the keyboard, and make hotkey functions easier to memorize by having more distinct buttons linked

Huge improvement to the texture quality throughout – the number of textures that can be loaded, as well as their default quality, has been improved

New aircraft have been included to make your flight experience even more enjoyable and varied

A huge amount of bugs have been fixed that have been plaguing users for many years – this makes it so much easier to fly your aircraft without being bogged down by strange errors

Improved overall load times for everything from the map loading up to the textures that appear on-screen – less lag between textures loading is one of the most noticeable improvements to performance

Improved compatibility with more modern operating systems too – this will run perfectly fine within Windows 7-8.1
Overall, these changes and additions might seem quite minor in that it doesn't really introduce any new features outside of the total working online mode, but it's a huge improvement over the normal edition. Whilst some might see it as nothing more than a new service pack, it's been re-released onto the Steam platform for ease of use and installation.
Add in the fact that you don't need to install either the normal edition or the Steam edition (you can have both) and there's no real need to start panicking about losing all of your old progress or invalidating all of that DLC you purchased in the past.

Key Features
Arguably the most integrated flight simulation experience that there is – despite being released in 2006, this simulator still more than holds its own in 2015

High-end graphics and attention to detail ensure that you have a flight simulator that not only performs well and is hugely realistic, but looks absolutely fantastic whilst doing so

A huge amount of selections in terms of aircraft – covering all shapes and sizes, you'll find a massive collection of aircraft to pick from that follow realistic planning and statistics so that you can fly the aircraft just as you would in the real world

Hugely realistic in that it gives you as much control as it possibly can from within the cockpit for each aircraft. You'll have control over just about everything that you could possibly need to make a safe and simple flight

Massive attention to detail for each and every aircraft in the game – no longer will you feel like you are flying an imitation, with every aircraft bringing its own personality to the table. Enhance your flight experience and your development as a pilot with this excellent flight simulator

A thriving community that has released thousands of high-end DLC and mods – you'll be able to pick up just about any aircraft you can think of, and use it in stunning detail and intricate realism!

Made to improve your overall flight comprehension as well as enjoy yourself, FSX: Steam Edition comes with a wealth of extra modes that you can enjoy including a multiplayer section

Included in this mode is a 50-mission campaign mode that lets you do plenty of unique tasks and take on various roles from your aircraft – you can literally play these over and over again, for countless hours, and see a unique situation almost every time!

Based on the real-life flight, you'll be learning the same kinds of tricks that a real pilot would. To balance this, the simulator is extremely punishing – if you are looking for a challenge to your flight credentials and to see if you are good enough to fly, this is it

A huge selection of editing tools so that you can make your own aircraft and edit the world as you see fit

Fully working online mode so that you can take on your friends in competitive flight, and prove who the best pilot is!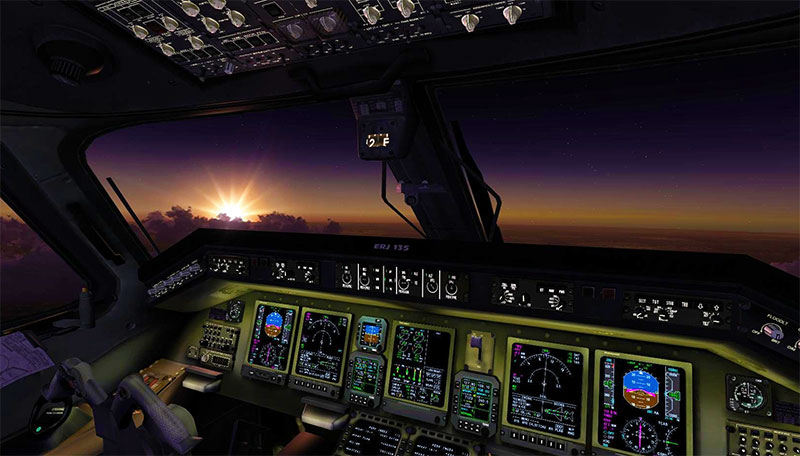 Ease of Use
One of the main improvements in FSX: Steam Edition is that the game itself is so much easier to use. Running through the powerful Steam platform, you'll be able to fire up the flight simulator and choose from more than 24,000 airports that will give you the springboard for an exciting flight. Taking away a lot of the difficulty that made even getting into the game hard for newbies, this is the easiest-to-use flight simulator release to date. Dovetail did a great job of making it accessible, similar to their own releases in the train simulation department.
Not only does this make the process so much easier to get involved in but it makes it easier to learn. The tutorials that you get will do an excellent job of teaching you the basics of flight within FSX and will make sure that you can take off and hit the skies with efficiency as soon as possible. In terms of installation, it's just a matter of clicks as you simply download it directly from Steam, wait for it to install, and run the game from your Library.
It really is that simple! Steam makes it incredibly easy for people who have never played a flight simulation game before to just get stuck in. the ease of use drops off slightly when you start to try and do the advanced stuff, though. For all of its accessibility, you will find that doing the hard tricks in the air and actually flying the missions is far more challenging. You won't get any kind of leeway in this simulator, so if you want to experience a high-end simulation that will really put you up against it you might want to check this out.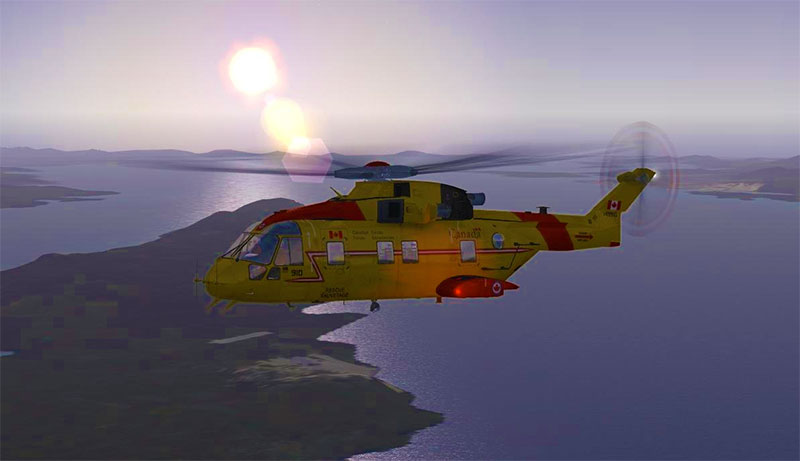 It makes up for being so difficult at times, by simply being incredibly rewarding. Finishing those campaign missions or even just beating your old flight records in a sandbox flight takes time, patience, and skill – and when you do succeed, it feels brilliant. This is what FSX: Steam Edition is so good at; it helps you get to the level of skill that you hoped for by making the entire flight so challenging!
There's nothing easy about actually playing FSX – you can load it up in a matter of seconds and be in the air - the real challenges start when you are dealing with the actual aircraft!
Graphical Quality
As mentioned before, FSX came out nearly a decade ago. Therefore, it was important that there were some changes to the overall presentation within the Steam Edition. This has all the hallmarks of your traditional 'HD Remaster' in that it changed some settings to unleash the simulator's latent potential – it looks a bit more refined and sharper than the previous release, that's for sure. Whilst the deal with Dovetail meant that no graphical changes could be made directly, some of the changes listed above indirectly make the simulator run and look smoother.
These small additions really help to sell the look and feel of FSX, making it easier to buy into than if you were to play the original (it looks a little rough now thanks to advancements in graphics, but changes to the config mean you get a higher overall standard with the Steam Edition).
The graphical quality is most prominently seen on the aircraft that you'll be flying, though. They look incredibly like their real-life counterparts and give off that feeling of quality and real class – each aircraft looks and feels different on the inside and out.

Therefore, buying into the philosophy that what you are flying is in fact some kind of representation of a real-life aircraft isn't too hard to imagine. Whether it's the small little spoilers within the military aircraft or the simplistic nature of the A&E Helicopters, you'll find that each aircraft comes with its own neat little quirks.
The rest of the world isn't quite as impressive, though. A lot of the world can feel a little generic at times and whilst there's obviously a bit too much to ask of the developers to re-create the whole world, it can be hard to tell where you are at times. However, on the highest graphical settings and the right quality of the machine you can find yourself quite impressed with what lies underneath you when you use the top-down camera.
It's not so much the quality of the designs that are the problem, just the lack of variety. Parts of the world that look nothing alike can feel far too similar, and this can kill the flight experience quite dramatically – remember, though, that is a simulator. It's not a high-end game with an onus on graphics but on the realism and authenticity of the entire thing.
This means that whilst you might find yourself a little let down by the lack of structured change and variety to the world around you, the quality of the aircraft and the actual simulator itself should help make up for this.
Attention to Detail
The attention to detail in this game is absolutely spot on – it gives you a real sense of what you are flying, and makes it much easier to buy into than you might have imagined if you just based it on the graphics. Each aircraft feels, looks, and operates like the real thing and every feature that can be added has been added. The real quality of this simulator shines through in the cockpit, not in the world around you that is purely there as a supporting element. What was important in FSX, particularly with the Steam Edition, was to improve functionality with the aircraft – and it does this in spades.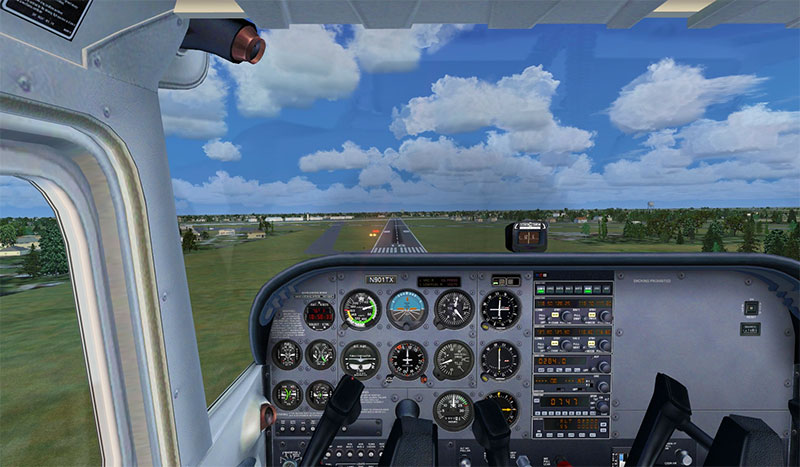 The attention to detail in aircraft performance is simply magnificent. You'll really feel like you are making the decisions you wanted to, and every little decision you make about the flight will be felt – this makes it much easier for people to learn just how high-pressure the life of a pilot can be. Some of us might look at the job and think "it looks like a dream" but the Steam Edition can certainly change your mind on that quite quickly!
The difficulty of the simulator comes directly from the attention to detail. Whilst, as we touched on above, parts of the world can feel a bit generic when you are concentrating on the cockpit and all of these realistic gauges and buttons it becomes much simpler. If you are looking for a flight simulator that takes away a lot of your aids and makes sure that you really do need to pay attention for the whole flight and for every little alert that comes in, this is for you.
The graphical attention to detail is still very impressive – the small changes that you see happen in real time as the sun goes down and the stars come out are pretty damn impressive. The world starts to change around you and those overnight flights become far more enjoyable. If you want to find a way of enjoying a flight simulation experience without making it too difficult for yourself to get to grips with what is being asked, then this is a good place to start.
Make no mistake, though, there is very little room for punishment in FSX. The Steam Edition improves performance in all areas, so you'll be getting a fluid if somewhat difficult to learn flight simulator that pays very close attention to the minor details.
Realism
Obviously, like any good simulator, realism is the aim of the game. Well, if that's what you want then you'll find it here in abundance. As mentioned above the attention to detail is absolutely spot on and this makes it really easy to start noticing the realistic little quirks and additions that make FSX, and its more modern brother, such an addictive part of the flight simulation world.
Realism is brought to life in the tutorials more than ever, which will help you get to grips with the system and the way that the game operates. These awesome tutorials show you how and what you need to do and in doing so really shine the torch on just how realistic the experience can be for you. If you aren't sure of what to expect when you start playing this simulator, then the tutorials are an absolute must for you.

They'll help you get to grips with the learning curve within the game, and ensure that you can start picking up the good habits that you need to be a successful pilot. What you might find is that you'll spend a lot more time than you intended getting used to the physics and gravity of the engine, and this can hold you back at first – it can actually even put some people off continuing.
However, as it's a pure simulator you can expect to have to deal with those tough assignments and struggle to get to grips with the realism of the simulator – this is what you would be facing in real-life, too. It's supposed to give you an accurate representation of what being a pilot is all about, and this makes it much easier to start enjoying yourself from the off once you realize that nothing in this has been streamlined or made easy.
The realism can be off-putting if you've never played before but the improved performance of FSX: Steam Edition means that more users than ever before will be able to start picking up those little tricks and tips that make the simulator so popular in the first place. Whilst FSX is almost identical to the Steam Edition in terms of features and realism, the improved performance of the game can make those little strips of realism stand out even more than they did in 2006.
In-Game Quality
The in-game quality that you'll find with the Steam Edition is the same as FSX, albeit made to run faster and work properly with modern operating systems. The in-game quality is improved by the fact that the airports feel very much alive – you'll see baggage handlers scuttling from one side of the place to the other, baggage carts being filled up, and many other smaller additions that help the entire thing feel far more inclusive. It's these small touches that the Steam Edition helps to blossom that make the in-game experience so much more enjoyable for everyone.
If you played FSX and felt it was too outdated then many of the improvements found within the Steam Edition will be enough to make it more exciting. It runs faster and, for software with so much going on in the background, runs very smoothly at all times.
The quality in-game is helped by an absolute army of realistic sounds that are absolutely brilliant to hear and will give you all the help that you need in really buying into the world around you and suitably enjoying it. Add in the fact that the controls are as responsive as they've been in any simulator, and you'll find it incredibly simple to get to grips with.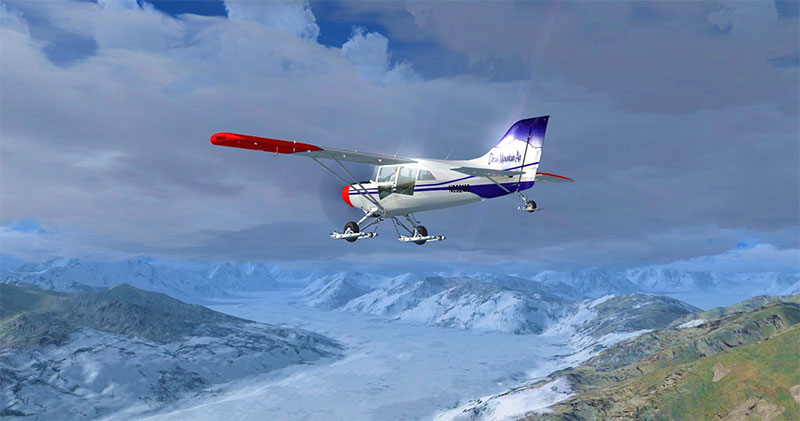 The in-game quality is hampered only slightly by the learning curve but for anyone who has simulation experience, you'll be aware of what to expect. This makes it so much easier to start learning from and using properly, and whilst there aren't many changes from FSX in terms of gameplay quality you'll find that it's just more refined.
The improved online makes this much easier though – you can enter into worlds with large swathes of players involved so that you can all take off together, have races, complete challenges, etc. This makes the online version a lot more fun than it used to be with the useless GameSpy MP client so this helps to change that up drastically and make the online section of the game far more enjoyable than it was in the past. If you want to experience FSX online then the Steam Edition is worth buying for that alone!
Extras
One of the best things about this latest release is the fact that it already has some official DLC released. They introduce new planes, airports, game modes, and other additions that can really make the product feel better. If you picked this up on one of the many sales they do for it then you'd be as well just picking up the extras while you are there – they improve the overall experience massively.
These add-ons are quite cheap, too, and give you a lot of extra hours' worth of content to enjoy. They take in various timelines within the aviation and this can make it easier to have a far more balanced list of aircraft to fly down the line. Also, the Steam Edition comes with the popular Acceleration package which was very popular back in the day so if you want to improve your content listings you can add in the new DLC packages without having to shell out for Acceleration again.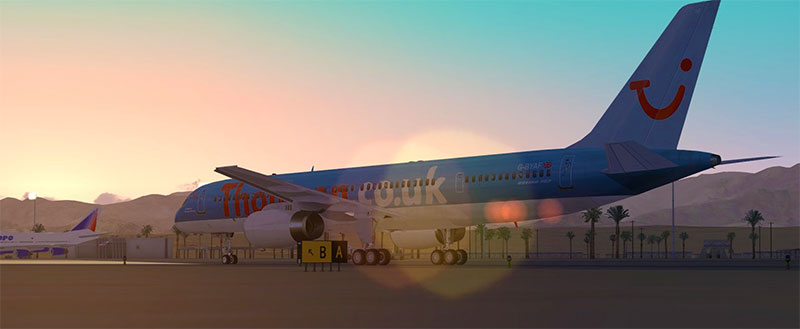 Add in the fact that the modding community for FSX is one of the most vibrant there has ever been, with thousands of amazing products out there to purchase and improve your simulator, and you'll find that the extras for FSX dwarf the vast majority of software. You'll get the chance to add in entire mods for the game that brings new modes to life, new aircraft, and new cities, and improve the overall performance, look and feel of the game. Dovetail may not have had the rights to make graphical changes to the engine but there are plenty of fans who have done so in the past and you can benefit from their hard work and expertise! All payware add-ons will also work with this version.
All mods for FSX original are totally compatible here, too, so this makes it much easier to get to grips with. if you've got a nice big library of mods installed you just need to point your Steam Edition to them within the settings and you can start using all of your previous purchases in the newer, fresher version of FSX. It's virtually the same game so getting everything to work shouldn't be an issue.
If you do run into any problems you'll find that the developers of each mod are more than happy to help you troubleshoot and get the mod working, so look at the individual support forums if you ever need help installing any of the FSX mods out there. The official mods will install with a few clicks of the finger – simply buy them through Steam and they'll automatically be added in for you – perfect!
You can view our FSX add-ons & mods library here (with thousands of files).
Videos
We have a selection of videos below that will provide a demonstration of the software in use. The first is the trailer video while the second demonstrates gameplay and what's possible.
Official Launch Trailer
Below is the official launch trailer video. This video was used for the original FSX release back in 2006 but has been modified slightly by Dovetail Games to reflect its current version (Steam Edition) but essentially it's the same.
Gameplay
Below is a video created by MatZeus from YouTube that demonstrates gameplay within FSX. From what we can see, it appears that this is a stock setup with no third-party add-ons or expansions used giving a true representation of what you'll get in terms of gameplay out-of-the-box.
Our Breakdown of Microsoft Flight Simulator X
The Sky Is Boundless, The World Is Alive. It's As Real As It Gets.
This is the slogan on the outside of the Microsoft Flight Simulator X DVD packaging.  It captures the love of flying that flight simulation fans have explored through this program for over two decades.
Microsoft Flight Simulator X, commonly known as FSX, is the follow-up to Microsoft Flight Simulator 2004. Released in 2006, it is the 10th major revision of the popular Microsoft Flight Simulator franchise. It features a brand-new graphics engine with much-improved imagery.
This is the first version released on DVD. It also features a new security system using license keys. After activation, users can play the game without using the DVD. It takes advantage of multi-threading and Intel Core architecture.
The graphic detail is significantly better than in the previous version. Waves on the surface of oceans, grasslands, 3-D animals, true star maps, and textures unique to specific locales all contribute to the realistic feeling.
FSX features accurate pictures of real life going on at the airport including trucks driving around, fuel trucks filling up airplanes with gas or fuel, luggage being carded everywhere, and jet-ways being maneuvered into position.
Even with all of the power and controls and the ability to set custom settings, Microsoft flight simulator X is easy to use with the default settings. If you just want to get in an airplane and fly somewhere you can do that easily.
You are King of the World because you don't even have to taxi to get in position to take off. You can just take off anytime you want. On the other hand, if you want to go through everything that a real pilot does you can do that as well: pre-flight checks, checking the weather, flight plans, etc.
You can choose to follow the instructions of the ATC both from your departure airport and the destination airport. Maybe you want some problems to deal with – you can set predetermined equipment failures (or let the computer do that for you randomly). You can also fly on visual flight rules or "instruments only."
Early Days
Microsoft Simulator had its genesis as a series of articles written by Bruce Artwick around 1976. He described the use of 3-D graphics in flight simulation. To create a program that fulfilled this vision, he created a company named subLOGIC Corporation in Los Angeles. In the beginning, they sold flight simulators using direct mail. 
The very first version of Flight Simulator ran on an Apple II computer in 1980. The graphics were primitive black and white wireframes. In 1982 the first IBM PC version was released.  The IBM PC version was a step up from the Apple release. It provided users with more gauges, 20 airports, and a better coordinate system. While it was an advancement, it still looked like the featured Cessna 182 was made of transparent Lego blocks and the airport was a single lonely strip in what looked to be an abandoned airfield.1
In a June 2010 interview with tech industry maven Robert Scoble, Mr. Artwick explained that the evolution of raster graphics in the late 1970s and early 1980s provided the foundation he needed to simulate dynamic movement on the screen.2
Flight Simulator 2000 (7.0), released in late 1999, was one of the major releases. It came in two flavors, a version for casual users and another "pro" edition that shipped with extra aircraft. FS 2000 was also the first revision to add GPS, making for a more realistic flight.
This was also the first time precipitation was added. Both rain and snow were introduced, along with the ability to download "real-time" weather.
Demo Version
Microsoft FSX is the first edition in franchise history that has a demo version. The demo is a cut-down version of the full package. However, it does a good job of giving users the feel of the regular version. You can select "Free Flight" or choose between two flight missions, "Flour Power" and "Caribbean Landing."
For "Free Flight" you can choose between 5 aircraft:  an AirCreation Ultralight, Beechcraft Baron 58, Bombardier CRJ 700, Bombardier Learjet 45, and a Robinson R22 Beta II helicopter.
The first flight mission is classified as a Beginner flight. Users pilot an Air Creation Buggy 582 SL Trike Ultralight. The goal is to "Hit as many targets with flour bombs as possible before time runs out. Get more flour bombs by landing on an aircraft carrier. Estimated time to complete: 5 minutes."
The second flight mission is classified as Intermediate. The aircraft is a Bombardier CRJ 700. The task is to "Fly a visual approach to the tropical island of St. Martin. Estimated time to complete: 15 minutes."
The demo also lets you adjust various settings like Display, Sound, Controls, Realism, General, and Scenery library. You can view the Learning Center but most of the tutorials like the Step-by-Step guide, Multiplayer Flying, Weather, and Instant Replay are grayed out.
You can download the demo version from the Fly Away Simulation add-ons library here.
Quantum Leap
Despite the robust demo, the full version is a quantum leap in experience. There are Standard, Deluxe, and Gold Editions. Each edition ships with over 24,000 airports covering every continent. The Deluxe edition comes with a Software Development Kit and a special Garmin 1000 glass cockpit digital flight deck. There are:
50 missions in Deluxe Edition, 30 in Standard
24 planes in Deluxe, 18 in Standard
45 cities in Deluxe, 40 in Standard
38 cities in Deluxe, 28 in Standard
According to Microsoft, "Microsoft Flight Simulator X Gold gives players the chance to purchase Microsoft Flight Simulator X and Microsoft Flight Simulator X: Acceleration together in one bundle." Feature highlights include:
20 new missions. These include Astronautics, Law Enforcement, etc. Users can fly relief supplies to the Congo; help put out forest fires in the Rockies, and more.
Increased realism. Life happens in real-time: night turns to day, trucks rush around the airport; airplanes take off in the background. Everything that happens at real airports happens here.
Racing Capabilities for Multi-Users. Now users can race against friends in a multi-user frenzy. Games include Reno High-Speed races, Red Bull Aerobatics, and more.3
Full Version Walkthrough
Once you've installed the full version, you can choose "Free Flight." Free flight mode provides tremendous flexibility and options. You can take off or land from any of the airports and use any of the planes.  You can land on grass airstrips.
First, you select which aircraft you want. If you chose to show "all variants" you can also select an airline. From there you pick which city, state/province, and country you want. Once you've narrowed it down to an airport, you can even choose which runway to use.
Next, you can select what time of the year (and which calendar year) and the season you want. Then select the time of day: dawn, daytime, dusk, and or nighttime.
Next, pick the weather conditions you prefer:  Clear- no clouds,  Building Storms- thunderclouds, Cold Fronts- clouds and cold weather, Fair Weather- a few clouds, Building Storms, Cold Fronts, Fogged In- low visibility, Fair Weather, Rain and Rainy, Heavy Snows, Major Thunderstorm, Stormy Weather, Winter Wonderland- light snow.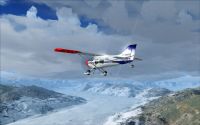 The image demonstrates the weather system in Microsoft Flight Simulator X; showing 3D clouds and snow on the ground.
Then you select one of the following for the weather
Real World Weather/Static- retrieves real-world weather from the Internet and then doesn't change.
Real World/Updates- retrieves real-world weather from the Internet and then updates it every 15 minutes.
User Defined- you create the weather.
For example, under User Defined you can select:
Clouds- choose cirrus, cumulus, stratus, or thunderstorm clouds. Next, choose cloud coverage- overcast or broken up. Also choose the turbulence, icing, type of precipitation (rain, snow), altitude, and wind speed.
Wind- choose altitude, speed, gust speed, turbulence, direction, and sheer strength.
Temperature- select temperature and dew point.
Visibility- how far you can see. This is used a lot in stormy weather.
Weather is reflected accurately so the same flight will be different depending on the time of year. Even the stars in the sky are accurate depending on the time of year and where you are in the world. You can test your skills in landing a plane during sleet conditions, for example. Or you can tell the computer to use the current weather that a city is experiencing right now in real life.
Other features include the ability to adjust include the ATC Window and "Fuel and Payload." You can also load a previous flight or save the current flight. Then choose if you want to add in any "Failures" where certain portions of the plane will fail at predetermined times. Failure areas include Instruments, Systems, Radio, engines, and Controls.
Missions - you can choose from over 50 missions including tutorials, carrier missions, law enforcement missions, Red Bull Time Trials, dangerous oil rig rescues, and more. You can select different categories: tutorials, racing, etc. You can also choose skill level--beginner, advanced or expert.
Some of the goal-oriented missions have mid-flight surprises- for example, a stunt plane landing on a bus, flying helicopters into exploding oil rigs to rescue people, search and rescue missions to rescue people from capsized boats or lost in the mountains, flying into Area 51 on a secret mission, picking up a famous movie star, etc.
Multiplayer Mode - you can become an Air Traffic Controller (Gold version only) or race against friends. You have to create an account, then log in and choose from the current game lists. Then just join in and start playing.
Microsoft improved the Multiplayer mode by moving it to speedy servers in the cloud. They also added voice-over IP and other features.  For example, "Shared Skies" lets a user have another player sit in the cockpit with them (assuming the plane design allows this)--useful for professional instructors helping students.
Pilot Records - these are a series of "markers" a pilot can accumulate that includes things like landings, Stunt Pilot of the Year, Gold Wings, Iron Wing (different rewards for missions), and more.
Logbook - this is a list of all your flights. Photos- you can capture screenshots. Learning Center- tutorials and guidebooks on all aspects of flight simulator X. You can choose between key topics, site maps, indexes, and lessons. The lessons are the same as in FS 2004.
Settings/Display - this is where you adjust all your graphics.  Click "Customize" to adjust the target frame rate. You may need to adjust it a few times to find the right frame rate for your computer's capabilities. You can also choose global texture resolution. If you select a very high resolution the pictures will be sharp but your computer will be taxed and you could possibly lose frames.
You can also choose between a 2-D or 3-D cockpit. If you select the 2-D cockpit, you can adjust a slider for transparency. You can also change the exterior settings such as shadow casting and landing lights.
The cockpit simulations are upgraded tremendously from FS 2004. You can actually use most of the controls. In the past, some were just decorations with no ability to be changed by the pilot. The Deluxe Edition includes the Garmin G1000 cockpit in a few of the planes. This is an integrated setup with an advanced electronics display. It fully replaces the standard controls in the regular cockpit.
Settings/Scenery - choose the desired level of detail radius- small, medium, or large.  Other adjustments include:
Mesh Complexity is the texture of grounds and mountains.
Mesh Resolution and Texture Resolution will also affect ground and grass areas.
Water Effects can be set to none, low, or "2 times."
Scenery Complexity affects buildings and airports.
"Auto Gen" affects trees and buildings outside the airport.
Special Effect Details- this slider selection bar adjusts moving waves, smoke, fires, etc.
Settings/Weather- figure out the optimum Cloud Draw Distance. In other words, how far away do clouds become visible? You can also choose Cloud Details: check Simple Clouds or Detailed Clouds (low to high slider).
Settings/Traffic-choose airline traffic details like the number of airplanes on the ground, general aviation traffic, airport vehicle density, road vehicles (on highways, etc.), ships, ferries, and leisure boats.
The level of customization is extensive. Other Main Settings that can be tweaked include Sound, Controls, Realism, General (compass pointers, ATC voice types, etc), and Scenery Library (to help speed things up you can deselect scenery files if you never fly in those areas).
Aircraft: Plenty of Choices
There is a wide variety of aircraft available for every adventurer. Some of the aircraft available in the Deluxe Edition includes:
Airbus A321- elongated sibling of the A320.
Air Creation 582-SL Trike Ultralight- two-seat tricycle with a fiberglass shell.
AgustaWestland AW101- medium-sized military helicopter.
Beechcraft Baron 58- introduced in 1970, it has double aft doors.
Bell 206B JetRanger- helicopter used in police surveillance and aviation training.
Boeing 737-800- is probably the world's most popular jetliner.
Boeing 747-400- the standard in 747 class jets.
Boeing F/A-18 Hornet- supersonic multi-role fighter jet.
Bombardier CRJ-700- an offspring of the Canadair Challenger business jet.
Bombardier Learjet LJ-45- part of the famous Learjet family.
Cessna 208-B Grand Caravan- first introduced by Cessna in 1985.
Cessna 172S SkyhawkSP- a popular plane used by flight schools everywhere.
de Havilland DHC-2 Beaver floatplane- a workhorse that can fly into remote locations.
DG-808-S Competition Sailplane – lightweight sailplane made of composites.
Douglas DC-3- good balance of efficiency, payload, range, and speed.
Extra EA-300-S- champion aerobatic competitor.
Grumman G-21-A Goose- can take off and land on runways or water.  
Maule Orion M-7-260-C Super Rocket- rugged planes good at short take-offs and landings.
Mooney M-20-M Bravo Yes- built for one thing- speed.
Piper J-3C-65 Cub- a stalwart of World War II.
Robinson R-22 Beta II- is one of the most popular helicopters in the world.
Graphics vs. Speed
Microsoft Flight Simulator X brings unparalleled graphics to the desktop. You can look down from the cockpit and see cars and trucks moving on the highway below you. You'll see boats and ships moving when you fly over water. You can even see wildlife.
The graphics are one of the biggest improvements over FS2004. The land and sea look much clearer and more accurate. The terrain has more detail. The computer will create terrain on the fly when it does not have any preconfigured models to work from.
To get all the graphic richness out of the program, however, you need a computer with some firepower. Lifting a giant aircraft into the air and drawing entire cities, oceans, mountains, weather conditions, star maps and more puts a lot of demand on computer processors.
Here are the Minimum System Requirements from Microsoft
Windows XP SP2 / Windows Vista / Windows 7
Processor: 1.0 GHz
RAM: Windows XP SP2 - 256MB, Windows Vista – 512MB
Hard Drive: 14GB
Video Card: 32MB DirectX 9 compatible
Other: DX9 hardware compatibility and audio board with speakers and/or headphones
Online/Multiplayer Requirements: 56.6 kbps or better for online play
Most users will benefit from more RAM and computer speed than the minimums listed here. Each user should experiment with adjusting settings up and down to find the perfect balance of graphics vs. speed and performance.
The FSX frame rates are relatively low due to the high detail. FS 2004 would consistently operate at higher frame rates. The bottom line is you need a powerful computer to run FSX. That said, if you have the hardware, you can get an unparalleled flight simulator experience with FSX.
Commercial Success and End of the Road
Microsoft Flight Simulator X continues the long history of sales success marked by previous versions. In 2006 and 2007, it made the Top 10 PC Game Titles (by Units sold) according to Gamasutra (a popular gaming site) reports.4
Despite this, in January of 2009, Microsoft announced that, as part of a series of company-wide cutbacks, the Flight Simulator team would be disbanded. It marked the official end of the world's longest gaming franchise. At the time Microsoft indicated that more versions of Flight Simulator would be developed at a later date. However, in August of 2010, they announced a new product, Microsoft Flight, would be introduced into the marketplace instead.
Microsoft Flight employs advanced graphics designed to work with Windows Vista and Windows 7. It will feature extremely realistic imagery. It will also be "Microsoft Live-enabled" which provides users the opportunity to join in true multi-player sessions with Gamertags (universal names for player names on Microsoft's X-box Live).
Add-ons, Mods & Downloads
One of the best moves Microsoft made early on was allowing users to create add-ons to enhance their experience. Add-ons include everything from aircraft to scenery. You can change the game visuals, gameplay features, scenery, and more.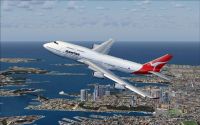 The image shows a Qantas Boeing 747-400 add-on being flown in Microsoft Flight Simulator X.  This file is available from our jet downloads section.
Here are some example add-ons in the library
Automobiles and Trucks
Voice Packages
You can explore a number of free flight simulator add-ons for FSX in the Fly Away Simulation downloads section. There is a wide variety of different themes and missions. For example, you can fly in an Ozzie Air Show or search the jungles of Panama with the FSX Missions add-on.
You'll find additional aircraft like the F-14 Tomcat and F/A-18 Hornet in FSX Military Aircraft. There are private planes such as a Learjet 45 and other jets in FSX Business Jets and the adventurous can try to fly the Space Shuttle Atlantis and other unique aircraft with the FSX Other Aircraft add-on.
Conclusion
Microsoft Flight Simulator X set a high bar when it came out on the market. Never before had consumers seen such vivid detail and action. While acknowledging its shortcomings, it cannot be denied that Microsoft FSX represents an exciting milestone in flight simulation.
The positive reaction of flight simulation fans everywhere is the final test. As one Amazon.com reviewer said simply, …the most fun I've had on my PC in as long as I can remember.
Release Announcement Coverage
Microsoft Flight Simulator X was officially released on October 13, 2006.  We have archived this announcement below.
Forget whatever rumors you might have heard, as today we have for you the first official word on the next generation Microsoft Flight Simulator: FSX. Though the actual release is still nearly a year away, this will put to rest any fears that there won't be the next version.
This article provides you with the last information on the new release including downloads, news, screenshots, links, forums, and more! Your reading and viewing start here.
The Ultimate Aviation Experience
With Flight Simulator X, or as it's known in the industry, FSX, you can dive deep into the exciting and realistic world of aviation with dozens of different aircraft, hundreds of cities, and thousands of unique airports. Enjoy the ultimate freedom of Free Flight mode or engage in interactive Missions for a completely new and breathtaking gaming experience.
Flight Simulator X has hundreds of flight parameters and control options, which can be easily adjusted to fit all categories of players, from rookies to extreme aces.
Travel the globe solo or team up with other players over the Internet. Visit exotic places or check out your local airport. Feel what it's like to be a real aviator.
Microsoft Flight Simulator X marks the new era of aviation simulators. Flight Simulator X is the culmination of nearly 25 years of the Flight Simulator franchise and is the most significant addition to date.
Flight Simulator X was officially released on October 17, 2006. The Standard Edition includes 18 planes, 28 detailed cities, and over 24,000 airports. The Deluxe Edition contains additional aircraft and locations, as well as new game modes.
Realistic graphics for realistic gameplay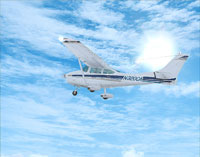 The image shows a Cessna 182 flying in Microsoft Flight Simulator X. Image also demonstrates sun and lighting effects.
The terrain graphics are significantly improved over the previous versions. There are now higher-resolution landscape textures, more variable auto-generated trees, and building libraries, and improved water representation, so the surface below looks almost real. Not to mention the wildlife and traffic activity on the ground.
However, you will need to set all the graphic parameters to the maximum level in order to enjoy the view. The standard system configuration is clearly not able to sustain a satisfactory frame rate. The player will have to spend some time trying to find the perfect balance between performance and picture quality.
Additional graphics features included in Flight Simulator X include the following:
Interactive cockpit camera that reacts to plane movements.
Shadows have been improved to look more realistic and aircraft now cast shadows on themselves.
Water effects now include moving 3D waves and sunshine reflections.
Enhanced texture resolution.
New Earth model with true road data, region-specific textures, 3D wildlife, etc.
An improved weather system, including better visibility modeling.
Other graphic improvements have been implemented to give you the most realistic gameplay available in a flight simulation game. Get ready to play Flight Simulator X and experience a flight simulation unlike any other flight simulator game on the market.
System requirements for optimal game performance
Flight Simulator X offers an incredible picture of a realistic flying environment. Here are the official system requirements:
1.0 GHz CPU
256 MB RAM (for Windows XP SP2) or 512 MB RAM (for Windows Vista)
14 GB hard drive space
32 MB DirectX 9.0c compatible video card
Enhanced game modes and options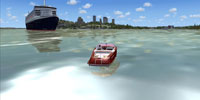 The image shows one of the many other aspects of FSX; piloting a speedboat on the water. The image demonstrates the water textures and effects in FSX.
In Flight Simulator X, the developers have decided to liven the gameplay, and along with Free Flight mode, introduced more than 50 different missions.
You can start by completing tutorials and continue with transportation and delivery missions. Gradually, Flight Simulator X gets tougher as missions start to include search and rescue operations. And from time to time you will be asked to look for crashed planes, lost ships, and even runaway elephants!
There are also some entertaining missions like the Red Bull Championship where you have to perform some aerobatics and even drag races. And you can win special medals and trophies for outstanding results.
To make it a little easier for the player, a "save game" option has been added. Now every mission has a list of saved games, which can be accessed at any time. So if your flight ended with a crash – there is no need to start from the beginning.
The Free Flight mode provides a wide range of options. You can select your plane and fly to or from any of the 24,000 airports around the world. And the new "living world" system will make them look more realistic by adding fuel trucks, luggage carts, jetways, and other airport equipment. This new active world extends beyond the airports as you can now see moving cars and trucks on the roads below, ships and liners cruising the waters, and wild animals running in the fields. All this creates a feeling of a real flight with Flight Simulator X.
Multiplayer options including a new Tower controller module
There have been a few interesting changes to the multiplayer option. Players can now experience what it feels like to be an Air Traffic Controller in a new Tower controller module available exclusively in the Deluxe Edition. Another added feature is Shared Skies which enables players to share the same cockpit if allowed by the plane's construction. With the Shared Skies features, professional instructors can use the game to teach their students how to behave during certain situations.
Adjust the weather conditions for true in-flight experiences
The weather conditions are a significant factor in the flying process and have a big influence on plane controllability. Flight Simulator X includes a sophisticated weather module that allows you to choose from a variety of weather conditions. You can adjust cloud types, turbulence levels, icing conditions, precipitation types, wind conditions, and much more. Create any kind of atmosphere to test your flying skills. For example, try to land a 747 in blinding snow on an ice-coated runway. You can even download actual weather conditions for your current location with real-time updates!
Aircraft and the flight model
The list of available planes includes a diverse 24-model selection. All the most popular planes have been included from small propeller-driven Cessna C172 and Piper J-3 Cub to huge business jets and jumbo jets like Boeing 747-400. There are also two types of helicopters, a hang-glider, and a sail-plane. And Flight Simulator X includes several special missions dedicated to gliders. You can even take part in real gliding championships in Switzerland and Austria.
Flight Simulator X fans are probably more interested in the flying process itself. Flight Simulator X has a flexible "realism" scale and many parameters can be adjusted for a particular flying skill to make gameplay easy or difficult, depending on your skills. For example, torque can be turned off and the player won't have to think about compensating when flying the propeller-driven plane. Or the radio can be set on automatic tuning so the player doesn't have to change frequencies in mid-air. With a little tweaking, just about everybody should find the perfect mix of realism vs. playability.
The cockpit is in full 3D and is completely interactive and animated. All switches and toggles are clickable and by pressing them you can do everything from raising the flaps to turning on the windshield defroster. There is also a ToolTip window to help you figure out the purpose of a particular button.
Another interesting game feature in Flight Simulator X is the variable set of different contingencies like engine malfunction or wing icing. They can occur during a mission or be set manually by a player to test his skills.
Even with all realism settings up to the max, it is possible to miss a runway and land a gigantic jet plane in the field. But you will not get any penalties as long as the field is within the airport area.
Flight Simulator X is one of the best and most realistic civil aviation simulators on the market.
Official FAQ
Microsoft has provided us with an FAQ about FSX which we have reproduced verbatim below. Following the FAQ, we have added our own analysis and commentary about the official Microsoft report. Some of our analyses and insights may astound you.
What's new in "Microsoft Flight Simulator X"?

Many of the new features in "Flight Simulator X" are based on requests from our loyal community who have provided creative input into our decision process. Therefore, we are excited to bring our fans the most revolutionary addition to the "Flight Simulator" franchise yet. We take full advantage of Windows Vista and the latest Windows gaming hardware to create a beautifully rich and immersive 3D world for aviation fans, young and old, to explore and experience. The new enhancements extend beyond the look and feel of the planet. The advances in graphics will benefit the aircraft as well, and fans will be amazed at the new level of detail in the models and the realistic effects like sun glint off the glass and chrome, reflective paint, and even shaded rivets on the fuselage. For the more game-play-minded, we are adding a new mission-based element to give fans a more objective-driven experience with a sense of progression and skill development. We are also improving the multiplayer technology to allow the community to connect in new ways. This is just the beginning and, in the coming months, we look forward to sharing more information about "Flight Simulator X" as we lead up to launch at the end of the year.

When will "Microsoft Flight Simulator X" be available?

We are working hard to deliver "Flight Simulator X" in the holiday 2006 timeframe.

Will "Flight Simulator X" require Windows Vista?

No. While "Flight Simulator X" will not require Windows Vista, it will be optimized for the latest in Windows gaming hardware and fans will get the best experience by running on Windows Vista.

What type of computer hardware will I need to run "Flight Simulator X"?

While we are still determining exact hardware requirements, we do know that it will run on a wide range of configurations because we want to make "Flight Simulator X" accessible to a wide range of fans.

Will "Flight Simulator X" ship on DVD only?

Yes, for the first time "Flight Simulator" will ship on DVD only in order to provide the highest level of detail and realism for the product and we do not plan to offer a CD-based version.

Will aircraft from FS2004 be compatible with "Flight Simulator X"?

Backward compatibility with existing 3rd party content is and has always been a priority for us, and we attempt to test as many add-ons as possible in order to provide the greatest level of compatibility.

What are the types of aircraft featured in "Flight Simulator X"?

We will offer a range of aircraft to support a wide variety of flying experiences and many of the aircraft will be tied to specific mission-based experiences. Our basic fleet is merely the starting point because we are going to make it easier to download additional aircraft created by the many accomplished add-on developers in the community.

How many airports are included in "Flight Simulator X?"

We have included more than 24,000 airports in "Flight Simulator X" and the coverage extends to every continent. We also focused a select number of high-detail airports and added a new level of "interactivity" that the add-on community will certainly expand upon.

What new partners or endorsements will "Flight Simulator X" carry?

We are not quite ready to shine the spotlight on our new partners and endorsements, but they will be taking center stage in the months leading up to our launch.
New FSX Beta
Update November 2019
There is a new beta edition of FSX released by Microsoft on Steam that is enabling them to improve the new simulator due for release in 2020. The Simulator will simply be called, "Microsoft Flight Simulator" but it has become known within the community as "FS2020".
The new beta also adds many bug fixes for the Steam Edition of FSX. Read all of the details here. Unfortunately, it's only being released for the Steam Edition so boxed users won't be able to install the update (from what we are aware).
How it Compares With The New MSFS (2020)
Update November 2020
We thought we'd update this review with a little information on how FSX compares with the brand new Microsoft Flight Simulator released in 2020 as our users were asking. They didn't want to make the shift over to the new platform without a decent comparison before their purchase.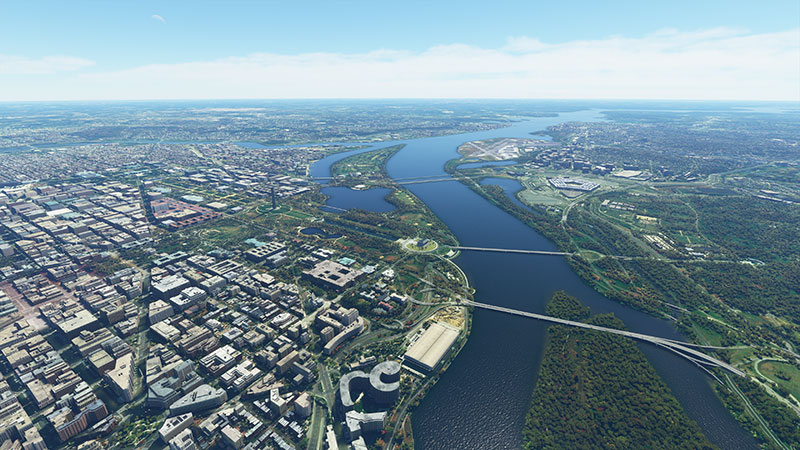 If you don't know already (which I'm sure you do) - Microsoft released a brand new, revamped version of their Flight Simulator package bringing it right up to date to support the latest hardware, a completely new graphics engine with a complete redesign of the base sim (although it does have some roots in FSX).
You can read the entire coverage of our FSX/MSFS comparison in our Microsoft Flight Simulator review article here.
You can also watch our airports comparison video below;
It's likely (even though you are reading about FSX) that you have moved over to the new MSFS platform already - or at least given it an install and play around. If so, you may be interested to know that we are now supporting this new simulator in our add-ons library. You can view all of the latest MSFS add-ons in our library here (just like FSX). Expect it to grow exponentially over the coming months.
The Verdict
Overall, FSX is a bit of a conundrum. It brings lots of positive features to the table and makes sure that you'll be able to start becoming a better and more enjoyable pilot. It's a big improvement over the original edition of the game and makes it much easier to get to grips with, and therefore actually enjoy.
However, does it actually change enough to warrant a full-price purchase if you already own FSX and its assorted mods? This is where perspective needs to come in, and you need to decide whether or not having better performance and online features are worth the cost.
The easiest way to make this decision is to weigh up two things;
How old is my FSX?
Will the disk hold?
Should that disk ever snap you'll need to replace it, whereas buying the Steam Edition means you have it forever. It can be installed and uninstalled at your whim, and this gives you a lot more security over your FSX copy. Now you don't need to worry about disks or anything of the sort – you just need to have Steam installed to get access to your Steam Edition.

It helps to spice things up and modernizes a hugely popular flight simulator, but if you are tight on cash and already own everything you certainly don't NEED it. It's very much worth having if you've got some spare money and/or you see it on sale, though. For the fact it's permanently yours, you'll be able to use it when and where you want.
The fact it improved performance so noticeably, gives you some minor new features and additions, and also makes sure that you have access to a safe and secure multiplayer platform probably makes it a worthwhile purchase for anyone who is really into their flight simulators. If you don't play FSX much anymore or you want something to re-light your fire, this probably won't be it.
However, if you are new to the flight simulation world then this will be the best choice out there on the market. It gives you every feature you could possibly need, and makes becoming a better pilot much easier than you might have imagined! You'll learn authentic, tips and tricks about being a pilot through this simulator, and have barrels of fun along the way.
You can grab your copy of FSX Steam Edition over at Steam.


We give the Steam remake of this flight simulator a full 5 out of 5 stars.
We'd love to hear your comments regarding the Steam Edition of FSX, so please post them below!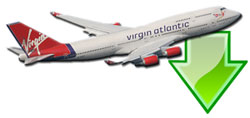 Don't forget... We have a huge selection (over 24,000 files) of free mods and add-ons for MSFS, FSX, P3D & X-Plane in the file library. Files include aircraft, scenery, and utilities All are free-to-download and use - you don't even need to register. Browse on down to the file library here.