As we all know, the Boeing 747 aircraft is one of the most influential in history. For simulation fans today, it also plays a major and important role in their entertainment. The Boeing 747 has long been a deeply popular and much loved for part for its ease of use in flight simulation terms.
Many people can get to grips with flying an impressive piece of hardware, giving them the control and feel of what a simulator can be like.
With that said, there is always the chance to improve a simulation. In this article, we are going to take a brief look at some of the best freeware Boeing 747 add-ons for Flight Simulator (both normal and Steam Edition) and P3D.
By using each of the add-ons suggested, users can get a far more enhanced user experience. Every add-on will offer something different to Boeing 747 fans, ensuring that something more realistic can be unlocked. Each modification improves and changes something, from flight behavior to model realism right through to new liveries and paints.
Enjoying the Boeing
Overall, these mods offer a far more engaging way to really interact with such a brilliant piece of kit.
Whether you have used the Boeing 747 with any real depth before or it's new to you, you'll love this. The detail and the intricacy of each mod suggested can help you really appreciate finer elements of this aircraft. This should help those who want to appreciate a more intimate experience with the aircraft that they fly get there.
We have tried to balance the mod selection process to accurately portray the vast number of elements you can alter about an aircraft.
Make sure to check out the download policy for each member of this topic – each offers something that's worth trying.
FSX iFly Boeing 747-400
This first modification is well worth trying out for those who want a more realistic experience. Although the original Boeing 747 is well appreciated and a good part of history, this version of the 747-400 is definitely something that you want to have on-board.
It introduces major changes to the aircraft such as an extremely detailed cockpit and an FMC console which is fully operational. Alongside this, users will get a complete TCAS simulation. This comes with brilliant, simulated Traffic Advisory and Resolution Advisory systems.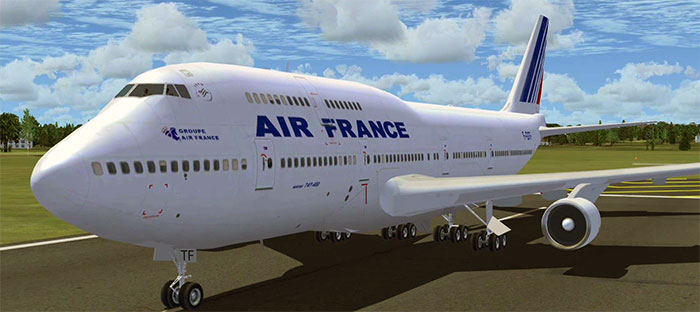 To help make the whole experience as smooth as possible, this also provides you with a cool 90% of 3D, fully operational buttons in the Virtual Cockpit mode. Despite this impressive array of improvements and changes, this mod still offers a performance friendly end-result. Even if you are using a decent or mediocre machine, you should still get an active and enjoyable response.
Alongside this, you get plenty of nice cosmetic add-ons, with seven flash – and authentic – liveries. Add in a brilliantly written 330 page handbook Operational Manual, and this ticks nearly every box.
Installation is nice and simple, and you can find that this gives you one of the cleanest versions of the 747-400 you'll find!
View/download the file over here.
Boeing 747-400 – Complete Package
It's always nice to have something memorable to use, and this wonderful collection of Boeing 747-400 add-ons is one of them. By including such a fine selection of objects into one package, this offers variety and style. With a higher level quality of textures than the original, this looks great. With the previous default textures looking rather worn and dated, this helps to modernize your 747-400.

The experience is always improved by having a greater level of control when you are flying, as well. This is personified with the introduction of the new virtual cockpit. This improves the level of flight control users have.
Although it can be a little tough to get around at first, it's a must-have for fans who like extra realism. The new virtual cockpit does a great job of capturing and harnessing the VC aids such as PFD and AP, giving pilots even more control.
If, in the past, you have felt limited by what you can or cannot do with a Boeing, this will help. By freeing up how and where you can go this will make learning and loving this aircraft much easier. This is a must-try for anyone who is a fan of this aircraft, or wants to see what all the fuss seems to be about!
View/download the file over here.
FedEx Express Boeing 747-8F
FedEx Express Boeing aircraft are common in the skies, and most of us will have seen one. If you live even somewhat near an international or cargo airport you have likely noted them dotting in and out of the city, too. It's for this reason that this mod can be a great addition to have. Boeing fans can get a brilliant model, created by Hiroshi Nagami. It uses impressive flight dynamics, also, created by Warren Daniel and Brandon Henry.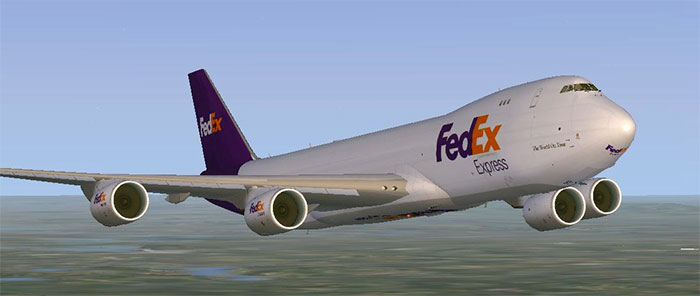 Together, the model and the new dynamics offer a fair and engaging flight. They feel fresher than before and this makes it easier to really feel at one during the flight.
This heightened level of realism might not work quite as well when used in FSX given that this is a repaint of a previous model, it works as well as you can expect in such circumstances. Even with that in mind, it is by no means a tough or weak aircraft to fly around in.
You should get a high level of enjoyment from using this aircraft, offering a fine balance of looks and performance. The fact is uses such a recognizable design and livery only adds to the enjoyment that you should get when flying it around.
View/download the file over here.
FSX Air France Boeing 747-428
A fine retake on the Air France edition of the Boeing 747-428, this is one for the collectors. It offers a complete package that works with a base model giving you a solid livery and everything else. From the working virtual cockpit to the excellent DXT3 textures, you get an aircraft model and design that is more than passable.

When you see how well it files within the realms of FSX, a simulator it was never built for, it's very impressive indeed. Even when used in FSX it performs as well as can be expected, and still looks great. The wonderful textures and the model combine well with the flight dynamics, offering a fresh and enjoyable flight that can be easily enjoyed.
This is a good add-on to grab whether you just want a simple and easy to fly version of the 428, or you collect liveries. Either way it offers a fine version of the Air France model with plenty of good features.
This offers fully animated surfaces and extras to authentic use of features like ailerons and ground spoilers. Alongside this, you get an honest and fair take on the aircraft that should appeal to both veterans and newbies of Boeing.
View/download the file over here.
FSX Lufthansa Boeing 747-430
A fine mod to try out would be the FSX Lufthansa Boeing 747-430. A decisively important part of the 747 era, this model provides you with an in—depth and honest look at the aircraft. The creators of this mod, Project Open Sky, offer a fair and reflective take on this aircraft. For this reason it can be a lot of fun to fly, offering excellent benefits as well as real challenges.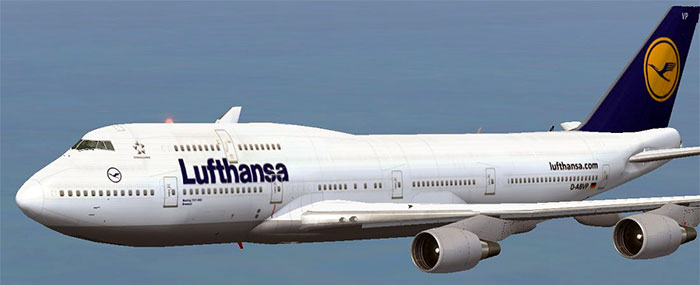 With this you also get some excellent features like 32-bit textures with DXT3 support. This makes it look excellent, but is backed up by the use of a virtual cockpit that improves operational function. All of these new simulation changes ensures you are flying a version of this aircraft that feels real. The Boeing 747-430 is a great aircraft to get used to but it needs the right take to feel honest.
Thanks to this mod you can fly a Lufthansa Boeing version that carries everything you would expect. From animated doors and control surfaces to authentic dynamics and controls, you get realism. It even has new crash effects, night lighting and a ground service when the doors open up on it!
View/download the file over here.
FSX Boeing 747-200 Air Force One
Even the military have found a use for the Boeing 747!
With this mod you can get a real showcase of why this aircraft was so beloved. With a dynamic shine added on to a well-made model to look it oak awesome, this steals the show. It makes use of various new changes to make it shine as it should. The fully animated control surfaces work into making the graphical appeal of this mod obvious.
This infuses the aircraft with character and heart that others lack.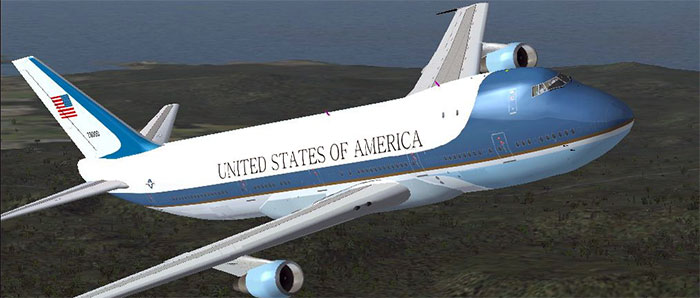 Not only does this help to sell the overall image and style of the Air Force One version, it flies beautifully. It can handle everything you would expect and utilizes smart animations to show that. From the dynamic wing flex to the awesome reflective textures, this is a genuine take on a wonderful aircraft model.
Project Open Sky created a brilliant add-on for all simulation fans to use, improved by Bill Kovatchev. This repaint looks great and carries major hallmarks of what makes this version of the aircraft so striking. With the accurate repaint it looks excellent and carries the right look and feel that you would have expected.
Should you wish to fly a more intense version of the Boeing 747 complete with everything from new main gear spearing to fully independent suspensions, try this out!
It gives you a fair and realistic take on what being the pilot of a Boeing 747-200 may be like.
View/download the file over here.
KLM Cargo Boeing 747-406ERF
One of the most enjoyable and exciting parts of flying a Boeing is the control it gives you. Well, with this version of the mod – a KLM take – it gives you a great take on that feel. The power and style o this aircraft, although was for FS2004, still resonates through with this mod. A brilliant take on the 32-bit and DXT3 textures included, this manages to look brilliant even in a simulator that's ahead of the times.
This mod manages to give you everything you need from accurate flight dynamics and major model improvements. It even gives you XML coded animations that tend to look brilliant. When used rightly and with even a moderate machine, this offers a realistic take on flying for KLM. The detail and colors are spot on, and can be a great add-on for collectors and fans.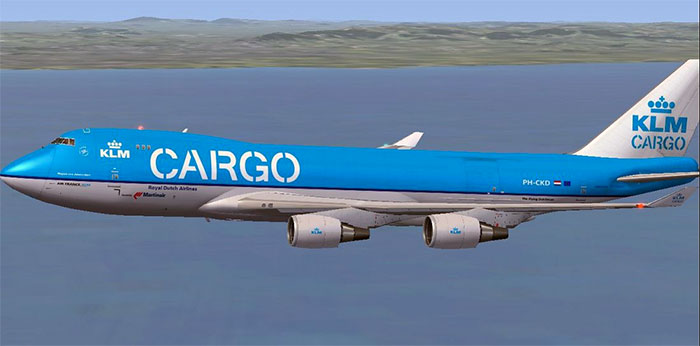 Inside, you'll find fully operational and animated control surfaces with fully independent suspension.
All of this power means you can easily maneuver and command a flight as you wish. Not only does this help to improve and speed up overall enjoyment, it helps newbies learn. Whether you are looking for a version of the Boeing 747-406ERF that is KLM specific or you just want one to learn, this works.
It's a fine take on the aircraft and offers something that's genuine fun to fly.
View/download the file over here.
FSX Air France Cargo Boeing 747-428
Like the above mod, this offers a classy and easy way to learn about the 428 edition of the 747 brand. The creators of this, Project Open Sky, - like many of the above mods – offers a fair take. Realism is so important in simulation and it's best to use a genuine take than a romantic one. Well, with this Air France model you get one that looks brilliant but is a challenge to fly.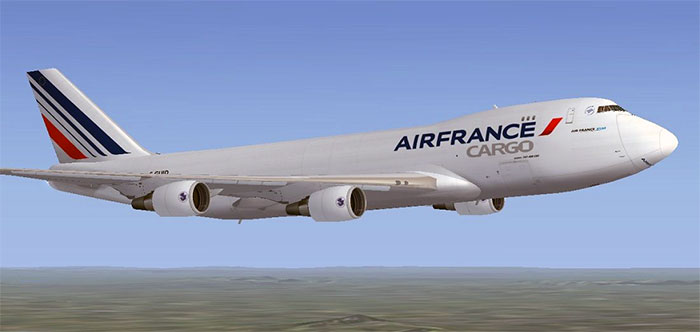 Like any good simulation mod, though, it rewards you for persevering and learning how to fly it right. The reward is a beautifully constructed aircraft that ensures you stay well on track as you fly. This not only offers a more enjoyable style of flight, but it feels more engaging when you get it right.
With everything from trim animations and opening doors to authentic values for body gear and nose gear steering, this just feels right.
The developers have taken the time to understand what makes this aircraft fly so well – and have created a genuine take on it. If you would like to fly the 747-428 as close to realistic as you'll get – despite not being for FSX – this is worth a go. It work well within FSX and manages to really capture the realism that is so needed.
View/download the file over here.
Boeing 747-400 Multi-Textures Package
However, not everyone feels 100% comfortable trying to use a new version of the aircraft.
If you are using to flying the default Boeing 747-400 that comes with FSX, then why change?
It's a great take on the original and does it a lot of justice. It also feels realistic and gives you something to remember.

One thing you will find frustrating no doubt, though, is its relative lack of creative drive. Well, with this mod, you finally get a gluttony of new modifications and textures to use. Although they are "only" for the original. They do a spectacular job of reviving it and adding to its lifespan.
This helps it come to life and, with 23 new repaints from all across the world, is authentic. These aircraft tend to include liveries from the big hitters. From flying for KLM and British Airways to UPS, JAL and more, you get something that feels spot on at every turn.
These deigns were taken on by Hugo Van Pelt, a well-liked designer who knows how to get things accurate and in turn with realism.
If you would like to try out flying the Boeing 747-400 default once again, try livening it up with these. For those who have grown used to designers and modders blowing away the defaults, use this.
It gives you the relative freedom and enjoyment of the 747-400 default in terms of how it commands and conducts itself. However, crucially, it also adds in the realism and enjoyment of the new textures that give it a new vibrancy altogether.
View/download the file over here.
You can view all of our aircraft (thousands) for FSX over in the library here.
Each of these mods has been chosen with the sole intention of offering more than ever. With the Boeing 747 aircraft being such as it is, it helps to have access to modifications like these. Now you can get the full access to the aircraft and see how it really flies.
From the brilliant new liveries to whole new takes on obscure editions of the family, these mods cover everything. The next time you want to try and be part of the Boeing family, and enjoy it, try these new simulation modifications out.
We'd love to hear your comments, opinions and suggestions. What is your favorite 747 addon - either freeware or payware, what do you use regularly - do you prefer the default Microsoft 747? Let us know in the comments section below.​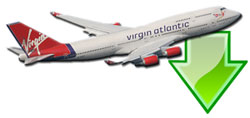 Don't forget... We have a huge selection (over 24,000 files) of free mods and add-ons for FSX, P3D & X-Plane in the file library. Files include aircraft, scenery, and utilities All are free-to-download and use - you don't even need to register. Browse on down to the file library here.