The Eurofighter is a single-seat, twin-engine, agile combat aircraft which will be used in the air-to-air, air-to-ground and tactical reconnaissance roles. Developed by Europe's leading aerospace companies, Eurofighter Typhoon is now in service with the Air Forces of Germany, Spain, Italy and the United Kingdom and will fulfil Air Force requirements well into the 21st Century. Aircraft production is ongoing and with 638 aircraft under contract to the four Partner Nations and Austria, as the first export customer. The design of Eurofighter Typhoon is optimized for air dominance performance with high instantaneous and sustained turn rates, and specific excess power. Special emphasis has been placed on low wing loading, high thrust to weight ratio, excellent all round vision and carefree handling. Models, panel, sound, textures, gauges and animations by A. Meyer.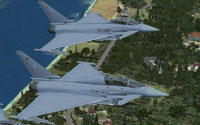 Screenshot of two RAF Eurofighters in flight.
Features:
For FSX and FS2004 included new missions.
Single pilot model with external suspension IRIS-T, Meteor, AGM 64/84, Pavew.3 and TAURUS.
Two model at trainerversion and 3 external 1000 Wing Tanks.
Formations - flight - model with 3 EUROFIGHTERs.
NEW: MAN lorry with pulling EUROFIGHTER.
Accurate Flight Dynamik simulation the both 35000 PS EJ200 Engines of the Eurojet Konsortiums.
Include 2 sound packet.
Complete EUROFIGHTER cockpit.
NEW: 35 different flight models.
Tail hook, detailed landing gear, canopy, radome, flight-refuelling.
Light: formations light, strobe, beacon, wing lights, navigation- & landing lights.
NEW effects: afterburner, smoke - and light effects, cockpit light, reflect surface, rear-view mirror.
Detailed and easy to fly flight model with auto-trim and real animations feature of flaps and canard wings for aerodynamically unstable.