In Microsoft Flight Simulator X (FSX), like many other gaming software packages, there are a plethora of cheats in the form of "Easter Eggs" – essentially hidden items and access-only add-ons achieved through "secret missions" or, on occasion, through the previously mentioned cheats.
And what's more, at least according to the substantial and largely well-informed FSX community, there are hundreds of these available which, in turn, adds yet another layer of interest and entertainment to all virtual pilots using the software.
Unfortunately there are no official "cheats" to do wild things like fly on Mars or dive 1000ft under the Atlantic Ocean for Microsoft Flight Simulator X, however, there is an abundance of "easter eggs" that can make your flights more fun and entertaining. We cover them here in this article.
Perhaps a good example might be the "Desert Island Robinson Crusoe" easter egg from the early 2000s. If virtual pilots made their way to the remote island of Minamii Torishima in the north Pacific, they would witness a sailing boat on the water and more specifically, the skeletal remains of its presumed one-time owner.
While there are, according to those in the know, many of these little gems to be discovered in the more recent FSX programs too, there are some basic hints and tips to go over which, depending on what you wish to take away from such programs as FSX, add an extra layer to your virtual flight experience.
This article covers all versions of FSX including Standard, Gold, Acceleration and the latest Steam Edition.
This article will be updated regularly with more fun things to do in FSX so do bookmark this page and keep checking back.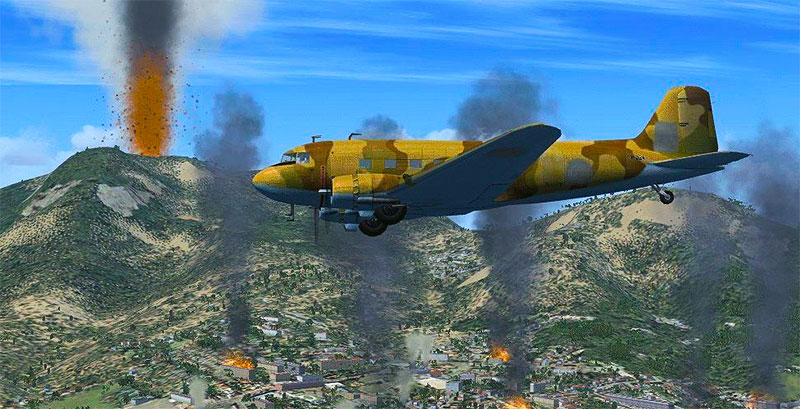 A Little Help?
OK, so before we move on to the subject of Easter Eggs on how we might access them, how about some of those cheats, hints, and tips?
For example, do you want to make your plane a little louder? Simply hold down H to achieve this.
Furthermore, if you wish to jump out of the plane then using SHIFT+F together should get the desired result.
Or, if you use SHIFT+E this should open the plane doors.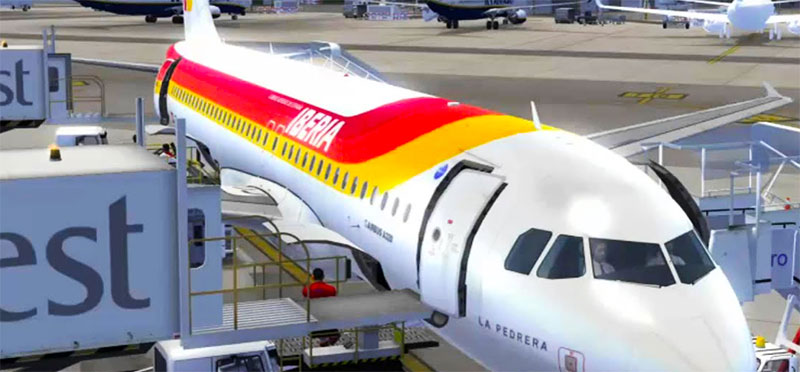 If you wish to have a fuel truck approach your plane and refuel the vehicle then, while parked near the gate of the respective airport, press SHIFT+F and wait for the truck to arrive.
Similarly, if you require a Push Back Vehicle then while at the same position near the gate press SHIFT+P. You plane will begin to move backward shortly after and into position.
Furthermore, FSX pilots can also earn "rewards" as they take part in free flights and add-on missions. What's more, these rewards are not hidden and are clearly visible in the "Rewards" tab upon completion.
Not all of these extras are hidden either but are only available at certain times of the day or year, or even on specific dates (such as certain fireworks displays or volcano activity). Or even such phenomena as the North Lights, meteors, or even date sensitive amusement parks. Perhaps one of the most fascinating is to change the date of the flight to December 31st, 1999 and then fly near the Harbour Bridge near midnight. You will witness the huge fireworks display to begin the Millennium Party and welcome in the 2000s. Or perhaps make sure you are airborne over Las Vegas in Nevada around 10 pm to witness the nightly fireworks displays taking place over Sin City.
"Secret" Hidden Fixed Locations
There are also many "fixed" locations that contain little extras should you choose to venture out that way. These flight routes, however, are less well-known and are, at least for some, part of the fun and adventure of virtual flight.
For example, if you take-off from Santa Monica Airport and "fly heading 020 for 10nm" you will see the famous cedarwood-made sign in the Los Angeles hills, inside the Burbank class C airspace of Bob Hope Airport.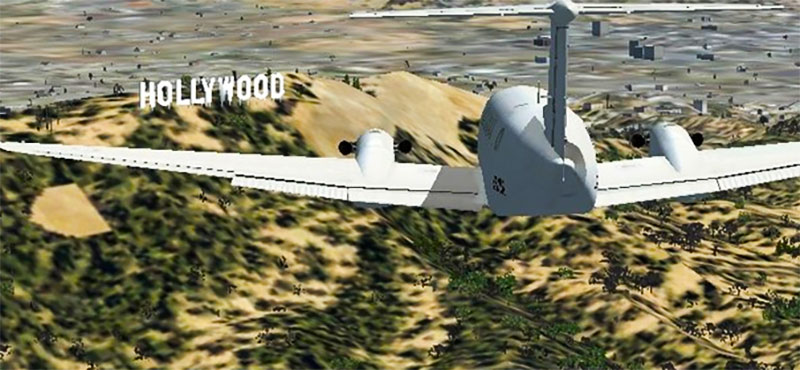 How about Walt Disney World in Florida? To take a virtual flight over the world's largest theme park you will need to begin your flight from the small runway at the Epcot Center. From there, fly north to the Spaceship Earth (which looks like a "big golf ball") and then stay north towards the Cinderella Castle.
Or perhaps you wish to view Mount Rushmore in South Dakota from the air? To view this you will need to begin from Custer Co and "fly heading 011 and 9nm". According to those in the know, this fixed location can be a little difficult to pick out. If this is the case, the following coordinates will be of use: N43*52.13' W103*32.38 (press shift + Z) or 23.7 nm from VOR 112.3 on radial 243.
Locations A Little Further Afield
Perhaps one of the most fascinating of these fixed locations is The Forbidden City in Beijing in China. To access and view this ancient palace simply takeoff from Beijing Capital and "fly 12nm at heading 225".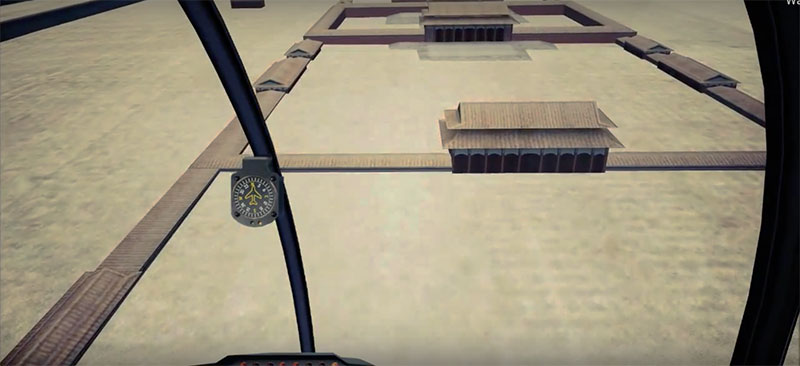 Or how about viewing the iconic Stonehenge on the Salisbury plains of England. If you take off from Runway 35 and Boscombe Down and then fly in the direction of the runway until you reach a major road, which you again should follow. When the road begins to split into two smaller roads, Stonehenge should be visible. However, much like Mount Rushmore, it can be difficult to spot from the air so great concentration is required. Incidentally, an extra tip here is to set the autogen density to none in the settings which should aid visibility of the ancient structure.

If you head over Rome, the capital city of Italy, there are already an abundance of iconic buildings to take in from above. However, if you wish to view the Colosseum then simply take off from Urbe and "fly heading 220 for 3 nm". After a while, you will be over St. Peter's Square and Vatican City. From here, turn 110 and the ancient ruins from Ancient Rome and the Roman Empire should be in sight.
Another iconic building of Europe is France's Eiffel Tower, which again can be reached by following very specific instructions on FSX. If you takeoff from Orly and fly east towards the Seine River. Then, follow the stretch of water for 9 nm until the island of Notre Dame. Once there, follow the road that begins from the Tuileries Palace for about 300. You will soon see the Arc de Triomphe. Shortly after, if you continue on the same path, you will view the Eiffel Tower.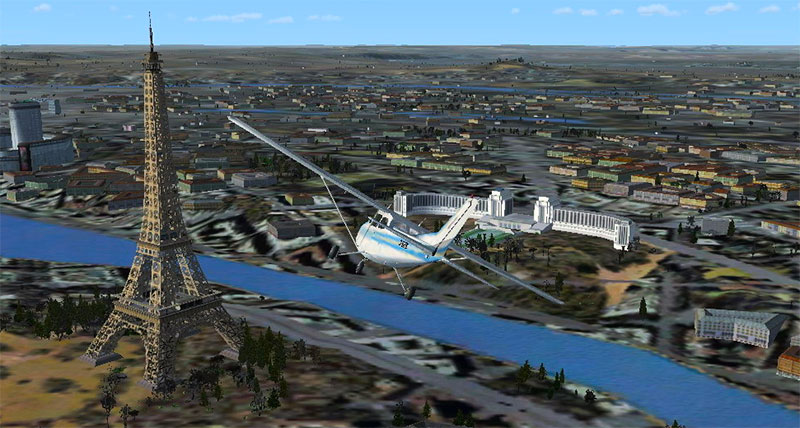 Other Iconic Locations (If You Know Where To Look)
Not only can you view Moscow's famous Red Square by following very specific takeoff instructions, but should you choose to fly in a Cessna 172, you may even be successful in landing in the famous heart of the Russian capital.
Whatever plane you opt for, you should begin your flight from Vnukovo Airport and head 045 for 15 nm. The famous Red Square should be visible shortly after. Should you choose to attempt to land the plane in the famous square you will, of course, be emulating the famous flight of Mathias Rust, who at the age of 19 in May 1987, would fly from Helsinki in Finland before landing in Red Square in Moscow. He was subsequently arrested and jailed.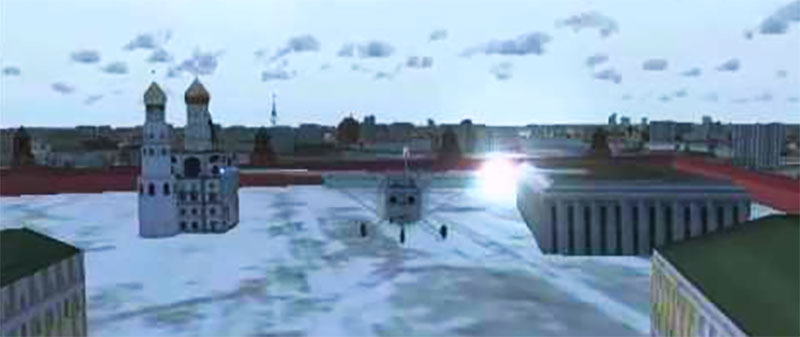 In short, there are numerous places to seek out if you are willing to fly off the beaten track.
If you wish to check out the Taj Mahal, for example, then simply takeoff from Agra Airport and fly track 080 for 5 nm. Or if you wish to see the Leaning Tower in the Italian city of Pisa then begin your journey from San Giusto and head 005 for 3 nm.
Without a doubt, though, one of the most fascinating of these hidden-in-plain-sight locations within FSX (as well as in reality) is Easter Island and the Maoi statues on its coast. Similar to Stonehenge, the iconic face statues are difficult to pick out from above the ground so the best idea might be to set the autogen density to none.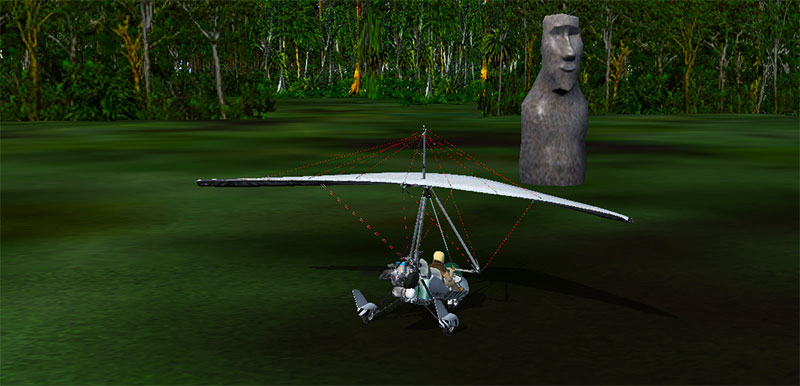 In order to reach the island and view these mysterious stone displays, you will need to takeoff from Mataveri (using a small aircraft only). Then, at low speed and low altitude, follow the coastline of the island. As you do so, the statues should come into view. At least half a dozen are present (although there could be more).
Constantly Evolving Possibilities
So then, like many other flight simulators and gaming software in general, just when you think you have gotten everything possible out of the FSX it appears there is yet more to squeeze out of the virtual skies they offer. And what's more, these secret and hidden extras are evolving all the time.
And while some of those extras may take a bit of finding, they are indeed out there. For example, you might see the remains of the Berlin Wall, or the balloon attached to a tether near the Bahamas. Or, should you takeoff from KNGU at Norfolk Naval Pier and head to the west you should witness a huge aircraft carrier stocked with F-18s and SH-60s.
The possibilities are increasing all the time, meaning that even for grizzled veterans of flight simulation there is very likely always something new to discover from the virtual skies.
What Have You Found?
Should you know of more, and some of you almost certainly will do, tell us about them in the comments below. The more comments we get below we will consider adding them into the main article above. What easter eggs have you found and seen? What are your favorite flights? Let us know below!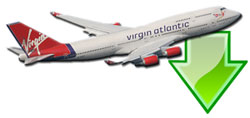 Don't forget... We have a huge selection (over 24,000 files) of free mods and add-ons for MSFS, FSX, P3D & X-Plane in the file library. Files include aircraft, scenery, and utilities All are free-to-download and use - you don't even need to register. Browse on down to the file library here.