A repaint of Mike Stone's Lockheed Super Connie model in the colors of L'Air Azur VA, with high detail reflective textures and new night lighting effects. Size and placement of windows and exits has been corrected. This repaint aims to recreate the glamorous look of vintage aircraft in the Golden Days of Commercial Aviation. Textures in 32 bit extended format with no mipmaps. Requires SCONNIE.ZIP. Repaint by Joao Paz.
In this repaint I used part of a Dave McQueen's metal texture as the basis for some of my own metal textures and templates. I tried to contact Mr. McQueen for permission but couldn't - so I hope that this credit can pay the due respect to his great work!
Thank you Mike Stone, for an also Great model of a Super aircraft!
Thanks to Microsoft for a wonderful flight simulator that keeps getting better.
Thanks always to Luisa Paz, Alaskan Winds Operations Manager and L'Air Azur President that, in her role of my wife has always been my greatest supporter in this very time consuming hobby of ours!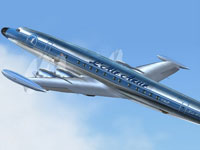 L'Air Azur VA Super Constellation in flight.
Installation:
Download and install sconnie.zip, if you don't have it already.
Find your [connie] folder and duplicate the [texture] folder and rename it to [texture.laz] (no brackets).
Copy the enclosed bitmaps in the [texture.laz] folder to the new [texture.laz] folder you have just created on step 2, overwritting as requested.
To conclude, copy the section below into your Connie aircraft.cfg, next to the last [fltsim. ] section (usually before the [General] section) and replace the 'n' on the [fltsim.n] line with the next number in the sequence of the previous [fltsim. ] sections:
[fltsim.n]
title=L'Air Azur Lockheed L-1049G w tip tank
sim=connie
model=
panel=
sound=
texture=laz
panel_alias =
sound_alias =
kb_checklists=
kb_reference=
atc_id=F-AAJP
ui_manufacturer=Lockheed
ui_type=Super Constellation
ui_variation=L'Air Azur
description=This is "La Croisette", L'Air Azur's Lockheed Super Constellation. Repaint by Joao Paz.
atc_heavy=0
atc_airline=LAirAzur
atc_flight_number=L1049
IMPORTANT NOTE: IF YOU HAVE INSTALLED VNCON10U.ZIP, THE FABULOUS PANEL BY HANSJOERG NAEGELE AND JAN VISSER WITH THE LATEST WOLFRAM BECKERT'S CONNIE FLIGHT DYNAMICS *USE THE FOLLOWING SECTION INSTEAD*
[fltsim.n]
title=L'Air Azur Lockheed L-1049G w tip tank
sim=L1049G_MS
model=
panel=
sound=hpc
texture=laz
kb_checklists=
kb_reference=L1049G_REF
atc_id=F-AAJP
atc_id_enable=1
ui_manufacturer=Lockheed
ui_type=Super Constellation
ui_variation=L'Air Azur
description=This is "La Croisette", L'Air Azur's Lockheed Super Constellation. Repaint by Joao Paz. The Lockheed Super G equipped with Turbocompound engines. This is , a 1049G without wing-tip fuel tanks.2k2 FD for Mike Stones new Connie.
atc_airline=LAirAzur
atc_flight_number=L1049
atc_heavy=0
visual_damage=1