You are downloading...
FSX Boeing 737-400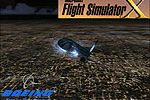 FSX Boeing 737-400. The FS2004 default B737-400 converted to FSX with many updates, included better flight dynamics, effects and nav lights. Also includes 181 repaints. Package by David Grindele. ...
File size: 199.29 MB
Scanned within the last 30 days with ClamAV and found to be free of all known virus.
← Go Back to download listing page
Choose a Download Option
Unrestricted Download Speed
Simultaneous Downloads
Direct Download Link
24/7 Customer Support
Username, Profile and Rank
Full Forum Profile
Include URL in comments
No Advertising Displayed
Discounts on Payware Software
Download Speed Limited (50KB/s)
No Simultaneous Downloads
No Direct Download Link
No Customer Support
No Username and Account
Only Guest Post in Forum
No URL applied to comments
Free to Download
Free
We would also love to hear your comments regarding this download, post them here.
Installation of Add-on Aircraft/Scenery
Most of the freeware add-on aircraft and scenery packages in our file library come with easy installation instructions which you can read above in the file description. For further installation help, please see our Knowledge Center for our full range of tutorials or view the README file contained within the download.
Search for other files
Sign-Up
Signing-up for a Pro account gives you super fast uncapped speed to the thousands of FSX, FS2004 & X-Plane downloads which include aircraft, scenery and more - click here to view the library for free or...


Sign-Up Now
Subscribe to our Free Newsletter
Join over 130,000 subscribers of our free dedicated flight simulation newsletter. Featuring new downloads, products and industry news.
Download of the Day
Survey