Microsoft Flight Simulator X Service Pack 1
Installing Microsoft Flight Simulator X can be a very useful thing to do if you want to start really getting into the world of aviation and really enjoying it as much as you can. Of course, there's plenty to do and see so you'll have your hands full trying to manage it all!
Download hits

74,586

Compatibility

Microsoft Flight Simulator X (FSX) including Steam Edition & Prepar3D (P3D)

Filename

fsx_sp1_ENU.exe

File size

208.02 MB

Virus Scan

Scanned 29 days ago (clean)

Access to file

Free (Freeware)

Content Rating

Everyone
Installing Microsoft Flight Simulator X can be a very useful thing to do if you want to start really getting into the world of aviation and really enjoying it as much as you can. Of course, there's plenty to do and see so you'll have your hands full trying to manage it all!

One thing that you will find if you purchased FSX a while ago, though, is that you are lacking the necessary Service Pack updates that make FSX much more enjoyable to play and use thanks to fixing various errors and bugs.
What's New?
One of the most important changes that was brought in with Service Pack 1 was the fact that it solved a lot of key activation issues that came with using the original release of FSX. Many people couldn't even get their product to launch or even use, as well as suffering from a myriad of different and equally annoying problems with getting the software installed in the first place

As you can imagine, this can be a real issue and will leave you with a lot of problems – SP1 solves these irritating installation issues!

Of course, that isn't all that FSX brings to the table. It also gives you excellent performance enhancements. This is very important because nobody wants to play a simulator that only runs at half capacity! If you want to start getting the most from FSX, you really need to get SP1 as it gives you a much more stable performance

This is because SP1 dealt with multi-threading issues when dealing with texture synthesis, as well as problems that existed with the autogen system that helps to create the atmosphere around the world that makes FSX such a pleasure to play
Why Do I Need Service Pack 1?
There are many reasons to consider picking up FSX SP1, but the most important reasons is because it will help you actually enjoy the experience. This is like the equivalent of a patch, and can be the perfect way to start shifting your design and giving yourself something truly epic to play with for years to come

It helps to stabilize the entire FSX experience and will make your life so much easier when you want to get used to new aircraft and areas – additionally, the improvement of multi-core processers when using FSX has been quite remarkable, giving you a far more polished performance than before

Content issues that existed in the past have been rectified, making it much easier to use all-important content that has been released in the past. This makes it a lot easier to install the kind of additions that you want when they are released by Microsoft

However, it also deals with the third-party add-on issues that exist with FSX. Many mods simply wouldn't work, which was a cause of great frustration for many people – this helps to alleviate these issues and help you use the best fan made content much easier than ever before
Editorial
When I first used FSX, I have to admit; I was quite disappointed. The hype and overall bravado of the marketing for the product itself made it seem almost bulletproof - therefore, the fact it was less than polished when it finally arrived was a big blow for us. However, over time with various adjustments via third party fan groups and individuals as well as releases from Microsoft themselves helped to improve the overall performance and style of the product. This was something that was easily noticeable – but none of the made the impact that FSX SP1 was capable of.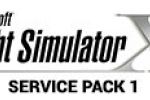 It totally fixed a large stream of the problems that I initially was really unhappy with. for a start, I found that the vast majority of my experiences with FSX were sluggish despite having – at the time –a really high-end machine. As soon as SP1 was brought out, though, I noticed a massive improvement in the overall performance and style of what I was being given back from the simulator. Having spent a lot on my rig I was pretty dumbfounded at the lack of performance previously – thankfully, this totally fixed this problem and helped me to really push on.
With the help of this brilliant update, I was able to move things forward dramatically and start to notice a massive change in proceedings for years to come. SP1 was the first of the packages to come out, and it came out just before the Acceleration mod, but it gave me something really important to work with in the future. Now instead of sluggish performances on a machine far suited to the task of running FSX, I had something far more palpable to enjoy moving forward. This was a big thing for me, as performance is every bit as important as the graphical side of things which FSX was already a big improvement in over FS2004.
Although the graphics never blew me away on release, they were a big jump, and I knew that the fan made content over the years would soon paper over any potential cracks and let me really push on with my flight education. What I was able to get was something really exciting, something truly worth sticking with – I could now learn the more advanced tricks as FSX didn't run like an absolute hog anymore!
Most importantly for me, though, was the addition of third-party support in the way it should have been from day one. The biggest part of flight simulation, for most fans, is the fan made additions that help to prolong the life of a simulator for many years. When you start looking into this and seeing the big changes that third party content brings to the simulation world, it can be really easy to see how to move forward and how to do things in the right way.
With the help of SP1, the performance and the quality of FSX became far more stable – if you don't have, it get it!
Installation of Add-on Aircraft/Scenery
Most of the freeware add-on aircraft and scenery packages in our file library come with easy installation instructions which you can read above in the file description. For further installation help, please see our Flight School for our full range of tutorials or view the README file contained within the download.