Microsoft Flight Simulator X Demo

Download hits

125,479

Compatibility

Windows

Filename

FSXDemo.zip

File size

843.64 MB

Virus Scan

Scanned 4 days ago (clean)

Access to file

Free (Freeware)

Content Rating

Everyone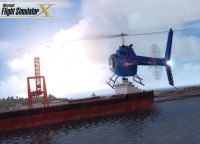 Screenshot showing a helicopter approaching a boat in FSX.
This is the demo edition download of FSX. You can play this trial for free before you purchase the full edition on Steam.
For years, Microsoft Flight Simulator X has been one of the most commonly used and well-known flight simulators around the world. Packed with features that allow you to globe-hop around the world and try out flights from many personal and professional viewpoints, FSX was the simulator that helped to take flight simulation to a whole new level.
And now, you can easily try out FSX via the Microsoft Flight Simulator X demo edition. This demo gives you access to all the help that you could need to see just what FSX offers in terms of features allowing you to comprehensively try out the simulator before you make a single investment.
With rich immersion and impressive visual detail, Microsoft Flight Simulator X offers the opportunity to see the world from the skies. With all manner of impressive detail in both aircraft and scenery, this helps to paint the world in a way that accurately portrays large parts of the planet.
High-quality missions allow you to take to the skies and enjoy a much more satisfying aviation experience, too. You can put yourself in the cockpit of an aircraft and see how you would handle everything from commercial jets to lights across some of the most dangerous terrain in the world.
A fine blend of video gaming and simulation, this helps to add fun as well as realism to the simulation experience for all. If you want to test your skill levels as well as see the world in a new, simulated environment, FSX offers the chance to really feel what it's like to be at the cockpit of an aircraft of various sizes.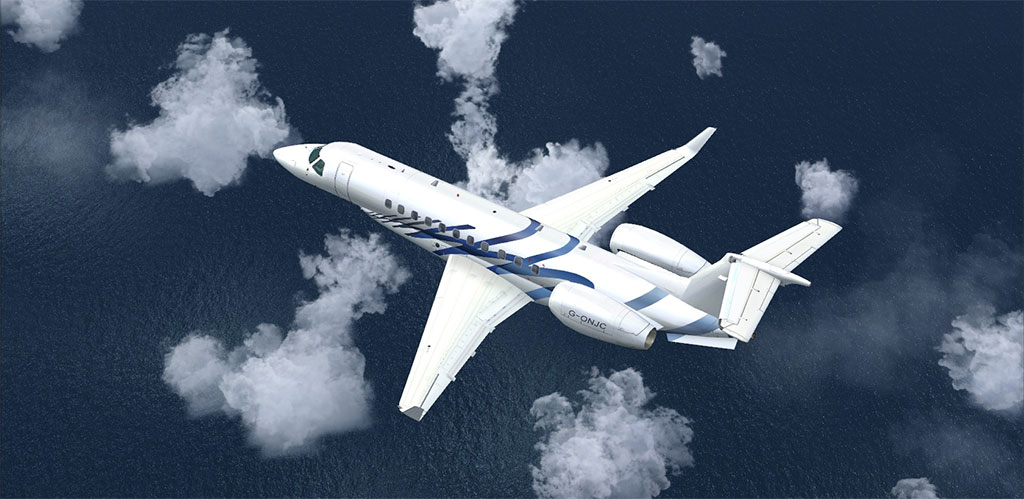 An example of an add-on in FSX, showing a LearJet.
What's Included?
As part of the demo, you can get access to:
Two airports.
Two missions.
Three unique aircraft.
Everything is based in the sun-kissed St. Maarten region of the Caribbean, giving you a full appreciation for the visuals as much as the experience of being a pilot.
The trial edition's first mission, Flour Power, sets you up in the Caribbean as you take on flights on an ultralight trike. It's a simple way to get used to air flight and will help you to take on a rather interesting little mission.
You will be expected to drop off bags of flour to the right location on your trike, moving throughout St. Maarten and making sure you can land the items accurately and in the correct location.
This fun little mission will see you test your skills for accuracy as well as efficiency.
The other mission, Caribbean Landing, will see you try to land a classic Bombardier CRJ700 jet at Princess Juliana Airport. Working alongside your co-pilot, you'll need all of your organizational skills to land this one.
If you are interested in trying out FSX and would like to see what potential it holds, then the Trial Edition – available in six languages (this file is the English version) – is the perfect place to start. Make sure your hardware can run FSX before you make the investment to buy it. See for yourself why it's among the most popular simulation platforms around, regardless of age.
Note: previously, this file was called fsxprereleasedemo.exe which was the press release demo but has now been updated to FSXDemo.exe which is the full release demo.
Please note: The screenshots displayed below are created while using third-party add-ons in the simulator available from our library. However, some screenshots do show stock installs. It displays what's possi​ble within the sim.
The archive FSXDemo.zip has 39 files and directories contained within it.
File Contents
This list displays the first 500 files in the package. If the package has more, you will need to download it to view them.
| Filename/Directory | File Date | File Size |
| --- | --- | --- |
| FSXDemo.exe | 07.01.19 | 798.28 MB |
| Go to Fly Away Simulation.url | 01.22.16 | 52 B |
| Screenshots | 12.08.20 | 0 B |
| 2009-5-28-18-39-55-218ai.jpg | 12.08.20 | 1.69 MB |
| 2010-9-29-16-41-22-615ai.jpg | 12.08.20 | 2.74 MB |
| 2011-10-28-2-29-44-159ai.jpg | 12.08.20 | 1.48 MB |
| 2011-9-12_17-7-53-708ai.jpg | 12.08.20 | 1.48 MB |
| 2012-3-7-5-10-7-456ai.jpg | 12.08.20 | 1.25 MB |
| 2012-5-2-19-12-59-854ai.jpg | 12.08.20 | 1.93 MB |
| 2012-5-2-19-21-29-475ai.jpg | 12.08.20 | 884.95 kB |
| 2014-12-21-18-40-54-799ai.jpg | 12.08.20 | 551.97 kB |
| 2014-3-4-0-21-12-683ai.jpg | 12.08.20 | 2.12 MB |
| 737-25ai.jpg | 12.08.20 | 1.34 MB |
| A-310-304-Air-Transat-C-GTSX-Princess-Juliana-Intl-landingai.jpg | 12.08.20 | 1022.69 kB |
| A-380-841-Lufthansa-D-AIMC-Frankfurt-Mainai.jpg | 12.08.20 | 1.20 MB |
| A-380-842-QANTAS-VH-OQF-Heathrow-landingai.jpg | 12.08.20 | 681.99 kB |
| B-737-8Q8-Air-India-Express-VT-AXE-Dubai-Intl-departureai.jpg | 12.08.20 | 1.31 MB |
| B-747-430M-Lufthansa-D-ABTD-Miami-Intl-departureai.jpg | 12.08.20 | 763.84 kB |
| Box-of-four-MiGsai.jpg | 12.08.20 | 689.88 kB |
| Cessna-Formation-Flightai.jpg | 12.08.20 | 2.59 MB |
| EC-135-Sonora-Passai.jpg | 12.08.20 | 1.16 MB |
| Eurofighter-EF-2000Typhoon-Deutsche-Luftwaffe-D-3011---D-3016---D-3014-Munichai.jpg | 12.08.20 | 655.14 kB |
| High-Altitude-Bluesai.jpg | 12.08.20 | 1.52 MB |
| J-3-Cub-in-Positionai.jpg | 12.08.20 | 1.35 MB |
| Lockheed-F-117-Nighthawk-80-0117-ED-near-Edwards-AFB-2ai.jpg | 12.08.20 | 1.31 MB |
| Oahu-8ai.jpg | 12.08.20 | 3.13 MB |
| Oil-rigai.jpg | 12.08.20 | 1.26 MB |
| blue-angelai.jpg | 12.08.20 | 2.12 MB |
| cessnaskyai.jpg | 12.08.20 | 531.51 kB |
| condor-b-767-330er-janosch-d-abue-la-palma-backtrackingai.jpg | 12.08.20 | 1.78 MB |
| dc-3-c-47-oo-awz-touchdown-in-bukavuai.jpg | 12.08.20 | 1.28 MB |
| emirates-airlines-380-861-a6-eoa-munichai.jpg | 12.08.20 | 850.89 kB |
| enb2010_11_30_1_58_19ai.jpg | 12.08.20 | 894.93 kB |
| enb2010_12_12_21_58_50ai.jpg | 12.08.20 | 2.69 MB |
| enb2010_7_6_21_58_19ai.jpg | 12.08.20 | 2.42 MB |
| fsscr719ai.jpg | 12.08.20 | 1.14 MB |
| fsscr903ai.jpg | 12.08.20 | 471.24 kB |
| fsx-wallpaper-2ai.jpg | 12.08.20 | 1.14 MB |
| flyawaysimulation.txt | 10.29.13 | 959 B |
Editorial
Despite the fact we are closing in on the epic release of a new member of the flight simulation community, people are still being introduced to the world of FSX all the time. Its fine blend of authenticity, reality, control, and features makes FSX one of the best simulators ever released and this is why those who are just getting into simulation might decide to start here.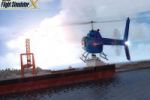 It's packed with features, planes, and scenery as well as things to do at an ample opportunity. Whatever you want to do and see, you'll find that using FSX can be a perfect way forward in terms of getting you more into aircraft.
Take me, for example; prior to using FS2004 in my younger years, I was terrified of using planes! However, getting used to the procedure and the reality of how an aircraft worked made sure that my next holiday – in 2007 – was far simpler to navigate.
Today, the prospect of going on a plane is something that excites me! Even if you only want to start using a flight simulator to get a bit of context for a fear of flying, this is the perfect place to start at.
It takes a lot of time and patience to get things right, of course, and this can put a lot of people off making the purchase of FSX. However, what if we told that you could get a hands-free attempt at using this awesome simulator without spending a dime? With the help of the brilliant FSX demo that was released a few years ago, you can do just that.
You'll be given trial access to two different airports and three different missions to try out, alongside three different kinds of aircraft. This will help you get used to how to fly properly and how to get used to the kind of flight mission that you can expect to try.
As a fully paid-up member of the FSX fan club, you won't find me complaining about the full game, but if you are left underwhelmed or uncertain about whether or not it's for you, then this demo will give you the best kind of chance to try it out.
Whilst many demos these days are nothing more than a trailer that lasts a bit longer and asks you to punch a few buttons, this actually gives you all the help that you could possibly need to get into the style of things.
There's nothing hidden in this demo and nothing really held back from you in terms of what the game has to offer; you just don't have the full armada that you would get with the full edition of FSX.
Overall, though, the progress and development of FSX has never been more acute as it shows you just how flight simulators have progressed in the last few years with the additions and changes within the gaming industry as a whole. If you want to see what the fuss is all about, I'd recommend starting here!
Installation of Add-on Aircraft/Scenery
Most of the freeware add-on aircraft and scenery packages in our file library come with easy installation instructions which you can read above in the file description. For further installation help, please see our Flight School for our full range of tutorials or view the README file contained within the download.