ATC Simulator 2 Demo
ATCsimulator®2 is the premier Air Traffic Control simulation on the market for the PC. This is as close to the REAL THING! as you can get. Don't be fooled by cheap imitations or cheesy mockups! This is a SERIOUS SIMULATION (er..game)! But, it can also be FUN! ATCsimulator®2 provides you with t...
Download hits

11,417

Compatibility

Windows Vista, 7, XP, 2000, 98

Filename

atcs2demo.exe

File size

20.4 MB

Virus Scan

Scanned 9 days ago (clean)

Access to file

Free (Freeware)

Content Rating

Everyone
ATCsimulator®2 is the premier Air Traffic Control simulation on the market for the PC. This is as close to the REAL THING! as you can get. Don't be fooled by cheap imitations or cheesy mockups! This is a SERIOUS SIMULATION (er..game)! But, it can also be FUN! ATCsimulator®2 provides you with the most comprehensive set of programs to help boost your air traffic career, or satisfy your thirst for experiencing the REAL THING! ATCsimulator®2 has it all!
GAME OBJECTIVE
ATCsimulator®2 allows you to take on the role as Approach or Departure controller at your choice of over 120 Terminal Radar Approach Control facilities of the United States National Airspace System (NAS), or TRACONs as they are more commonly called. Your goal is to allow for the "safe and expeditious" flow of air traffic. It is your job to assist the pilots arriving at airports inside your airspace boundaries by lining them up for an approach (preparing for a landing).
EQUIPMENT
ATCsimulator®2 was modeled after the ARTS-IIIa radar equipment used at the Mike Monroney Aeronautical Center(MMAC) in Oklahoma City, Radar Training Facility. All of the dials and switches are simulated with photorealistic quality, and perform all of the functions of their real-life counterpart.
CONTROLLING TRAFFIC
ATCsimulator®2 provides many methods to allow the "safe and expeditious" flow of air traffic. There are rules governing separation laterally and vertically. You can issue climb and descents, turns, speed changes, holding instructions, visual and instrument approach clearances. You have every command you need to accomplish your task, but HOW you use those commands is entirely up to you. It's not what you know, it's how well you USE what you know.
LIVE TRAFFIC with FLIGHT EXPLORER®
One of the most unique features with ATCsimulator®2 is the ability to control LIVE TRAFFIC!! That's right, using Flight Explorer® in conjunction with ATCsimulator®2, you will truly experience what its like to work at some of the busiest approach control facilities in the world. This feature alone sets ATCsimulator®2 apart from any other air traffic simulation. By running Flight Explorer® in the background, and then starting ATCsimulator®2, you can choose to have the LIVE TRAFFIC!! fed straight to the simulator, providing you with the most realistic, heart-pounding experience!
MULTIPLAYER with Microsoft Flight Simulator (FS98 thru 2004)
One of the most popular and successful software titles in the world is Microsoft Flight Simulator. Second only to flight simulation, is air traffic control. With ATCsimulator®2, you can host a session and invite your Flight Simulator pilot friends to join you. You control the action!, you control the fun!. No waiting in line to be the "active" controller, nor is there any battery of "tests" you have to complete before you can enjoy controlling traffic. Its true realtime air traffic control on your own terms!
CAREER ADVANCEMENT
One of your primary goals is to achieve a higher pay based on your job performance. In the real world, controllers are expected to do a good job. Failing to do that can sometimes result in deadly consequences.
TRAFFIC GENERATION
ATCsimulator®2 will now allow you to generate traffic on the fly by letting you set the level of arrivals and/or departures that you wish to challenge yourself. Or, you can still select from over 100,000 stored flights that were captured from real world FAA air traffic computer networks.
STRIP PRINTING
Another feature of ATCsimulator®2 is the ability to print flight strips while running a scenario. Whether it be a randomly generated scenario, or one of the stored scenarios captured from live FAA flight data, strip printing requires a simple checkbox selction. These strips are printed on your Windows compatible printer and print 10 to a page. The strips will only correspond with the active traffic in the scenario.
ATC-SDK (Pro version only)
Although the sim comes equipped with 120 terminal areas, maybe there is a special area that you would like to control? Now, our in-house design tool is included with the ATCsimulator®2 package and will allow you to create the area of your dreams. It will also allow you to edit/update any of the existing areas as the need arises. Note: Advanced skills using other graphic application software is expected, and advanced knowledge of navigation elements is also required.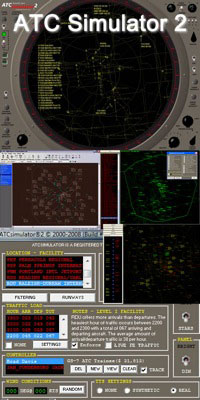 Editorial
Have you ever wanted to try out the proper ATC Simulator 2? Then now you can. I was always a big fan of this kind of software when I see that ATCS 2 was out, I wanted to try it. Thankfully the team behind it released a demo that we can all try out and enjoy. No longer do you need to put up with the cheap imitations on the market as this gives you the real thing, offering – in my opinion – the most authentic ATC simulator out there.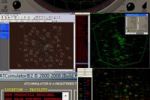 If you are like me and wish to see what all the fuss was about, you need to try this demo out; its' brilliant! ATC management might not sound like a hoot at first but it makes the perfect pay for someone to train about the very basic principles of ATC management for a future career.
Plenty to Do
The first thing that impressed me was just how many options you had to play with. Whilst the general aim of the mod is to let you be Approach or Departure management, allowing you to take on 120 different Terminal Radar Approach Control facilities within the US. You need to help pilots in your airspace move clearly and easily and to help them prepare for a safe landing.
That isn't all, though. I found myself making use of various radar equipment and different training programs that worked perfectly. With photorealistic design on the interface you get to use an ATC management console that feels as real as it possibly can.
Overall, the entire package does a spectacular job of making the entire flight management via ATC feel more alive. You get to control traffic and traffic flow by following specific rules of lateral and vertical separation. You will be issuing various messages about speed changing, holding, climbing, turning and various other features.
Every command that you can offer out to accomplish a task has a genuine use. If you want to make this even more realistic, by the way, you can make the use of FS98-2004 to make multiplayer possible. Now you can work with friends and family and have a truly realistic simulation experience. I had this as one of my most impressive add-on features of recent times as it just added such a nice little layer of realism to the table.
This is a mod that I would quite happily recommend to anyone who wants to be involved in ATC for this reason. Not only do you get to manage live traffic using Flight Explorer alongside ATCS2, you'll get to have some of the fullest and most engaging live traffic possible.
Career Management
My most beloved feature though, was the traffic generation and career management mods. Now you can get to move up the ATC ladder based on performance, helping you get to do a better job and take on more responsibility – but also more risks.
It was this high risk/high reward system that just made flying this such incredible fun for me. I would be happy to recommend this to any ATC management fans who want to see a new side to this part of the system.
Installation of Add-on Aircraft/Scenery
Most of the freeware add-on aircraft and scenery packages in our file library come with easy installation instructions which you can read above in the file description. For further installation help, please see our Flight School for our full range of tutorials or view the README file contained within the download.