For a few thousand years the biggest things in the skies were only in our imaginations, flying figments of myth and fable: the Roc from Sinbad's tales, the Garuda bird from the Mahabharata, the Thunderbird from North America, the Brazilian Blue Crow, and other high-flying nightmares or soaring benevolent gods and spirits.But then a few very clever, and rather persistent folks got tired of only dreaming. With great inventiveness, they wanted to see what was actually above the clouds. They sought to create something as wondrously big, or nightmarishly immense, as those birds of myth and legend.
We can start with the Russians: In the 1930s, A Russian engineer K.A.Kalinin, designed the K-7.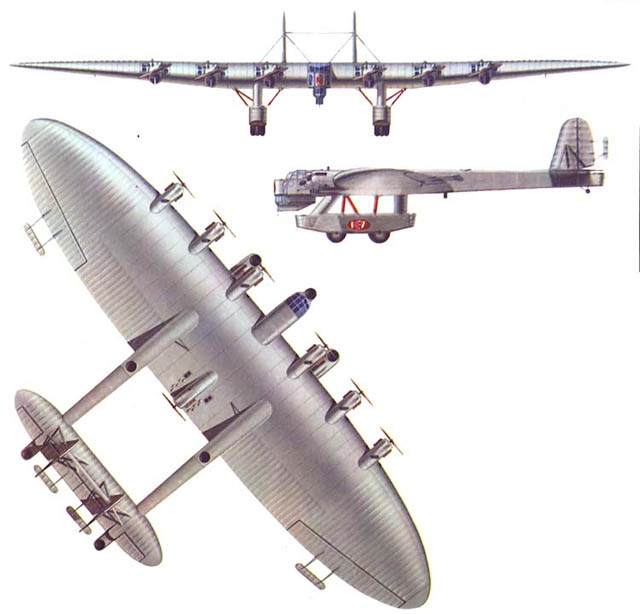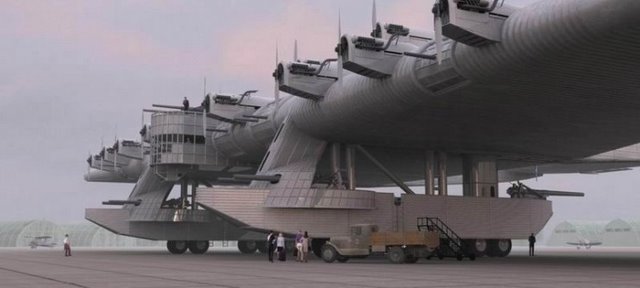 It was built as A bomber with a crew of 19, A passenger version was also designed, carrying up to 128 passengers. It had 7 - 750hp Mikulin AM-34 prop engines, 6 front and A 7th pusher engine on the trailing edge of the wing between tail booms. Its wing span was 53m, very close to the 747 with its 66.4m wing span.
In August, 1933, the aircraft was taxied to the runway. Its test pilot was M.A.Snegirev, the K-7 ran down the runway and took off smoothly, it made a circle and landed on the factory airstrip.
On November 21, after the K-7 had over 5 hours in flight, A Flight plan was made, it included approaching of the 'measuring kilometer' on altitude 1000m, then lovering aircraft to 100m and triple passing of the 'ruler' on the maximum speed.
At 2p.m. the K-7 took off with 20 crew members on board. The Aircraft made a turn, accelerated and started approach. Approaching the 'measure kilometer' Snegirev gave full throttle. Tail booms vibration came up, and suddenly the left tail booms lower tube broke apart. Displaced tube edges locked the elevators, the aircraft started to dive at 30-40° at full speed. With no elevators, Snegirev was unable to get out of the dive. The first hit into the ground knocked away the landing gears, the aircraft jumped and with running engines hit the ground again. The plane caught fire, and 15 of the 20 crew members died. To investigate causes of the crash, few competent commetees were created, with participation of the most prominent aviation experts of the country. It was concluded that destructive vibration was caused by surfaces during some regimes of the seventh engine. But there were no 'theoretical' prove of this conclusion. Only few years later, M.V.Keldysh explained this (and many other similar) crash and found a solution to fight the flatter - weight balancing of elevators. But it was too late...
After obtaining expert conclusions, revealing no mistakes in aircraft design, the head of GUAP ordered Kalinin to start urgent production of two new (passenger and military) K-7's with scheduled roll-out in the beginning of 1935. Production was assigned to new base - The Voronezh Aviation Factory. It was later canceled, leaving both planes abandoned, one of them half-built. Few times Kalinin tried to prove the necessity of this aircraft class, but he failed to overpower opposition to his project.
Lets take A look at Norman Bel Geddes, he was an industrial designer who was well known for his theater designs, collectable cocktail shakers, cook stoves, radios, Deco window displays, butcher scales, the teardrop double decker bus, the tear drop car, the streamlined railroad train, the factory for Toledo Scale Co, the restaurants - one on a tower, one in a dam, the streamlined ship, the floating dance palace, the model of the city of the future in the GM exhibit of the 1940 New York World's Fair, and the floating airport at the tip of Manhattan. But his most amazing and outrages design was the flying hotel, or The Bel Geddes # 4, It would sleep 606 passengers in comfort, thats more then the Boeing 747.

Designed in 1929, the "Flying Hotel" was the most luxuriant airplane ever thought up. Designed for the 1040s, it was planned to have:
Main Lounge 36 ft high, 9 decks, 3 Kitchens, 13 pantries, writing rooms, 2 public dining rooms, (the main dining room converts into a dance floor for 100 couples), orchestra platform, 3 private dining rooms capable of feeding 40 people, 4 deck tennis courts, 6 shuffle board courts, 6 quoits pitches, library, 1 gym with dressing rooms and showers, 1 men's Solarium w/16 couches and a masseur, 1 womens Solarium w/16 couches and a masseuse, 1 children's playroom, 1 doctors office with waiting room, barber shop, hairdressers salon, 2 bars, 1 store, 1 huge promenade deck, 1 Veranda Cafe seats 90, 18 single state rooms, 81 double state rooms, 24 suites w/ baths, 179 sleeping rooms, air-conditioning through out, and 155 crew members, from cooks to bus boys.
Norman Bel Geddes designed it with the help of Doctor O.A. Koller. Originally, certain Chicago business men were interested in the possibility of constructing this plane with the idea of operating it between Chicago and London via the St. Lawrence River and Great Circle Route. Careful figures based on a detailed study of all factors involved indicate that the venture is practicable from a commercial viewpoint. The flying time of this plane between Chicago and Plymouth is forty-two hours. The #4 is refueled in flight while passing over Newfoundland, it is able to make three crossings a week, due allowance being made for overhauling in port. This is a great advantage in competition with ocean liners, the fastest of which can make only one crossing a week.
Safety was always an issue, but the #4 was well designed in this area. The #4 contains a thoroughly equipped engine room, with machine and repair shops, and carries six motors in reserve. There is a small railroad so the engines can be changed in flight, and moved around at ease within the auxiliary wing. The non functioning motor can be replaced with a reserve motor within five minutes, and the broken motor is sent to the machine shop and repaired on the spot.
Bel Geddes figured that while it required 20 engines to lift the ship off the water, only 12 were needed to fly at cruising speed, so it would be possible to remain in the air on just over half the engines with which it was equipped. He considered this a safety factor of 2. The pontoons carried 6 completely enclosed 40 ft lifeboats capable of carrying 110 people apiece. They were to have engines, windows along the side, radio gear, and food and water for 2 weeks. If this didn't prove adequate, the Airliner carried two small sea planes with folding wings. These, could be launched in the air or on the water. They were to get help in an emergency.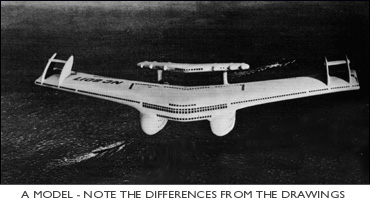 Wing Span: 528'
Engines: 20 - 1,900 HP internal combustion engines
Reverse Engines: 6 - 1,900 HP internal combustion engines
Absolute Ceiling:10,000 ft
Speed at Ceiling : 87 1/2 mph
Cruising Range Without
Refueling: 7,500 miles
Gross Weight: 1,275,300 lbs
Cost of trip: $300 (In 1930)
I hope you enjoyed my first articlel for Flyaway, feedback is welcome.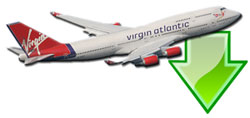 Don't forget... We have a huge selection (over 24,000 files) of free mods and add-ons for FSX, P3D & X-Plane in the file library. Files include aircraft, scenery, and utilities All are free-to-download and use - you don't even need to register. Browse on down to the file library here.