When we examine some of the most up to date programs, software, and add-ons available to the world of flight simulation, it is easy to believe, if only momentarily, that we have reached our zenith and that more realism and authenticity could only be achieved by participating in the "real thing" and taking to the actual skies as opposed to the virtual ones.
However, and in a rather perverse irony, it may well be that not only will the authenticity and accuracy of virtual flight have many more levels to climb through the technological medium of Virtual Reality, but the development of such programs might result in the next generation of "actual" pilots flying thousands of real people across the planet on a daily basis.
While those days may be still a little way off, as we will examine, the merging of the real world and the virtual one would appear to be an inevitable intertwining of realities with, in theory, and at least as far as the community is concerned, beneficial consequences for both the industry and the individual.
Indeed, as we will also examine if, with a large helping of educated speculation, the possibilities for flight simulation are quite literally limited only by the skies themselves.
Before we turn our attention to the future, though, let's remind ourselves of how we got to where we are today, upon the precipice of such new realities. And indeed, why flight sim, in particular, is a unique entity in the entertainment and gaming industry. Much like its rapid growth and advancements.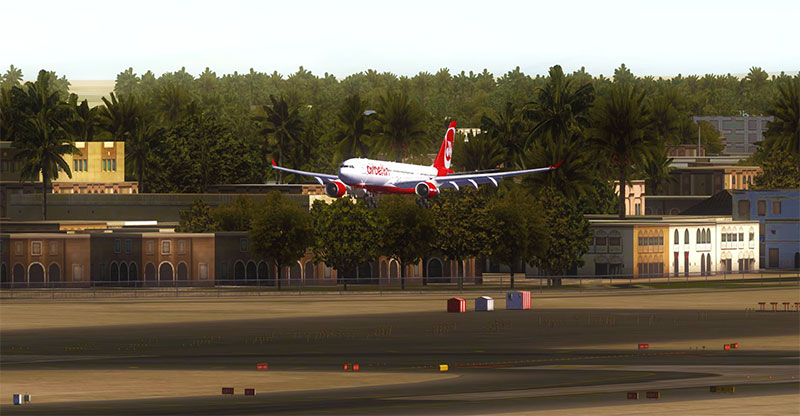 As this article is quite lengthy, you can find the table of contents here;
A Brief History Of Flight Simulation
Perhaps in some ways, it seems nonsensical that the simulation would come after the actual thing, but before flight simulation as a way of training pilots, for example, the only way of doing so was to turn over the controls to the aerial students and hope for the best.
While they were quite literally a world away from what is available today, the first recorded case of intentional "flight simulation" took place as far back as 1910 when the first "ground training aircraft" was created upon the orders of several commanders of the French Air Force.
By the late-1920s, the first tentative steps towards what we would recognize as modern simulation were taken with the commissioning and building of a device named the Link Trainer (also known as the "Blue Box"), produced and named after Edward Link in New York. The Link Trainer and developments of it were used up and until World War Two by the United States Air Force.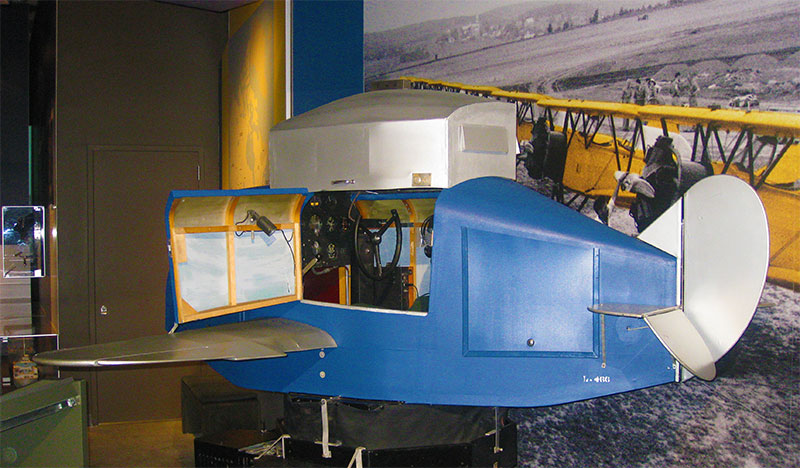 The original "Link Trainer" that resides in a museum.
Of course, with the onslaught of advancement following the end of the Second World War and the "Technological Revolution" which we still very much reside in today, there was a surge of technologies that would take (much) of humanity on to another level of collective existence.
And, as we will examine equally briefly in a moment, the spoils of these industry advancements were, by design, farmed into various industries of the American economy for similarly various reasons. Just one of these is, of course, recreational flight sim.
The Importance Of The Internet And The "Need" For Computers!
Of course, the real advancements of flight simulation for purely recreational purposes came about with the rollout of the Internet in the late-1990s and early-2000s, which came at a time when a home computer was as an essential part of every home as opposed to a luxury of the wealthy.
The Internet is really a project still in its (relative) infancy, as are the programs, outlets and everything else that comes with it, including our topic of interest here.
During that time we have gone from only a very select hardcore niche group of people utilizing little known programs few and far between of each other, to worldwide communities who not only take to the virtual skies in planes made from the most up-to-date computer software, but also connect online in such virtual arenas as forums and chatrooms.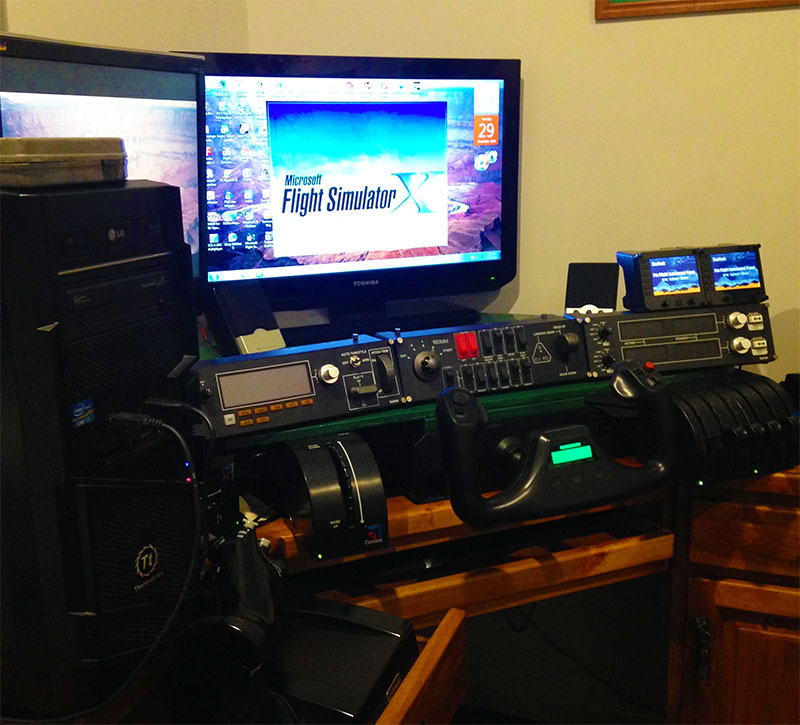 A full personal computer running FSX, not a mobile device.
Of course, it isn't only the size of the audience that has grown. The details and authenticity of the flying experiences have grown also. From the attention to detail in the planes themselves, as well as the overall detail of the surroundings such as the mountains, countryside, or oceans, or even exact replicas of some of the most iconic and famous cities in the world such as Los Angeles, New York, London, or Paris.
And while we, the collective pilots of the virtual skies enjoy these views for our own personal pleasure, their origins and detailed mappings are a consequence of very real projects and programs in the military and commercial sectors of the aviation world. And it is there, where we will very likely see indicators of what is to come for the virtual aviator.
A Quick Peek Inside The Aviation Industry
While flight simulation for recreational purposes will undoubtedly go from strength to strength in the future, any development will most likely come from inside the aviation industry itself off the back of virtual reality simulators used to train their own pilots, which as we have seen goes back over eight decades.
Much like the space industry, advancements in aviation are often "farmed out" to the public through business and enterprise, allowing them to monetize such advancements, meaning the economy as a whole benefit, and in turn, funds are generated for even further developments.
A model that makes perfect sense to most, and one that makes any bitterness in the public budget pill a little more palatable to detractors of the large funds of public monies earmarked for such projects. And while we will not argue the rights or wrongs of such a model, it explains why what is taking place inside the industry is a very accurate predictor of what will take place in the recreational arena.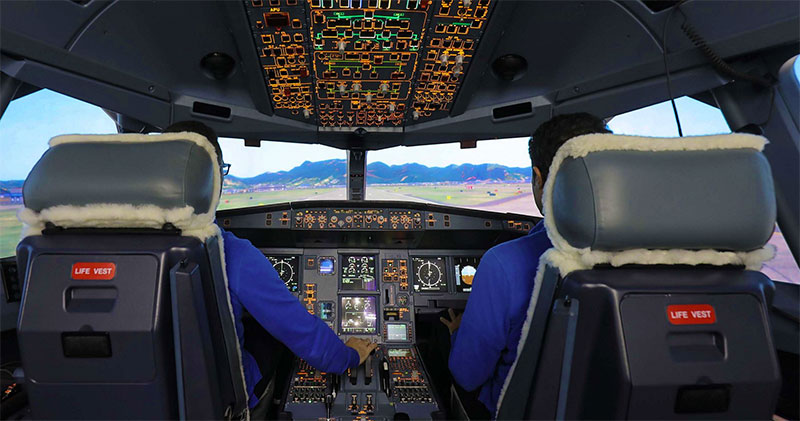 Inside Airbus' full commercial A330MRTT simulator.
With all of that in mind, then, we should perhaps fully expect the industry to venture down the virtual road to what could offer some of the most authentic and life-like simulation ever seen outside of inner-industry which, incidentally, is making full use of virtual reality flight simulation as you read these very words.
And with such virtual reality simulators, will come the decline of the "sawn-off cockpit" models that have been standard for several decades. After all, the main reason to go down the virtual route is cost and the sheer bulkiness and size of current models, which is essentially, a life-sized front of a real cockpit.
While we should perhaps note that the industry overall is quite divided as to whether virtual simulation will ultimately elbow "flight simulation" out of the industry completely, what might the recreational virtual pilots expect from this minimized version?
A "Stepping Stone" From The Virtual Skies To The Real Ones?
Of course, while there will always need to be some form of "intervention" by the respective commercial airlines before appointing their pilots, at least to a certain level, potential pilots will be able, at least in theory, learn how to fly a plane in the comfort of their own home, in front of their own home computer – providing they have the relevant software of course.
If virtual reality flight training becomes, for want of a better word, reality, then given that the main desire for authenticity and realism is what drives the flight sim market, it would only be a matter of time before such programs and potential corresponding technical devices (more on this later) become available to anyone who wants it – for a price.
We wrote about three Boeing 737 home cockpit builders here.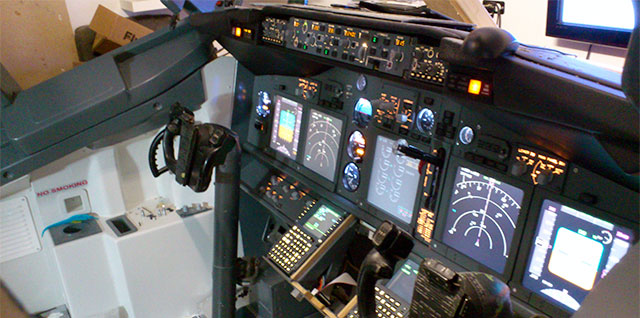 Patrick Kneissl's home Boeing 737 cockpit setup.
And it is in this direction that the world of simulation finds itself heading towards. An interesting twist of the flight sim world and the rapid advancements that are being made in the virtual skies is that while all of the above very much stands firm, there are aspects of the industy that are actually being "driven" by the desires of the audience of the "entertainment" industry.
A senior computer scientist and expert of military advanced gaming technology, Courtney McNamara would state:
"They're applying a lot of dollars, especially in the game environment, to make these accessible to all user at a very low-cost point!"
She would continue that as well as the price being driven rapidly down to the end consumer, the overall resolutions and technical improvements are just as equally rapid.
Improvements Driven By The Entertainment Industry
Perhaps as an interesting side-note on this last point, it is a good example of the free market pushing overall improvements which ultimately result in the benefit to training pilots.
For example, the competition between such providers of flight simulation technology will scramble to make improvements to their software, as well as making it as palatable, up to date, and as realistic as possible. And the reasons are basic business sense – to keep those already loyal to them using their software, and in an attempt to draw in new customers.
As this scramble to maintain profits progresses, with the only legitimate weapon being genuine improvements on their respective products, increasingly advanced programs and overall experiences emerge. Much like McNamara states above. Furthermore, and with the idea of the ever-present opinions on how government budgets should be spent, she offers:
"The (US) government does not have to invest a lot of its own money into the technology to see it move faster and faster!"
And of course, as the technology improves, the overall ability of those using it improves. A literal win-win for the United States government and military. It is easy to see, then, why it is very much in their interests for such programs to continue to grow.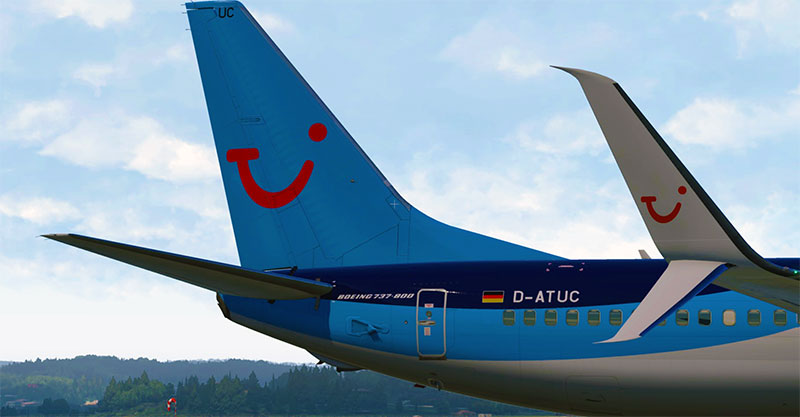 The tail of a Tui 737 in X-Plane 11 - showing how realistic thing can be.
And it is this last point that is important in understanding not just the community and its place in the gaming or entertainment industry, but why its developments rapidly go against the grain of growth given its "niche" type of appeal.
Realistically, the improvements that we have seen should have taken much longer and been more spread out. After all, as popular as flight sim is, it still only appeals to a relatively small percentage of the populace. However, the improvements are more reminiscent of an activity with a huge and extensive audience.
Virtual Reality - A Whole (Virtual) World Of Possibilities!
One would also imagine that "virtual reality" as a whole will vastly improve from the already high plateau it finds itself on currently. For example, the outside world and the images entering the eyes and brain will likely become almost indistinguishable from the "actual" real world.
Indeed, such technological advancements will likely change what it means to fly virtually altogether. This may also open up other, currently unavailable aspects of virtual flight. Might, for example, a virtual pilot be able to experience the actual boarding of and stepping from their plane of choice? Or perhaps they might want to walk around the airport for a little while?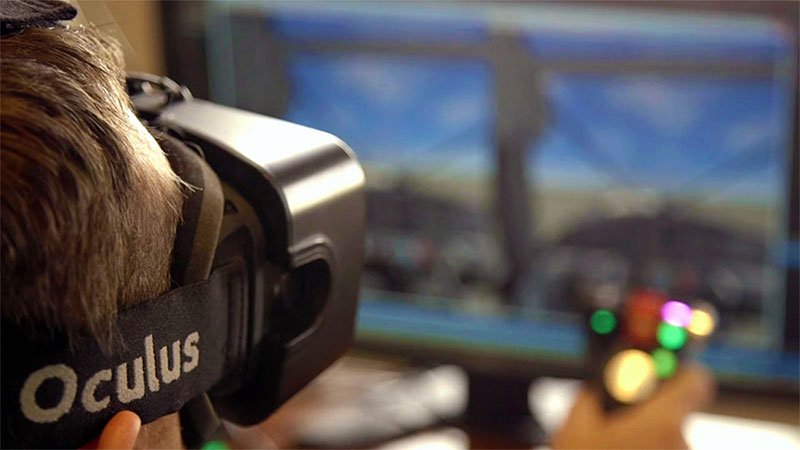 FSX being played on the Oculus Rift.
In short, other aspects of a pilot's everyday life other than the actual flying of the plane may be an avenue that developers will travel down. Might, for example, pilots have the options to "meet" at such replica airports in the virtual world?
Indeed, the nature, scope and overall appeal of flight simulation may open up dramatically as a result of the apparently inevitable journey into the world of virtual reality. And it may well prove that what is still a niche market now, opens up just dramatically.
We cover a little more on running FSX on the Oculus Rift in this article here.
More Than Just Pure Money-Making, Money-Making!
Or perhaps, multiple "pilots" could assume roles on the same flight, essentially piloting the vehicle as a crew. This would perhaps take on further intriguing possibilities when wartime planes and aerial assault vehicles are used. There would surely be no shortage of virtual pilots who would have an interest in such virtual aerial activities – all experienced from the safety of one's own home with no danger of any lasting health issues.
Indeed, as technology improves and world events progress, with the recent moon landings – albeit unmanned probes – might virtual versions of such events as the Apollo Moon landings be available to not only relive from a distance, but experience close-up, as if one was there themselves.
What is perhaps interesting about these last points is the educational value that such virtual journeys have. And where there is educational value, those budgetary concerns are sweetened, and more money comes in to meet such demand, and as a consequence, more technological improvements are made.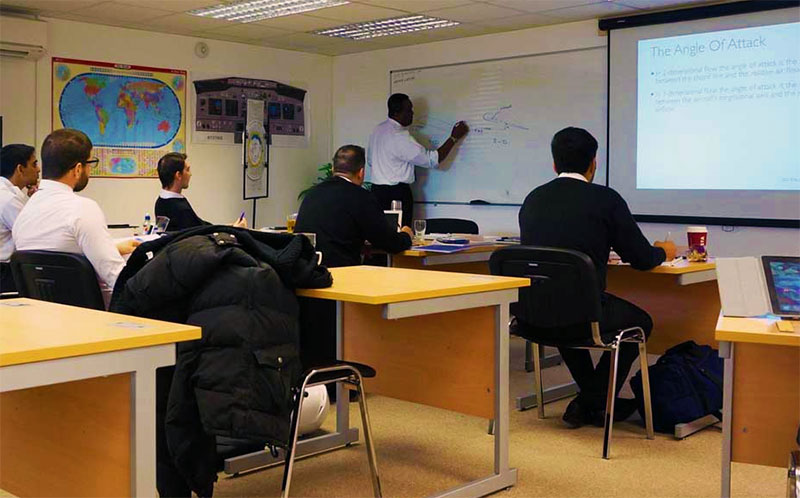 Flight Training at Stapleford Flight Center, my local airfield (EGSG)
The opportunity for school children and even older students to "board a plane" destined for a bombing mission over Europe or a military helicopter over the jungles of Vietnam, for example, while not wanting to glorify the horrors of war, would offer a generation perhaps in danger of losing the sense of just how horrific such battles actually were, the chance to experience them, essentially for themselves. A very true warning from history indeed.
However, with all that being said, the real future of flight simulation, however it is delivered to the user, will always be the actual flying itself. And more specifically, how real the experience feels. And with the aid of ever-increasing technical devices, that realism is perhaps about to be viewed from a whole new angle.
Wild Speculation Already Becoming Reality!
Of course, our imaginations regarding the future, while perhaps having to work within the parameters of educated guesses, are open to speculation.
For example, would specially designed "chairs" become available to complete the authentic experience to the hardcore virtual flyers? Or, accepting that technologically sizing down is seen as advancement, might specially placed and electrically charged "pads" be placed on the limbs and certain parts of the body to aid in mimicking general movement, as well as such things as turbulence or the chaos of having to make an emergency landing? Or pads placed on the fingertips that give the actual feel of "pressing a button", for example, to feeling the controls "rattle" in their hands?
In fact, it would seem that this is exactly what developers have in mind. Known as "haptic systems" or "force feedback", the device "transmits vibrations and other sensations" to the end user. The US Air Force has been using such technology in training their pilots for some time, as have several private aviation schools.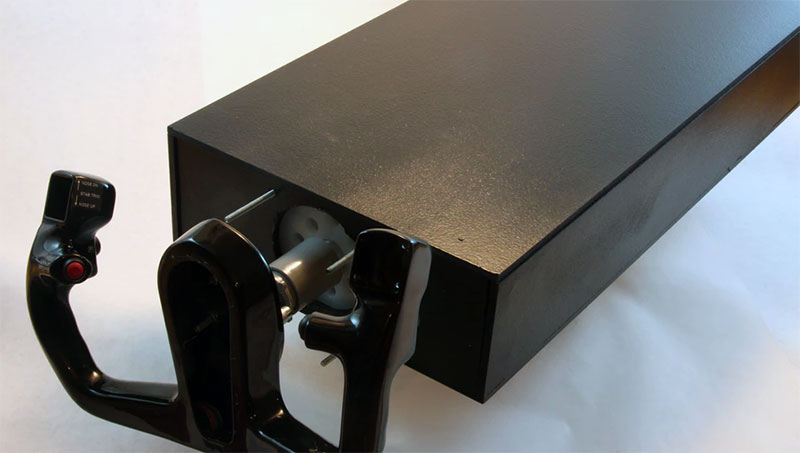 A force feedback yoke system which has been running a Kickstarter project.
Perhaps encouraging for recreational users of FS are developments of the program that can be run using a smartphone and a mobile virtual reality headset, which include – at present – wireless and wired options. However, while the smartphone's wireless virtual reality programs are extremely good for a beginner, more experienced pilots will undoubtedly get more from "tethered headsets" which typically are used with a PC or laptop. And this generally means a more "immersive and realistic cockpit experience".
In fact, desktop or laptop simulation programs are overall the best options – both now and in future – certainly for pilots who may desire to transfer their virtual skills to the real thing.
There are even several plans to have "VR Pilot" certification set up, available, and recognized in the near future.
OK, But Just How Real Is Real Anyway?
While we might think – particularly given Virtual Reality's overall popularity – that flight simulation and those who participate in it would be eager to embrace such advanced technology that would usher them into an environment, albeit virtual, identical to an actual cockpit.
That all being said, while it certainly isn't feasible – at least for most people – to have a replica cockpit set up in their spare room, complete with authentic controls, chairs, screens and scenery, many virtual pilots appear resistant to these oncoming changes. As some of them quite rightly point out, there is much to be done and replicated as part of a flight – the changing and recording of charts, reading information, as well as seemingly menial tasks of writing and logging events.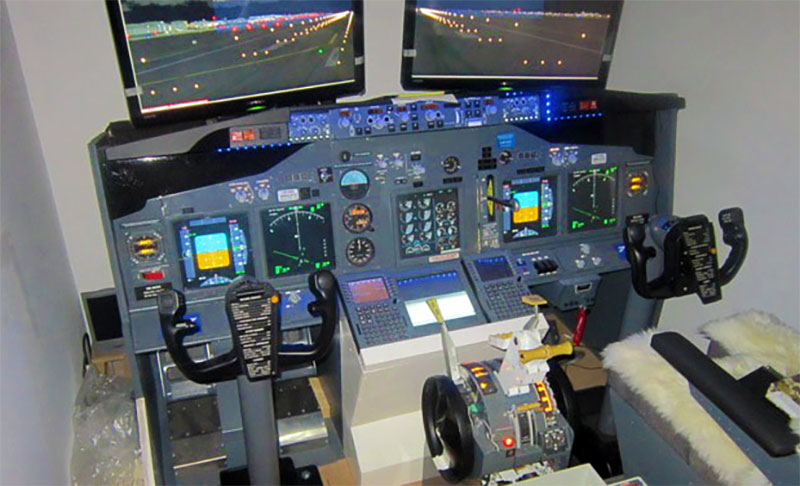 Fabio Ippoliti's home cockpit built on a budget.
Indeed, it is these types of logistical aspects that many virtual flyers regard as "real" and authentic as opposed to the "physical" sensations one might experience when coming in for an emergency landing or going into a sudden dive.
Although all of these aspects will likely be overcome with genuine replacements offered in the virtual flight programs most likely waiting pilots in the near future, there will no doubt a resistance from some.
However, in the virtual world like in the real one, the times they are a-changing.
A Reality That Can Not Be Ignored!
These programs and technical add-ons and extras are still several years away from the free marketplace and, more importantly, to the end (or common) user. However, the fact they are being used so extensively by industry pilots – military and commercial – and the general take-off of virtual reality, combined with the overall purpose of flight simulation make the merging together and availability of such software a natural one.
And what's more, given the already sound foundation of long-established FS software such as X-Plane and FSX, to name just two, it is almost certain that any such technological rollouts will be compatible with such favorites.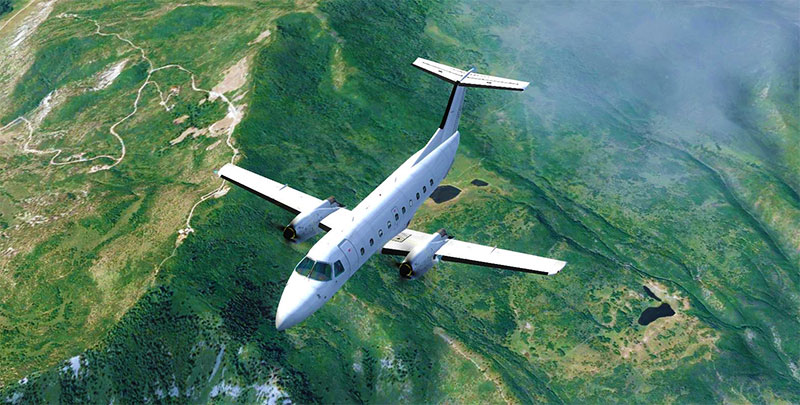 In short, failure to embrace the technology by these already established software owners will not just "make it go away". Rather it will leave a void in the market just begging to be filled and then the rewards reaped. Whether it is as aviation conventions, private aviation and flight schools, or the commercial and military aviation industries themselves, virtual reality is something to ignore to their own detriment.
Indeed, it very well might be the case that a person sat in their bedroom or living room using virtual reality flight simulation in 2019, for sake of argument, could very well be taking to the skies in charge of a commercial airliner several years from now – their skills developed for full training on such programs. And while that might sound an outlandish and dreamy prospect for many "traditional" virtual flyers, it is a prospect that is perhaps most likely to be thrust upon the flight simulation community sooner rather than later.
Let us know your comments
Please, we really would love to hear your comments below. Where do you think flight simulation will be in the next few years? What do you think will happen to the industry both recreational and commercial? What do you do to make your flights more realistic? Where did your journey start - how long ago and what were you using?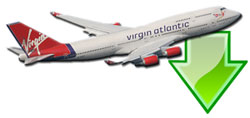 Don't forget... We have a huge selection (over 24,000 files) of free mods and add-ons for MSFS, FSX, P3D & X-Plane in the file library. Files include aircraft, scenery, and utilities All are free-to-download and use - you don't even need to register. Browse on down to the file library here.