For simulation fans, it's time to rejoice. The latest edition of X-Plane has finally arrived on our desks. X-Plane 11 is a newly released product that many users have already have the pleasure of using thanks to the highly successful BETA. However, with the full release out now, we wanted to let people know what it's like.
If you have yet to try it out yourself, then this guide should hopefully help you understand and appreciate that numerous new checks, changes and improvements which have been put in place. So, what's the latest and greatest new additions?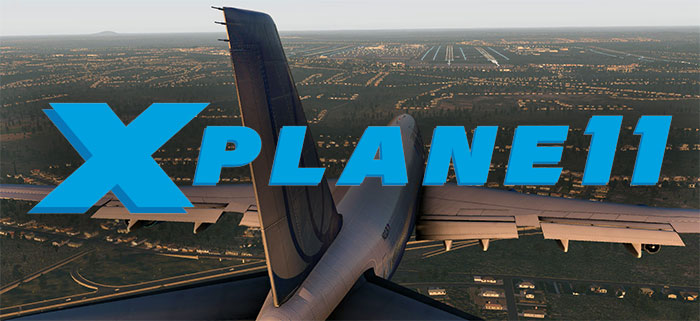 This is quite a lengthy review so you can jump to individual sections using the links below;
What's New?
So, with the newest addition to the X-Plane series finally here, a whole lot has been changed and improved to bring it up to standard. Given that it has been quite some time since X-Plane 10 arrived in the first place, the latest changes and improvements put in place offers a fresh new canvas. Simulation fans will be able to work with the freshest and fairest take on the new X-Plane series yet. So, what has been introduced in the newest version to make it worth picking up?
The developers have put a huge amount of work into the new user interface, for one. If you were, like me, not a huge fan of the XP10 UI, then this is going to be a godsend for you to start using. Now, you can set up, prepare, edit and optimize your flights to fit every single requirement that you could possibly need to make that flight just right.
Another major new change, though, has been the introduction of the new 3D cockpits for all default aircraft. While hardly a new flight simulation feature, the consistently usable cockpits offer a whole new look and feel. The graphical quality is something we'll touch on more as we go, however. For now, let's leave it at the fact that the new release has a glut of new cockpits and aircraft that look outstanding.
The new graphical engine also plays a huge role in developing new lighting and explosion effects. The effects feel far more authentic than they did in the past, for one. Add in the fact that each of the new effects is backed up with the most professional sound package I've ever come across in a default simulator, and it's safe to say that presentation has had a complete overhaul.
New avionics are being introduced, too, bringing aircraft up to be IFR-ready before you get out the hanger. This is a huge improvement over the previous simulator and is an excellent new addition that is going to really help up the enjoyment levels for all.
Airports now feel more alive than ever. In the past, airports have needed a fair bit of modding and improvement to ensure that they felt alive and well. Now, this does it right off the bat. With new pushback tugs and fuel trucks moving around the place, airports in the default simulator feel spot on. Best of all, these trucks and additions can all be used to service both your own aircraft, as well as AI aircraft.
With new buildings and road mapping to help further emulate major parts of Europe, X-Plane 11 introduces a new standard of default scenery. While I'm sure the awesome flight sim community will exceed this standard eventually, it's nice to see all of the new features that have been introduced brought to life in such an open, exciting world.
Before we dive into the full review, you may like to watch the official release trailer video below.
VIDEO: Official Release Trailer
There's plenty to see in X-Plane 11, then. However, that's not all that this brings to the table. What else can you expect if you decide to pick up this revolutionary new flight simulator release today?
Major Features
One of the best new add-ons is that of the new simulated system failures. Whether initiated by you or happening by random, this adds a new challenge to your aviation experience entirely.
Another major change has been the introduction of a fresh and fun new weather modeling system. With real-world weather taken directly form the web, weather data's more accurate than ever.
With fresh new instructor-controlled conditioning, too, you can hone your flight skills in the harshest of flying environments with relative ease!
The aircraft are now more customizable than ever before. You can even use the new apps provided to make your own aircraft easier than it's ever been in the past.
Speaking of this, you get access to Plane Maker and Airfoil Maker. Both make it easy to make aircraft as well as new airfoils, a hugely enjoyable new feature.
Greater terrain scope and coverage than ever before has been brought to life, too. This makes a huge change to the way the world looks as you fly above it, showcasing more detail than before.
Since X-Plane 11 runs on more robust software, too, it can help to deliver a much more customizable range of features moving forward.
The whole planet is covered in high-resolution detail, from 74 North to 60 South.
Pick from over 33,000 new airports on the planet, all designed with more default detail than ever before.
Take off from an aircraft carrier, if you would rather. Watch it rock and roll around in the waves!
More than 1,400 aircraft exist already (some from XP10) that can be found and used to help find your missing favorites.
New and better than ever, too, is the new space mode. Take off in an X-15, or the Space Ship One from the mother-ship, taking re-entries to Earth in shuttles whenever you please.
Hop online with friends and family and start flying as a team across the Internet or across LAN connections.
Arguably, the diversification in the range of features that are offered is the most impressive ever seen. Everything can be customized right off the bat. And, I have to say, I can never remember a simulator shipping as complete as this feels, at least at present!
Usage
So, the first thing that stuck out to me when using X-Plane 11 was the interface. I mentioned it above, but it's so much cleaner and slicker than the old, clunky, v10 edition provided. If you are someone who, like me, hated the old interface, you'll find the overall usage of this edition so much cleaner.
Laminar Research has done a fantastic job of revolutionizing the way that the whole interface looks, adding a much easier layout and detail. The text is crisper and sharper to read on all resolutions, too. They've done the heavy lifting here with the interface being ripped out and started again. I have to say it's quickly becoming my favorite interface in a simulator!
Sleek and clean, it's very easy to work with. Everything is broken down into sub-tabs which are easy to navigate, as well. It's all fresh and feels far more modern. As video games and entertainment has improved, simulators have felt decisively outdated in the way that settings and configurations are being managed.
With this, you can get to correct anything you are unhappy with in a fluid, easy to work with and engaging UI. I got to try out the BETA quite extensively and found that it was very sleek and easy to use even then.
With more features since added that were disabled in the BETA, I feel like I have total control over every element of the simulation. The experience for me needed a new layout to improve the way that it operated, having grown tired of the old, clunky menu systems for so long.
X-Plane 11, then, delivers on this front in spades. If you are sick of the old XP10 layout – or even FSX – this offers a simple, effective solution to stop that problem immediately.
Graphics
Oh man, the detail and intensity in the graphical improvement is night and day. I sometimes look at screenshots of FSX, before I installed and filled it with new terrain and aircraft. The old, default, launch-day quality was, frankly, awful! When you compare it to the quality of community packs, it really was night and day.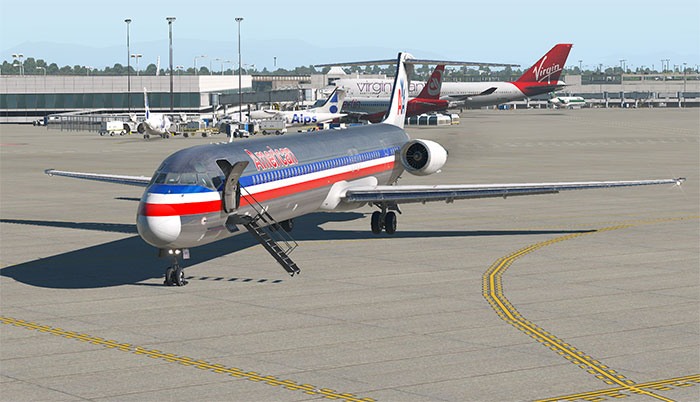 MD80 on the ground with passenger stairs deployed.
However, X-Plane 11 feels far more in line with what we would expect from modern aviation software. I have to say that, really, this is the finest looking simulation out there. While you might expect that because it's the most modern release, not every developer puts graphical quality to the forefront. Laminar Research have done a great job of making it all look wonderfully authentic. Best of all, the presentation quality does not reduce either the variety of what you see around you or the performance.
There must have been some great coding changes since the BETA, as it runs smoother and fresher than it ever did beforehand. There are no frame rate lags and I also noticed that the weird cloud issues that would see you struggle to see what you are doing seem to have vanished.
The thing that I was most impressed with, though, was the development of the new auto-gen. They have done a spectacular job on getting the auto-gen to look much better. We all know how rough and patchy old auto-gen in 10 was, so X-Plane 11 replaces that and then some.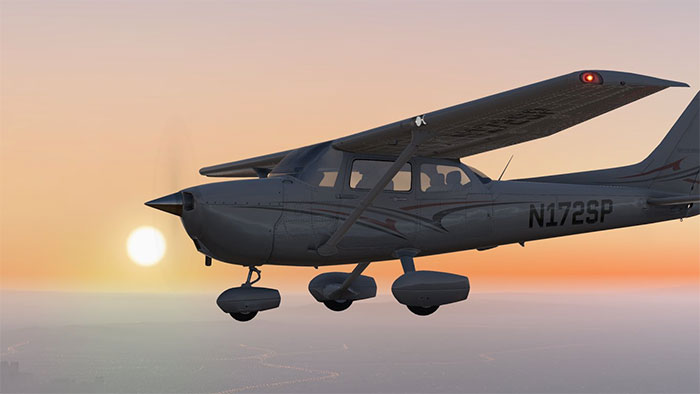 Default Cessna with the sunset in the background.
It could use a little more variety at times in the kind of buildings that you see, but the starting point is excellent. I remember, even on release day, being a little disappointed with v10's auto-gen system. This has no such problems – the graphical quality is pretty damn outstanding, especially for a default simulation release.
If you're interested in reading about our comparison of FSX vs X-Plane 11, check out our article here.
Detail
I have to say, though, that the quality of the aircraft is the standard. v10 had great aircraft (but "meh" scenery) and v11 is building on that same wonderful foundation. The aircraft that come with this package look excellent. The flight models feel authentic, the attention to detail is exceptional and they aircraft all tend to come with a fair chunk of details without making any performance drops noticeably.
The detail is also extended into the range of aircraft that you can pick from, too. It's not just a few aircraft that look good when you try this out - it's got far more to it than that. There are lots of minor details that shine brightly when you are looking at each aircraft. Default aircraft have long been a bit of disappointment with most release-day aircraft, but X-Plane 11 looks to have made a lot of steps in the right direction to solve that.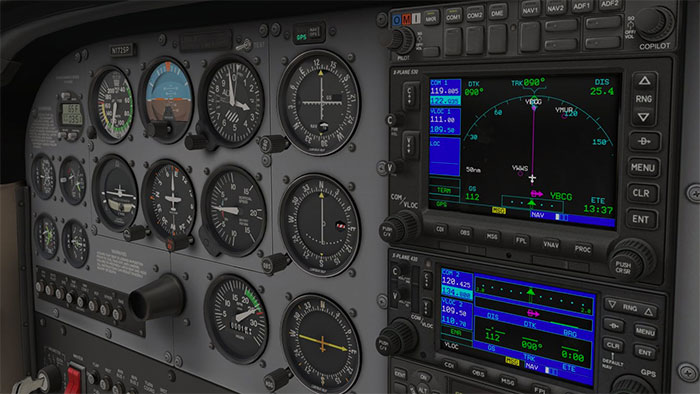 The cockpit of the default Cessna 172.
However, I will say that the quality will be usurped by the community in a rather short space of time. While it does a good job of offering a fine starting point, we'll see huge changes as developers of freeware and payware add-ons begin releasing. With the addition of the new editor for making aircraft, too, it should not take too long to start seeing a range of changes appear on the market.
With all of that in mind, then, I would have to say that the detail of the aircraft is very impressive. They have done a great job of capturing an aircraft selection that is varied and realistic enough to start with. While it can always be improved upon, it's the best quality of starter pack aircraft that I can remember any of the modern simulators shipping with, with a balance, struck between quality and quantity.
Performance
I have to say that this seems to run like a dream. Despite the obvious jump in performance and graphical quality over version 10, X-Plane 11 runs just fine. I'm running it on a PC with 16GB of RAM, with an i5 4440 @ 3.10GHz, and an NVIDIA GeForce GTX 780 Ti. I was expecting to find a few bumps in the road but apart from the odd frame rate jump (not enough to spot too often, in truth), I found that this ran like a dream.
However, as ever with hardware, I've seen people with better hardware than me getting a lower level of performance. I've had this cranked up to the max graphically, too, and did not notice a massive drop off in performance.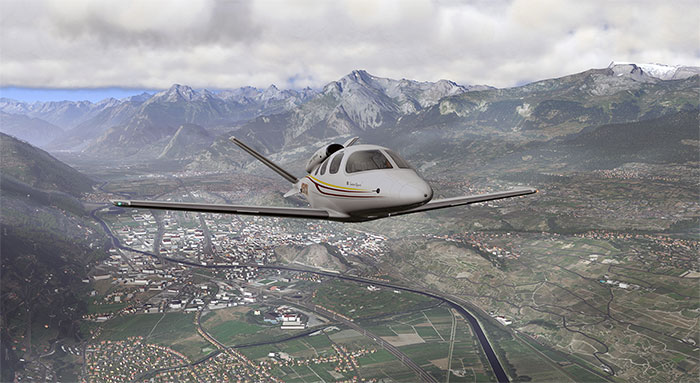 Cirrus Vision flying over mountainous region. Credit: Jim Kallinen (X-Pilot).
I usually found that the lower I got to the ground, the more "frightened" my PC would get. Overall, though, the performance levels that I was getting are absolutely excellent. For a machine that definitely needs a bit of Cinderella treatment, I was very impressive to say the level of detail that I was able to fly with without seeing the performance fall off a cliff.
Overall? Very happy with performance levels.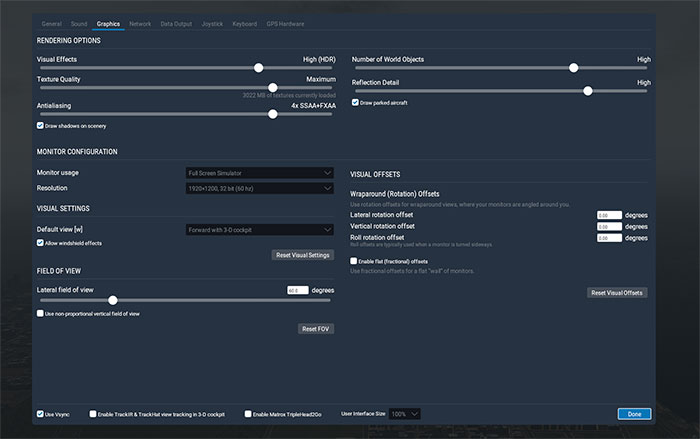 Rendering options menu - the place to configure and tweak your performance.
My main worry when this version was being released was that the performance would be too high. While the BETA ran very well for me, I know that BETA and the real thing are rarely the same in terms of the performance needs. So, I was ready for a simulator that ran quite sluggish but looked outstanding. Instead, it manages to look every bit as good as I had hoped for looking at the videos and stills, but runs brilliantly.
If you can run version 10, then I'd wager that you can get decent to strong performances from this, too.
Flight Quality/Authenticity
Immediately, from my first shot in a Cessna 172, I could already feel things were different. It just felt very strong, extremely capable and a lot more like the real thing. The new interface obviously helps flight quality as I got used to the interface in days, not weeks like it took with version 10. However, it's beyond just the new look or the fresh interface; the flight quality is far more progressive than it seems.
The flight planning is very easy and that was obviously a nice touch, but it's the authenticity in the skies that really made me sit up and take notice. The challenge has certainly ramped up, though, as this release promises a more realistic experience than ever before. For newcomers or casuals, then, it might all feel a little overwhelming when you first hop into the cockpit. If you feel uncomfortable when in the cockpit at first, though, I hope you'll start to enjoy it. Once I got over the increased learning curve, I was enjoying some of the most engaging and innovative aviation that I've had the pleasure of undertaking in some time.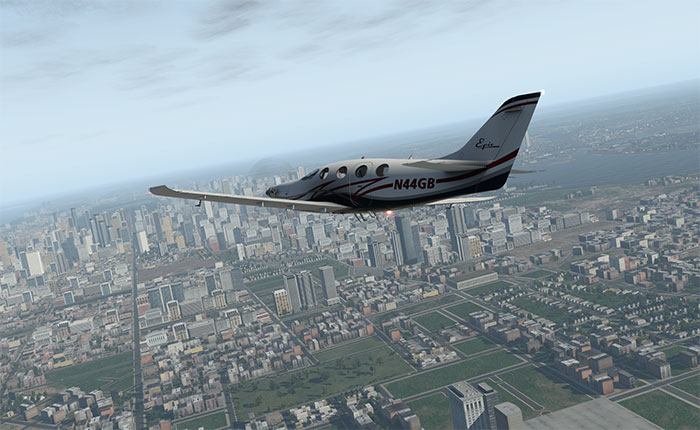 Flying over New York City in XP11. Credit: Defiance_co (X-Pilot).
The only thing that STILL needs to be improved upon, sadly, is the night time lighting. It's a bit part of the authenticity of the experience, and it all just feels a little false and dull. I was really hoping that this would have been changed but even from BETA to the full version, I cannot see a huge improvement. Small, perhaps, but not enough for me to praise that.
While the new textures when flying at night are a big improvement, the lighting is something that I'll be looking forward to being patched by the community. In terms of authenticity, it's probably the gripe that annoys most.
XP11 ships with 9 default aircraft. 6 were already included in XP10 and 3 new aircraft have been added along with a whole array of livery combinations.
Aircraft Included
Schleicher ASK 21
Beechcraft Baron 58
Boeing 747-400
Cirrus Vision SF50
Beechcraft King Air C90
Cessna 172SP
New Aircraft in XP11
Boeing 737-800
McDonnell Douglas MD-80
Sikorsky S-76
Add-ons (Payware and Freeware) and Additions/Extras
Obviously, since it's just been released, there's not a huge amount to write home about yet regarding X-Plane 11 and its new add-ons. In time, we'll have our own army of scenery, aircraft and extra utilities and add-ons to play around with. Some of the add-ons that are out there – such as some of the freebie aircraft that you can get on the official X-Plane site – are OK. I would hesitate to use the word good at present, though; they all feel about the same level of detail as the defaults. Overall, the add-ons will take some time to see the best of.
We have recently featured a "best of" article containing our selection of the best freeware add-ons for X-Plane currently available - you can view that here.
One thing I did have an issue with, too, is compatibility. I was getting some issues with some of the aircraft I was installing. One add-on that did work for me, though, was the HD Mesh Scenery package by alpilotX that I used to use for version 10. This works just fine – all you need to do is drop it off into the Custom Scenery package as you would have for XP10. What I will say, though, is that the add-on selection will improve. People are already working on getting some of the favorite add-ons that we love re-made, so it won't be too long until we have a better selection.
X-Plane 11, though, is about as accessible as it can be when it comes to managing additions and extras that you create. The new Development Kit provided should make it quite easy for you to make aircraft that you want to fly, using the great new software that is provided to make your own programs. It's easier to work with than previous iterations, so if you are a casual flyer and want to try and make something yourself, you might find that this version makes that easier. While there is a lack of features that exist for add-ons, it's only a matter of time until that changes. You may also find our keyboard commands page here very interesting if you have just started with XP.
The Verdict
Overall, then, this version is well worth investing in. Yes, at $60 it's a very expensive investment to make. But, with so much to come in terms of new add-ons and improvements, it's going to see major changes that can help fill in some of the blanks. If you played the BETA and enjoyed the depth and realism of the simulation, then you will 100% enjoy the use of X-Plane 11 in full – it's improved even further again from the beta.
Depth and detail are in major supply when you use this simulator, and it's going to make a huge difference for newcomers who are not quite used to simulation. While version 10 felt a bit ungainly and hard to get used to for newbies, I don't think people will have the same issue this time.
Veterans, though, are getting their hands on a more diverse, more powerful and more variable simulator than ever before. If you've been waiting for X-Plane 11 to arrive, then I can more or less guarantee that you are not going to be disappointed when you load it up - this is the future of flight simulators!
You can grab your copy over at Steam right now.


We give the latest and greatest flight simulator a full 5 out of 5 stars.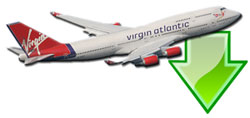 Don't forget... We have a huge selection (over 24,000 files) of free mods and add-ons for MSFS, FSX, P3D & X-Plane in the file library. Files include aircraft, scenery, and utilities All are free-to-download and use - you don't even need to register. Browse on down to the file library here.