Two of the man's most wonderful inventions, movies and aviation, came of age around the same time. After the turn of the 19th century, and before World War I, a new age was dawning. The Industrial Revolution gave way to the Technological Revolution. New and exciting inventions, and new ways to manufacture them, were springing up everywhere.
"I'm going to make the greatest aviation movie of all time." - Howard Hughes
The Wright Brothers took off from Kitty Hawk, Henry Ford began cranking out Model Ts, the bicycle became wildly popular, and the movie business was changing from a boardwalk novelty to a full-fledged entertainment business.
Since then, there have been many movies about aviation. How do you choose the ten best? For my selections, I looked for great stories, good acting (mostly), spectacular flying scenes and beautiful classic aircraft. Here then, are my ten best aviation movies:
1. The Battle of Britain (1969)
"The Battle of Britain" reenacts the early days of World War II as the Royal Air Force and the Luftwaffe battle for control of the skies over the English Channel. The name of the battle comes from a speech by Winston Churchill when he said, "the Battle of France is over. I expect that the Battle of Britain is about to begin."

"The Battle of Britain" was one of the first wartime theaters contested mainly by air forces. Despite relentless attacks, Britain held firm, and handed Germany one of their first major defeats. This is considered one of the turning points of the war.
The movie featured a tremendous amount of aircraft from the time period. Over 100 planes were used. The producers found 27 Spitfires but can only make 12 of them flyable. They also used six Hawker Hurricanes, and only three of those were flyable. One of the benefits of the film is that many vintage aircraft were preserved, including a very rare Spitfire Mark II.
For the air combat scenes, all of the Royal Air Force spitfires were either variations of Spitfire Mark Is or Spitfire Mark IIs. Since only a few of the spitfires could be made to fly, the producers used several different Marks, some of them built after the Battle of Britain. Also, a couple of Spitfire trainers were modified with camera platforms to capture the incredibly realistic air battle scenes. Some non-flying Spitfires and Hurricanes were used as set pieces on the ground. In addition, a Hawker Hurricane VII was flown in the film, as well as a North American B-25 Mitchell N6587D used for aviation sequences.
On the German side, the producers found several CASA 2.111 bombers, a Heinkel He 111H-16, and Hispano Aviación HA-1112 MiL 'Buchon' fighters. The Buchons were made to look like Bf 109Es. Also, a couple of Heinkels and several Messerschmitts were used in the filming. In addition, a pair of Junkers Ju 52 transports were utilized as well.
2. The Great Waldo Pepper (1975)
The great thing about "The Great Waldo Pepper" is that aviation is a central part of the story. Unlike the dramatic battle scenes of the wartime movies on the list, "The Great Waldo Pepper" is set in peacetime, and features joyous stunt flying, barnstorming and the innocence of the early days of aviation.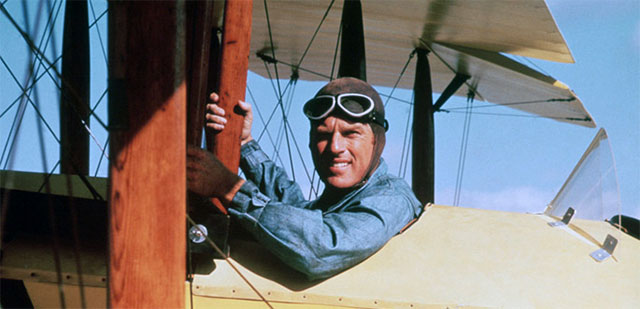 Starring Robert Redford, it is set in the postwar 1920s. Redford is an unhappy World War I pilot who thinks he missed out on the aerial battles of the war due to his role as a flight instructor. Now that the war is over, he begins barnstorming to make money, naming himself "The Great Waldo Pepper."
Soon he is battling another war veteran and barnstormer named Axel Olsson. Over time, the two rivals become friends and begin stunt flying together. Waldo is severely injured during one of the more dangerous stunts, and takes time out to recuperate
He doesn't stay down for long however. Using an alias, he gets a job as a stunt pilot in a Hollywood war film. A German air ace is hired by the producers to fly a replica of a Fokker Dr. I. While filming a famous air battle, Waldo and the German ace begin to dogfight, repeatedly hitting each other with their airplanes, Waldo flying a Sopwith Camel and the German ace in the Fokker. Shortly, they realize their planes are too damaged to land and each flies away.
3. The Aviator (2004)
Starring Leonardo DiCaprio, Cate Blanchett, Kate Beckinsale, Alan Alda, John C. Reilly and Alec Baldwin, "The Aviator" is a biography of aviation and cinema magnate Howard Hughes. Inspired by several different sources including a biography written by Charles Higham, "The Aviator" details Hughes' extraordinary life, from the 1920s until just after World War II. Nominated for 11 Academy Awards, it won five including best supporting actress for Cate Blanchett.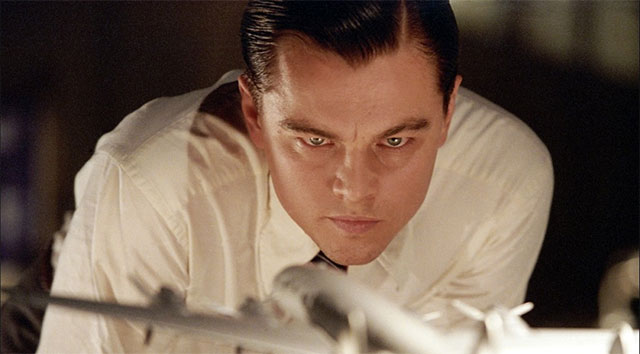 Directed by Martin Scorsese, "The Aviator" captures the ambition and madness of a man who loved airplanes so much he resolved as a young kid to build the fastest airplane ever made.
His audacity and unique vision helped create aircraft like the XF-11 reconnaissance plane, and the iconic "Spruce Goose" flying boat. In fact, at one point he decided to sell off his investment in TWA in order to focus on the continuing development of his airplanes.
The plot is loose, and at times the audience is left to fill in various details for themselves. But Martin Scorcese succeeds in telling an engaging story about a paranoid, obsessed, germaphobe with acute obsessive-compulsive disorder who loves airplanes and movies. Howard Hughes played a role in the growth of two American industries in their formative years, aviation and cinema, and "The Aviator" captures the man and the era with aplomb.
4. Memphis Belle (1990)
"Memphis Belle," a 1990 film starring Matthew Modine, Eric Stoltz and Harry Connick, Junior tells a fictional account of the documentary released in 1943 called, "Memphis Belle: A Story of a Flying Fortress." The Memphis Belle, a B-17 bomber with 24 consecutive successful missions under its belt during World War II, is about to go on its last mission.
At one point, Captain Dennis Dearborn, played by Matthew Modine, says, "And if we don't drop these bombs right in the pickle barrel there are going to be a lot of innocent people killed."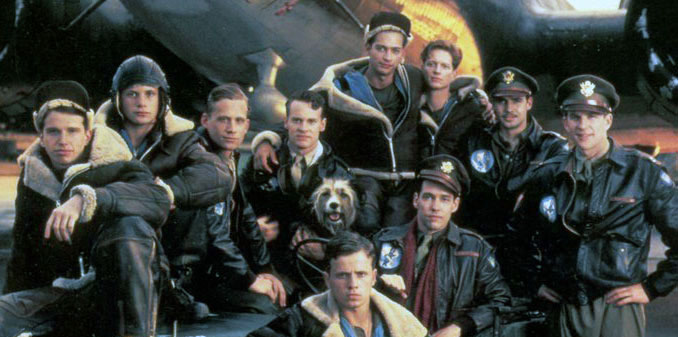 First Lieutenant Luke Sinclair, played by Tate Donovan, responds, "What's the difference? They're all Nazis!"
Although dialogue such as noted above can seem a little trite at times, "Memphis Belle" is a terrific telling of the harrowing story of this unique bomber and crew. While "Memphis Belle" can trace its DNA to the 1943 movie, it is chock-full of images and scenes inspired by dozen or more aviation movies.
The challenge with a cast as large as this is to give the primary characters enough screen time that the audience cares about them, while showing the large size of the crew and the impact of each member. While it does not win in comparison to the 1943 production, as a big-budget Hollywood studio movie it fulfills its mission for entertainment while retaining the earnestness, tension, and drama of the documentary.
5. The Spirit Of St. Louis (1957)
Released in 1957, "The Spirit of St. Louis" chronicles Charles Lindbergh's historic 1927 flight across the Atlantic, which some believe to be the single most important achievement in the history of aviation since the Wright brothers took off at Kitty Hawk.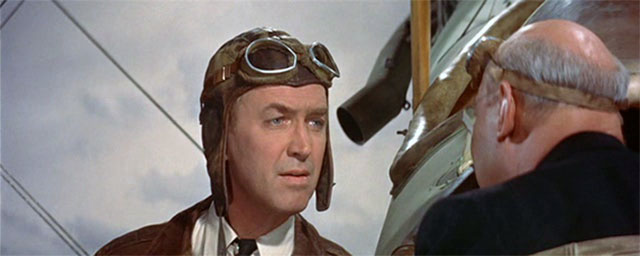 The film was adapted from Lindbergh's Pulitzer Prize winning autobiographical account of the flight. The film covers the 33-hour flight from Roosevelt Field to Paris on May 21, 1927. It begins when James Stewart, as Charles Lindbergh is shown waiting for days for the rain to stop over Roosevelt Field on Long Island.
When the weather clears, Lindbergh takes off and barely clears trees at the end of Roosevelt Field due to the extreme weight of his aircraft. Every 60 minutes, he changes fuel tanks in order to keep the weight balanced.
Finally, he sees Paris and approaches Le Bourget Field. He sees many swirling lights below, not realizing hundreds of people that have gathered to greet him. He begins his descent and is surrounded by a huge throng. Press cameras flashing, he is carried off on the shoulders of the cheering crowd. When he returns to New York, he receives a parade to honor his achievement.
6. The Blue Max (1966)
Directed by John Guillermin, "The Blue Max" is a British war movie released in 1966. It centers on a German fighter pilot during World War I. Based on the novel by Jack D. Hunter, it stars George Peppard, James Mason, and Ursula Andress.
As Corporal Bruno Stachel, George Peppard becomes an officer in the German Army air service. His goal is to achieve the highest decoration for valor, known as the "Blue Max." To make his goal, he must down 20 enemy aircraft.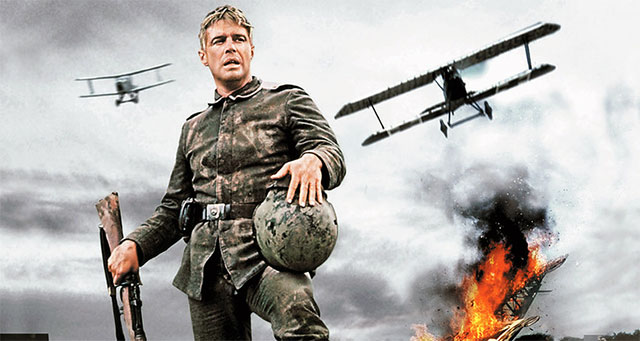 On one mission, flying a Pfalz D. III, he downs a British S. E. 5. Unfortunately, because there are no witnesses, he does not get any credit. Determined to find the wreckage after getting back to base, he searches for hours in the rain for the downed plan.
Not long after, Stachel is shot down by two British fighters after he rescued a Fokker Dr. I. Later, he learns that the man he saved is none other than the Red Baron, Manfred von Richthofen, played by Carl Schell.
As the German army faces retreat, Stachel's squadron find themselves in a strafing mission. Instructed by his commanding officer, Otto Heidemann, not to engage with enemy fighters, Stachel disobeys and begins a series of dogfights. His comrades soon join him.
Furious, Heidemann has him arrested for endangering many pilots. All Stachel cares about is qualifying for The Blue Max. Stachel and Heidemann are called back to Berlin. Needing a folk hero, the high command has decided that Stachel will receive the Blue Max. Disgusted, Heidemann resigns and takes a desktop job.
7. Strategic Air Command (1950)
"Strategic Air Command" stars Jimmy Stewart, June Allyson and was directed by Anthony Mann. A 1955 Paramount pictures release, it was the first of a series of four pictures about the Strategic Air Command.
Stewart plays Dutch Holland, a St. Louis Cardinals baseball player who also serves in the United States Air Force reserve. He is recalled to join active duty during spring training. June Allyson plays his wife Sally, who struggles with the long absences and dangers of his profession.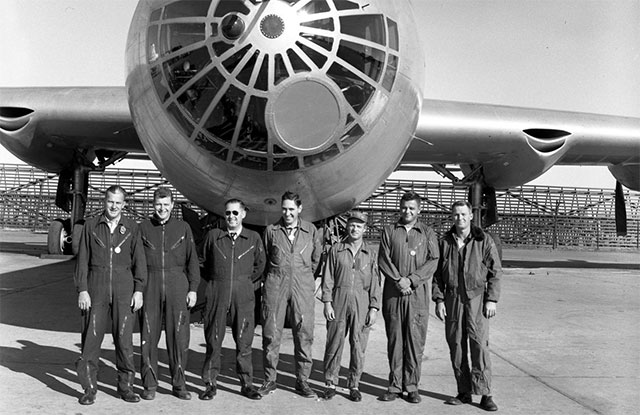 Stewart leads a B-36 crew. A constant challenge is leaking fuel tanks. Their repair job does not work on a mission to Greenland, and one of the tanks catches on fire, causing the entire left wing to follow suit. The crew abandons the plane over Greenland. Dutch Holland and the radar navigator stay on board and attempt to pull off a forced landing.
His injuries from the crash create major problems—ultimately he is barred from any additional flying, and is discharged from the Air Force, also threatening his baseball ambitions. General Hawks take him aside and gives them the idea that he would make a good team manager.
8. Top Gun (1986)
"Top Gun" is a 1986 action film about hotshot pilots at the Naval Flying School. It stars Tom Cruise, Kelly McGillis, Anthony Edwards, Tom Skerritt and Val Kilmer. Tom Cruise plays the role of cocky Lieut. Pete "Maverick" Mitchell, a brash Navy pilot who gets accepted into "Top Gun," the Navy's Fighter Weapons School. Along with his Radar Intercept Officer, Nick "Goose" Bradshaw, he battles fellow students, and the memory of his father, who reportedly made critical errors during a mission many years ago, resulting in his death as well as that of several other pilots.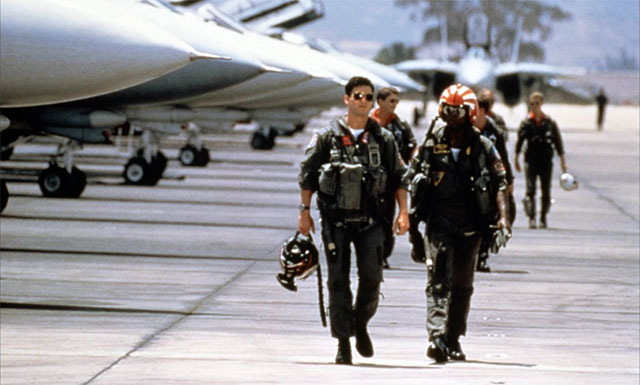 Aircraft depicted in "Top Gun" include American F-14s and Russian MiG-28s. For the MiGs, producers substituted Northrop 5-5Es and F-5F Tiger IIs. The movie was made for an estimated $15 million and has grossed almost $350 million worldwide. At the time of release, it was the top-selling videocassette in movie history. Sales of bomber jackets and Ray-Ban sunglasses increased tremendously. Both the Navy and Air Force reported a surge in recruitment, with the Navy even adding recruitment outlets in various theaters to take advantage of the movie's wild popularity.
Where the movie falls down--cheesy dialogue and dubious acting--it really falls apart. However, the aerial battle and dogfight scenes are tremendous. Sure, real Naval fighters would not recognize some of the maneuvers or military procedures used in the film. Nonetheless, its relentless soundtrack and nonstop action make it a landmark aviation movie.
9. Flying Leathernecks (1951)
The "Flying Leathernecks," directed by Nicholas Ray and released in 1951, stars John Wayne and Robert Ryan as Marine Corps Flyers during the Second World War. The plot centers on Major Don Kirby, played by John Wayne, as he reports to the VMF-247 Wildcats where he is to take command.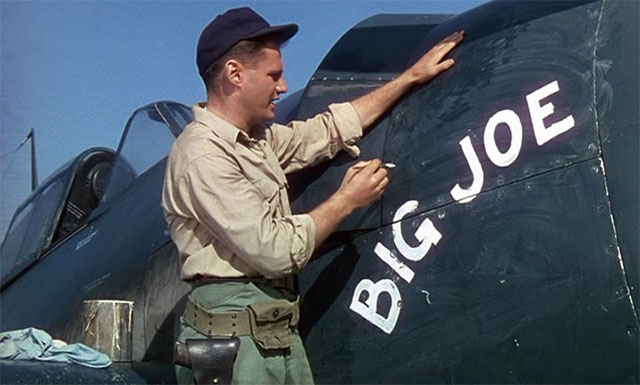 The men in the unit thought that Robert Ryan, playing Capt. Carl "Griff" Griffin, was going to take the position. Kirby is extremely "by the book," and does not believe that Capt. Griffin is as tough as he wanted.
For example, Kirby denies sick leave for malaria patients, and does not allow pilots experiencing problems with their aircraft to return to base. This creates a growing tension between the major and Capt. Griffin.
Nicholas Ray is reported to have selected Robert Ryan for the role partially because he had been a collegiate boxer, and was the only actor the director knew who had the ability to "kick Wayne's ass."
The fighters used in the beginning of the film are not accurate reproductions of Grumman F4F Wildcats, but are actually Grumman F6F Hellcats. Very few Wildcats were available at that time. However, there was a wide selection of Hellcats available in 1951 when the picture was made. For the Zero fighters they painted Hellcats white.
10. Tora! Tora! Tora! (1970)
"Tora! Tora! Tora!" is a 1970 film about the Japanese attack on Pearl Harbor during World War II. Directed by Richard Fleischer, it features a large cast including Martin Balsam, Joseph Cotten, So Yamamura, EG Marshall, James Whitmore and Jason Robards.
The film's title is derived from the code word used by Japan to signal that their surprise attack was achieved successfully. Translated directly, it means "Tiger! Tiger! Tiger!" The producers decided to use actors who were not box office stars. The idea was to place emphasis on the story, rather than the actors.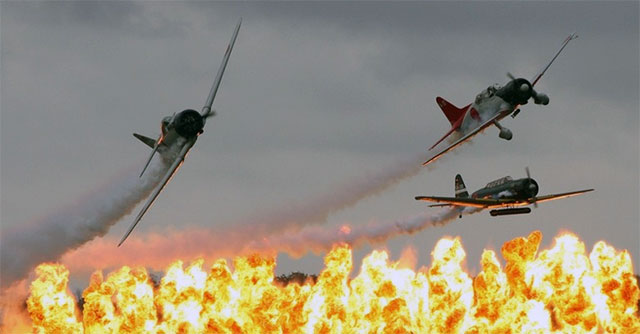 Studio executive Darrell F. Zanuck wanted to create an epic film that showed "what really happened on December 7, 1941." Zanuck believed commanders General Short and Admiral Kimmel had been wrongly blamed for decades for not taking enough defensive maneuvers. His goal was to create a Japanese-American coproduction that provided a balanced view from both countries.
Aircraft depicted in the film include Japanese A6M Zero fighters, "Val" bombers, and "Kate" torpedo bombers. During filming, a Boeing B-17 Flying Fortress actually crashed, and the footage was used in the final cut. Other aircraft in the film are the Consolidated PBY Catalina and the Curtis P-40 Warhawk.
Close Competition
There are my 10 best aviation movies. Like an Olympics competition, the numbers were very close. In fact, the films that didn't make the cut only missed by a fraction of a point.
How about you? What would you add? Tell me about it in the comments below.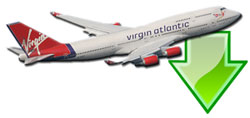 Don't forget... We have a huge selection (over 24,000 files) of free mods and add-ons for MSFS, FSX, P3D & X-Plane in the file library. Files include aircraft, scenery, and utilities All are free-to-download and use - you don't even need to register. Browse on down to the file library here.