AS one of the most beloved members of the flight simulation community, ORBX are back!
That's right, the geniuses behind some of the most lovable scenery packages have a new creation for us to enjoy. This time, though, ORBX have move to Austria, with Innsbruck in particular receiving their own specific makeover and improvement. As a major part of western Austria – indeed, its largest city – Innsbruck is a place worth having at its best. As a location that is easy enough to travel to and visit, it now carries all the correct hallmarks.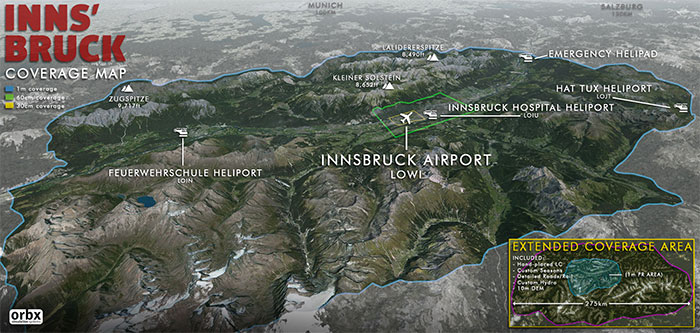 In the past, this vibrant city felt like a bit of a ghost town. The textures were muddy, the overall look and feel was mediocre, and it lacked quality. Now, these problems are gone. The old horrible look is over with instead replaced by a wonderful new look. Instead of the generic city of old, Innsbruck now stands proud, chest puffed out!
This modification goes some way to making sure that users can make the most of their simulation experience once again. Travel to western Austria and see a truly beautiful city lit up and brought to life. With sharp textures as well as brilliant attention to detail, Innsbruck looks the way that it should for sure!
As it stands, this update can may only be used by those who use either OPENLC Europe or FTX Global Base. Without these mods, the scenery will not work. The scenery is color-matched to blend in perfectly with either, though. Also, you can use this for various add-ons such as FTX Vector, Pilots Mesh and FTX Germany South.
With each mod, you get a wonderful take on a great part of Austria. Bring this wonderful city to life with an intense, loving recreation of a fine city.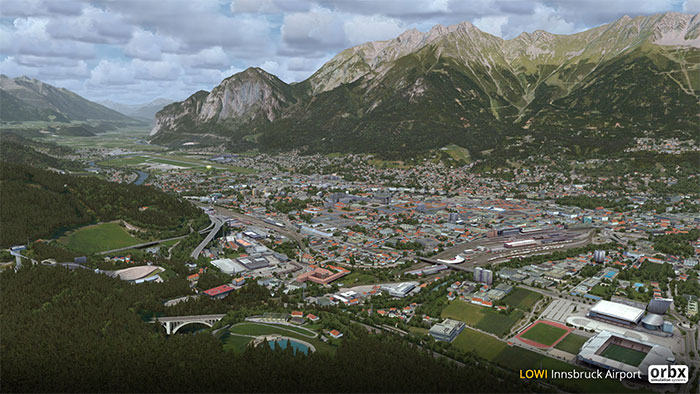 Coverage Area
As with any ORBX mod, this goes pretty far in the coverage that it provides. With a massive 2,500sqkm of PR at 1m/60cm/30cm lengths, you get excellent detail. The coverage reaches far and wide, making sure you get plenty of extra detail for every inch of textures you can see. The ground becomes far easier to utilize, too, as it makes use of a massive extended coverage area.
This coverage area is improved with full LC, 10m Holgermesh, vector roads/rail/powerlines and also new waterbodies. It's this attention to precision and care that makes Innsbruck look so beautiful. If you spend much of your time around this part of the world, use this for a whole new look.
It helps to sell the style of the region perfectly, with major changes to the landscape and the city. For example, 200,000 new buildings have been introduced. This helps to sell the city as unique, with excellent texturing and find detail in each building. This helps to remove the generic feel that many cities sadly portray in a simulator. Instead, this allows a touch of vibrancy and personality to shine through instead.
A major part of this vibrant nature, though, stems from the use of other 800,000 vegetation autogen placements. These stretch far and wide, making sure that you get to enjoy the wonderful quality and style that you'd expect. This looks to burst through previous limitations, offering something far more comprehensive that suits the area.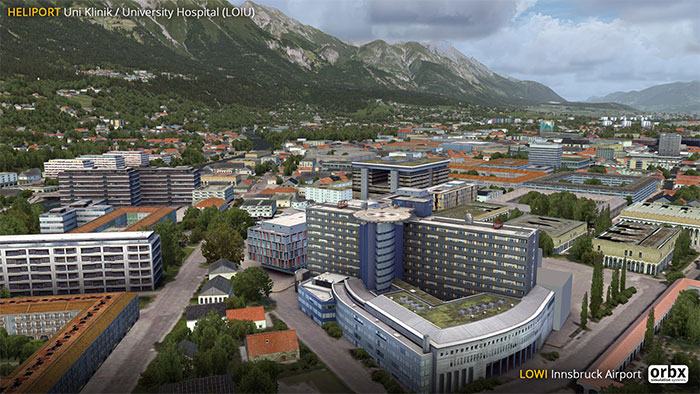 Major Landmarks
Specifically for pilots in the area, it helps to know what to look out for in terms of landing. Some of the main places to look out for landings would be;
Innsbruck Airport (LOWI) – The main show, the real reason that you are using this mod. Brings the famous Innsbruck Airport to life, detailing all of its most popular features. Helps to bring the airport to life and add a key part of realism to the scenery nearby.

Innsbruck Air Rescue Heliport (LOJO) – A major and commonly used helicopter base. This is attached to the main airport, and thus makes it easy to get to and reach with relative ease.

Innsbruck University Hospital (LOIU) – A rooftop helipad based in the city centre. This makes a good place to stop off or start your journeys thanks to the scenic view around you. HD helipad makes it look authentic, too, not muddied.

Hat Tux Heliport / Alpin 5 (LOJT) – The Forward Base for all alpine rescue operations. This is located away high up in the Tux Alps. Makes a fun and scenic journey to come and reach this little landmark base.

Fire Service College Heliport (LOIN) – This is a great location to hunt down, thanks to its rural location. This should make it more enjoyable to try and reach, offering a nice challenge. Includes a cool training school for the local fire and rescue teams.

Emergency Helipad – A simple landing location, kept nice and simple. Easy to spot and adjacent to the railway lines of Buch-in-Tirol. Makes an easy to reach and effective landing spot.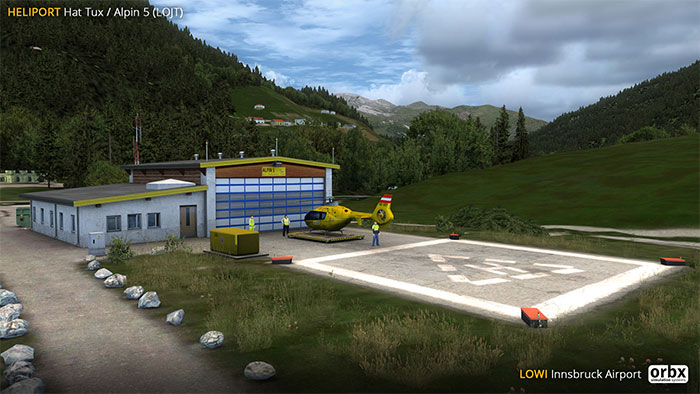 Key Features
This mod takes a significant and key interest in the LOWI Innsbruck Airport area. The end result is a detailed and clear recreation of the region as a whole.

Major 30cm and 1m coverage for the area. This is the largest area of coverage from any ORBX mod yet, adding a wonderful way to enjoy local scenery.

Color-blended and corrected to make sure that custom autogen shows up naturally and in sync with the rest of the picture.

Designed to provide a much more atmospheric style. Makes use of static aircraft and ground GSE unique to the airport. All of these can be controlled via the CP.

High quality ground poly counts makes sure that the environmental effects look brilliant, too. From the water and the oil to rain hitting the ground, everything here looks as genuine as it can.

Advanced and detailed rendering works hand-in-hand with this attention to detail. With the help of ambient occlusion and unique night lighting, realism is re-defined for simulation purposes.

Highly detailed and AI-ready APX systems are included. These have been designed by Graham Eccleston, a trusted and well respected APX guru.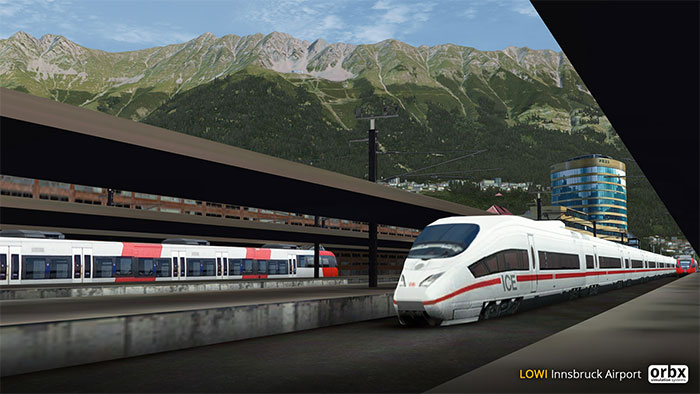 More than 160 new landmarks have been slaved over and created to make the most exciting image and finish yet. Makes use of POI in coverage areas, including a much better looking cityscape than before.

A full suite which uses ObjectFlow, PeopleFlow2 and TextureFlow. This allows for optimized looks whilst offering a high level of performance, as well.

Complete with seasonal variants so that you can fly here in the winter, the summer and any other time. Makes sure that the world around you looks great, come rain or shine!

The vast majority of main buildings in the city have been recreated. This includes various University campuses, hospitals, hotels and churches.

Animated trains rip through the city on 30km, accurate routes. You'll see ICE and OBB freight trains as well as normal passenger trains.

Major train stations and other transport venues are modeled and made to come to life. This improves atmosphere as much as resources allow.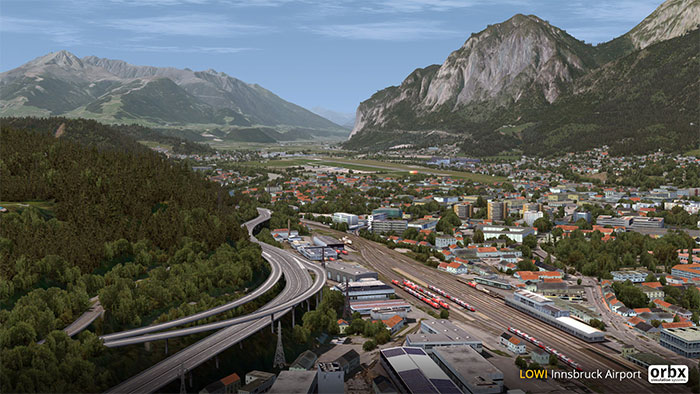 The Olympic Park and Tirol Football Stadium create a breathtaking skyline for a wonderful city.

The Europa Bridge, one of the tallest in Europe, has been created as close to specification as was possible. 20+ other bridges all stand as well alongside overpasses and freeways. The city feels far more alive, really accentuating the bustling nature of Innsbruck.

Major sections of the city make use of visible cabling and detailed powerlines, too. Adds another layer of realism.

The use of the Zugspitze – the tallest German mountain – adds to the sense of impressiveness of the region. Made to look the best that it can with comprehensive detail on the mountain and a fair scale.
With all of this, residents of Innsbruck and tourists alike can enjoy a wonderfully captivating experience. Make sure you try this out when it's released, as the latest in a fine line of ORBX products.
You can see the official forum post here.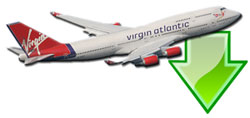 Don't forget... We have a huge selection (over 24,000 files) of free mods and add-ons for MSFS, FSX, P3D & X-Plane in the file library. Files include aircraft, scenery, and utilities All are free-to-download and use - you don't even need to register. Browse on down to the file library here.