For many British expats and tourists to Spain, they'll know Malaga Airport well. This is one of the most important airports in Spain, as it's the most visited airport in Andalusia. By offering easy routes to some of the most popular destinations in the world, it's the perfect landing spot as well as travel hub. However, at least in simulation terms, it always feels a little bit dull and empty. Devoid of life and character. Well, now, you can change that.
Aerosoft, one of the major developers of add-on scenery packages, has revamped this popular airport magnificently. Now, your next trip to the Costa del Sol can feel a whole lot more like reality!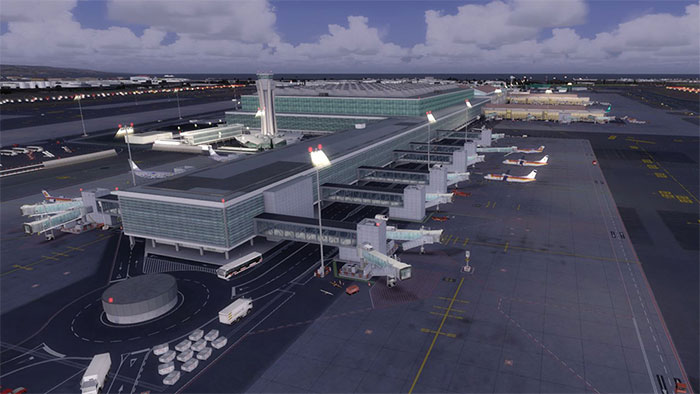 This is a highly detailed, honest and genuine take on a beautiful part of the world. It's got a highly detailed look and style, and works with FSX, FSX: Steam Edition and P3D respectively. This means that regardless of the simulator that you tend to use, this remake of Malaga Airport can be enjoyed!
Now, you can enjoy that particular flair and style that Malaga as a location is so well-known for. It's a place that goes a long way to making sure you can really appreciate why Spain is a premium holiday destination. Indeed, the developers have gone the extra mile to make that classy design shine through in the finished product. With this mod, you get access to a 0.5/pixel satellite image of the airport and the city itself. This ensures that you get realism wherever you look, whether it's the hand-placed city landmarks or the authentic airport layout.
This means that anyone from the city of Malaga, or who knows the region, can enjoy it better than ever. If you are sick of the dour and drab original, start here!
Easy to Use
Another key factor about this mob is just how easy it is to use, set up and operate as intended. The add-on that is introduced here is fully compatible with the Airport Enhancement Services mod. This authentic and fair recreation of the wonderful city of Malaga and its airport carries all of the needed hallmarks, and is made to be very easily accessible. You can even pick from the CTRL-J or SODE animated jet ways – the choice is yours entirely.
The airport itself is loaded with plenty of new objects, anyway, further ramping up the realism. With brilliant 3D approach lighting also being used, and high resolution AFCAD data, you get a truly representative take on this airport.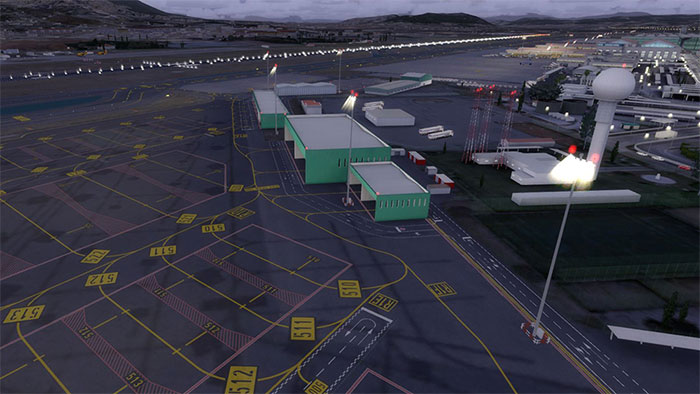 Likewise, you can also fully extend and then adapt the airport as needed. The Configuration tools that you can get access to allow you to add more grass, more lamps, and extra traffic. Whatever you're looking for, this add-on has it!
New Details
One of the most useful and effective changes this mod has introduced, though, is in the graphical improvements. This highly detailed airport model has been improved and altered numerous times. With an attention to detail that few other airports get, this makes sure that when you fly here, it feels as fun as it should.
More importantly, the airport feels much large. The scale is better as the coverage of the airport feels far more authentic. With the 180km2 of coverage around the airport and surrounding areas, it all feels genuine. The 0.5m/pixel detail makes sure that flying to and from here has never felt better.
Makes use of smart and effective night lighting, with partly pre-rendered lighting helping out. This allows for raytracing lights or texture baking to be used. Each setting vastly improves the graphical output. The end result is an easy to use design that is effective and simple.
Preview Video (Official)
New static vehicles make their way into the airport now, too. This makes the whole place look a lot busier with fairly detailed extra vehicles making up a large chunk of the background and the look as a whole. These static aircraft, though, are improved with the addition of new traffic.
The new traffic is both land, water and air-based. It adds a greater level of life and when seen with the static objects around the place, Malaga airport will now feel bustling. Make it feel more like the packed paradise that it is with this mod!
Better accuracy is being included within the taxi lines, as well. These used to look quite amateur and poorly included but now are far more realistic. Parking positions including the new runway are included to help make the whole airport feel secure.
Stronger Performance
Alongside this excellent wave of graphical improvements, you can have more fun with your flights too. One of the main reasons for this is because this makes use of smart, DX10 compatible systems. However, please be aware that some Safegate models can struggle with this mod. It's likely to cause problems unless you pick up the DX10 Fixer Version 2.7 or above.
New charts are provided to make your flight performance more comfortable, also. You should find it easier to fly in and out of Malaga Airport with the charts. They'll also ensure that you can maximize the accuracy of your take-offs and landings.
Fully compatible with the excellent Airport Enhancement Services mod. This goes a long way to making sure that you get a much better quality of airport in general, bringing the whole place together and infusing a real style into the airport with both mods combined.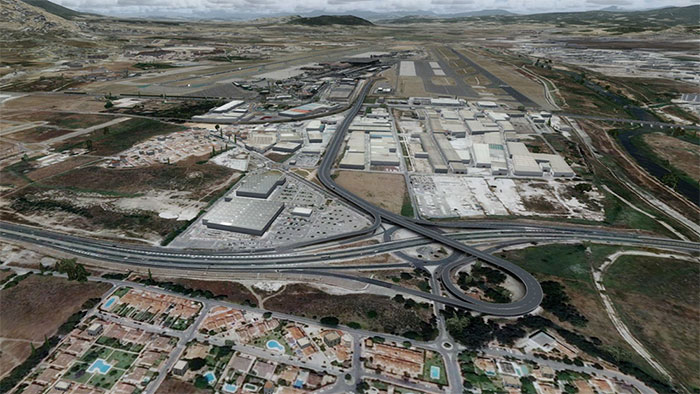 A new configuration tool is being used, as well. This is great for making sure that you can upgrade and change the airport as you go. Depending on your machine you can upgrade or reduce the airport quality and depth of detail as much as you need.
Makes use of a genuine AFCAD with various airline assignments. Makes a huge difference and ensures that you are likely to be heading down the right path here in terms of flight authenticity and balance.
About Malaga Airport
As the fourth busiest airport in the whole of Spain, and busiest in Andalusia, this is a vital part of Spanish aviation. In fact, Malaga Airport witnesses more than 14m people heading through its gates in just one year. With over 60 connections to various other nations, it's also a hub to most other parts of the world that you would expect to have connections with Spain.
The airport itself counts for a staggering 85% of all traffic from the region of Spain in non-domestic flights. This alone should show you how important this airport has become to the Spanish economy. It leads flights from Air Europa, Norwegian, Ryanair and Vueling amongst others. With direct flights to Africa, the Middle East and North America this is a travel hotspot for those outside of Europe, too.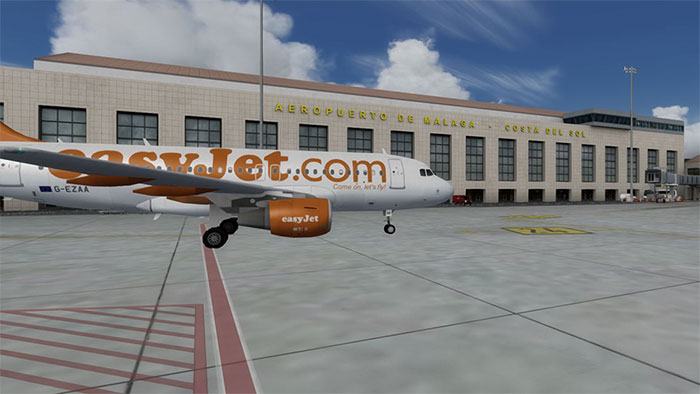 For this reason, Malaga Airport is a key location for Spaniards. If you would like to make sure that Spain carries this realism during simulations, be sure to give this a try!
System Requirements
Microsoft Flight Simulator (Service Pack 2 or Acceleration), FSX Steam Edition or Lockheed Martin Prepar3D V3
Windows 7/8/10
Dual Core CPU with 2.8 GHz
1.4 GB free hard disk space
1 GB RAM
3D graphics card with 256 MB Video RAM
Download-Size: 1,4 GB
You can purchase your copy over at SimShack.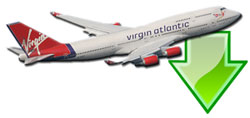 Don't forget... We have a huge selection (over 24,000 files) of free mods and add-ons for MSFS, FSX, P3D & X-Plane in the file library. Files include aircraft, scenery, and utilities All are free-to-download and use - you don't even need to register. Browse on down to the file library here.