Are you looking to visit Reunion, part of the various islands associated with France? Then now is the time. This latest release goes all the way to offer a comprehensive and massively authentic take on this wonderful island. If you feel it's bland, generic representation normally is annoying, replace it with this!
Over the years, flight simulation software has been inundated with wonderful scenery packages. Typically, these cover major cities that need a bit of TLC from the originals. Sometimes, it's filling in vast swathes of scenery with more photorealistic designs.
Whatever the reason for a scenery addition, it typically can offer a fitting improvement over the original. One area that has been in need of some tender care, though, has been Reunion.
This beautiful part of overseas France is one of the most stunning islands in the world – a true testament to natural beauty. In simulations, though, Reunion can feel dull and depressing.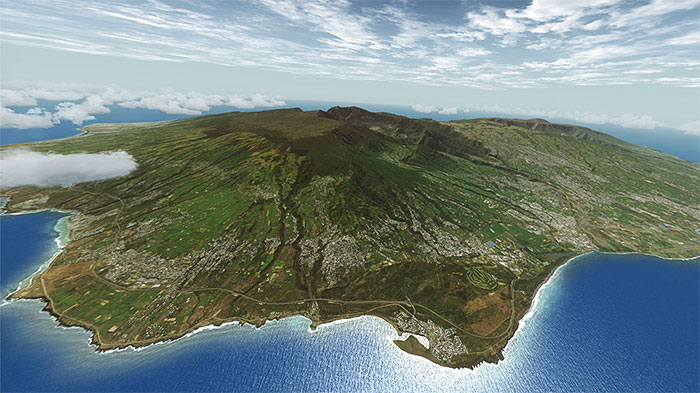 Reunion island from an aircraft
Thanks to this new Aerosoft and FSDG combination, though, Reunion comes to life. This is one of the most wonderful places to fly over, yet in the past it has lacked any kind of charm or diversity. This scenery package does an exceptional job of changing that, providing a new take on this Indian Ocean island. It's around 750km off the Madagascar coastline, and a mere half an hour away from the island of Mauritius.
While short on man-made design and locations, Reunion is home to some truly fantastic natural scenery. Large, active volcanoes and huge valleys surrounded by incredible mountains; this is a must-visit for all nature lovers. Add in the great airports that you can land at, too, and you can see an island that is finally receiving the recognition that it should have.
The challenging weather that can spray across the island, too, makes it hard for you to fly around. These extra little challenges and additions can go a long way to making sure you need to think fast to stay safe. Make it through the weather, though, and you get to a truly spectacular island!
What's Changed?
A major part of this mod has been concentrating on the development of the islands shape and style. For example, new meshing has been created to make sure that the land has a sharper, more detailed texture to it. Add in the new autogen looks that are made for the island specifically, and this reflects the beauty of Reunion as it should.
Worried about not being able to fly at night? The development team have done a rather spectacular job of improving lighting at night time. This allows for you to have lighting that feels exceptionally simple to work with, whereas the old lighting for the island was less than forgiving!
The island itself has been revamped not just in terms of scenery, but also in landmarks. This helps you to visit key locations such as the Roland-Garros Airport and the Pierrefonds Airport, too. other smaller landing sites have been given the same love and care, too, making it easy to land at more regional areas with smaller aircraft. It's these little things that go the extra mile to make your time spent on Reunion feel special. If you want to see what else has changed, though, keep reading below.
Add in the new and improved quality to the textures around the lesser populated parts of the island, and you can see how important the attention to detail here can be. Not only does this help to make flying more comfortable, it makes enjoying the scenery much easier than before.
Also, don't worry about compatibility. This tends to work with major scenery groups such as FTX Global, UTX and various other FTX-series additions. Now, you can enjoy Reunion in the way it should be enjoyed; with the scale of realism pushed to the max.
Enjoy exotic living in high definition!
Graphical Changes
New graphical improvements and alterations have been included to make sure that you can easily enjoy a fresher take on this island. This is not just for the airports, though; this includes changes to the islands entire meshing. Autogen has been edited, too, making sure that the whole island carries a particular layer of realism that was lacking beforehand.

A great take on both of the two major airports here has been included. The Roland-Garros Airport and the Pierrefonds Airport have been revamped to carry all the markings and details that they should. This extra-mile detail on the airports follows the correct scaling and styling, ensuring you can feel right at home when you land here. Vastly improves engagement with the airports. Thanks to these graphical changes, finding your way around these small air bases should be so much simpler.

Excellent renditions of the Le Port and Bras-Panon airport has been included, too. These carry the correct markings and scale sizes for all of the buildings and amenities. Also, the smaller heliports that lie around the area are improved to make sure they look the best that they can. These small details help make the island feel more complete.

Excellent aerial imagery is used to make sure that at night time you see a different island. Instanced 3D lighting also comes to life, offering a brilliant way for you to fly around and enjoy the night sky over Reunion. Where the darkness of night might have been an issue previously, this helps to ensure visibility regardless of the hour.

Excellent new shadow and light renditions are being used to showcase the detail of the island naturally. Shadows help to set the picture correctly and this does an excellent job of making that possible. The new shadow and lighting makes use of the 3D lighting additions to help offer ground and object lighting of the very highest quality and conditioning.

New volumetric lighting has been included to help make sure that you can see the airport properly during both day and night. If you fly here during dusk and/or dawn, you get to see a new island emerge thanks to the lighting work carried out. Does a great deal for setting the scene and letting you see just how beautiful this island is – the island may never sleep, but the picturesque setting makes flights to and over Reunion far more tranquil than before.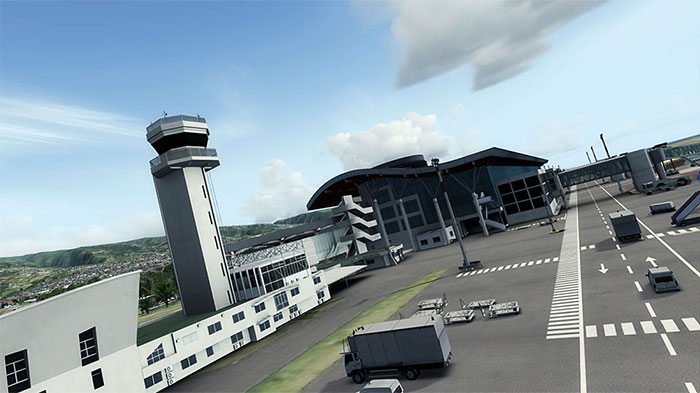 Terminal and control tower at Reunion airport.​
Other Improvements
New 3D lighting has been included to make sure that you can see where you are going at all times. Incredibly useful for making sure that visibility never has to be an issue for you. Performance and visibility go hand-in-hand, and the lighting here goes a long way to make sure you can stay on track with performance and milestones. This makes the challenge of flying around this unforgiving island a little bit easier than it once was!

Excellent new AI traffic has been put together to offer a simple and easy way to see life on the island. No longer do you need to feel like you are flying over a ghost island. Aircraft and helicopters are abundant in the sky, making the whole island feel more switched on and engaging than before. This makes a huge difference to being able to enjoy the island, adding an extra layer of authenticity and excitement to the impressive detail.

Huge work has gone into making sure that landmarks, both major and minor, are put in place properly. This allows for you to see everything from bridges and large antennas sets to solar fields and even military bases in full style. Nothing has been left to chance here, as the team develop a much more impressive quality to the islands more minor landmarks. If you would like to see Reunion resplendent with detail, even at the minor levels, try this.

New animated jet ways were included, too, which go a long way to adding a better feel to the airport. Add in the new customized apron traffic, too, and you have added detail to the air bases. Now flying to the landing locations is much more enjoyable, as you feel like you aren't the only person in the skies that day!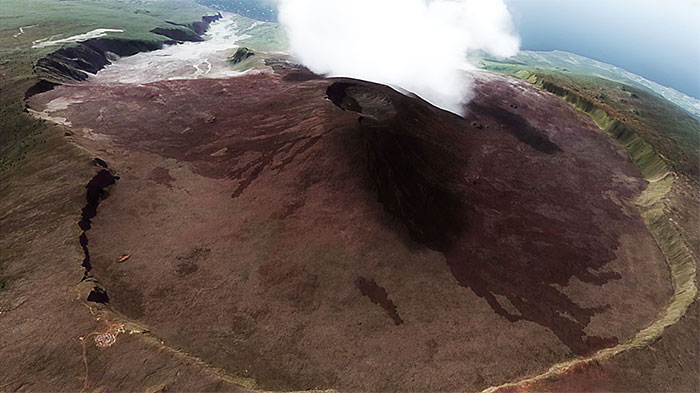 The active volcano on the island.
Added Extras
Known to be fully compatible with UTX and FTXGlobal among other major scenery add-on. This allows you to enjoy a greater level of concentration in Reunion without compromising any other add-ons that you have installed. This compatibility ensures maximum enjoyment wherever you fly to!

Fully optimized for both graphical quality and performance enhancement. Even with all of the extensive changes and improvements included in this mod, performance should never suffer. So long as your machine can handle FSX, it should be capable of handling this add-on when included. Performance and presentation are equally balanced.

Still unsure of what to do or where to go? Then you can pick up this excellent product with a manual to read. The manual makes it easier for you to stay on track with the new additions, pointing out everything from the scale used to where major landmarks are.
You can purchase your copy over at SimShack.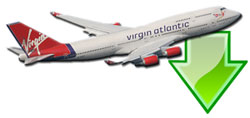 Don't forget... We have a huge selection (over 24,000 files) of free mods and add-ons for MSFS, FSX, P3D & X-Plane in the file library. Files include aircraft, scenery, and utilities All are free-to-download and use - you don't even need to register. Browse on down to the file library here.