As part of the long running series of scenery packages released by Aerosoft, fans can now visit the Seychelles in style. This wonderful part of the world has been revamped and improved to be used within FSX and P3D. With this wonderful part of the world woefully under-represented in the default release, this offers realism where it was missing previously.
Not only will this Seychelles modification help make flying here more enjoyable, it'll increase overall engagement.
You'll get to enjoy a wonderful take on these islands, using the typical Aerosoft attention to detail. The design team at Aerosoft are known for their innate eye for detail, and it shines through here. So, if you feel like the visuals have been lacking in Seychelles in the past, this helps you fix that issue right away.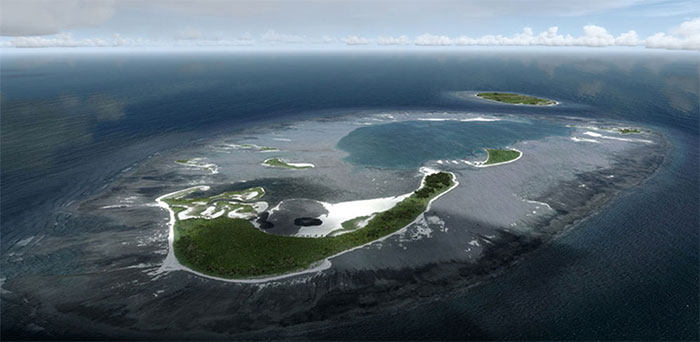 Thanks to this package, you can now enjoy a wonderful selection of coral islands. Resplendent with detail and accuracy, this helps to sell an image that is lasting, and leaves a positive impressive. Should you ever fancy an exotic holiday, you at least now know what to expect!
About The Seychelles
Taking you around 600 nautical miles off the coast of the African continent, the islands of Seychelles is a true paradise. They rest in the Indian Ocean, just north of Madagascar, and make a wonderful place to come and visit. Whether it's for sightseeing or for ticking off yet another destination to have visited, the Seychelles are a popular location to come and visit for many.
They are very similar to the Maldives in many ways, in that Seychelles consists of mostly coral reef. Whilst mountainous regions exist near Mahe and Praslin, the majority of this location is coral. This means that you will find a great blend of large cities and major islands with huge mountains and tiny coral islands sitting all side-by-side. It's this mish-mash of nature that makes this wonderful location such a great place to visit.
Although the Seychelles might not be #1 on your list of places to visit in the sky, with just 5,000 movements per year on average, it makes a wonderful place to stop off and see. Smaller airports exist around the location, with the larger Mahe International and Praslin airports being the major venues for stopping off at. Seychelles also has its own airline, Air Seychelles!
With a rather scarce selection of fuel and rather challenging winds, this can be a tough place to fly to. For anyone who likes a challenge but wants to be rewarded with a beautiful location when they arrive, Seychelles is a good place to start.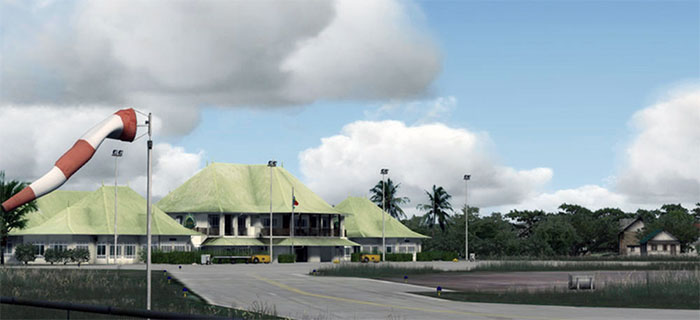 Visual Changes
Whilst it may not be the be all and end all, a good image makes it easier to fly in a simulator. With the help of this mod, you can get access to a loving and faithful remake of a great part of the world, with major visual improvements including;
Makes use of a wide range of complex new scenery additions. Each of these additions works to ensure that the whole of Seychelles is covered. The design who plotted this release have filled in as much as possible, making it easy to really enjoy this revamped destination.

These new scenery additions are backed up by the addition of some brilliant photorealistic quality ground and water textures. This helps make the overall region look far more alive, ensuring that Seychelles looks as unique as it should. No more generic placeholders here – this transforms the location for the better.

When you hit the more populated parts of Seychelles, don't worry. The attention to detail and the positioning of quality is abundant here, also. Not only will this bring together an image that looks positively outstanding, it provides an easy way for you to find quality buildings filled in with autogen that fits.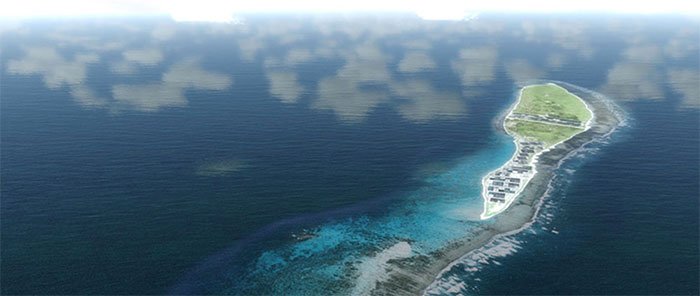 This relates to the countryside and rural parts, too. Unique new autogen scenery has been created to ensure that section of the Seychelles looks as it should. Autogen has been closely researched and inspected to make sure it hits the right tone, matching the overall national feel.

High resolution meshing is being used for all of the islands, not just one or two. This means that every part of the isles that you fly to is going to look the same depth and detail. These meshes go a long way to helping make an image that lasts.

All of this is brought to you using more than 50 geocaches. This helps to ensure that you have access to plenty of Geocache missions to enjoy, meaning that you can get even more depth from this location. Make use of your time here and use the geocaches to be creative.

Volumetric lighting and bloom lighting effects are being used to further sell the graphical quality of the Seychelles. This helps you to see these isles for the wonderfully tropical paradises that they are. Not only will this help you settle into the location, it'll make every flight memorable.

Every part of the graphical improvements and changes here are used to transform and improve the overall atmosphere of your flights. High resolution textures back up every piece of mesh and autogen, ensuring that you get a wonderfully baked look to the land, with expert use of shadows and lighting.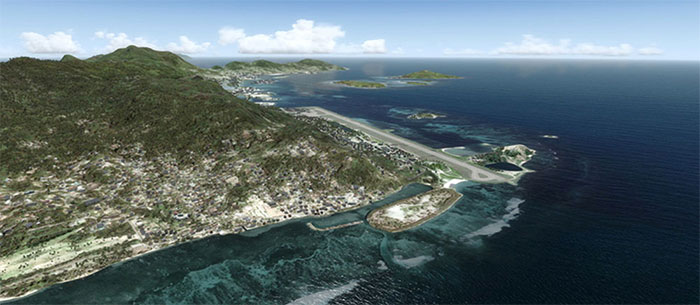 Simulation Improvements
The world around you feels a bit more alive than it may have previously when visiting here. This comes from a wide of changes, including;
A transformed level of AI around you at all times. This means that you will see animated AI ground traffic. From airport servicing and passenger vehicles to the vehicles on the roads, this makes the whole of Seychelles feel more alive than it may have in the past. You'll get to enjoy a more comfortable experience that should – if you ever do come here - reflect the real world tone and level of overall traffic around Seychelles.

This is also reflected in the wildlife that you see. The Aerosoft team had made sure that animated wildlife adds a unique flavour to the world. You'll see the likes of birds, turtles and seagulls moving around you as you fly around, adding a nice little addition of life.

Realistic AI shipping and aircraft traffic is being used, too. The creation of new traffic means that you will see roads that follow the correct pathing, and fly like professionals. The Aerosoft team have been at pains to create a flight style that ensures you feel like you're flying with good pilots.

This is also included in the new custom AI that has been included for the Twin Otter model. This is an Air Seychelles model that flies around the island and gives a nice little feel of individual, unique flavour to these isles, further endearing it to you with every visit.

Pre-saved free flights are included that are using a wide range of diverse scenarios. Those who like to fly with a challenge or a purpose can use these flights to get themselves in – and out – of awkward situations. These scenarios will help you further see how exciting the Seychelles can be.

Nothing that is included in this mod is going to make your computer suffer. Aerosoft have gone the extra mile to ensure that this really is performance friendly. You don't have to worry about an addition that is going to gobble up your GPU and leave FPS cut down.

Not sure what to do at any point? Then turn to the excellent manual and overview map. These will help you find out what to do and where to go should you be lost. It also explains a lot of the "need to know" elements of flying in Seychelles.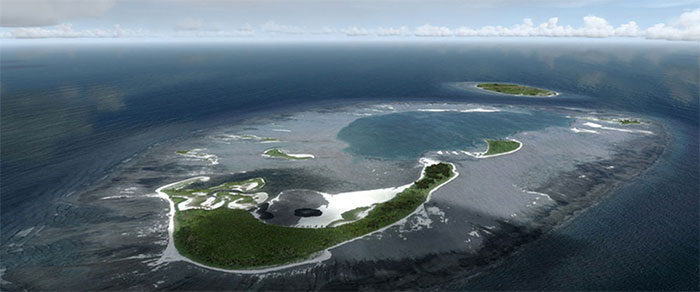 New Features
An excellent retake on both the Mahe International and Praslin Airport. Both are made to ensure they capture the real glory and style of both airports, and will also help anyone who has been to both get a memorable experience when they come in to land on their journeys here.

14 other airfields are also improved to make sure you can get a comprehensively enjoyable experience. Make sure you can feel far more at home in the Seychelles with this historically accurate take on the region, helping to make it really feel like the coral paradise that it truly is.

3D night lighting has been created to help pilots land here with minimal fuss. Many people find that landing in areas such as Seychelles at night can be tough. Well, with this mod you can remove that challenge immediately. Now, when you arrive whether it is day or night you'll land comfortably.

An easy to use online activator that means you can get flying to the Seychelles in a matter of moments. Just follow the simple wizard process through the Aerosoft installer, and you can be taking off to a brand new – and far more authentic – take on the Seychelles!
System Requirements
Microsoft Flight Simulator X (SP2, Acceleration Pack, Gold Edition or Steam Edition) OR
Lockheed Martin Prepar3D
Windows XP, Windows VISTA, Windows 7, Windows 8 (fully updated)
3,0 GHz processor (Dual Core processor or equivalent system recommended)
2 GB RAM (4 GB recommended)
3D graphics card with at least 512 MB (1 GB recommended)
Installations-Size: 4.4 GB
You can view this product over at SimShack here or grab some great freeware Seychelles landclass scenery here.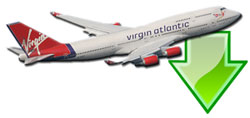 Don't forget... We have a huge selection (over 24,000 files) of free mods and add-ons for MSFS, FSX, P3D & X-Plane in the file library. Files include aircraft, scenery, and utilities All are free-to-download and use - you don't even need to register. Browse on down to the file library here.