MSFS Ultralights & Gliders
This category contains aircraft mods and add-ons which are strictly ultralights, gliders, and some exotic and specialized aircraft.  All of the add-ons featured in this downloads category are fully compatible (and have been tested in) Microsoft Flight Simulator (MSFS) released in 2020.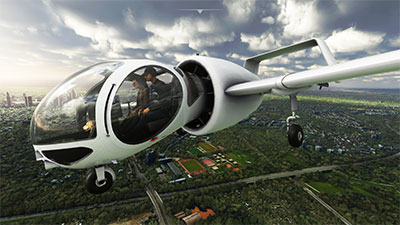 The image shows an Edgley Optica aircraft (ultralight) after the mod was installed in Microsoft Flight Simulator.
All of the mods listed in this category are freeware which means they are completely free to download and use.  Many new freeware MSFS developers have emerged since the release of Microsoft Flight Simulator and this section is growing rapidly. 
If you are a freeware developer and want to list your add-ons here, please read about our file library (and submit them) here.
Some of the types of aircraft covered in this section are;
Ultralights - very light aircraft that do have engine propulsion.  Usually single-seaters and leisure aircraft.
Gliders - gliders that generally have no means of self-propulsion other than the thermals and winds used in flight.
Other aircraft types - other types of aircraft may be featured in this section such as crop dusters, microlights, and possibly even jetpacks and hang gliders when they are available.
Liveries & Base Models
In this section, we will list both base models (full-model aircraft) along with liveries available for those base models.  You may filter these to only display liveries and likewise, only display base models.  If you're after the entire aircraft (full aircraft) then you may filter out liveries and repaints using the selection boxes below.  The same applies to liveries and repaints.
The files are listed in order of date (with the newest first) - however, you may change the ordering using the option boxes below.