FS2004/FS2002 Lockheed Martin F-22 Raptor
Type

Complete with Base Model

Download hits

13,494

Compatibility

FS2004

Filename

F22raptor.zip

File size

1.18 MB

Virus Scan

Scanned 0 days ago (clean)

Access to file

Free (Freeware)

Content Rating

Everyone
F-22 is ATF(Advanced Tactical Fighter) researched as a succession machine of F-15 and F-16. United State air force adopted it as a main force fighter century 21. It has the feature of the speed of Mach 2.5 or more, Cruise speed of Supersonic without the afterburner, Long flying time, high mobility, etc. Moreover, it is a design that considers stealth as the most important function. by Kazunori Ito.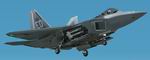 As one of the most popular aircraft of its era, the F-22 Raptor has long been respected for its incredible power and energy, marking it as a true catalyst of the modern era.
One of the most powerful and effective aspects of this aircraft, though, comes from the fact that it offers such effective and simplistic changes to the way that you might traditionally expect an aircraft to operate in. Away from the limitations of a basic civilian craft, the F-22 established itself as a genuine name within the industry that was capable of crushing even the most ambitious of flight targets.
With the release of this amazing modification, then, you can finally start to see the benefits and the changes of this release as it totally transforms, edits and improves upon the features of the original. One of the most elegant and effective aspects of this system, though, comes from the fact that it so accurately portrays each strength and weakness of the aircraft.
For some, it can feel too fast, but this is an aircraft built for high-end military combat; it moves at this speed for a reason! The modification team behind this is done a great job of capturing this depth of power and organization in the skies, making it one of the most effective and useful systems that you can fly around the air in.
If you have always wanted to know and understand implicitly what the nature of flight simulation in a military perspective would be like, this is the perfect model to try it out with.
Despite the incredibly high mobility of the aircraft, though, this does a good job of capturing the pure barbaric speed that this aircraft operates it. For this reason alone it can take a bit of getting used to due to its incredible pacing in comparison to many of its competitors out there.
The archive F22raptor.zip has 40 files and directories contained within it.
File Contents
This list displays the first 500 files in the package. If the package has more, you will need to download it to view them.
| Filename/Directory | File Date | File Size |
| --- | --- | --- |
| F-22 Raptor | 07.26.04 | 0 B |
| Aircraft.cfg | 07.27.04 | 6.57 kB |
| F-22.air | 07.26.04 | 13.38 kB |
| model | 07.26.04 | 0 B |
| F-22.mdl | 07.26.04 | 678.53 kB |
| Model.cfg | 07.26.04 | 23 B |
| panel | 07.27.04 | 0 B |
| Main_Panel.bmp | 07.27.04 | 769.05 kB |
| PANEL.CFG | 07.27.04 | 1.61 kB |
| sound | 07.26.04 | 0 B |
| Sound.cfg | 07.25.04 | 30 B |
| texture | 07.26.04 | 0 B |
| Burner_In.BMP | 07.24.04 | 17.05 kB |
| Burner_L.bmp | 07.24.04 | 65.05 kB |
| Burner_R.bmp | 07.24.04 | 65.05 kB |
| Fuse_Bottom.bmp | 07.26.04 | 1.00 MB |
| Fuse_Top.bmp | 07.26.04 | 1.00 MB |
| PILOT.BMP | 07.24.04 | 257.05 kB |
| Gauges | 07.27.04 | 0 B |
| f162k_pfd.gau | 03.18.01 | 295.00 kB |
| f22.HSI.3.GAU | 03.27.98 | 261.50 kB |
| SE.EICAS.gau | 05.30.00 | 157.50 kB |
| SE.thrust.gau | 07.23.00 | 56.50 kB |
| SE2.FLAPS.GAU | 07.24.00 | 42.00 kB |
| f22.gear.gau | 03.10.98 | 45.00 kB |
| c17_hudasi.gau | 03.18.01 | 60.50 kB |
| c17_hudralt.gau | 03.18.01 | 62.50 kB |
| c17_hudhdg.gau | 03.18.01 | 58.50 kB |
| f162k_hudvsi2.gau | 12.13.99 | 39.00 kB |
| F-22_Aoa.gau | 05.26.04 | 63.50 kB |
| f162k_hudcmp.gau | 02.05.00 | 58.00 kB |
| f_ap.gau | 03.05.99 | 100.50 kB |
| f15j_radio.gau | 03.05.99 | 50.00 kB |
| F16.GAU | 06.27.02 | 1.53 MB |
| F22_Pic1.JPG | 07.26.04 | 50.78 kB |
| F22_Pic2.JPG | 07.26.04 | 91.71 kB |
| File_ID.DIZ | 07.27.04 | 447 B |
| README.txt | 07.27.04 | 5.04 kB |
| flyawaysimulation.txt | 10.29.13 | 959 B |
| Go to Fly Away Simulation.url | 01.22.16 | 52 B |
Editorial
When I first fired up my FS2004 for the first time in a little while, I was instantly taken aback at just how out of touch everything felt. Although I remember things being pretty amazing back in the day, the overall look and feel of FS2004 really hadn't aged too well; thankfully, a few modifications later and things started to look a whole lot better! I turned my attention to my hanger, then, and found that it just wasn't detailed enough and didn't have anything like the detail and features that my FSX hanger does.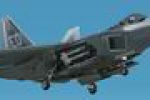 Therefore, I decided to get downloading and came across this download of the Lockheed Martin F-22 Raptor. It's a wildly popular aircraft in history, and has featured in a wide variety of movies and video games in the past.
This recreation, though, was really impressive. Despite the fact it was running on software that is a decade old, the designer Kazunori Ito done a marvelous job in getting all of the textures put together in the right way, ensuring that the whole thing looked as clear as it possibly could. Given the limitations in technology I was actually really impressed with the design, so props to the designer for that.
However, the real detail came when I started to fly and get a bit of a hang of the cockpit – it was then I started to take a real look around, and the attention to detail in the cockpit was just excellent. The aircraft itself had all of the little extras I had hoped to see in the first place already installed, which made it very simple for me to get to grips with the aircraft and feel comfortable in the cockpit!
The F-22 is one of the most popular military aircraft in the 21st Century, so it plays a big role in making sure you can see just why it's so historic in this. They've captured its famous speed, power and agility in equal measure and made sure that you have access to the main features of the aircraft.
Things like its notable flight durability as well as its staying power in the skies matched with realism of the Supersonic abilities that it comes with, as well as Mach 2.5+ being capable within the cockpit. It lets you really feel that rip-roaring speed that can make these such interesting pieces of hardware to fly.
Its design and overall attention to detail is great but it's the fact that you get the feeling you are flying one of the most powerful yet discrete aircraft we have come up with in a long, long time. This makes it easy to fly and even easier to get around from A to B in, ensuring that you can have access to all of those features that make creeping along unseen so much easier to do.
The Raptor is a big favorite for many aviation fans, and the reasons why are obvious as soon as you step inside that cockpit and take off! Try it out and you'll see exactly what I'm talking about – this makes FS2004 feel alive again!
Installation of Add-on Aircraft/Scenery
Most of the freeware add-on aircraft and scenery packages in our file library come with easy installation instructions which you can read above in the file description. For further installation help, please see our Knowledge Center for our full range of tutorials or view the README file contained within the download.