Singapore SilkAir regional airlines repaint of PSS Airbus A320 Pro. By Roland Ting.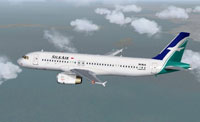 Screenshot of Singapore SilkAir Airlines A320 in flight.
This package contains a repaint of PSS Airbus A320 in Singapore SilkAir regional airline colours. Installation of these textures requires Phoenix Simulation Software A320 Professional. Installation is tested on FS2004 or FS9 only.
Installation:
1. Unzip or extract all textures (including sub-directory) directly into FS9 aircraft directory.
2. Using Notepad, modify the 'aircraft.cfg' file found inside \aircraft\PSSA320 by copying the text below and paste it after the last line below [fltsim] section.
[fltsim.X]
title=PSS A320 IAE SilkAir
ui_variation=PSS A320 IAE SilkAir
sim=A320v
ui_type=A320v
sound=IAE
model=IAE
texture=silkair
atc_airline=Singapore
panel=
kb_checklists=a320_check
kb_reference=a320_ref
atc_id=9V-SLA
atc_flight_number=9VSLA
atc_heavy=0
ui_manufacturer=Airbus
visual_damage=1
description=Designed to compete with the Boeing 737 and McDonnell Douglas MD-80, The A319/320/321 were Airbus' first entry in the narrow-body market. Although the aircraft borrows some features from the larger A300 and A310, it is essentially a new design equipped with many state-of-the-art engineering innovations. For example, The A319/320/321 were the first commercial jetliners with a full fly-by-wire control system. Other advanced features include widespread use of composite materials to reduce weight, sophisticated avionics including a gust-alleviation system allowing a smoother ride, advanced cockpit warning systems, and high-technology engines to reduce noise and fuel consumption.
3. Modify the 'X' in [fltsim.X] to the last sequential number. For example, if the last number in your aircraft.cfg [fltsim] section read [fltsim.3], then change the 'X' to [fltsim.4].
4. Save changes made.
Original aircraft model can be obtained from Phoenix Simulation Software.