FlightGear Free Flight Simulator
Download hits

145,931

Compatibility

Windows 7/8/10 & macOS 10.8+

Filename

flightgear-universal.zip

File size

3.34 GB

Virus Scan

Scanned 0 days ago (clean)

Access to file

Free (Freeware)

Content Rating

Everyone
Now version 2019.1.1
FlightGear Flight Simulator is an open-source project. Users can download it anytime and copy it to as many machines as they like. It can run on Windows (7, 8 and 10), macOS 10.8+, Linux, Solaris, and IRIX platforms.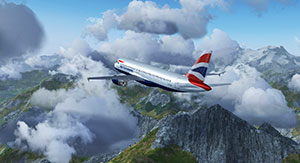 ​Frustrated by the lack of customization and extensibility available in commercial projects, FlightGear's founders wanted to create a simulator where educators, researchers, pilots, and flight simulation enthusiasts could build their own aircraft.
FlightGear is bound by the open-source GPL license which allows anyone to contribute code, join development teams, and add aircraft and scenery.
None of that would matter much if the flight experience didn't shine. FlightGear's excellent flight dynamics models (FDM) are based on JSBSim, the main FDM since 2000, UIUC, or YAsim. The latter two were created solely for FlightGear.
FlightGear's FDM's are known for their realistic flying experience. For example, some users report that the FlightGear Cessna 172 tends to pull to the left, a common characteristic of single-engine planes in real life.
Information from the FlightGear Wiki Page:
FlightGear Flight Simulator (often shortened to FlightGear or FGFS) is a free, open-source multi-platform flight simulator developed by the FlightGear project since 1997.

David Murr started the project on April 8, 1996. The project had its first release in 1997 and continued in development, the most recent release being version 2.4.0 in August 2011. It has specific builds for a variety of operating systems including Microsoft Windows, Mac OS X, Linux, IRIX, and Solaris. FlightGear code is released under the terms of the GNU General Public License, thus being free software.

The commercial products Flight Pro Sim, Pro Flight Simulator, and others, are direct copies of FlightGear.
FlightGear may be free, but it doesn't skimp on features and rivals commercial packages with excellent airports, aircraft, and scenery.
Airports
Users can travel to over 20,000 airports worldwide. Each has accurate markings and lighting configurations. Bigger airports have taxiways complete with center lighting. FlightGear's emphasis on realism is reflected in little details like sloping runways, airfield lights that change intensity as the view alters, and accurate runaway markings.
Scenery
FlightGear uses the most accurate terrain graphics modeling in the world. SRTM, or Shuttle Radar Topography Mission, is a joint task force of the National Geospatial-Intelligence Agency and NASA. Under the auspices of the Jet Propulsion Laboratory, they have created a high-resolution database of Earth's topography. Recent versions include updated Australian and South Sea island data.
As a result, FlightGear's scenery is robust and vivid. Sparkling lakes and towering mountains fill the landscape. Buildings and infrastructure are accurate to the finest detail. At night, darkness is pierced by an expansive grid of brightly lit homes and streets. Pilots can even see the headlights of cars and trucks on the highways below.
Time of Day Modeling
FlightGear uses "time of day modeling" which means that the scenery accurately reflects the actual time of day. The sun, moon, and stars appear and fade right on schedule as days turn into night and back again. Users can set FlightGear to their own computer clock so that it depicts the real-time of day in their zone. The system even tracks seasonal changes, with fewer daylight hours in winter and longer days in summer.
Loyal Fans
FlightGear is the kind of project that generates loyal fans. It has an amazing 93 percent approval rating at Sourceforge.net, one of the main download sites. At the FlightGear forums, one user explains, "Flight Gear is to flight simulation what Gran Tourismo is to driving simulations. It simply rocks. There are some Aircraft available that really behave very neatly like the real thing."
Another user is more direct: "I choose FlightGear because it kicks Microsoft's FSX arse! Multiplayer AND free AND a flight sim? YES PLEASE!"
As can be seen, FlightGear fans love its potent mix of variety, power, flexibility, extensibility, and price- totally free.
Images/Screenshots
The archive flightgear-universal.zip has 40 files and directories contained within it.
File Contents
This list displays the first 500 files in the package. If the package has more, you will need to download it to view them.
| Filename/Directory | File Date | File Size |
| --- | --- | --- |
| FlightGear-2019.1.1.dmg | 04.02.20 | 1755.86 MB |
| FlightGear-2019.1.1.exe | 04.02.20 | 1687.17 MB |
| Go to Fly Away Simulation.url | 01.22.16 | 52 B |
| Screenshots | 04.02.20 | 0 B |
| screen-1.jpg | 04.02.20 | 225.52 kB |
| screen-10.jpg | 04.02.20 | 175.31 kB |
| screen-11.jpg | 04.02.20 | 177.65 kB |
| screen-12.jpg | 04.02.20 | 168.26 kB |
| screen-13.jpg | 04.02.20 | 106.40 kB |
| screen-14.jpg | 04.02.20 | 351.33 kB |
| screen-15.jpg | 04.02.20 | 190.54 kB |
| screen-16.jpg | 04.02.20 | 76.27 kB |
| screen-17.jpg | 04.02.20 | 187.86 kB |
| screen-18.jpg | 04.02.20 | 50.10 kB |
| screen-19.jpg | 04.02.20 | 293.95 kB |
| screen-2.jpg | 04.02.20 | 156.15 kB |
| screen-20.jpg | 04.02.20 | 283.71 kB |
| screen-21.jpg | 04.02.20 | 487.77 kB |
| screen-22.jpg | 04.02.20 | 108.61 kB |
| screen-23.jpg | 04.02.20 | 83.39 kB |
| screen-24.jpg | 04.02.20 | 298.48 kB |
| screen-25.jpg | 04.02.20 | 165.07 kB |
| screen-26.jpg | 04.02.20 | 78.80 kB |
| screen-27.jpg | 04.02.20 | 41.66 kB |
| screen-28.jpg | 04.02.20 | 316.20 kB |
| screen-29.jpg | 04.02.20 | 204.36 kB |
| screen-3.jpg | 04.02.20 | 142.52 kB |
| screen-30.jpg | 04.02.20 | 478.75 kB |
| screen-31.jpg | 04.02.20 | 44.76 kB |
| screen-32.jpg | 04.02.20 | 98.89 kB |
| screen-33.jpg | 04.02.20 | 1.06 MB |
| screen-34.jpg | 04.02.20 | 227.46 kB |
| screen-35.jpg | 04.02.20 | 182.83 kB |
| screen-4.jpg | 04.02.20 | 135.01 kB |
| screen-5.jpg | 04.02.20 | 123.27 kB |
| screen-6.jpg | 04.02.20 | 228.70 kB |
| screen-7.jpg | 04.02.20 | 341.65 kB |
| screen-8.jpg | 04.02.20 | 344.10 kB |
| screen-9.jpg | 04.02.20 | 110.63 kB |
| flyawaysimulation.txt | 10.30.13 | 959 B |
Editorial
Whilst the flight simulation market might seem rather closed off to some, due to the prominence of things like Microsoft Flight Simulator and Prepar3D, there are some truly epic options out there for users who want a bit more craft and guile from their simulator. Have you ever heard of FlightGear? If not, you'll soon want to get it downloaded!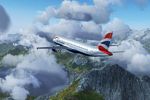 What is FlightGear?
This is a brilliant open source flight simulator that is built for the editors out there. People who love to customize and prepare their own aircraft will find that this is the perfect flight simulator for them. It might lag behind FSX and other contemporaries with graphical quality and choice, but since it's a totally open-source project I'd be shocked if it matched a multi-billion dollar conglomerates product!
Customization Refined
However, what you do get with FlightGear is the ability to create. You can pretty much edit and generate your own aircraft and allows you to contribute to the actual project in any way that you feasibly can – it's something that really takes the flight simulation community and gives them a real impetus and style to build upon. If you are growing a little tired of FSX and other traditional flight simulators, downloading this and getting your engineering head on might be a worthwhile venture for you.
A Realistic Simulation
Please don't take anything said above to mean that the actual flying side of things is poor, though! The quality of the flight dynamics within FlightGear is absolutely tremendous. You'll really feel like you are flying the real thing and getting that kick and thrill from an aircraft that is so common is going to be pretty simple – for a project that's sourced completely by the time and expertize of fans, this is some really impressive stuff.
The simulator itself is loaded with features around the worked, too. Add in the 20,000 airports that you can pick from across the world, each built with as much accuracy as time will allow for, and you've got an incredibly realistic experience. The attention to detail in such an expansive world is hugely impressive, as you'll find that the larger airports really create that feeling of "wow" when you start approaching them and see the lighting change and fade as you draw closer or further away.
One of the best features about the simulator, though, is the time of day modeling that has been included. Now you'll be flying from one night to the next, and you'll get to see the world below react accordingly. This adds another layer of satisfaction and quality to the whole thing.
It's seen by many as the "real" simulator out there thanks to its fantastic blend of features and, well, just about everything else that you could possibly need to make a flight simulator more enjoyable. If you aren't sure of what kind of experience you want, then this totally free option will give you all of the coolest features whilst ensuring that you have proper fun!
Installation of Add-on Aircraft/Scenery
Most of the freeware add-on aircraft and scenery packages in our file library come with easy installation instructions which you can read above in the file description. For further installation help, please see our Knowledge Center for our full range of tutorials or view the README file contained within the download.