Now that you've flown your Cessna from Cape Cod all the way down to Fort Lauderdale 150 times on Microsoft FSX, will those long hours help prepare you to fly a real aircraft? After all, there are flightsim pilots who have used the same software for a decade or more and know a few of the aircraft models like the back of their hand.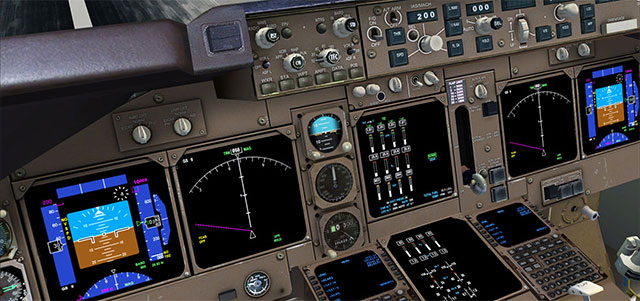 The cockpit of a PMDG 747 - it's quite realistic.
It depends on who you ask. Some "real" pilots believe there is no connection at all between flight simulators at home and an actual airplane. One wag said FSX will prepare you for flying an airliner as much as games like Battlefield and Modern Warfare prepare you to be a soldier.
However, others agree flight simulation prepares pilots several ways:
Learn basic aviation concepts and theory like navigation.
Instrumentation is very close to the original.
Pilots learn to be "light on the controls," an approach that avoids hard, sudden movements that could be disastrous in a real plane.
Inexpensive. PC simulators afford pilots an opportunity to get familiar with fight basics without spending a lot of money. Real flight lesson fees can add up. In the U.S., for example, to get a license pilots must have a minimum of 40 hours of flight time (in a real plane) with a certified instructor.
Flight Simulator Drawbacks
At the same time, there are a number of negative aspects to consider when determining if flight simulators can prepare a pilot for real world flying:
No physical feedback. Real flying is done by feel as much as with sight and instrumentation. Tires on the runway, turbulence, air rushing over the wings; all provide vital information to the pilot. In addition, real planes have significant noise, so much noise that communication is generally done over headset.
Pre-flight checks. While flight simulation enthusiasts can just jump in a plane and take off, real planes require several pre-flight checks. Preparing the engine, magnetos, gauges and other checks are critical to a safe flight.
Poor for high stress flying like deep dives or acrobatics. Spins and other maneuvers are unrealistic.
Visuals, while good, are still well short of real-world imagery. This can be problematic for pilots who are used to VFR.
Home pilots who don't use a yoke will be at a disadvantage when getting in a real plane. A yoke and pedals is really a necessity if flight simulation is being used to prepare for real flight training.
Certain aircraft, like helicopters, fly much differently on a computer than in real life.
Flight hours with a sim cannot be logged to help complete the basic requirements for a pilot's license. There are certified simulators that can be used for this purpose. However, getting to actually use them is complicated and expensive.
Some pilots believe flight simulators develop bad habits that might be hard to unwind once behind the yoke of a real plane.
View From Microsoft
What does Microsoft, the maker of Flight Simulator, the biggest selling flight sim for over 20 years, say about their products and real flight training? Bruce Williams wrote in Microsoft's "FSInsider" that,
Flight Simulator includes several features — including Multiplayer shared aircraft, Multiplayer Tower, and enhanced flight analysis — that make it an excellent training aid. You can replay any flight and see both horizontal and vertical profiles. More importantly, an instructor can monitor another Flight Simulator pilot over the Internet or a local area network to offer help on many topics, including changing the weather, or simulating failures in the aircraft.
Here are the specific areas Williams says Microsoft Flight Simulator will help with real flying:
Multiplayer: Sharing Aircraft- share aircraft over internet or LAN.
Multiplayer: Tower- instructors can act as ATC.
Flights- pre-set flights with specific airports, weather, views and more.
Weather- create a wide variety of conditions.
Engine, System, and Instrument Failures- learn how to cope with equipment failure.
Flight Analysis- track how the pilot followed instructions.
Map View- view navigation aids directly from the map.
Views and Windows- multiple views help what the pilot sees with what is actually happening to the aircraft.
Flight Videos- use as training aid.
Autopilot – allows pilots to concentrate on new skills.
Slew Mode- good way to learn navigation instrumentation.
IFR Training Panels- familiarizes pilots with Instrument Flight Rules.
Beyond the growth in technical skills, Williams feels flight simulators really shine by helping pilots with their mental game. The physical demands on pilots are not that tough. However, keeping sharp mentally is a constant challenge. He believes flight sims help newbies and veterans alike stay up-to-date on controls and instruments.
Real Test
Hans Krohn, a die-hard flight simulator fanatic, decided to put the question, "Does flight simulation prepare us for flying a real plane?" to a real test. In an article he wrote for FlightSim, he detailed how he approached a commercial flight simulation company to find out if his home computer skills would help to fly a real Boeing 737.
He found a German company that offered training in a 737-NG simulator near the Berlin airport. He booked a one-hour session but had to schedule it four weeks off. On the big day, he met his flight instructor, a retired 747 pilot.
The instructor explained that the 737-NG simulator they would be using was a combined effort between Boeing, Thales and General Electric. At a cost of over $20 million, it was roughly one-third the price of the real plane. He said GE guarantees them that the simulator can do everything the real plane was capable of, and vice versa.
At first, Krohn was nervous because while the instruments were more or less the same as at home, they looked very different--their positioning was off. He said,
As my eyes darted around in the cockpit, trying to find familiar reference points, a rather worrisome feeling of disorientation started to creep up my spine. I realized this cockpit was an alien environment for me, despite all my preparation!
He relaxed as the session went on. For the next hour, Krohn flew a total of eight times, from good-weather landings at Frankfurt Rhein-Main to crosswind landings at tricky airports like Innsbruck and Malta. Some of the differences to his home setup were immediate, like using a yoke instead of a joystick. However, he was able to make eight landings with no crashes. Each time he learned to make little adjustments like starting flaring a little earlier than he had at first.
Excited by the experience, he booked another session for a complete flight from Innsbruck to Munich. So, did he find the answer to The Question- do flight simulators prepare pilots for real world aircraft? "For me it has, beyond any doubt," he said. He said if he is ever on a commercial 737 flight experiencing an emergency and the crew asks if anyone can land the plane, he will raise his hand!
Personal Preparation
Krohn had great success with the 737-NG simulator. At the same time, he is a hard-core flight simulation enthusiast. In the end, it may be the super-users like Krohn who can successfully make the jump to becoming a real pilot. While anyone can fly flight sims for fun, once you are in the chair with a real airplane under you, all of a sudden the games are over. If you are only a casual user, you may want to leave the real flying to the pros.
Inside a Full Commercial Flight Simulator
The video below shows a flight in a full scale 747 simulator which is run by Qantas.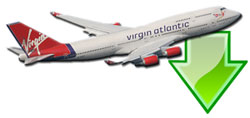 Don't forget... We have a huge selection (over 24,000 files) of free mods and add-ons for MSFS, FSX, P3D & X-Plane in the file library. Files include aircraft, scenery, and utilities All are free-to-download and use - you don't even need to register. Browse on down to the file library here.