Skroback Roadable Flying Machine. 1927-1957-2010 2017. Auctioned off in 2010 for $ 67,175.00 USD. This is what it was like in 1934. It logged close to 1,000 miles in the Northeast USA.
Driver's Notes and suggested test drive:
Keep the speed down, it will do over 85 mph, sometimes.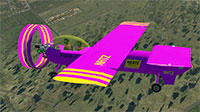 From wherever you start your test drive, taxi, I mean drive off the airport property to a highway or street and stay in your lane and stop at stop lights.
Updates to 1934 model to make it fly:
It is unknown if the new owners in Atlanta did any of this, but I was compelled to make it fly, so it is a hypothetical improvement.
Reduced drag from 6 wings to one sweeping wing
Increased 37 hp to 135 hp using latest Rotax 915 iS engine.
Added full modern glass cockpit with full ILS Cat III landing capability.
Added duct around the engine to protect pedestrians.
A note about the new HUD:
A few years ago I had an idea that if you were to take a TFT ( thin film transistor )
display from a laptop and used the display for a HUD, you would have a multicolor high-resolution display.
If you remove the back and change a few layers, that should work nicely.
Another great idea of mine. In 2016 that type of HUD display was granted a patent. And will show up on most aircraft very soon.
If a laptop, a great one like the Apple PowerBook Retina, were used a HUD would cost less than $2,000.00. OK add FAA certification and it probably would cost $3,000,00.
Installation is via stick-on strips and a cable to the electronics.
Best of all it can be stuck anywhere on the windshield, pilot or copilot or both!
Author: Billy Bargagliotti.